How to Lay Artificial Grass
In this article we break down step by step with diagrams how to lay artificial grass. We also explain everything you may need to know in regards to maintenance, repairs and what the job involves.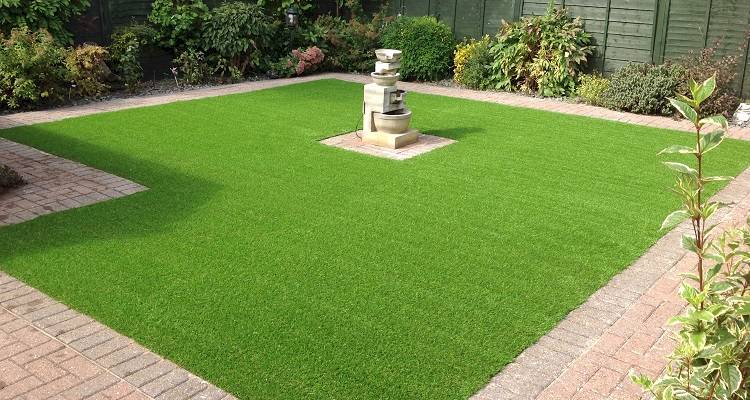 What is Artificial Grass?
Artificial grass, or sometimes referred to as fake grass, is a surface of synthetic fibres that are designed to mimic the appearance of natural turf. Over the past twenty years, artificial grass has been widely used in several parks, outdoor play areas and activity centres. However, the demand for artificial grass is growing increasingly popular amongst homeowners who desire a low maintenance alternative to the real thing.
Preparing to Install Artificial Grass
So, you have decided to install some artificial grass in your garden, great! Now it's time to talk about what you can do to prepare for the installation. Preparing the area where the turf will lay is the most essential step in achieving a beautifully finished lawn. Taking the time to prepare the area carefully will help you create a professional, quality installation.
Choosing the Right Artificial Grass
With so many options to choose from, deciding on the right kind of artificial grass for your project can be difficult. Take the time to invest in researching the varieties of synthetic grass options that are available to you. You may wish to order a few samples from various suppliers before ordering the final product. Always check with the manufacturer that the artificial grass is suitable for outdoor use and has detailed cleaning instructions.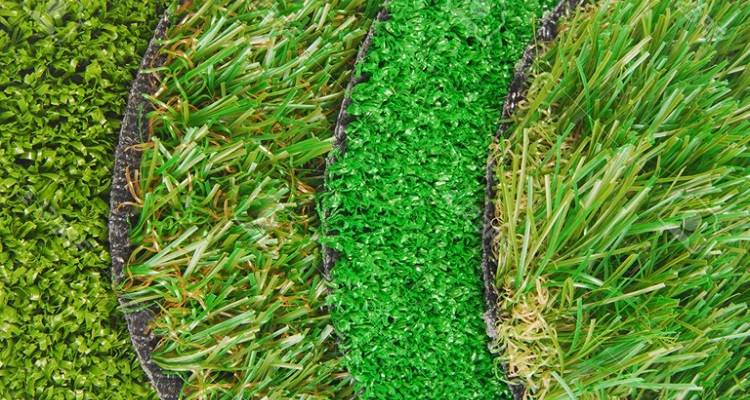 Clearing the Area
The first thing you will want to do in order to prepare the area for laying artificial grass is to remove any existing turf or weeds that will interfere with the installation. Be sure to eliminate as many roots as possible to prevent any future growth returning. This step is key to ensuring a clean and level surface for installing your new artificial lawn.
Remove and Kill Weeds
As we mentioned earlier, ensuring that the laying area is clean and weed-free is essential prior to installing your synthetic grass. A common misconception around artificial grass is that it will stop weeds from returning underneath. This is untrue as the weed may have already rooted itself deep within the soil. For best results, we recommend using a weed killer to prevent the plant from establishing once more.
Subbase Preparation
A sub-base is the foundation on which the artificial grass will lay. Creating a firm, supportive subbase foundation will make the installation process a lot easier and prolong the longevity of your turf. Using a turf cutter, you can remove between 2-3 inches in depth and level the existing soil. It is recommended to apply a solid base of either sharp sand or aggregate, as a sturdy foundation for your turf.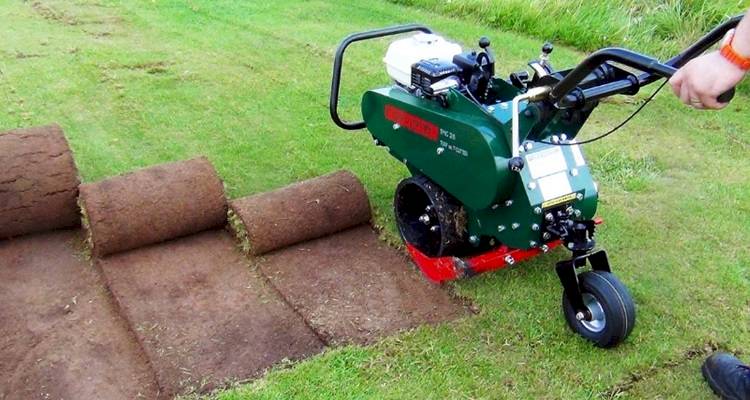 Make Sure Everything is Level
While it may sound fairly obvious, taking the time to level out the foundations of the grass as much as possible will result in an overall higher-quality finish. Not only will the aesthetic of the turf look more appealing, but a level lawn will drain better when exposed to spills and water. Nothing feels worse than a synthetic lawn with lots of harsh lumps and bumps beneath the surface.
Inspect for Signs of Water Pooling
In order to achieve a professional, quality artificial lawn, your foundations must be level and completely dry. If you spot signs of water collecting, start by treating any drainage issues before considering installing artificial grass.
What Tools Do I Need to Install Artificial Grass?
To achieve the best possible finish when laying your artificial grass, you should ensure that you are equipped with the appropriate tools for the job. Not only will having the proper equipment give better results, but the process will also be much easier for you to carry out. To install artificial grass at home, we recommend you use the following:
Metal Measuring Tape
Spirit Level
Straight Edge
Turf Cutter
Sharp Cutting Knife
Stiff Sweeping Brush
Sand Spreader
Soil Compaction Roller>
It would also be useful to have a Flat Shovel, a Wheelbarrow and a Skip to make cleaning up afterwards more convenient.
What Materials Do I Need to Lay Artificial Grass?
The following are also materials that you will require to install a professional looking artificial lawn.
Synthetic Turf
Joining Tape
Joining Adhesive
Weed Membrane
Sharp Sand or Aggregate
Don't panic about having to purchase expensive equipment for installing your artificial grass. Many tools and equipment can be hired at reasonable prices.
How to Install Artificial Grass Yourself
Installing artificial grass is a reasonably straightforward task which can be done quickly at home. You don't have to be an expert or a professional tradesperson to fit your own artificial grass. However, there are appropriate steps you should take to ensure the best possible results.
Below is a step by step guide on how to effectively lay your own artificial grass at home.
Step 1
If you haven't done so already, measure the area where you would like your artificial grass to lay. Then, cut your roll of synthetic turf to manageable strips, to make it a little easier to handle.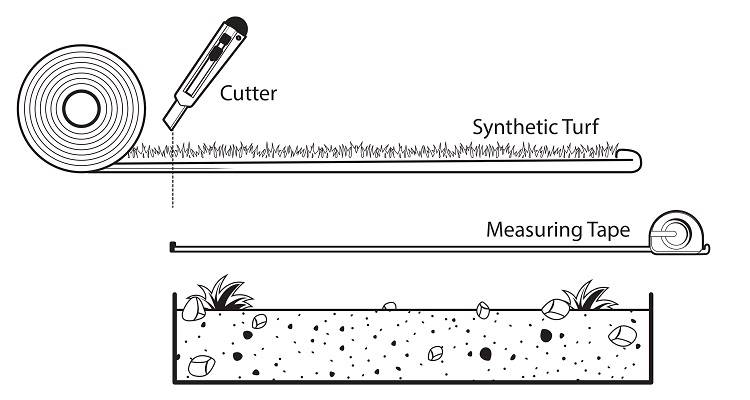 Step 2
Clear the area of any rocks, weeds or debris that will interfere with the installation of your new grass. Using a turf cutter, dig out an area of around 2-3 inches in depth, for which your sub-base will sit.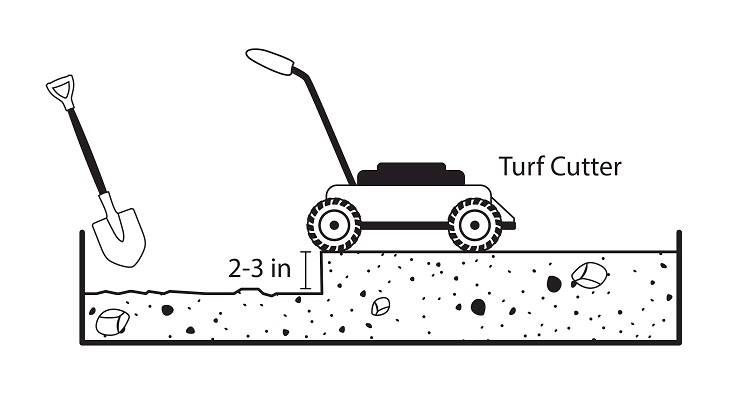 Step 3
Prepare the area to make sure that you have a solid, level base. The foundations for your grass must be as smooth as possible to reduce the chance of an uneven and lumpy surface. You can use sand or aggregate to help fill in small spaces and defects.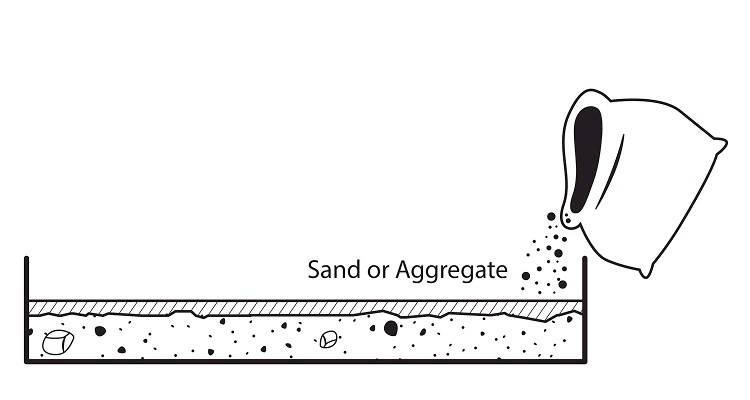 Step 4
You should now install a protective membrane layer to prevent weeds from growing underneath your artificial lawn. It is a common misconception that weeds, and other plants will not grow beneath a synthetic grass carpet.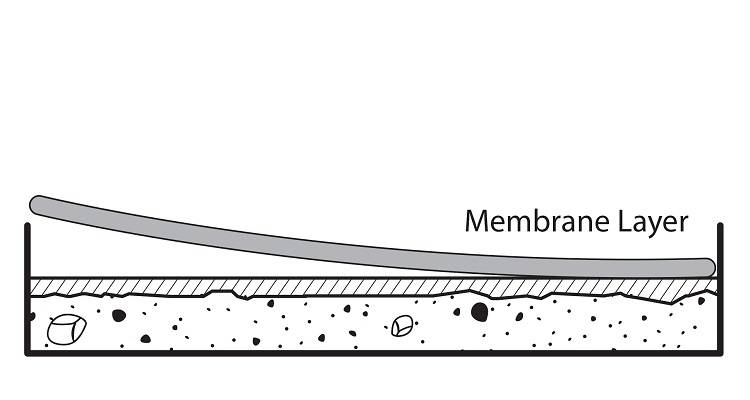 Step 5
Roll out your artificial turf carpet, trimming the edges to create a rough basic shape. Take your time when trimming your artificial grass roll, as it is always better to cut smaller pieces first than over cut. Patching up artificial grass can be tricky and doesn't always look great, so don't rush this process.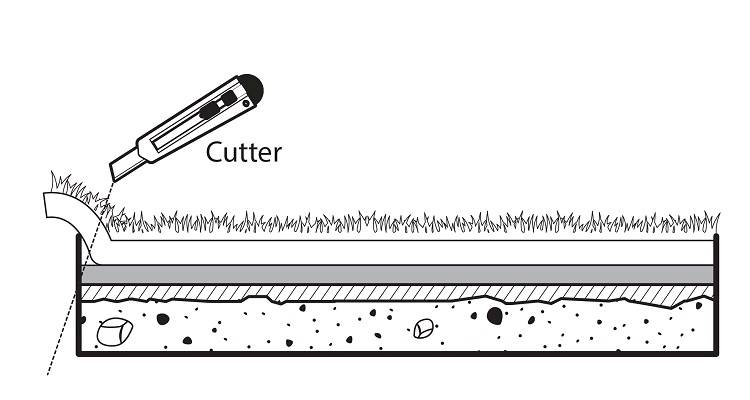 Step 6
Position the pieces of turf until they join neatly and seamlessly. A great way to disguise the edges of your synthetic turf strips is by laying the carpet so that the pile runs in the same direction. This tricks the eye and makes it difficult to notice where one strip ends, and one begins.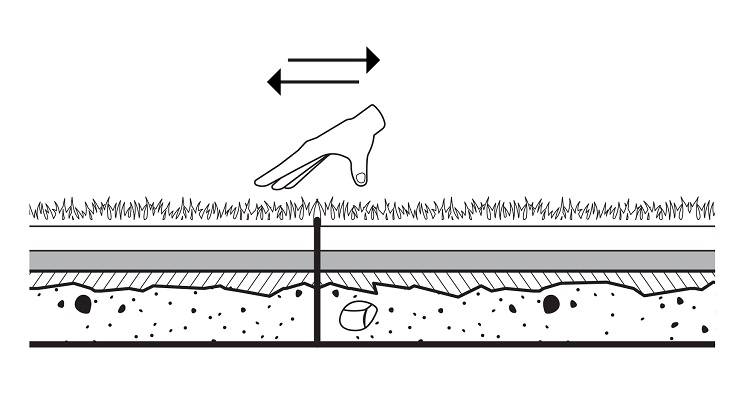 Step 7
Seal the edges of your artificial grass rolls with the appropriate joining tape or adhesive. Check with your supplier as to what adhesive they recommend will work best for your product.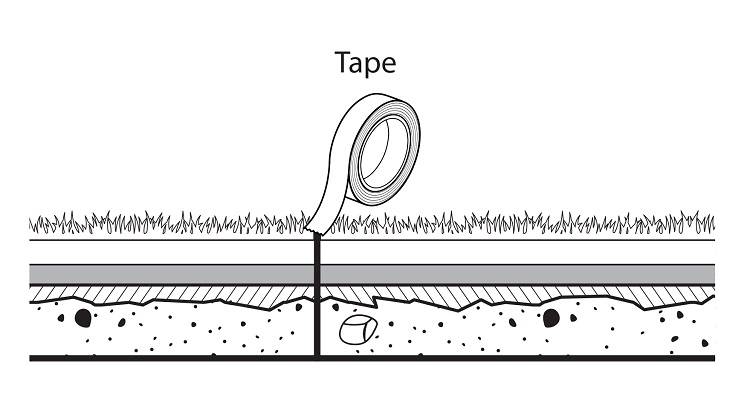 Step 8
Once you have finished fixing each seam together, you should immediately scatter a fine layer of sand across the lawn to provide stability and a protective layer over the turf. Gently brush the sand throughout the carpet, distributing evenly. This will, in turn, weigh the carpet down to reduce any movement and maintain the blades in an upright position.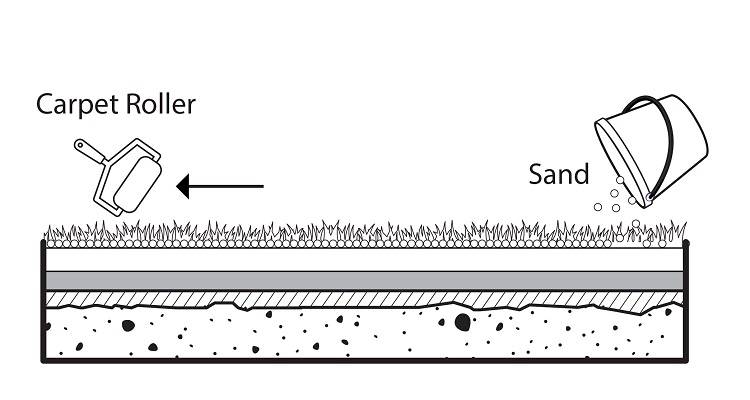 Lifting your turf and laying artificial grass is a complicated task and you should consider hiring a tradesman to carry out the work for you. We have researched the cost of laying artificial grass. Removing turf and preparing the area for your artificial grass is very labour intensive and involves a lot of landscaping. If you're not physically fit enough for the job then you risk injury.
Why Choose Artificial Grass?
As we briefly discussed, the number one reason more and more people are opting for artificial grass in their gardens is the maintenance value. Unlike natural grass, artificial grass does not require watering or regular trimming to upkeep a beautiful appearance.
These days, the life expectancy of a quality outdoor carpet is between 20-30 years, making for a cheaper long-term investment. To keep natural turf looking its best, it requires a lot of care and attention, both physically and financially. While artificial grass is initially a more expensive purchase, you will ultimately save on feeding, watering and trimming materials in the long run.
Not only is synthetic grass low maintenance, but it is also available in a vast range of styles and colours. Because it is manufactured, it can be created to suit any design specification. Thanks to modern-day production, you will likely be able to find a product that suits your style, from the colour to the blade shape and length. Most well-made synthetic turfs are cleverly designed to replicate the familiar look and feel of real grass so that it blends in seamlessly with the rest of your garden.
Many synthetic turf manufacturers even produce ranges of artificial grass that are made from recycled materials, such as plastic bottles. This intelligent way of production means that artificial grass can be beneficial to our home and the environment.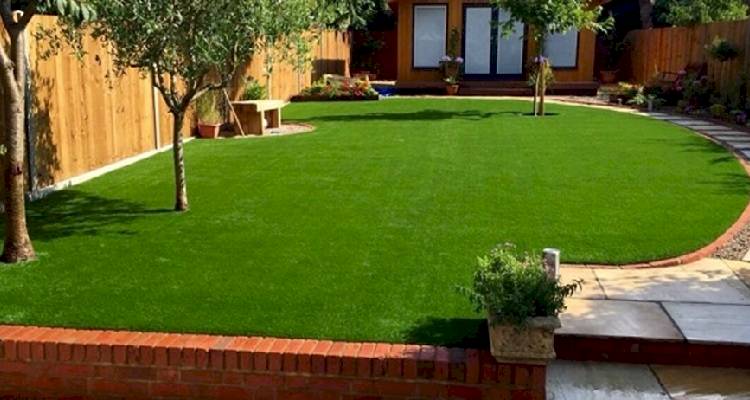 What You Should Consider When Installing Artificial Grass
As we briefly touched on, artificial grass is an investment and can be quite a costly one at that. In general, it is more expensive than real garden turf. As with any home improvement project, we recommend that you shop around beforehand to compare different prices, making sure that you get the best value for your money.
Carry out a little research to make sure that a synthetic grass surface is the right option for you. There are so many varieties of artificial grass products on the market that it is easy to think they are all alike. This is not the case, and the vast range of pile thicknesses and colours to choose from will have a significant impact on the overall finish of your project.
If you have pets, dogs, in particular, consider if they are going to have access to a space where the artificial turf will be installed. Many homeowners will have concerns on whether their artificial grass will stand up to the use of pets and children. However, what most of us don't realise is that artificial grass is extremely durable and easy to clean. You can choose to pressure wash your synthetic turf or even use a regular household vacuum to clean up crumbs and debris.
Maintenance and Repairs
Artificial grass generally requires very little maintenance, which is what makes it a popular choice amongst homeowners. Thanks to its durable synthetic fibres, many kinds of artificial grass will stand up to the test of even the harshest British weather conditions. That being said, there are still ways that you can keep your artificial lawn looking its best, by carrying out minor maintenance and repair work when necessary.
Preserving the Blades
After the settling in period, which is usually around 6-8 weeks, your artificial grass will be ready to brush or vacuum. Using a soft-bristle brush or a vacuum that is suitable for outdoor use, you can lightly sweep the carpet to keep the synthetic grass blades pointing in an upward direction. Lifting the pile, as with any other carpet, maintains the structure of the grass and keeps it looking both realistic and pristine.
Preventing Debris Building Up
Regularly dedicate the time to check your artificial lawn for any signs of debris or organic waste that may lead to a build-up. Rotting garden waste not only looks unpleasant, but it can also cause drainage issues and other extensive damage if left untreated. A regular leaf blower can be an excellent investment to help you keep your artificial grass free of garden debris.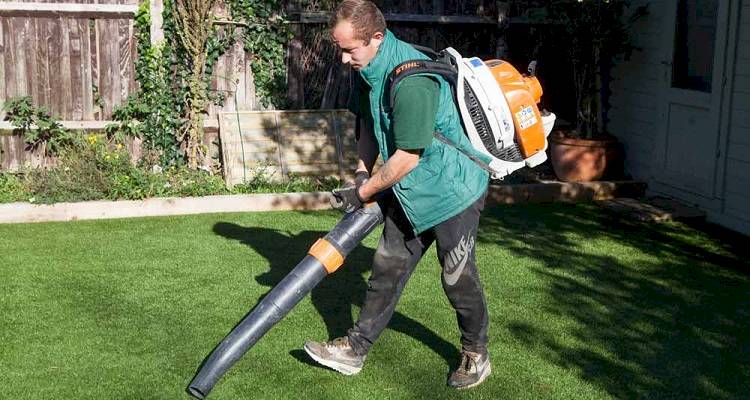 Controlling Weeds
You should always monitor your artificial grass for early signs of weeds. Eliminating the problem before it becomes established will reduce the likelihood of the weeds returning. As you would, with any other lawn, simply pull out the weed as soon as you see any signs of growth forming.
Repairing Artificial Grass
Artificial grass can be easily repaired by cutting out the damage and replacing the patch with more synthetic grass. However, to seamlessly blend in the fixed piece, it is essential to make sure that the replacement carpet is an exact match of your existing artificial turf. If it's not, you will clearly notice where the repair has been carried out, and it may end up looking worse off. Consider keeping a small amount of leftover carpet after you have installed your artificial grass, in case of any future repairs.
FAQs
Is Artificial Grass Worth The Money?
In our opinion, absolutely. Artificial grass is an investment. While it is initially more costly compared to alternative flooring, its long lifespan means that it will end up saving you money in the future.
What Is The Best Kind Of Artificial Grass?
The most durable type of artificial grass material would be a Nylon blend. Nylon is a robust and resistant plastic that will stand up to the test of harsh weathers and everyday use from pets and children.
Does Artificial Grass Get Hot In The Summer?
Compared to organic grass, artificial grasses can absorb heat on sunny, hot days. However, this is not unbearable nor uncomfortable and can easily be managed and cooled down with water or creating shade.
Can Dogs Go To The Toilet On Artificial Grass?
Both cats and dogs are safe to use artificial grass when going to the toilet. However, to keep the area as hygienic as possible, be sure to hose down the lawn and remove any messes immediately after use. Always check with your grass supplier that your kind of artificial grass is safe for pet use.
Is It Difficult To Install Artificial Grass?
Installing artificial grass is generally an easy task. However, depending on the positioning and the surface area you require the turf to be installed on, it can sometimes make the job more complicated. The smaller the space, the easier the installation tends to be, as fewer pieces are needing to be joined seamlessly together.
Last updated by MyJobQuote on 3rd April 2020.