Cost of Replacing Leadwork on a Chimney
Replacing the leadwork on a chimney?
This guide will break down the prices involved based on two common job descriptions for this sort of work. We'll also explore other subjects, such as the steps involved in replacing leadwork and the benefits of doing so (or more likely, of hiring a professional to do so). So, let's get right into it.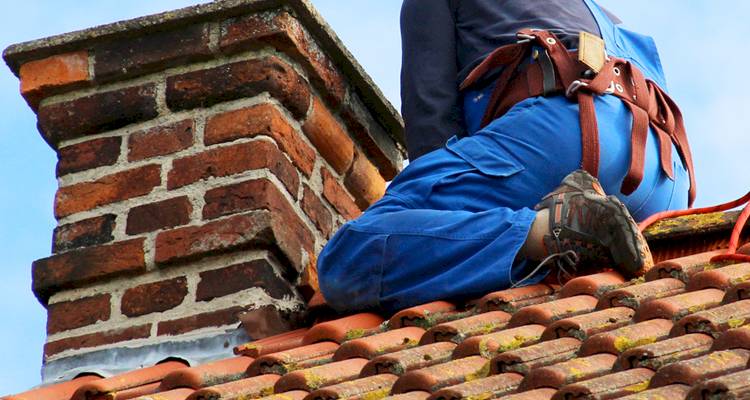 Average Cost of Chimney Leadwork Replacement:
Depending on the complexity of the job, it usually takes: 0.5 to 1 days
£570
How Much Does It Cost to Replace Leadwork on a Chimney?
The average cost of replacing leadwork on a chimney is £350 to £460 if scaffolding is not needed, but you'd need a budget of around £700 to £920 if it is required.
The price of replacing the leadwork on a chimney depends on:
Size/type of chimney
Size/type of leadwork
Type of property
State of the installation area
Ease of access
As for location in particular, where you live impacts the labour cost. The price of hiring a contractor tends to be higher in the southeast and London especially.
On the other hand, you'll generally find labour prices below the national average in Northern England, Scotland, and Northern Ireland.
Chimney Leadwork Replacement Prices
| Job Description | Supply Costs | Labour Cost | Total Cost |
| --- | --- | --- | --- |
| Replacing Leadwork without Scaffolding | £250 to £310 | £100 to £150 | £350 to £460 |
| Replacing Leadwork with Scaffolding | £500 to £620 | £200 to £300 | £700 to £920 |
Supply Only Costs
The supply cost of replacing leadwork on a chimne is about £250 to £310. However, you'd need to add about £250 to £310 if scaffolding should be used.
Here's another thing…
The supply costs exclude the labour/installation cost and, if needed, scaffolding. Of course, as with labour prices, these can vary significantly.
Supply Cost of Replacing Chimney Leadwork
| Job Description | Supply Costs |
| --- | --- |
| Replacing Leadwork without Scaffolding | £250 to £310 |
| Replacing Leadwork with Scaffolding | £500 to £620 |
Additional Costs
What other jobs should I consider? We'll now discuss some extra jobs you may wish to pay for, along with replacing chimney leadwork.
Chimney Liner
A wide range of factors shape the cost of having a chimney liner replaced. For one, the size of the chimney matters. The more materials required, the more the job will cost. As an average, chimney liner replacement costs around £600 to £1000.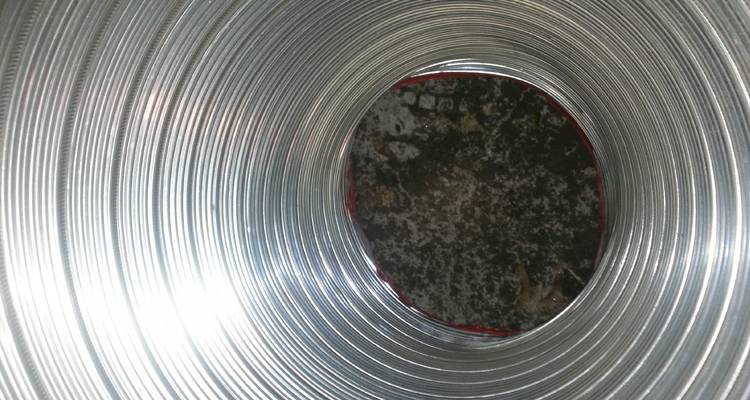 In most cases, you will be charged an hourly or daily rate for a professional to lay a new chimney liner.
Here's the types of chimney you may have:
Woodburning stove chimney
Masonry chimney
Metal chimney
Your hired contractor will be able to advise you as to the best lining material to go with.
The most popular chimney lining materials include:
Pumice concrete and clay liners
Stainless steel flexible liners
Chimney fans and ceramic liners
Replacing Roof Tiles
You may wish to have several or more roof tiles replaced due to wear and tear or damage, among other reasons. It costs about £150 to £190. This assumes that scaffolding is unnecessary and that there are no additional access problems.
Let's say if a ladder is required, along with some cement bedding for a five-tile replacement, you can expect the cost to reach £200 to £250 in total.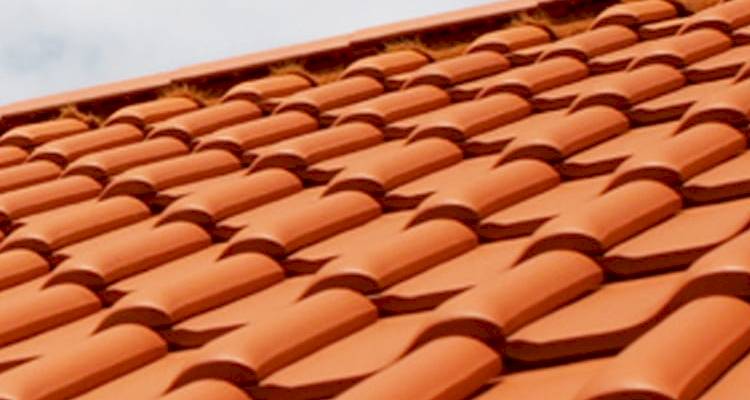 If scaffolding is needed, expect to pay £450 to £550 altogether. If you'd rather re-roof an entire roof, it could cost up to £10,000 or more.
Many factors can determine the cost of this work, such as:
Size of roof tiles
Type of roof tiles
Number of roof tiles
Ease of access
Property location
Nature of the roof
Labour Costs and Timescales
The labour price excludes the supply costs and that of hiring scaffolding to replace leadwork on a chimney.
The labour cost is approximately £200 to £300 a day. This will come to roughly £100 to £150 if scaffolding is not required but around £200 to £300 if it is needed.
But that's not all…
It takes, on average, two to six hours to set up scaffolding (if required), while the actual leadwork replacement itself should take about three to five hours.
The labour cost and timescales depend on ease of access, the state of the work area, and, potentially, the weather conditions. The labour costs will also vary based on where you live.
Cost Factors of Replacing Chimney Leadwork
Let's take a closer look at the factors that influence replacing chimney leadwork. We'll look at examples, such as size/type of leadwork and ease of access.
Size/Type of Chimney
The larger the chimney, the more the work may cost, as there will be a greater area surrounding the chimney to work with.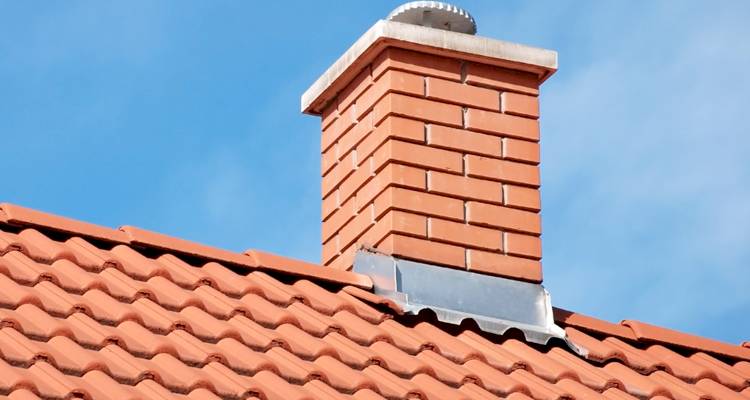 The chimney type can also shape the cost as this will impact the nature of the work and the type of leadwork that should be used.
Size/Type of Leadwork
The more leadwork required, the highest the supply costs will be. Further, the larger the area of leadwork being replaced, the longer the work will take, and therefore, the higher the labour cost will probably be.
Beyond that, the type of leadwork is also relevant to the cost of the materials.
Installation Area
Some roofs will be easier to work on than others. The more stable and smooth a roof is, the easier it will be to replace leadwork on.
For that reason, the better the installation area, the sooner the job is likely to be complete, and this will likely shape the total cost of labour for said work.
Ease of Access
The more accessible the roof is, the cheaper the work will be. After all, the sooner a contractor can make it on to your roof, the less time the work will take.
Further, if access is particularly problematic, scaffolding will be needed, adding approximately £250 to £310 to your total bill.
Condition of Chimney
The better the condition of the chimney, the less work will be necessary. With the opposite being true, either way, the chimney's condition will likely influence the labour cost of replacing a chimney's leadwork.
What's involved in Chimney Leadwork Replacement?
We'll now discuss the steps required to replace leadwork on a chimney. The work can vary depending on the exact nature of the leadwork being replaced.
Hiring a Roofer
First and foremost, you'll need to find the right contractor for the job. As part of the process, it's best to request quotes from three roofers or more. It would help if you also asked for references too.
With both considerations taken into account, you can improve your chances of finding an above-average roofer and, hopefully, a good deal.
Preparation Work
On the day of the replacement work, the roofer will first need to prepare the work area.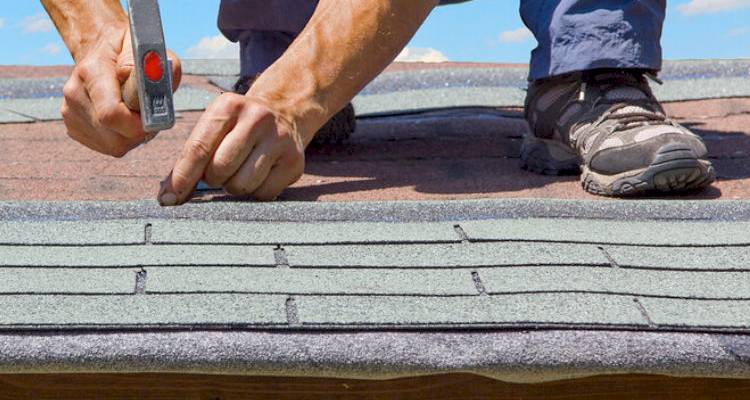 This may, of course, involve setting up scaffolding if required. However, either way, all of the required tools, material, and safety equipment will need to be gathered and prepared for use at this stage.
Replacing Leadwork on a Chimney
Why is lead a common feature of roofs?
Lead is a feature of many properties, especially on the roof and surrounding the base of a chimney.
It may also be found where roof tiles and a wall connect or in a roof valley.
Replacing leadwork is generally a job for an experienced contractor and not a DIY enthusiast.
The process of replacing leadwork tends to involve replacing a few roof tiles also. Having spare roof tiles will make sense. A full roof inspection may also be necessary.
If the lead needs to be shaped, it can be beaten with wooden tools or even welded in the case of thinner lead. Lead may be fixed with lead plugs that a roofer can fit between brick courses.
Cement may also be used to prevent water absorption and as a means to fill in gaps. The three most common forms of leadwork are step cover flashing, lead apron, and attaching a lead back box to a chimney.
Here's another thing…
While lead apron flashing is relatively straightforward, step flashing is more a complex job since it entails cutting it in such a way as to match the angles of the roof slope.
To replace a chimney back box may also prove time-consuming and costly since there is a likelihood that plenty of tiles will need replacing.
Since lead is heavy, removing it from the roof is a challenging job. New leadwork will be installed once the old leadwork has been removed.
Clean Up
As soon as the work is finished, the roofing area will need to be tied and checked for security and safeness. Then, the scaffolding (if present) will need to be disassembled.
Can I Replace Chimney Lead Flashing Myself?
Replacing chimney lead flashing is generally not suitable as a DIY project. Unless you know exactly what is involved and have some relevant experience, you should hire a professional for this work.
Generally, a professional will not need to sign off your work. However, if in doubt, you should contact your local council.
Even if it is not generally suitable to replace chimney lead on a DIY basis, you could still, for instance, assemble scaffolding if required as a way to cut down on labour costs.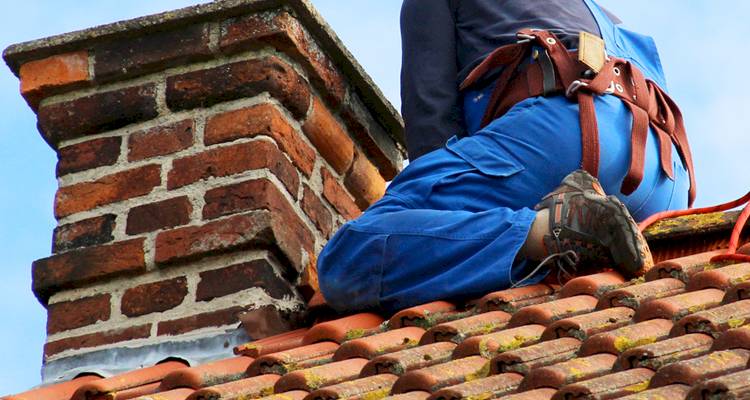 As with any DIY work, replacing leadwork on a chimney comes with many hazards/dangers.
For example, working at a height is risky, and for that reason, it is best to wear a safety harness.
It's also important to take the necessary safety steps when working heavy tools/equipment and, of course, when working with lead, as cutting yourself on a lead surface could result in lead poisoning.
Building Regulations & Planning Permission for Chimney Leadwork Replacement
There is a range of building regulations that apply to roofing repairs. For example, similar materials should be used, and the general appearance of the roof should be kept the same.
However, regulations approval will not apply if you are changing no more than a quarter of the total roof area.
Further information may be found on Planning Portal. Although, it should be said that Planning Portal applies to England and Wales, and rules may differ in Northern Ireland and Scotland.
Submitting a building regulations application costs about £300 to £400, although it may be relatively cheap, depending on the nature of the application.
To ensure that planning permission is not necessary as long as:
You do not alter more than 150mm of space from the existing roof plane
You avoid making alterations higher than the tallest point of the existing roof
Obscure-glazed windows are used for any openings more than 1.7 metres above the floor line
Once more, you can find out more through the Planning Portal. Planning permission application costs around £200 to £400.
You're likely to receive a response to a planning permission application within eight weeks.
Benefits of Replacing Chimney Lead Flashing
There are plenty of advantages to installing chimney lead flashing along with removing the old leadwork. Let's take a look at some common examples.
Prevent Damage
Firstly, replacing leadwork on a chimney can reduce the chance of damage since old and worn-down leadwork will be replaced by new, fresh, and likely more durable leadwork. Also, it may involve replacing old chimney tiles.
Protect the Chimney
New leadwork can better protect a chimney, given its physical qualities. Of course, most notably, the newer the leadwork, the more durable it is likely to be.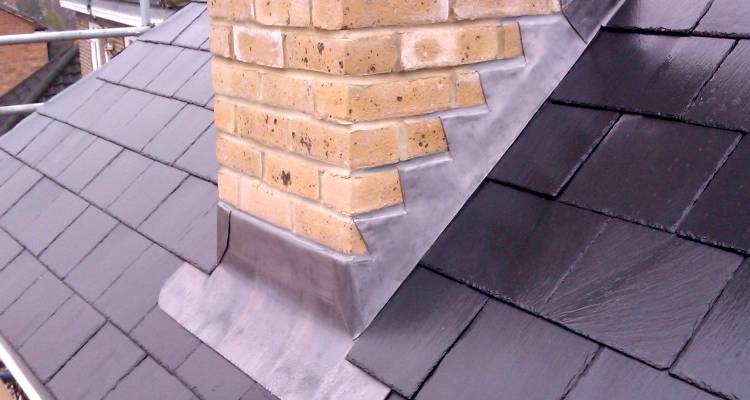 However, you may specifically choose to buy a leadwork product that is better than the original leadwork in terms of strength.
Hiring Contractors to Replace Chimney Leadwork Checklist
There are various points to consider when it comes to hiring a roofer for this job. Let's look at these considerations.
Checklist:
What qualifications does the roofer have? (Qualifications are not necessary and unqualified roofers can be highly experienced and skilled)
What was their previous work like?
Have their previous customers rated them highly?
Are they part of any accreditation?
FAQs
What is chimney flashing?
This is a waterproof sheet of metal designed to secure the roof and chimney. Flashing may need to be repaired or replaced if it loosens or experiences damage.
How much would I pay to repoint a chimney?
On average, you can expect to be billed around £250 to £350.
Should I hire a roofer to fix a chimney?
In general, it is best to hire a chimney specialist to deal with direct repairs or replacement work on a chimney.
How much does it cost to have a chimney repaired?
It costs about £600 up to £1900 to have your chimney repaired. The price can vary as the cost depends on a range of factors such as the extent of the work needed, ease of access, and the type of chimney.
How can I find the chimney leadwork replacement cost near me?
A quick search on Google will help you find chimney leadwork replacement professionals/companies in your local area along with estimates prices.
Sources
https://architectureforlondon.com/news/the-cost-of-a-planning-application/
https://www.gov.uk/planning-permission-england-wales/after-you-apply

Last updated by MyJobQuote on 17th August 2021.