Loft Ladder Installation Cost
Want to know how much it costs to install a loft ladder? Then you've come to the right place. In this article we breakdown the prices for loft ladders and the costs of fitting them.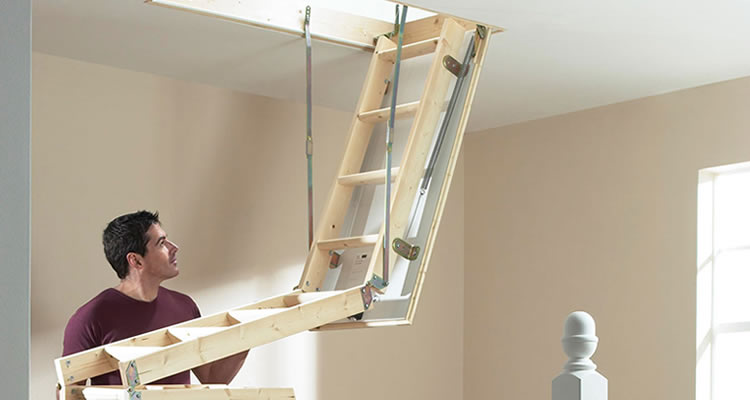 Average price to fit a loft ladder
This type of job normally takes around 1 day to complete
£250
How Much to Fit a Loft Ladder?
If you have just moved into a new house with a loft space but no easy way of accessing it or are planning to use your attic space and need a convenient way of getting up there. Then installing a loft ladder is an affordable solution that will allow you to maximise space safely.
However, unless you have excellent carpenter skills and experience, this is a job best left to the professionals as it's not that straightforward. The cost of installing loft ladders varies a lot depending on the type chosen, some will be able to make use of the existing loft opening, whereas others will need a completely new access hatch.
The different types of loft ladders broadly fall into two categories: sliding or folding loft ladders. Both types can be made from wood, aluminium or even steel. Aluminium is the most popular metal as it is lightweight yet durable, while wood is chosen mainly because of the better aesthetic properties.
To find a local tradesman quickly and easily, you can use the free service provided on this website by simply entering some brief details about the job you need doing, then wait for up to three local tradesmen to get in touch with you to provide quotes and advice. You can also check their ratings from other users before making a decision, plus of course, leave feedback about your job once it is complete.
Loft Ladder Installation Prices
| Job Description | Duration | Material Cost | Labour Cost |
| --- | --- | --- | --- |
| 2 section aluminium ladder fitted into an existing hatch | 2-3 hours | £120 | £130 |
| 2 section aluminium ladder & hatch installation | 1 day | £350 | £150 |
| Folding timber loft ladder and new hatch | 2-3 hours | £150 | £130 |
| 3 Section Aluminium loft ladder using existing hatch | 3 hours | £150 | £140 |
Things to consider about loft ladders
A loft is a great place to store things you don't need often, but to make the best use of the space you need to be able to access the loft easily and safely. The best way to do so is by fitting a ladder, but a fixed ladder would take up too much space, especially if you do not access the loft daily, so an extendable/folding ladder which can be stored out of the way is the ideal solution. Loft ladders are usually made from wood or aluminium, wood is warmer and quieter, whereas Aluminium is stronger and more compact, but noisy!
Ladders are available in either folding/sliding or concertina type designs, with the folding type being cheaper but the concertina type taking up less space. Whatever type of loft ladder you choose, it'll be fitted to your loft hatch ready to be extended for use when you open the hatch. Some loft ladders now even come with a handrail which makes them even easier to use. When choosing ladders, find one that is specified to fit the size of your existing loft hatch if possible as this will save you money. But you'll also have to take into account the height above the hatch you'll need inside your loft, which is usually at least 1.1m above the hatch to make sure you have enough space for the ladders when not in use.
The easiest ladders to manufacture and fit, are the sliding type. They come in two or three sections and are usually attached to the joists. Most (but not all) modern homes in the UK will have an existing loft opening big enough to fit a folding/sliding type ladder. Most loft ladders do not come with a loft hatch but can buy a kit which includes the hatch that will allow you to convert your existing hatch. Cheaper ladders are made from lightweight aluminium and are designed for light, occasional usage. They are noisy but do the job for a decent price. Most ladder kits available from DIY stores will reach up to 3m (the distance from the floor of your landing to the top of your roof joints), this should be more than adequate for most homes in the UK, but if you have an older period home or a modern home of an unusual design, you will need to have ladders manufactured to fit.
How to Fit a Loft Ladder
You can purchase simple loft ladder systems from DIY superstores and direct from manufacturers online, both with and without loft hatches. So if you are just looking for a replacement loft ladder and intend to fit it yourself, all you really need to know is your ceiling height, hatch size and how much clearance you have above the hatch. You don't really need a professional to install your loft ladder as long as you have some DIY skills and are confident you can do a decent installation.
Of course, you want a loft ladder that is safe and functional, not compromising the structure of the ceiling. But if you are confident you would do a great job, then you could certainly do it yourself. But on the other hand, using a professional means you will get a professional finish, as they do jobs like this day in day out. Professionals can also install your loft ladder quicker and without damaging your home.
If you do decide to install loft ladders as a DIY project, then make sure follow the manufacturer's instructions, not just for fitting, but also when taking the initial measurements to order the ladders. You also need to think about how often you will use the ladders when deciding on the quality, then choose sliding, folding or concertina style ladders made with Timber or Aluminium.
Loft ladders checklist
Loft ladders provide safe and secure access to your loft
There are essentially two main types of loft ladder, sliding and folding
Loft ladders kits are ideal for new loft access and usually include an access hatch
If you have very limited space, the concertina type ladder is probably better
FAQ's
What information should I have before I buy a loft ladder?
The main consideration is to ensure the loft ladder is the right size for the hatch you intend to use it with. You need to measure the exact dimensions of the existing hatch opening, and double-check these measurements before ordering a loft ladder. The other main thing to worry about is the pivoting height, which is the space the ladder will need when it's folding or unfolding above the loft floor.

What are the main things to consider when buying a loft ladder?
The four main things to consider are the type of material the ladder is made from, the opening mechanism, and how often you'll be using it.

What type of loft ladder should I buy?
Depending on your budget and needs, you may find that a certain type of loft ladder is more suitable than others. Wooden loft ladders are more popular as they offer a number of advantages including the traditional look, quiet and smooth operation, and the warmth. But Aluminium ladders are also popular thanks to their lightweight and cheap prices. Telescopic ladders are the most popular type for use in tight spaces with their compact nature.
How can I make sure I'm using my loft ladder safely?
Safety should always be your top priority. Always carefully read and follow all manufacturer instructions and be aware of the ladders maximum load. Keep the ladder well maintained and never use a loft ladder that shows signs of wear or damage!
Do I need to buy a new loft hatch to go with my new loft ladder?
No, as long as the existing loft hatch is large enough to fit the loft ladder and it opens downwards.
Last updated by MyJobQuote on 6th May 2020.