Staining a Fence Cost
This is an article about having your fences stained, whether it be as a DIY project or by hiring a painter.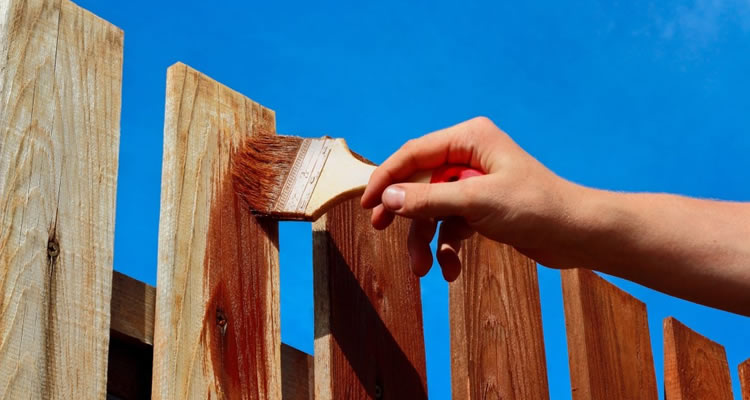 Average Cost of Staining a Fence:
Depending on the complexity of the job, it usually takes: 1-2 days
£400
How Much Does Staining a Fence Cost?
To keep a wooden fence looking it's best and to protect it from the elements, you need to either paint or stain it every 2-3 years, as a way to replace the previous layer of stain.
Where fences are concerned, moisture is the main enemy and staining or painting the fence will create a barrier that will prevent moisture damaging the wood.
How often you should paint or stain your fence will mostly depend on the weather, wet regions will need staining more frequently. Most experts recommend staining fences once every 2-3 years, but you can check for beading yourself as this gives a good indication of when the stain or paint needs to be re-applied.
On a stained and sealed fence, water should bead up on the surface, but if the water soaks in instead, it may be time for staining. The average cost to stain a fence is around £400 for material and labour costs for a contractor to do the work.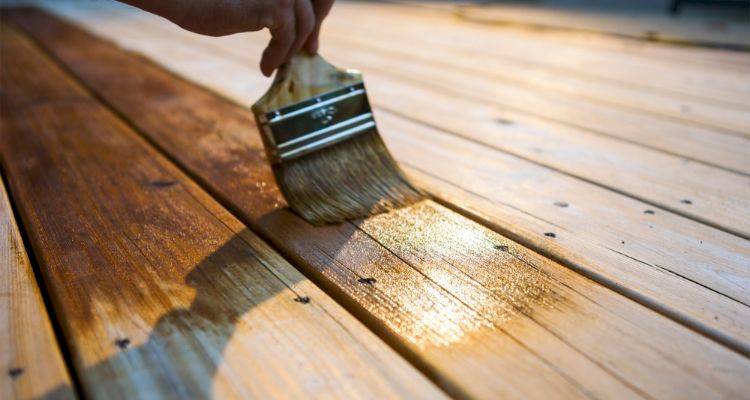 There is some debate amongst experts in terms of whether painting or staining is best. But either will provide protection and extend the life of your fence, so this is mostly a personal choice, however, painting a fence is usually less expensive.
Still, it may require doing more often, plus more preparation is generally needed before re-painting. Whereas staining is typically more expensive initially but lasts longer and there is less ongoing work involved.
Staining is not a difficult job, but it is time-consuming, so many will hire a local contractor to do the job for them. Rather than waste time searching for reliable tradespeople and sorting through all the cowboys, simply fill in a single form on this website to have tradespeople get in touch to supply quotes so you can easily compare prices for your job.
All the tradesmen are reviewed by real customers for peace of mind, and it only takes a few minutes just to enter your details with a brief outline of the job you want doing.
Fence Staining Prices
Below is a table with the average cost and timeframe for a contractor to stain a fence:
| Job Description | Duration | Material Cost | Labour Cost |
| --- | --- | --- | --- |
| 8 panels, 2m x 2m each with oil stain | 1 day | £20 | £150 |
| 12 panels, 2m x 2m each with oil stain | 1-2 days | £40 | £225 |
| 8 panels, 1m x 2m each with oil stain | 4-6 hours | £20 | £100 |
| 12 panels, 1m x 2m each with oil stain | 6-8 | £20 | £125 |
| 8 panels, 1m x 2m each with gel stain | 4-6 hours | £30 | £100 |
| 12 panels, 2m x 2m each with gel stain | 1-2 days | £40 | £225 |
| 8 panels, 1m x 2m each with dye stain | 5-6 hours | £35 | £120 |
| 12 panels, 2m x 2m each with dye stain | 1-2 days | £45 | £225 |
Supply Costs Only
If you're taking this on as a DIY project then you'll need to check out the various supply costs of materials and equipment for the job, this can differ depending on the size, quality and type of fence you're after.
Below is a table with the average cost of all the supplies needed for staining a fence and their individual costs:
| Supply | Avg. Cost |
| --- | --- |
| Small wood fence with oil stain | £8-£10 |
| Large wood fence with oil stain | £15-£20 |
| Small wood fence with gel stain | £10-£15 |
| Large wood fence with gel stain | £18-£22 |
| Small wood fence with dye stain | £20-£22 |
| Large wood fence with dye stain | £22-£25 |
| Paintbrush set | £3-£10 |
Additional Costs
When having a professional out to stain your fence, it's worth completely other jobs within your garden/home that may be needed or make sense to get done, whether that's to fit, install, lay, or fix.
It might be that you're completely starting from scratch and need a fence installed in the first place before staining, costing around £1,000 depending on size and length.
As your contractor has all the equipment out and is in reach, it may also be worth having your shed stained to kill two birds with one stone, adding an extra £150 to your budget.
Other jobs to enhance your garden include installing artificial grass at around £9-£11 per sq. m, or building a garden shed for up to £700.
Labour Costs and Timescales
The cost of labour for staining fences usually costs between £60-£120 depending on location, size of fence type of stain, and how long it takes to complete, with a large fence averaging around £120-£160.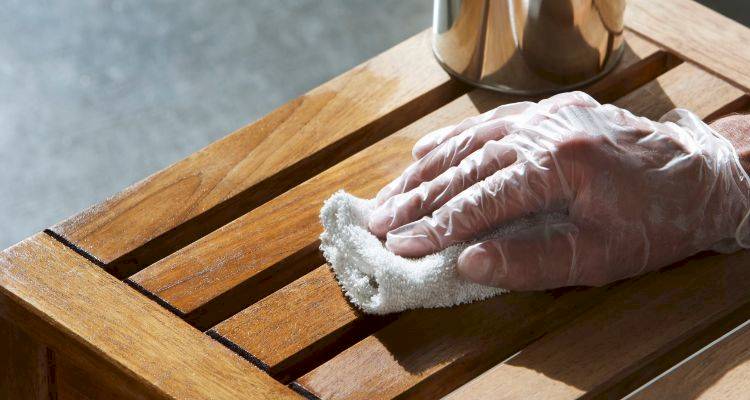 One tradesman will usually work on this job, taking around a day to complete, possibly two if the fence and garden are larger than most. However, if you have large property grounds which require more staining, then it may take two tradespeople up to two days to complete, adding up labour costs.
Cost Factors of Staining a Fence
The first thing to consider is whether to paint or stain your fence. Both will protect the fence against moisture and mould, but both have advantages and disadvantages. With painting, you get a wider selection of paint colours and a thicker barrier against the elements.
However, the downsides are that paint finishes can start to fade out and lose colour reasonably quick due to chipping, plus there is more work involved when it is time to paint again as the old paint has to be removed and a smooth surface prepared before the new coat can be applied.
The popular view is that painting a fence will last a lot longer and may even look better, but it may not be worth all the extra effort (initially and when re-painting). So, staining is much more popular unless you are looking for a particular colour.
Location
As with most labour and contractor work, your location within the UK can alter the price of jobs on a household/garden. With the average price usually being hiked up an extra £20-£50 for those living in London are the surrounding areas.
Size of Fence
The larger the size of the fence means more fence panels to stain, taking longer to complete and adding up labour costs. Smaller fences typically cost between £150-£250, whilst large fences can cost between £300-£400.
Type of Stain
There are several different types of staining options to choose from which
Oil stains are the most common option and can be cheaper at around £15 for a litre bucket, whereas gel stains are also pretty standard at approximately £20. Dye-based stain finishes typically cost around £25 per litre.
What's Involved in Fence Staining?
A well-maintained wooden fence will last many years if maintained properly, but if not painted or stained every few years, they will quickly rot, look awful and will eventually fall over in heavy winds.
The job itself is a simple process which the majority of trained decorates, and contractors can complete with ease. Below is a step-by-step guide on what is involved when staining a fence.
Cleaning
Cleaning beforehand is needed when you're staining an old fence, but if your fence has recently been installed, then this won't be necessary as it should already be fresh and clean.
This can be done quickly by mixing together a multi-use cleaning solution with water and applying it to the fence with a hard wire brush, scrubbing off all the dirt, mould, cobwebs and debris off with care, leaving to dry thoroughly before staining.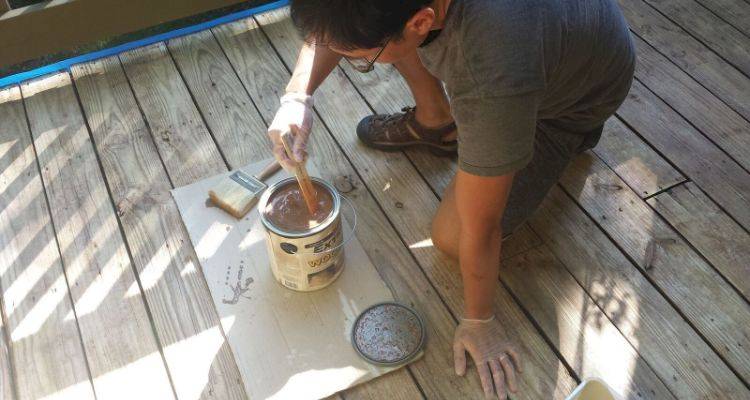 Fill in Gaps for Watertight Fence
This is important to make sure that your fence is protected from water and to avoid having to re-stain your exterior even sooner than expected.
Make sure to fill up any open holes, gaps or wide cracks with wood filler to protect your fence from rain and bad weather conditions. Again, making sure to dry thoroughly before moving on.
Smoothing Surface
Once again, this will probably need doing when staining a fence which you've had for a while, but if you've bought a new fence, then the surface should be smooth.
This can be done by sanding down the wood with sandpaper to get rid of chips and shavings for a simple staining process.
Staining
Now to the main part and the reason why you're here! Staining can be done simply with your materials and a paintbrush, make sure to evenly apply your chosen stain to each fence panel, allowing it to dry before re-applying or touching the fence.
It's also best to leave the job until a warm and dry day to avoid weather conditions messing up your staining.
Can I Apply Fence Stain Myself?
If doing the job as a DIY project, then make sure you wear old clothing and gloves as it's near impossible to stain or paint a fence without getting some on you! Decide on how you prefer to apply the stain or paint, whether that's with a roller, pump, brush, or power sprayer.
But even if you decide to use a roller or sprayer, always use a brush for the tops and edges plus any hard to reach areas, such as the small spaces between fence panels and posts.
Traditional paintbrushes work well with stain, and smaller 2-inch brushes work well for small hard to reach areas. Garden pump sprayers are a quick way to stain, but you need goggles, gloves and a breathing filter or mask.
Rolling is not a recommended method for staining because it tends to leave the fence finished with uneven marks which need fixing afterwards.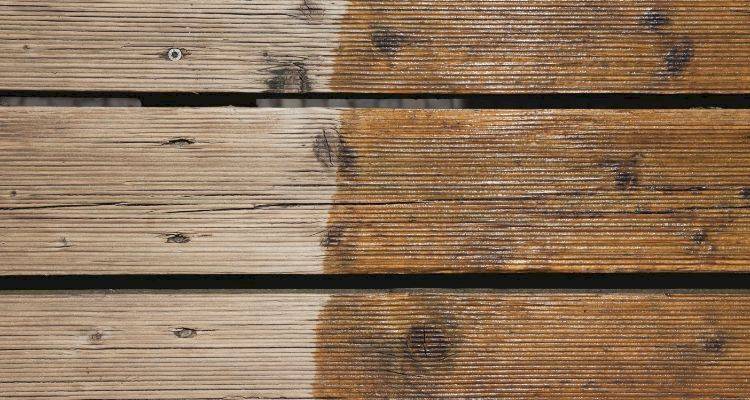 Remember, when applying coats, you should complete an entire fence section at a time to avoid lap marks. Make sure your fence is clean before applying the paint stain, brush down to remove any dust, mould or mildew.
Then check the weather before you begin as you don't want to stain in extreme heat or cold, plus the fence needs to be dry so avoid rainy days and wait a few days after the last rainfall before starting.
In terms of how many coats need to be applied, always follow the stain/paint manufacturer's instructions on how many coats will be required. When it comes to choosing the right stain, just ensure that the product is for exterior use and also make sure you buy enough to treat the fence with the requisite number of coats.
Finally, there is no point applying paint or stain to an old, rotten fence, once rot sets in the fence will need replacing not staining or painting!
Building Regulations & Planning Permission for Fence Staining
Before you paint or stain your fence, you may want to make sure that it's your fence to treat! Many are not entirely sure which fence is their responsibility and which is their neighbour's.
So when it comes to repairs and maintenance, you need to find out who is responsible for what.
There is no law about who owns the boundaries around your property and which side of the fence you are responsible for, but you could check the deeds to your home to find out if there are any boundary agreements in place.
Choosing a Fence Stain
When deciding on the right wood stain for you, it's essential to research into each different type and how they can benefit your fencing. Each stain holds various chemicals to differentiate between types, offering separate results depending on what you need/prefer.
Below is a list of different types of fence stain.
Oil Stain Cost
This is the most common type of fence stains because they are a reasonable price, clean up easily and offer durable protection throughout all weather types. The typical cost of an oil stain is around £10-£15 per litre.
Pros
✔ Cost-effective
✔ Easy to clean
✔ Good UV protection
Cons
✖ Susceptible for mould and mildew
✖ High maintenance
Gel Stain Cost
Gel stains are applied similar to oil stains but with a thicker texture which can make the method slightly harder but end with a more refined finish. It's essential to make sure these are applied with as much precision as possible as they dry fast and don't give you a lot of time to alter anything.
The typical price of a gel stain is around £16-£20 per litre.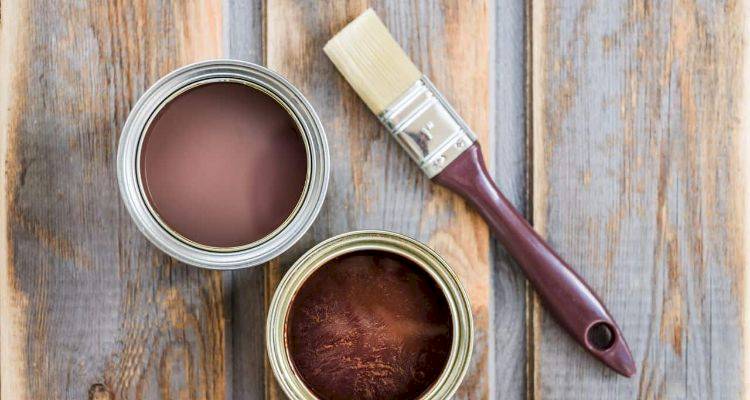 Pros
✔ Smooth finish
✔ Easy to use
Cons
✖ Harder to apply
✖ Quick-drying
Dye Stain Cost
Dye stains are very different from typical staining as they're produced in powder form which has to be manually added to water before using by yourself. The regular price of a dye stain is around £20-£25.
Pros
✔ Vibrant colour finish
✔ Penetrates deeper into wood
✔ Easy to clean
Cons
✖ Prone to fading
✖ High maintenance
Benefits of Using Fence Stain
Painting a fence isn't difficult, but doing the job properly can be time-consuming and repetitive. The work is definitely worth it, as a proper paint job won't just give your fence a facelift, it will actually extend the life of the fence by protecting it from the elements.
Below is a list of reasons why it's a good idea to stain your fences regularly:
Protection from Elements
Staining your fence is one of the best ways to protect your exterior from the unpredictable nature of outdoor elements and unpredictable weather conditions.
It's not uncommon for rain, frost and even sun to cause damage to wooden fences due to mould, drying up rotting or dampness. Regularly staining is one of the best and easiest ways you can make sure your fence stays long-lasting and protected through waterproofing features.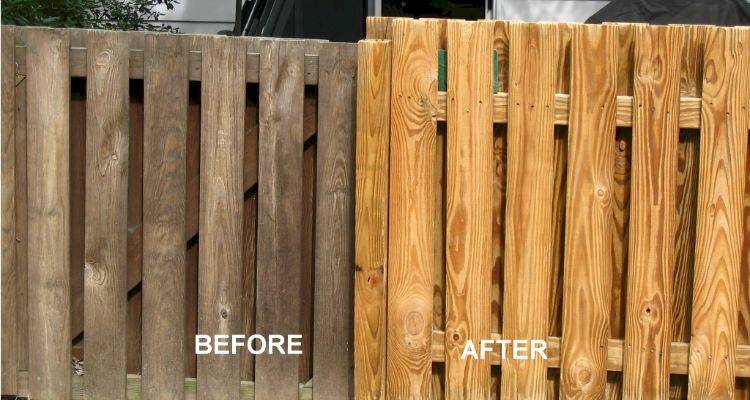 Durable
Your fencing will last a lot longer if you routinely stain it, ensuring that the wood stays dry and well-put, this is ideal especially if the wood is high-quality and you want a longer investment out of it.
Limit UV Damage
Staining can help to safeguard fences from direct sunlight because UV damage can trip layers and colouring from wood throughout time. If you live in a warmer climate or sunny area, then you'll need to regularly stain your wood every few years to ensure lasting protection.
Kerb Appeal
Some people choose to stain their fences due to the aesthetically pleasing finish that it offers, leaving your wood looking glossy and attractive. A regular stained fence can match with various decor and colours throughout your garden and appear neat and attractive.
Cost of Removing Fence Stain
Removing fence stains may be needed if your fence has changed colour due to bad weather conditions, resulting in mould, damp, mildew and dirt buildup.
Once this happens, you may need to pressure wash the fence to get rid of dirt; however, this can cause deterioration on the surface, affecting the staining that has already been applied.
The removal process begins like most by cleaning off dirt and mildew with warm soapy water and a cloth, being left to dry before applying wood stain remover with a paintbrush.
A typical wood stain remover cost around £20 per bottle/tub. The same as applying, this should be spread evenly and in small parts among each fence panel before being left to sit for around 20 minutes.
Once the surface begins to bubble, grab a scraper or putty knife to take away the layer of stain from the exterior, scrubbing away any leftover bits with a wool pad. After successfully scraping off as much stain as possible, prepare a damp cloth to wipe down the surfaces of excess debris, leaving the fence to dry for a day.
After this, the job should be done! Just keep checking for any staining leftover which can be sanded off with sandpaper or a block, ready for a new staging to be added!
Hiring Contractors to Stain a Fence Checklist
Hiring a contractor to work in your home is something that should be considered thoroughly, so you don't miss out on any options and pick the right person for you.
Below is a general checklist of what to look out for when hiring someone to stain your fence.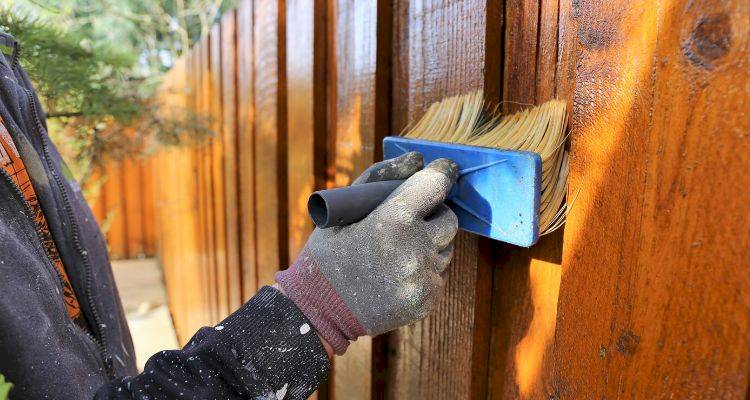 Ask for samples of staining options to ensure you've picked the right one for your home and environment, as well as checking out for the quality and pricing.
Make sure that your contractor has all the essential training and has completed similar previous jobs like this before.
Compare prices and quotes between various contractors so you can see if anyone's price sticks out as odd.
Ask to speak to previous clients and look at references, reviews and pictures of their previous work to ensure your contractor is trusted.
Check to see if they're a part of a trade association and are insured.
Compile a price list and receipt together before settling on payment so you can visualise exactly what will be included in their services and for what price.
FAQs
How long after it rains should you wait to stain your fence?
Typically, you should wait up to 24 hours before staining a fence after it's been wet through either cleaning, rain or damp weather conditions.

If you live in a warm/humid climate then your fence by dry, however, it's always best to wait 24 hours to ensure staining is done effectively and the wood absorbs well.
How do you remove fence stain from concrete?
Removing stain from concrete can be done relatively easily with just a few products including warm soapy water for cleaning, stain remover formula, a paintbrush, and a scraper/putty knife.

Start by cleaning the fence and leave it to dry for 24 hours, apply the stain removal formula evenly and leave to sit before scraping off the stain with your scraper. Finish the job by wiping down the fence with sandpaper and a cloth.
How often should I stain my fence?
Depending on your exact weather conditions and location, it's normal to have your fence stained/re-stained around every 2-4 years to ensure you have lasting protection of the outdoor elements and wood's life and to keep it as cheap as possible.
What is the cost of staining a single fence panel?
The cost will depend upon the size of your fence and the quality of the paint.

Does the existing stain on the fence have to be removed before applying a new stain?

No, generally stain is oil-based and applying new stain over old increases the protection. In any case, the stain soaks into the wood and would be impossible to remove.
Will staining remove old water stains on the fence?
No, water stains penetrate deep into the grain of the wood so cleaning and staining will not remove them completely, though they will generally improve the appearance.
How long will the stain treatment last?
Good stain products promise a life expectancy of up to 4 years, but most contractors will only guarantee up to 24 months, and it is generally recommended to re-apply the stain every two years.

So, even though the initial price is high, it keeps the stain a fence cost down with maintenance.
How long does it take to stain a fence?
Obviously, this will depend on the size of the fence and ease of access. But in general, you would expect most fences to be completed the same day, which helps the stain fence cost stay low.

Larger fences will need the morning for cleaning and preparation; then the actual staining process will be done in the afternoon.
Why do I need to stain my fence?
Staining your fence is one of the most common options for decorative features within your garden compared to painting, this is because they're low maintenance and don't need to consistently be checked over.

Staining protects your fence from unpredictable weather conditions, outdoor elements, and general dirt, stains, cracks, and scratching. In addition, the wood used in most natural wood fences will age and turn a greyish-silver colour, which most people find unattractive. So painting or staining is required for aesthetic reasons too.

It's also a good way to decide on fence stain colours such as grey fence stain or clear fence stain, as opposed to using paint.
Sources
https://www.thumbtack.com/p/fence-staining-cost
https://www.olympic.com/advice/how-to-stain-a-fence

Last updated by MyJobQuote on 22nd December 2020.