Cost of Re-grouting a Bathroom
Bathroom tile grouting guide.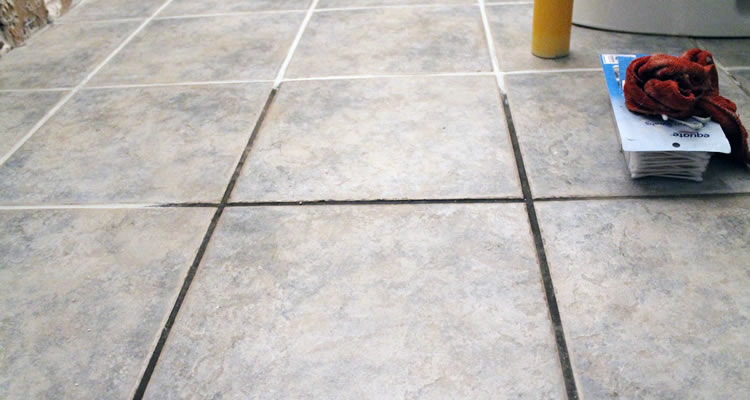 Typical re-grouting costs for a bathroom are around
This type of job normally takes around 1-2 days to complete
£250
There are a number of reasons why people decide to replace grouting in bathrooms. But by far the most common reason is simply because the grout colour has faded and looks dirty, or is cracked and crumbling. If the grout is simply stained or black due to mould growth, then sometimes it can easily be cleaned using bleach or similar. However, if the grout is old then removing the old grout and replacing it with new can make your bathroom tiling look brand new again.
But don't just replace the grout if you have water is getting behind the wall tiles, you have to find and fix the leak first! If you don't fancy doing this project yourself you can use our free service to find reliable and trustworthy tradesmen in your area by entering brief details about the job you need doing along with some contact information. Let us help you find a tradesman now!
Average re-grouting quotes
| Job Description | Duration | Material Cost | Labour Cost |
| --- | --- | --- | --- |
| Regrout small bathroom | 1-2 days | £15 | £200 |
| Regrout medium bathroom | 1-2 days | £25 | £230 |
| Regrout large bathroom | 1-2 days | £35 | £250 |
Things to consider with grouting bathroom tiles
Grouting tiles is essentially the same job whether floor or wall tiles, you simply need to remove old grout, then get new grout into the joints to fill them completely. Grouting technique does not really matter as long as the joints are full and you do not damage the tiles while doing it! There are three main types of grout that are commonly sold in the UK: unsanded wall tile grout, sanded tile grout (usually used for floor tiles) and specialist epoxy grout. It is important to use the right type of tile grout as this will make the grouting last longer ad it may even be easier getting the grout into the gaps thereby reduce the work required.
Un-sanded grout doesn't have sand added to it so can be pushed into tighter tile lines more easily, however, without the sand, it can experience more shrinkage which could mean some cracking when dry. As a rule of thumb, do not use unsanded grout in gaps greater than 3mm wide because of the potential shrinkage problem that can cause cracking. Sanded grout is used for gaps wider than 3mm, which in most cases will be large floor tiles.
Epoxy grouts are specialist grouts made from epoxy resins that can be used instead of sanded or unsanded grout as they do not suffer from shrinkage issues, are more flexible, plus are also normally waterproof so perfect for bathrooms. The other advantage of epoxy grouts is that they require relatively low levels of maintenance to keep them clean. Whichever grout you choose, you should always read the label and follow the manufacturer's instructions carefully.
Doing it Yourself
Grouting bathroom tiles is a job that for some is easy, but others find it incredibly difficult to get right! What's the difference? Well, a lot of it comes down to confidence and patience, but there does seem to be a knack to this job and some just don't have it! Old grout can act as a breeding ground for mould or mildew in damp bathroom conditions and this can cause the seal between the tiles to be no longer waterproof. It is always worth getting a tiling professional in to deal with grout repairs as re-grouting is not a simple task for everyone. But if you have decent DIY skills and are keen to tackle this job on your own, then read on.
The best way to clean grout is to use either a steam cleaner or a special cleaning agent containing bleach. But if cleaning is not enough and re-grouting repairs are needed, then first clean the tiles and grout with a bleach solution and leave to dry before mixing the new grout and applying it to the tiled area. If much of the grout looks bad then you will have to remove it before re-grouting, rather than simply patching areas.
A drill can be a good tool to remove old grout as long as you are careful not to damage the actual tiles. But always wear safety goggles when using power tools to remove grout. Once you have removed most of the grout with the drill you can finish the job with a screwdriver or a Stanley knife blade then vacuum the surface to remove any dust and traces of old crumbling grout. When applying the new grout always remove any excess as you go along as this is much easier than cleaning hardened grout off the tiles later!
Bathroom grout checklist
Clean out joints completely before applying new grout
Always remove excess grout as you go
Only mix small amounts of new grout as you need it
Try cleaning old grout first if solid but discoloured
FAQ's
What are the reasons for removing the old grout from between the bathroom tiles?
The most common reasons for grout removal are if the grout is discoloured, cracked or crumbling.
Can you grout right after laying new tiles?
No, wait for 24 to 48 hours before grouting the tiles.
Can you go over old grout with new grout?
You can do this, but the results are usually less than satisfactory. You really should remove the old grout first for best results.
How long does it take for grout to dry?
You should allow the grout to dry overnight as a minimum, but preferably a full 24 hours. Before sealing your grout you need to wait even longer, maybe a few days to a week to ensure that all of the moisture has had time to be released.
Can you paint tile grout?
Yes, but you have to use paint specifically made for grout, which is more of an epoxy colourant than a traditional paint. Epoxy paint is available in many colours in major DIY/home improvement stores.
Last updated by MyJobQuote on 7th May 2019.