Multi Storey Extension Cost
Guide to multi-storey house extensions with typical costs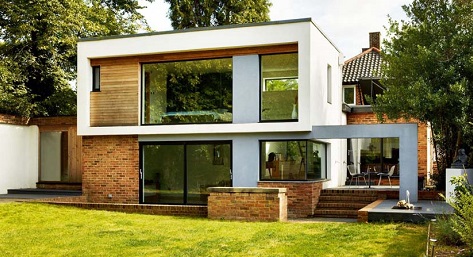 Average cost to build a multi-storey extension
This type of project will take around 16 weeks
£47,000
For many families there comes a time when the home becomes a bit of a squeeze, so should they move to a bigger house, or extend the home to make it large enough for all the family and their activities? Sometimes the choice is determined by the situation, for those that live in flats with no gardens, for instance, extending is simply not possible in most cases. But for those that have space to the front, side or rear, extending is a possibility worth considering, especially in cities where space is at a premium. Whether it makes more financial sense to move to a bigger house or to extend, depends on a number of factors, but in most cases extending makes more sense financially, so is the better option, particularly if you like the area. Extending can consist of adding a single room such as a conservatory, or extending the existing living space across two or more storeys with a full extension offering multiple additional rooms and lots of extra living space. A multi-storey extension is beyond even the most dedicated DIY enthusiast and will require multiple trades to build. So you need to either hire architects, electricians, gas fitters, plumbers and builders separately - or hire a specialist building company that has all the necessary expertise in-house, or at least has special relationships with all the necessary tradesmen so they can manage the entire project on your behalf.
On Myjobquote.co.uk you can use the free online service by simply choosing the type of tradesman you want, entering contact details along with a brief description of the job you need doing. There is no need to contact multiple tradesmen, you just fill in one quote form and you will start receiving quotes so you can compare prices. All the tradesmen are reviewed by homeowners like yourself, to help you make an informed choice. When you hire a builder always agree a single, fixed price for the entire job, never agree to pay daily rates.
Average costs for building a multi storey extension
| Job Description | Duration | Material Cost | Labour Cost |
| --- | --- | --- | --- |
| Small two storey extension | 6 weeks | £4800 | £5200 |
| Average two storey rear extension | 14 weeks | £32000 | £14000 |
| Three storey side extension | 20 weeks | £43000 | £21000 |
| Average price per square metre | NA | £900 | £600 |
Things to consider regarding multi-storey extensions
Planning issues are common with multi-storey extensions as most local authorities insist that the extension is subsidiary to the main building with lower ridgeline must be lower and the new first floor walls stepped back from the existing ones at the front. Effectively, the planners do not want the extended house to look significantly larger than all the other houses in the street to avoid setting unwelcome precedents. So if you were thinking about doubling the size of your existing home then you will probably need to think again! When a two or three-storey extension is proposed, it will naturally get more scrutiny than a modest single storey extension, as it will have a more visible impact the house's appearance with a higher possibility that it will also impact the neighbour's privacy or sunlight. The permitted development (PD) rights for multi-storey extensions are very limited indeed.
A terraced house is unlikely to get permission for a two-storey extension on the front at all, but a rear addition may be acceptable. However, the projection of the upper storey will also be limited as the neighbours are so close. A common 2 storey extension project is a ground floor extension to a rear kitchen, with a new bathroom in the smaller extension above. Another point to consider with terraced properties is that you will be unlikely to add the full cost of the construction onto the new value of the house. With a typical three-bed semi, there is also scope for a multi-storey extension between the side of the house and the property boundary.
If you want to add a three-storey extension and there are no three storey houses on your street, this will be a major challenge to get planning approval. To get permission you will have to ensure that the privacy of your neighbours back gardens is not compromised and the that the new extension is still subsidiary to the original house. Remember also that in multi-storey extensions the building regulations insist that at least one window to any room has to be an escape route in case of a fire. The top storey windows have a greater risk of injury so a protected escape route that runs from the higher floor bedrooms to the outside is required with walls that can resist fire for 30 minutes.
If the second floor is completed with full height walls, as opposed to making use of 'room in the roof', the extra weight on the lower walls may mean that denser, stronger blocks will be needed on the ground floor. These are not as good at insulating as lightweight block, so extra insulation will have to be fitted in the form of dry lining.
Doing it Yourself
Going the DIY route on an extension will more than halve your costs, so this initially seems like a very attractive option! However, you will have to come up with a plan and design that is suitable for the planning department, then carry out the build meeting all building regulations passing periodic inspections from the local authority, plus any electrics will need to be checked by competent electrician and signed off and all gas-fittings must be done by an approved gas fitter. So there are parts of the job that can be done on a DIY basis, but you cannot tackle the entire job without professional help.
Some parts of the job can be taken on by the DIY enthusiast to save money, for example, you could perhaps dig the foundations and pour the concrete, plus much of the interior fittings and finishings are unskilled work. But plan on realistically hiring a plumber, electrician, gas fitter, builder and architect.
Multistorey extension checklist
Well-designed house extensions can transform homes by maximizing the useful floor space while adding to the market value
Before you decide to extend, consider converting existing space such as doing a loft or cellar conversion
To achieve a seamless extension you need to match materials and put old and new together
Small gardens will suffer if reduced even further by a house extension
Hiring a Tradesman Checklist
Always get at least 2 quotes before hiring.
Never pay the full amount upfront.
Get the quote in writing.
For any payment you make, always get a receipt.
On more expensive jobs, ask for references.
Check if the tradesman is a member of any trades associations.
Make sure the tradesman has public liability insurance.
FAQ's
What are the Building Regulations for multi-storey extensions?
Once you have planning permission, you then need to apply for Building Regulations. Building Regulations set the minimum building standards and construction of the project can start 48 hours after the application is submitted. At times during construction, a building inspector from the local authority will visit the site to ensure that all building regulations are being met. Once the extension is finished the Council will issue you with a Completion Certificate.
What is the Party Wall Act?
If you are planning to build an extension within 3 metres of a neighbours property, then you need to inform them of your project in advance and obtain written agreement from them.
Do I need an Architect or Chartered Building Surveyor?
Yes, this is highly recommended when undertaking any large-scale building project such as a multi-storey extension. An Architect can help you with planning, draw up plans and offer invaluable advice on the project. They can also manage the project and deal with the hiring of contractors.
What is permitted development?
Certain types of home improvement works can be carried out without the need to apply for planning permission. This includes small single storey home extensions, but does not include multi-storey extensions, which will likely always need planning permission. In any case, you should always submit your plans to the Local Planning Authority for written confirmation before you begin any work.
How long will it to get planning permission?
If no problems then the entire process normally takes around 3 months.
Recent Jobs
Turn window looks onto the garden into additional living space. Approximately 4 meters wide by 3 meters. I would like bi-folding doors. Etc to let as much light in as possible.
Submitted by Kay
Kitchen extension/garden room required.
Submitted by Jacqueline
We are looking to have an extension built, 7 meters x 4 meters, lean 2 styles with tile roof. It will be split into 2 rooms, utility, and playroom for the kids. We will sort outfitting of the utility room but it will need water and drainage for a sink/washing machine. I have an electrician all ready...
Submitted by Robin
I need to do my kitchen extension.
Submitted by Niru
Hello, we are looking to build an extension attached to our living room for extra space. We are not sure if this requires planning permission but still want a quote for the whole job. We had a quote for a conservatory but thought it's best doing a brick building. Thank you.
Submitted by Latif