Cost to Build an Outbuilding
Need some outdoor storage space?
An outbuilding could be the perfect solution.
In the following guide, we'll break down how much it costs to build an Outbuilding. This article will also delve into relevant topics such as the benefits of an outbuilding and what steps are involved in the build process.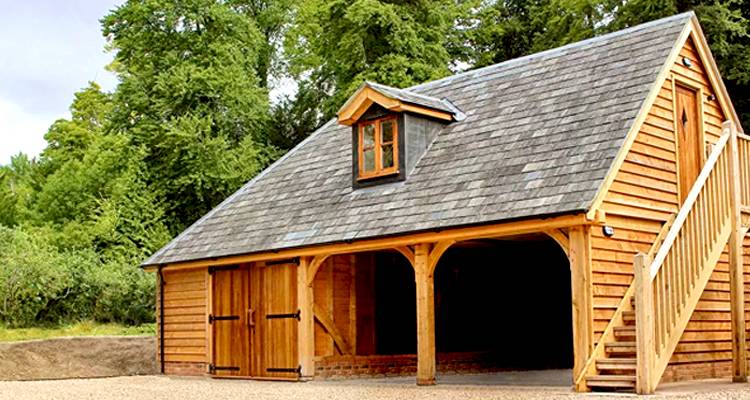 Average Cost to Build an Outbuilding:
Depending on how difficult the job is, it usually takes: 1 to 3 weeks
£7,500
How Much Does It Cost to Build an Outbuilding?
Deciding whether to go bespoke or opt for an off-the-shelf outbuilding depends on your budget. Custom-made designs are more expensive compared to off the shelf options.
Most suppliers expect you to sort out your groundworks and service connections.
Make sure you confirm what your outbuilding construction prices are likely to be when first discussing the costs with your builder.
The price should include (unless your builder needs to fix up an established building) the building works and, if necessary, the cost to replace and remove any previous building on the proposed site. Your quote should also include any extra costs to lay foundations or fit flooring.
The cost to install electrics and plumbing, if needed, should all be included in your outbuildings cost and given as a completed quote from your builder in advance.
DIY kits from stores range from small self-assembly shiplap timber summerhouses and are fairly cheap, costing around £500.
The average cost for larger tongue-and-groove timber log cabins, including an assembly service, will be in the region of £8,000.
Designs from specialists are often customisable. You can input the details depending on your design requirements. If you prefer a bespoke scheme, arranging a consultation with your preferred company to discuss your outbuilding ideas is the best way to start.
There are many outbuilding options available, including design and installation packages. You can choose a wooden outbuilding, a garden outbuilding, a brick outbuilding, or even concrete the choice is up to you.
But remember…
Check your outbuilding planning permission and ensure the development you want falls within the outbuilding permitted development. Otherwise, there may be problems.
Working alongside a specialist provider is an advantage, as they can offer expert advice on planning and Building Regulations. Bespoke buildings will generally be 15%-20% more expensive due to the design time, engineering and other associated costs.
It depends on overall size, features and finish, but prices typically start from £300 per m2, delivered, built and roofed. Still, the building can be as expensive as your vision and budget permits.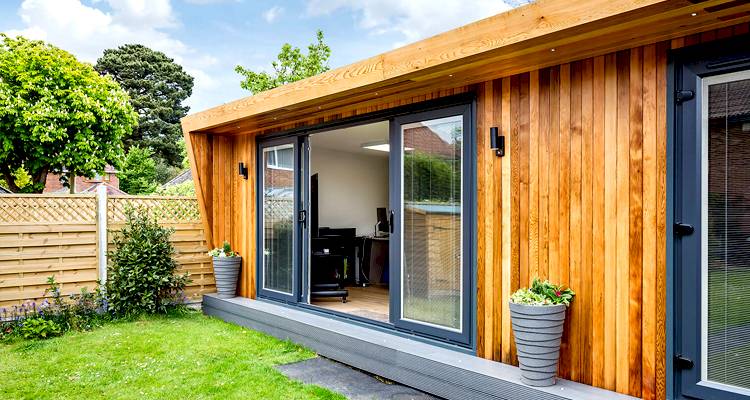 There are many reasons to add an outbuilding to your outdoor space. For starters, they are hugely versatile. You can use yours as a garage, shed, workshop, studio, or a summerhouse or playhouse for the kids.
One of the most popular outbuildings are garden offices, where you can create a dedicated space for work away from the house. In many cases, outbuildings are a great way to add extra usable space to your home for a far lower cost than building an extension.
The cost varies depending on the type of construction you choose – for example, brick, concrete, timber or a prefabricated structure. It also depends on the type and pitch of the roof, the doors and windows, and any required services.
For instance…
If you want to use the outbuilding as a home office, you'll need to install an electricity connection.
You may also face additional costs if there are issues with the foundation works, such as water or gas mains that are in the way. Lastly, if any difficulties are accessing the site, this could add to your new outbuilding's overall price.
On average, you can expect to pay around £4,250 for a basic timber summer house, all the way up to £7,100 for a concrete garage.
Brick Outbuilding Cost
Unlike other materials such as timber, brick outbuildings often take longer to build, adding to the cost. However, you may want to consider using brick if you'd like a garden office or garage that matches your house's style and is more of a permanent feature than a timber summerhouse or shed.
For a simple brick-built garage, you can expect to pay around £4,500. This can rise to £13,500 if you want to upgrade specifications with better roof coverings or other features, such as plumbing for an outdoor tap.
Garden Outbuilding Cost
A garden outbuilding can be used for a whole range of different purposes. You can create a home office away from the main house's distractions. You could also use your garden outbuilding as a summerhouse, yoga studio or a workshop where you can indulge in a hobby. Another practical use for a garden outbuilding is for storage.
The cost of a garden outbuilding will depend on the construction and roof type, but access may also be a factor.
It could be more expensive if your new outbuilding is located at the bottom of the garden, with limited construction crew access. There may also be extra costs for connecting your garden outbuilding with services such as electricity and water, plus insulation.
On average, expect to pay between £6,000 and £9,000 for a small garden office or studio.
Outbuilding Installation Prices
| Outbuilding type | Low cost | High cost | Average cost |
| --- | --- | --- | --- |
| Concrete garage (on a new concrete foundation) | £4,200 | £10,000 | £7,100 |
| Small garden office | £6,000 | £9,000 | £7,500 |
| Prefabricated timber summer house | £500 (for a basic DIY kit) | £8,000 (assembly included) | £4,250 |
| Brick-built garage | £4,500 | £13,500 | £9,000 |
Supply Only Costs
Building an outbuilding yourself is a big project, and unless you're an expert builder, it's likely to take longer than you think to complete. You'll still need the work to be inspected and signed off by a professional at the end of the build.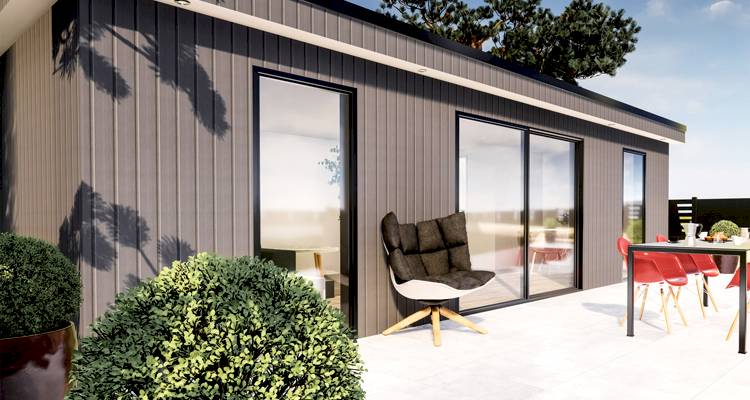 Some of the work, such as the electricals, will need to be completed by a professional. Building an outbuilding isn't cheap, and it's essential to look at it as a major extension project.
Done correctly, with a careful hold on the budget, you can create a beautiful building for under £20,000. There are cheaper options such as building a summer house – see this link for more information.
Additional Costs
If you already have a garage on your property, why not consider converting it into another bedroom? The costs compared to an extension will be minimal.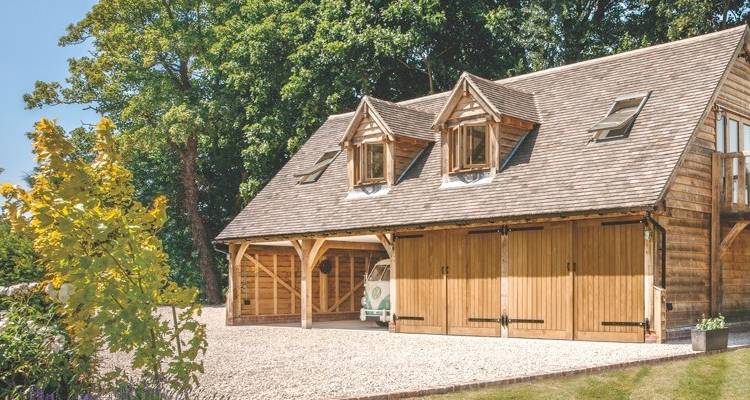 Consider other jobs that may need doing and tackle them simultaneously, such as staining your sheds and fences. And while you're at it, to complete the look, why not re-surface the lawn? For some tips, take a look at our turf laying guide.
Labour Costs and Timescales
During the planning process, you may want to consider hiring the following professionals:
Surveyors
Depending on scale and complexity, surveyor prices should be in the region of £600 to £1,200.
Architects & Building Designers
Detailed illustrations for planning applications cost around £1,500 up to £15,000.
Planning Consultants
Sometimes specialist input is helpful at the start of the project to assess the plot's potential and determine whether it's a viable option. Quotes for these services are given as a firm figure for the likely work or on an hourly basis.
Charges for site assessments and advice are often around £300 to £1,000.
Other Professionals
Governing rules for outbuildings apply to sheds, playhouses, greenhouses and garages, and other outbuildings such as swimming pools, ponds, sauna cabins, kennels, and enclosures (including tennis courts).
Before hiring a builder, work out how much the materials will cost, who is buying them and where they're getting them from. And which materials they'll be using! Ask your builders about wholesale prices from distributors but ensure that they are sourcing materials to your standards.
Ensure you understand the quote. If you're unsure about something, check it. This will also ensure that you understand what is included in the builder's quote and have familiarised yourself with the process overall.
Make sure the quoted price includes VAT at 20% in the UK. Don't end up underbudgeting your build.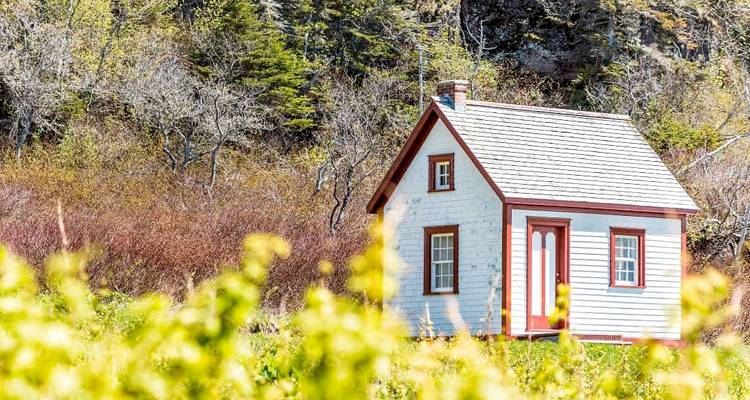 Ensure that everything is clear, so if there are any tax issues, you have a written record of your payments. Also, check the VAT number. Unscrupulous builders have been known to use false ones fraudulently.
Builders should offer a written guarantee, and you should get them to confirm it will be honoured by a UK-based insurance company if the builder ceases trading. A guarantee protects you and the builders and means that you can start work on a clear, solid footing. Keep a copy of this and send a copy to your builders.
Ensure that the start date is written into your contract. Be flexible in your schedule, but don't allow builders to dictate schedules at their convenience.
Can I Build an Outbuilding?
Whilst you can construct an outbuilding yourself if you have building skills, it is often best left to the professionals. Even if you are an expert builder, some jobs will still need to be signed off, such as installing electricity.
If a job involves heavy lifting and you're not sure what you're doing, you could injure yourself – especially whilst building the roof. Take extra care when working in trenches. The is always the risk of collapse, potentially causing serious injury or even death.
Sheds, playhouses and outbuildings are usually classified as temporary structures. You do not normally need any planning permission unless you live in a conservation area. These buildings are simple to construct and can be placed anywhere there is a firm, flat surface.
Other issues to consider are:
The size of your shed should complement your garden's size. Don't overwhelm your garden, and consider the final colour and aesthetics of your completed shed.
Accessibility should be easy, with a pathway and a sensibly placed doorway.
Placement of the shed is important, don't build your outbuilding in an awkward position. Choose somewhere out of the way but still easy to get to, such as a back wall or little-used corner of your garden.
Make your shed as versatile as possible – a children's playhouse can later be converted into a workshop or storeroom when they grow up.
Building Regulations & Planning Permission for an Outbuilding Construction
Outbuildings come under permitted development (PD) rights. If your plans exceed the size limits, or your house is in a conservation area or is a listed building, you'll need specific planning consent.
The building's intended use is crucial when it comes to permission to build, so make sure you define how you intend to use the zone properly.
You can't cover more than 50% of the property's original garden with buildings; the structure must be single-storey, have a maximum eaves height of 2.5m and an overall height of 3m. Verandas, balconies and raised platforms don't fall under PD.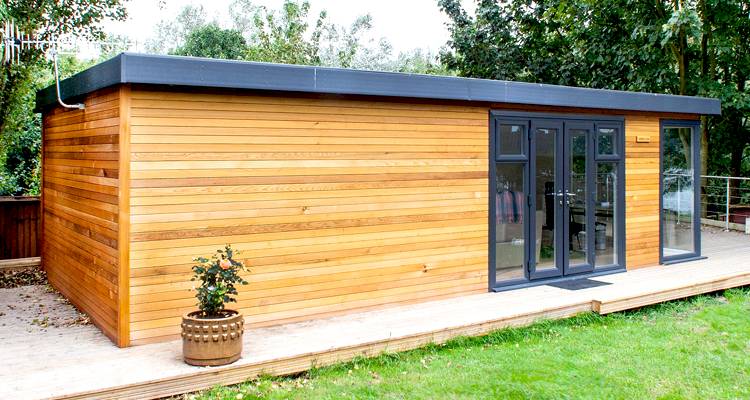 You should always check whether permitted development applies or whether you need full planning before going ahead with an outbuilding project.
If you want to build a small detached building such as a garden shed or summerhouse in your garden, as long as the building's floor area is less than 15 square metres and is not used for sleeping, building regulations will not normally apply.
The planning rules for outbuildings also applies to sheds, greenhouses and garages.
Planning - Hidden Costs
Beware of hidden costs. There are rates for statutory planning applications, council charges, pre-app costs, the Community Infrastructure Levy (CIL) and other payment demands, and professional estimates.
Self-builds are exempt from the CIL, so if your project qualifies, then you won't pay this. Other council expenses, such as pre-app or legal agreements, vary and can be considerable. Professional fees can easily add up, especially if you have to engage several people on your project.
The following fees might be payable during a planning application process, excluding VAT.
Planning - Application Fees
Householder applications, which are needed for extensions and garden buildings, are £206.
You can cover multiple conditions at the same time, but if submitting the documents online via the Planning Portal, you will incur additional processing charges of £20.
Other Council Expenses
The CIL charge can be significant, rates vary depending on the property area. However, if building an extension or annexe, you should be exempt.
Types of Outbuilding
Creating a beautiful garden is a wonderful way to improve and enjoy your homes' potential.
Enhance your space by planting flowers or digging ponds, but the best way to add value to a garden is by erecting an outbuilding or shed.
Here is a list of great outbuilding ideas, not only for the monetary rewards but also for the enjoyment it will bring you.
Oak Frame Pavilion
A unique oak frame pavilion design provides the perfect setting to relax in or entertain friends and family, whatever the weather.
Statement Shed
Turn your shed into extra living or working space. A fresh lick of paint will give your shed or outbuilding a new lease of life.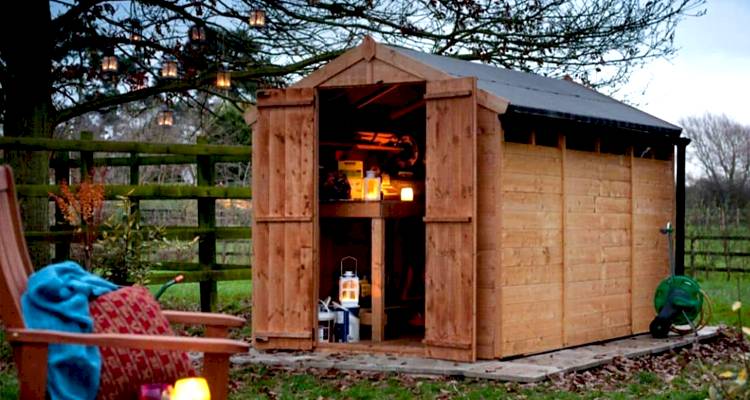 Contemporary Pergola
Try a versatile pergola with automatic windproof sunscreens and glass sliding doors. A pergola can be freestanding or fitted to existing walls and looks amazing adorned with climbing plants and roses.
Garden Office
Line the inside of your shed with plywood, with an innovative cork cladding on the exterior to create a thermally and sound efficient external barrier to outdoor sounds to help you concentrate.
Benefits of an Outbuilding
An outbuilding in any guise is a great addition to any home. Whether you intend to use a shed traditionally for potting plants and storing tools or want a more contemporary workspace, an outbuilding is a way to go.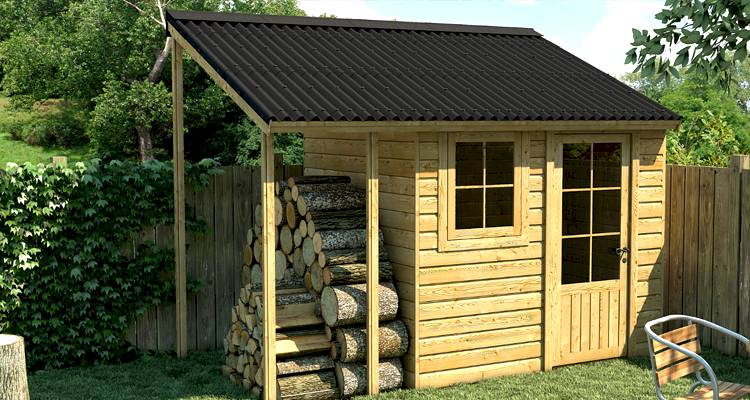 An outbuilding can also be utilised to free up space in your home by removing clutter and storing it in a safe, secure space.
Other outbuildings include pool rooms, kennels, garages, and sauna rooms. They are often easy to build and relatively cheap when compared to a full-blown extension, for example.
Hiring Contractors to Build an Outbuilding Checklist
Is the builder registered as a limited company? It is much easier to check on their past work if they are. Get confirmation that no claims have been made against the company in the last five years, and they have a good track record and can be trusted.
Is the builder a member of any trade associations? Ask your builder if they're a member of a trade association, then find out which one and confirm this with the trade association.
Is there a registered gas engineer and an electrician in your builders' team? Even if you're not having any gas work done, or you won't need an electrician because you're not having any re-wiring, it's still a good idea to ask this question when hiring a builder. Contractors often encounter unexpected things working on buildings. Access to an in-house expert ensures that any potential issues are quickly solved.
Does the builder have any technical and support staff? It's a good idea to know how many people your builder has on their payroll and who to contact for queries and invoicing. Have their contact numbers in case you need to get in touch with them.
Does the builder you are hiring offer a guarantee? But it's also important to have a written guarantee honoured by a UK-based insurance company. That way, if the company stops trading for whatever reason, you will be protected.
How long has the builder been in business - what experience do they have? There's no guarantee that people who've been in the business for a long time will be great. However, it's good practice to make sure the rest of the team are experienced. Ask to see evidence of their previous work.
Does the builder have insurance? They should have Public liability insurance, Employers' liability insurance, and Contractors All Risk Insurance and Professional Indemnity Insurance.
Does the builder have up-to-date health and safety policy? Make sure your builders have a comprehensive set of health and safety procedures and fire safety procedures.
Get at least two references from the builder you plan to hire. Check the builder's reviews online on pages like Google Reviews or Yelp.
Ensure their company name, company address, company landline number, company registration, and VAT numbers are on their quote.
Your quote should include a total price, an outline of what work they're going to do and how long they will take to do it. Ensure that the fixed total price includes a breakdown of all the work to be done and the materials used.
FAQs
What is considered an outbuilding?
An outbuilding is a separate structure not attached to the dwelling or house and may include sheds, greenhouses, garages, saunas, cabins and kennels.
How do you insulate an outbuilding?
The cheapest way to insulate a wooden shed is to use bubble wrap.
Measure the shed panel and cut the bubble wrap to fit.
Overlap the bubble wrap strips to avoid heat escaping through any gaps.
Staple or tack the wrapping to the shed.
Place a sheet of MDF boarding over the panel and screw or nail into place.
Eco-Tec Shed Insulation reflects heat into any timber building, keeping you warmer in winter. And just as important, the insulation reflects excessive heat on hot summer days – a problem overlooked by most Garden Building Manufacturers.
Do I need planning permission to build an outbuilding?
Many outbuildings fall under the category of 'Permitted Development', which means that you shouldn't need planning permission. However, there are strict criteria to meet. For example, the outbuilding can't be used as accommodation or as a kitchen/bathroom, and it must be under a maximum size and height.
Can I build my outbuilding as a DIY job?
You can take on a DIY build for your outbuilding, especially if using a prefabricated structure. However, it can be very labour-intensive. Certain aspects – such as the foundations and any work involved with moving drains or connecting services – may require assistance from a skilled and qualified professional.
Sources
https://www.gardenbuildingsdirect.co.uk/blog/how-to-insulate-a-shed/
https://www.diynot.com/diy/threads/insulating-an-outbuilding.542207/
https://www.ecohome-insulation.com/product/ecotec-shed-insulation-kit/
https://singletrackworld.com/forum/topic/insulating-a-outbuilding-turned-into-an-extension/
https://www.designingbuildings.co.uk/wiki/Outbuildings_definition
https://www.planningportal.co.uk/info/200244/project_advice/135/outbuildings/3
https://www.self-build.co.uk/planning-hidden-costs/

Last updated by MyJobQuote on 17th August 2021.