How to Tile a Bathroom Wall
This article demonstrates with images how to tile a bathroom wall. We discuss everything that you might want to know regarding the materials, maintenance and answer the most frequently asked questions.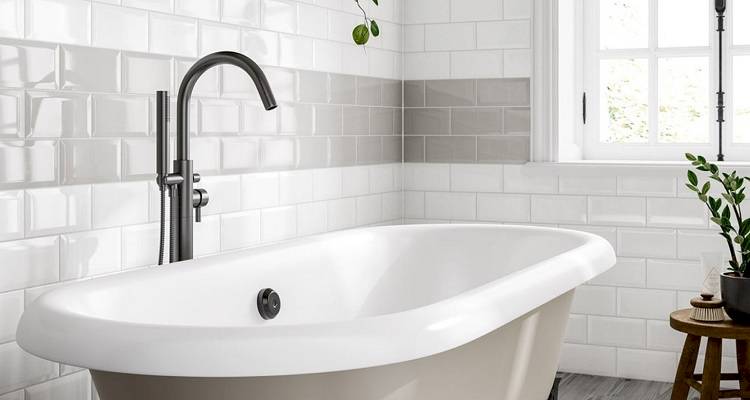 Why Do I Need to Tile a Bathroom?
When it comes to designing and decorating your bathroom, there is a multitude of options and ideas that you can explore, before putting tile to wall. Most paths that you delve will inevitably lead to tiling, as this is the most common choice and the most practical too!
Tiles are perfect for decoration, and also, they are fit for purpose, with such wet and humid conditions created in your bathroom, tiles make it easy to wipe condensation, they also prevent fungi and algae growth, making it more hygienic.
Tiles can really change the feel of a room and can often make bathrooms look more luxurious and spacious. One of the many pros to tiling is that tiles can last for around 15 years, so it's the perfect long-term investment for your home.
What Tools Do I Need to Tile a Bathroom Wall?
Before you learn how to tile your bathroom, it's important that you spend your time gathering all the tools you'll need for the job before embarking on your DIY adventure. You want the best results possible for your home, ensuring you have all the tools will not only give you a professional finish, but it will also make the process more organised and fluid.
You will need the following:
Drill
Pipe & cable detector
Battens
Trowel
Adhesive spreader
Wall tile spacers
Grout spreader/floater
Grout finishing tool (shaper)
Tile scribe
Mitre block
Hack saw
Wooden supports
Spirit level
Tape measure
Sponge
Window scraper
Metal ruler
Cloth
Pencil or pen
Bucket
The above materials should be easy to source or hire from local DIY stores.
What Safety Equipment Do I Need to Tile a Bathroom Wall?
Tiling can be a messy task; it is essential to make sure you have the correct safety equipment before you start the project. You'll be handling sharp tools, and machinery, such as a tile scribe and hack saw, safety should be a top priority, and extra precautions should be taken.
Heavy Duty Gloves
Eye Goggles
Protective dust mask
When you are cutting tiles, please ensure you use protective eye wear such as goggles and also heavy-duty gloves as shards of glass could break and shatter. Upon mixing your adhesive, you will also need to be mindful to wear your dust mask and goggles to protect your face and avoid inhalation.
What Materials Do I Need to Tile a Bathroom Wall?
The following are also materials that you will require to install a professional looking tiled bathroom:
Wall tiles
Tile adhesive
Grout
Grout protector
Tile trim
Screws
Water
There will be a huge range of tiles to suit your budget and your design needs, so shop around and research to see what suits.
Please ensure if you are using materials such as grout and adhesive from a previous DIY job that you check the expiry dates on the product before using.
Preparing Walls for Tiling
Before you start putting tile to wall and learn how to tile, you'll need to ensure you correctly prepare the surface you intend to tile. Begin by sanding down the surface, clean it and then seal it.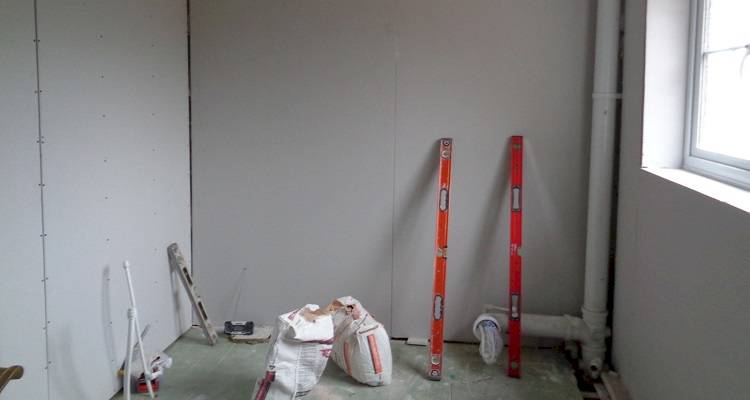 If the wall you intend to tile on is new, timber, ply or bare plaster, these surfaces are absorbent, so you will need to use PVA primer to avoid your adhesive being absorbed into the wall.
Be aware that if your tiles are natural stone or porcelain, these may need to be sealed with the appropriate sealing solution before and after grouting. This helps prevent moisture ingress and staining; please check the manufacturer's guide before using.
Tiling a Bathroom Wall - Step by Step Guide
The below guide should give an insight into how to tile your own bathroom wall and what steps you should follow. All jobs are different but this step by step guide should help most homeowners attempting the job.
Step 1 - Prepare your bathroom wall
We will presume at this point that you have prepared your bathroom walls, so the surface should now be sanded, cleaned and sealed. As part of this preparatory stage, you should have also calculated how many tiles you will need before you begin tiling your wall. To do this measure the area of your wall, and also the area of your chosen bathroom tile.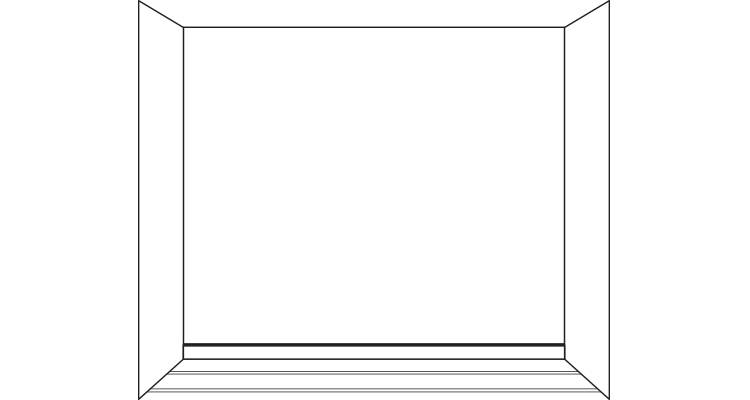 To calculate: Wall area ÷ area of each tile = number of tiles you will need.
(Please add an extra 10% to this total, as you will need to account for any mishaps or tile breakages)
It is also important to remember you will need to add gaps in between your tiles (2-3mm) as you will use this to add your grout later, so please accommodate this into your calculations.
Not all wall surfaces are the same, and each type of wall will support a limited type of weight. Here is an advisory list for you (wall type - maximum weight of tiling per meter square).
Plaster - 20 Kg
Plasterboard direct (without plaster skim) - 32 Kg
Plywood (WBP) - up to 30 Kg
Tile Backing Boards - up to 50 Kg
You will also need to include the adhesive weight into this calculation; you can find this information on the adhesive package.
If you are using natural stone tiles, these might require sealant, so please check before you begin grouting. You can check this with your manufacturer.
Step 2 - How to arrange your bathroom tiles
You'll want your tiles to be balanced and even when working out your design. If you are tiling a full wall, aim for a symmetrical pattern, and add the same length cut tiles on each edge of the wall.
To avoid smaller cut tiles, try to aim for as full as tile as possible when working out your tile design. This will give you the most aesthetically pleasing result. We will talk you through how to cut a bathroom wall tile shortly.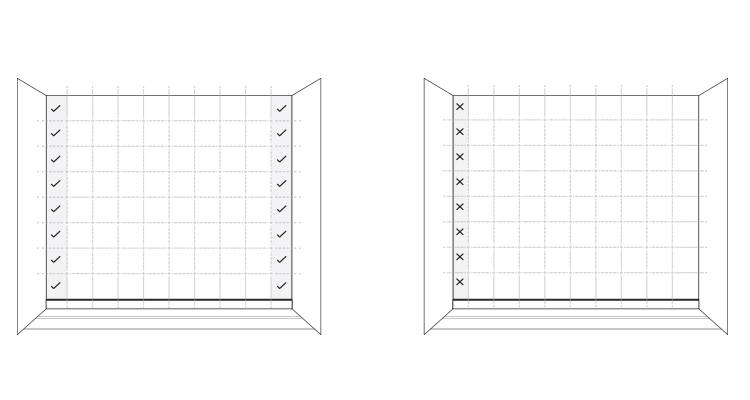 To create an even design, we advise you to create a 'tile gauge'. To do this, simply get a wooden baton, or piece of wood, that's over half the width of the wall you are tiling. Then place the tiles, with the spacers along the length and mark the points of the tiles along the button with a pencil.
Step 3 - Using your tile gauge
Once you've created your tile gauge, you'll need to mark the horizontal midpoint of your wall. Measure the length of the wall, then mark the exact point with a pencil. You can then use this point in correspondence with your wooden batten.
Place your tile gauge (wooden baton) onto the wall and line up your tile point with the central mark on your wall. Slide the gauge to the left, mark by mark, until you are left with a gap at between the corner of the wall and your batten. This will indicate the size of the tiles you will need at each end.
If the space is greater than half a tile, then you'll have the perfect place to begin tiling your bathroom wall. If this is less than half a tile, you'll need to move your central tile gauge mark to the right, by exactly half a tile. This will leave you with a try end result.
After you've found this point, mark on the wall where the first full tile will start, do this near your skirting board, then take your spirit level, and continue his vertical line from top to bottom of the wall.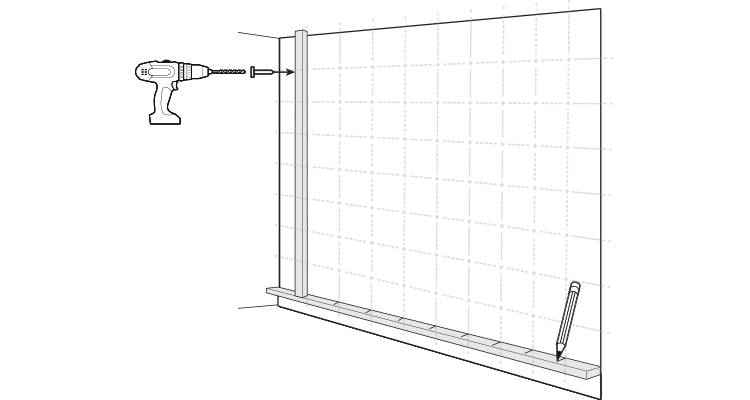 You'll need to repeat the process for your vertical axis, using the same technique. Start by marking the midpoint and offering up your tile gauge. Ensuring you adjust your position if the gap is less than half a tile – mark the position of the first whole tile, just above the floor level. You can then take your spirit level and pencil and make a horizontal line straight across the wall.
It's crucial that at this point you check both horizontal and vertical lines with a pipe detector. If they are free from pipes and you can then screw the tile gauge (wooden battens) into place, so you know exactly where to begin your bathroom tiles. This will produce a professional-looking, visual pleasing finish for your bathroom.
Step 4 - How to mix your tile adhesive
You can now start the process of installing wall tiles in the bathroom. Firstly, you need to prepare your adhesive. The type of adhesive you require will depend entirely on your wall surface type.
It's important to stress that at this point, you follow the manufacturer's instructions, then begin to prepare your mixture. You'll need to take your drill with a mixing paddle, to create a thick paste, with no lumps.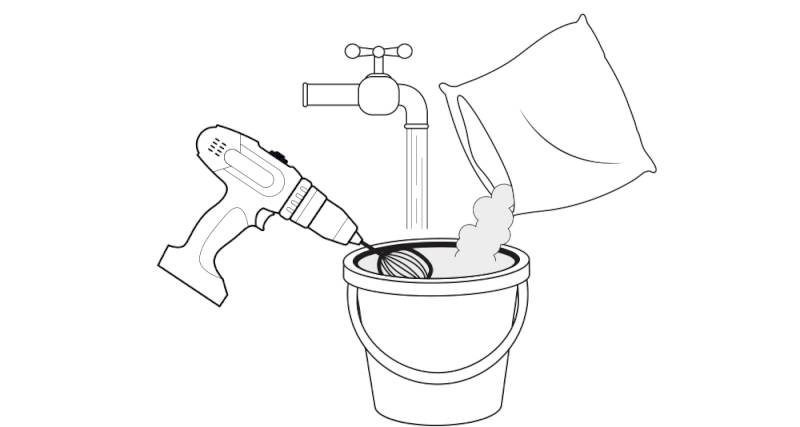 Step 5 - How to tile a bathroom wall
Now it's time to start tiling your bathroom wall. Using your trowel, you should begin to apply enough adhesive to cover up to one square metre of the wall, using your wood batons as a guide. Take the notched spreader and comb the adhesive across; this will ensure a full, even coverage.
Then take your first bathroom tile and place it along the batten. You will need to twist the tile back and forth slightly to really secure it to the adhesive. Then repeat the process with the next tile, not forgetting to insert your spacers correctly between the tiles. Using these will establish a consistent, even gap.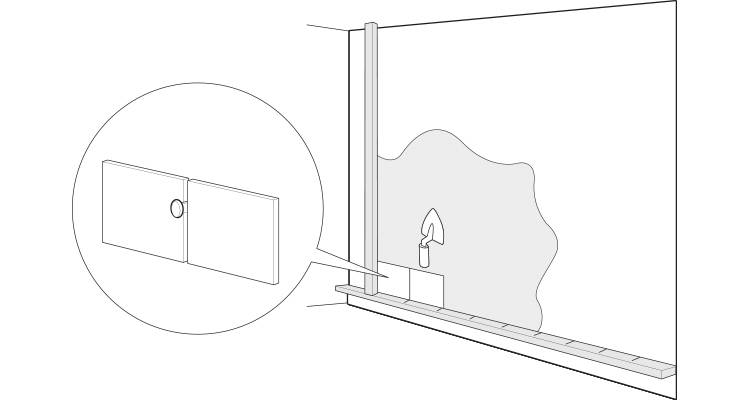 It's essential you are regularly checking that your tiles are level and flat, you can do this by using your spirit level. If they are not, you'll need to take the tile off and remove the adhesive with a trowel. Repeat the process, using the button as your guide, until the area is complete.
After, you'll need to remove any excess adhesive from the tile surface and grout lines. You can do this by using warm soapy water, take a sponge and gently clean the surface area. Then, allow the adhesive to dry, please check the manufacturer's guidance on how long you should leave the tiles. After this is dry, you can then remove the battens.
Step 6 - Preparing your tile edges
You need to measure the gap between the tile edge and the corner correctly. Make sure you allow for grout spacers into the calculation. For this stage, we are going to ask you to measure every gap because the wall might not be straight. Make a note of these numbers by writing them on each tile.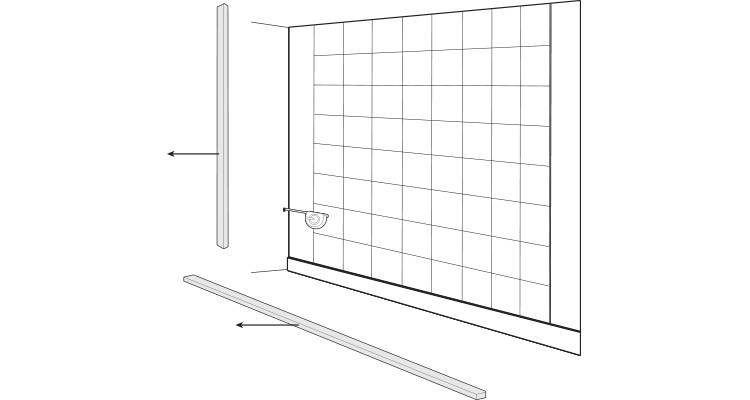 Step 7 - Cutting your bathroom tiles
There are multiple ways to cut bathroom tiles, but we would recommend using a tile cutter, as this will give you accurate results. Firstly, you'll need to mark up the cutting point correctly on your tile, use a pen and metal ruler and draw a line down the tile to indicate the point of cutting.
If you don't have access to a tile cutter, we have another method you can try. Take your metal ruler and put it across the intersection area and mark it up, do this on the front of your tile. Take your tile scribe and score up and down the line to the full length of the tile. Otherwise, you risk your tile snapping.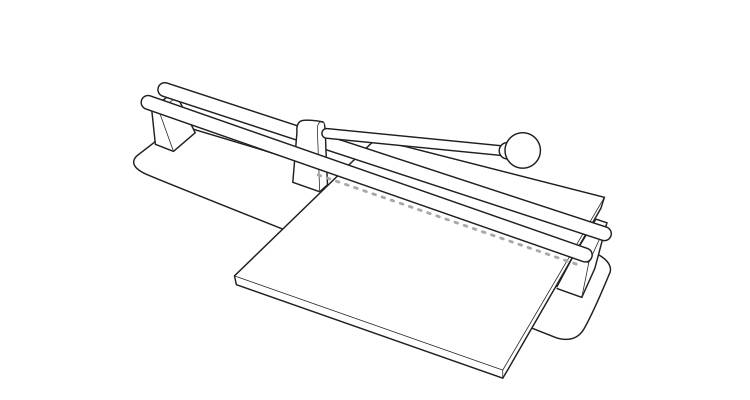 You should then place your pencil directly underneath the scored area of the tile. Apply pressure on this area to allow a clean snap of the tile. Taking extra care as some shards of tile could eject out towards you.
Please ensure at all times when you are cutting tiles to wear the correct safety equipment, goggles for your eyes and protective gloves.
Step 8 - How to tile into the edges
Before applying adhesive, we recommend you check your tiles against the spaces to ensure they fit correctly.
Begin applying the adhesive at the bottom of the wall, if this is too difficult to do with your spreader, then apply the adhesive directly to the back of the tile. Then press the tiles into position, as you did before. Continue to tile the remaining area, allowing room for your spacers to continue with your even gapping.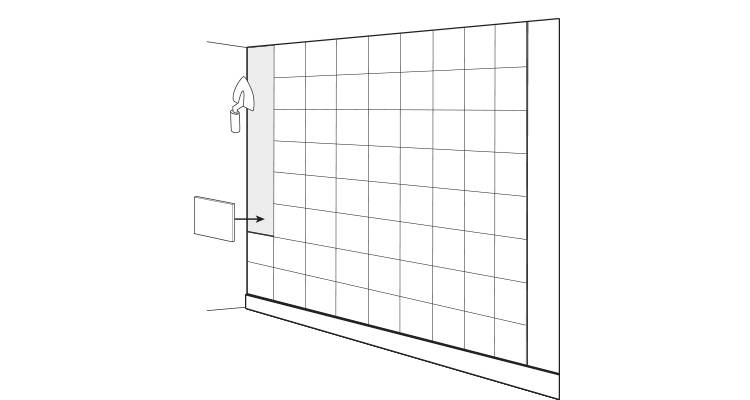 As before, wipe away any excess adhesive from the surface of the tiles using a soapy, damp sponge. If any adhesive hardens on your tiles, you could also try using a window scraper to gently remove the excess and being careful not to scratch your tiles. Follow your manufacturer's instructions on the correct setting time for your tiles.
Step 9 - How to grout tiles
Grouting is an important process; using grout allows you to seal the tiles in place, make the surface water-resistant and also for decoration. Did you know that you can get grout in a range of colours, greys, whites, charcoal and black? So decide which colour works best with your overall design and desired aesthetic.
Before you begin grouting, you should first decide whether you want to use powdered or ready mixed. If you choose to use powdered, then you need only mix up a small amount at a time, as the grout dries very quickly, and it will become unusable.
As before, please check the manufacturer's instructions and advised measurements for this process. Important: Please check the date on your grout, do not use anything out of date.
It's finally time to get some grout between your tiles. Take a small amount of the mixture and apply to the tile using your spreader. Make sure you move it around to get it in the joints. Use large strokes, upwards and diagonally to ensure best results. Be sure to work very quickly during this process, as the grout will dry out fast.
Continue with this technique to grout the whole wall. If you get any excess grout on your tiles, just be sure to use a warm, damp sponge as you go along and gently wipe. If by chance you remove too much grouting, use your finger to re-apply grout to the area.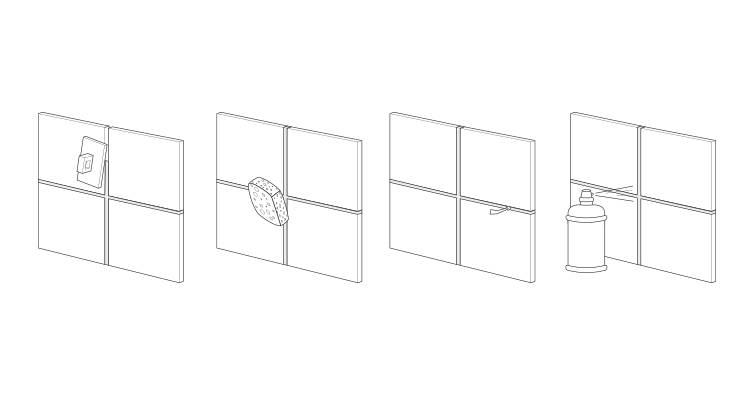 You want to achieve a really professional finish; for this, you'll need a shaping tool (grout finishing tool). Use this over the grout, pull down over the jointing, it's vital you do this in a swift, continuous movement. Be prompt with this, as your grouting hardens quickly. Repeat this process between all of the grout jointing.
We now recommend you clean off your tiles, using a cloth to remove the powder substance from your grout. This will give you a professional-looking finish.
To really preserve the life of your grouting, we suggest you invest in grout protector. Using this will protect your grout from elements such as water, dirt, oil, limescale and grease. Follow the instructions on the can, as advised by the manufacturer.
Once you have grouted and cleaned you are free to enjoy your new tiles but depending on the room type you may have a window that also needs tiling. If so read on to step 10.
Step 10 - Tiling around a window
We expect you are becoming a DIY bathroom tiling expert now, as your project nears completion. It's important you take the techniques learnt and apply your knowledge to tiling around the window area of your bathroom. You still want to ensure the tiles around your window are equal and as symmetrical as possible.
Plan the placement of the tiles in the recess, match up the grout lines in that area so that they correspond to the grout lines already in place on the wall.
Then you will need to measure the depth of the window recess using a tape measure. Please remember to only include the depth of the wall, and not the wall and the tile already in place, because you need to allow room for the trim edges later.
Just like with the tile edging before, you will need to measure each section out where the new tiles will be placed, because the window area might not be equal (make sure you allow space for grouting). Write down the correct measurements on your tile, draw a line, and cut the tile, just like before.
You'll now need your tile trim for the corners of your window; this will keep the area looking neat and tidy. Start by measuring the height and width of the window recess and make a note of the measurements needed.
To cut the trim to size, you will need a mitre block, and hack saw. Cut the ends at a 45-degree angle to allow for a neat join where the trims will intersect.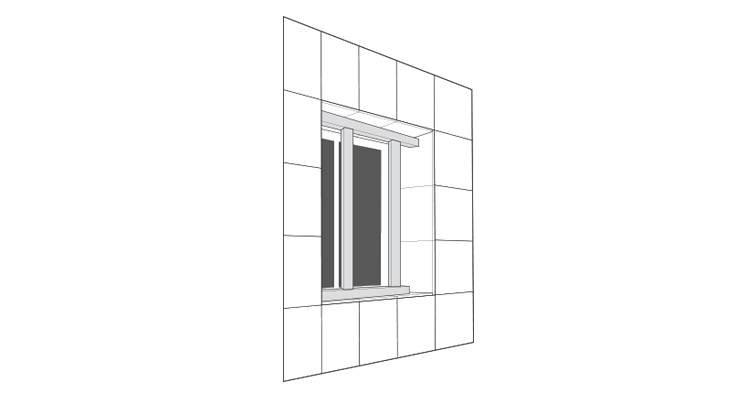 Starting at the bottom of the window apply the adhesive with the spreader, then place the trim along the edge. Then position the tiles accordingly, not forgetting to add spacers. Repeat the process, one side at a time, adding trim then tiling. Finish the process at the top.
To ensure your tiles don't fall from this section, you will need to create support. Use wood, and cut directly to fit the window space, the wood should act as a sturdy beam. Place one horizontally and two beams vertically to hold the tiles in place. Allow the correct drying time for the adhesive as recommended on the manufacturer's guide.
Once dried, grout the area using the same application technique as before. Then wipe down the area with a damp cloth and use a shaper for a neat finish. Finally, polish the tiles to remove any powder residue. Your bathroom should now be complete! Congratulations!
How to Choose Bathroom Wall Tiles
As stated before, choosing your tiles can be somewhat of a minefield as your options are really limitless. So, get ready to create your Pinterest boards and magazine cuttings at the ready for some much-needed tile design inspiration. You can choose from gloss, patterned, textured, the world is your oyster.
Let's begin by looking at the most common tile materials you can choose from natural stone, ceramic, porcelain or glass. Real stone tiles or manmade tiles are usually the most common choice. If you choose to go with natural stone, these tiles generally have a bit more character. However, you should be aware that the care requirements are higher, and you will need to keep painting the sealant around your tiles.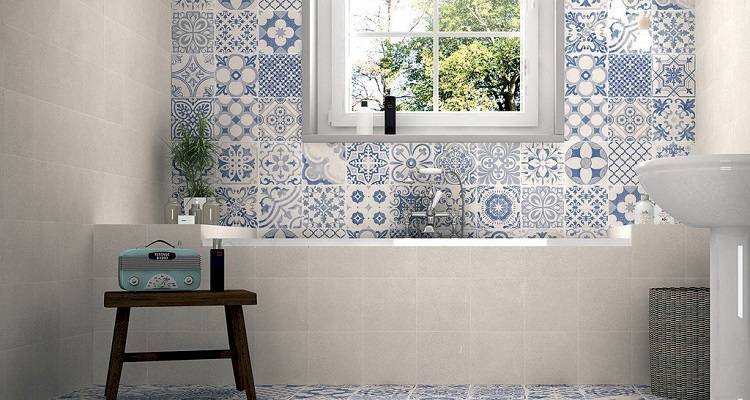 If you are thinking about getting manmade tiles, then these are perfect if you are looking to revamp your bathroom on a budget, they also require minimal upkeep. We will go into further detail later on how to maintain your bathroom tiles.
If you are looking to create a spacious bathroom, we recommend using light colour ways or stone colour tile to enhance the space. Don't be afraid to get creative, patterned tiles seem to be highly fashionable at the minute, and this could make for a real feature of your bathroom.
We recommend getting some samples and checking out your local tile shops for more information and inspiration; it really does depend on your budget and style.
Bathroom Tile Repairs and Maintenance
After investing much time, money and effort into revamping your bathroom interior, it's now time to invest in maintaining the upkeep of your tiles and grout.
You should have already sprayed your grout with a protector spray, so we recommend doing this every so often, this will extend the life and also keep up your grout appearance. As we stated before if you choose natural tiles, these will need regulated maintenance checks, so please ensure you follow the manufacturer's recommendations for further advice.
When it comes to cleaning your tiles, it's highly important that you avoid products that are designed to 'prevent limescale' or products that contain any 'acidic chemicals'. Using these can cause lasting damage to the tile surface. Before using any product, we advise you check it is suitable for the material of your tile.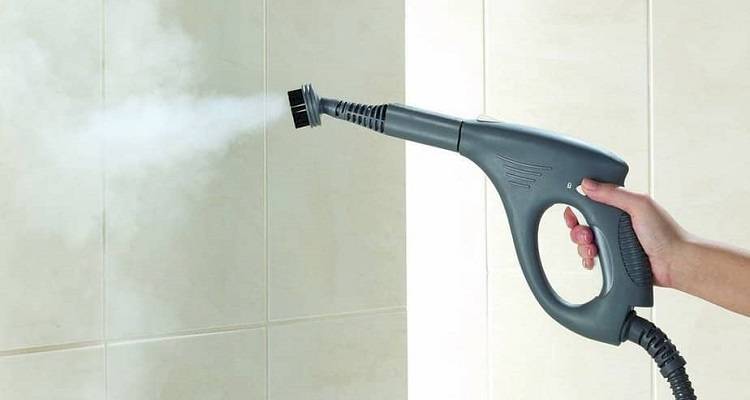 If correctly sealed you have no need to worry about water or steam from your bathroom damaging your tiles because most tiles are glazed, which actually gives them waterproof qualities.
The nature of tiles means the risk of tiles becoming brittle or cracking. Common types of repair issues you might face are chipping, cracking or scratching. In most cases, you should try and repair these. You'll remember we mentioned adding 10% extra to your total tile calculation earlier? Well, this is where your spare materials will come in handy, although you do risk slight colour variation.
Should one crack, this is how to remove a bathroom tile:
You need to remove the grout from around the area of the damaged tile. To do this, you will need a hammer and metal chisel. Do this gently and firmly as you will need to be careful not to damage any further tiles.
Take a slightly bigger chisel and hammer the tile; make sure this is angled away from you. We advise you to do this working from the centre to the edges.
Once all the pieces of tile are removed, you need to remove the old layer of adhesive. Scrape this off with a solid blade, avoid chipping the surface beneath.
Now, as before, mix your adhesive and apply a small amount to your space using a trowel. Be careful to avoid applying adhesive near the edges as this will seep out when the replacement tile is applied. Don't forget to add your grout spacers between the tile.
Let the tile dry for the appropriate time, then grout.
You'll also need to ensure you learn how to clean your bathroom grout correctly. The easiest way to do this is with vinegar and water, take equal amounts of both and add the mixture to a bottle with a spray top. Spray this solution between your tiles then use a spare toothbrush to scrub the grout. You can also use vinegar to remove dried and wanted paint from the surface of your tiles.
FAQs
How Long Does It Take To Tile A Bathroom?
The process of tiling a bathroom isn't a quick job; it's one that requires precision and care. After all your preparation has been done, it could take anything from 3 - 5 days for your bathroom to be tiled, grouted and complete.
How Do I Make A Small Bathroom Look Bigger With Tiles?
To enhance the space of your small bathroom and make it appear visually bigger, we recommend you use light-coloured tiles, the lighter, the better. Keeping everything from floor to ceiling the same colour as you possibly can. Make sure the area is well lit with lots of natural light. Using larger tiles gives the suggestion of more space.
What Size Tile Trim Should I Use?
When choosing your trim, you need to account for the use of your adhesive too, so we recommend going one size up from the depth of your tile. If your tile is 10mm depth, then we would suggest a 12.5 mm trim, for the best possible fit.
What Is Rectified Tile?
A tile that has been rectified means that it has been carefully sculpted to ensure all the sides of the tile are perfectly even and uniform.
Can You Tile Over Tile?
Yes, you can! So long as the current wall is sturdy, and there are no signs of cracking or mildew, then you can tile over your current tiles.
Last updated by MyJobQuote on 1st May 2020.