Cleaning your Guttering
Guide to cleaning gutters and typical prices.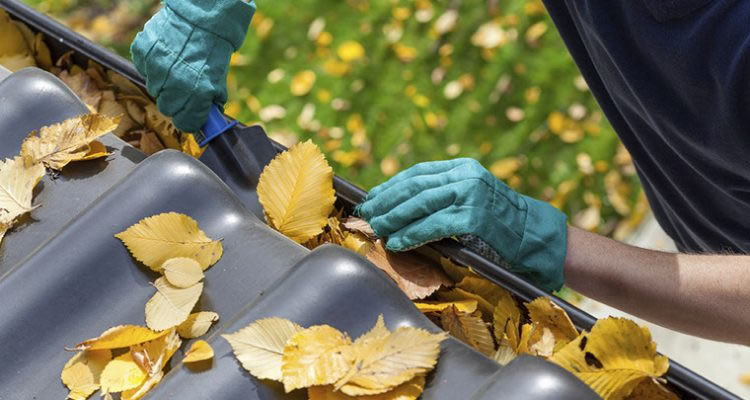 Average cost of cleaning gutters
This job only takes around 2-3 hours
£200
If you fail to clear out your gutters regularly then they will get blocked with leaves and other debris which will cause them to overflow onto walls and window sills. This will rot the fascia boards and can even cause damage to the structure of the building over time. Blocked guttering can also lead to blocked rainwater pipes and underground drains, so basically, it is much cheaper, in the long run, to simply pay someone to clean the guttering once a year (or do it yourself if you have the equipment and time). Cleaning guttering is not very difficult and the debris can usually be removed manually by hand, so the only equipment needed when you clean gutters regularly are just a ladder and a pair of gloves! For harder to shift debris due to guttering which has not been regularly cleaned, a high-pressure hose may be required to clean out the rainwater pipes. In the worst cases, the rainwater pipe may need to be removed and dismantled to clear blockages. Specialist gutter cleaning companies often use a powerful vacuum attached to a pole to clear out the guttering so they often don't even need a ladder and can do the job much quicker than you can!
To find a reliable tradesman to clean out your guttering, you can use the free "Post your Job" service on this website. Just enter brief contact details and a short description of the job you need doing, then you can get matched up local tradesmen and receive up to 3 quotations for the work - without needing to search the Yellow Pages or classifieds!

Average gutter cleaning quotations
| Job Description | Duration | Material Cost | Labour Cost |
| --- | --- | --- | --- |
| Typical semi-detached property with 15 metres of gutters | 2 hours | £0 | £100 |
| Detached 4 bedroom property with 20 metres of gutters | 3 hours | £0 | £150 |
| 3 storey townhouse with 15 metres of gutters | 5 hours | £0 | £250 |
| Scaffold bridge required over conservatory | 8 hours | £0 | £425 |
Things to consider reagrding getting gutters cleaned
When cleaning gutters due to overflowing, remember that if the blockage is not in the gutters or the rainwater pipe, it could be located underground. Underground drain blockages are potentially much more expensive and difficult to deal with, requiring a drainage expert. Regular cleaning of the guttering and drainpipes can help avoid such expensive problems. It may also be worthwhile investing in a gutter guard system to reduce the amount of time you need to spend cleaning your gutters. Gutter guards are specifically designed to prevent the accumulation of debris and will prolong the life of your rainwater system without the need for regular cleaning. Most gutter guards are a wire/plastic mesh type insert which prevents the collection of leaves and other debris in your gutters which would usually build up over time to create blockages. The initial outlay for a guttering guard can save you time and money, particularly if you find you have to clean the guttering more than twice per year.
Note that if you live in a 3 storey townhouse then gutter cleaning contractors will charge extra as they will need additional equipment and maybe even scaffolding. The same applies if there is an access problem to the guttering caused by a ground floor extension such as a conservatory which may need a scaffold bridge. Though many gutter cleaning specialists have long poles which can be used to scrape out debris which can often reach over a conservatory. Remember also that gutter repairs are not included in any cleaning quote and it is pointless cleaning cracked/broken guttering, so get the repairs done first and have the guttering cleaned at the same time.
There are a number of different types of businesses that do gutter cleaning jobs: specialist gutter cleaning companies, guttering and roofline installers, roofing companies and local handymen. The most expensive quotes tend to come from guttering/roofline companies and larger roofing businesses. Specialist gutter cleaning firms tend to be much cheaper, perhaps because this is their core business and economies of scale apply. But the cheapest by far is the local handyman who can often clean guttering for less than half price of larger companies. In addition, many of those offering local handyman type services are below the VAT threshold so are 20% cheaper, to begin with.
Doing it Yourself
While cleaning guttering is very simple and is as straightforward as just scooping out the debris by hand then flushing the downpipes with a hose, working at height can be very dangerous, especially when working on your own and leaning to one side from a standard ladder. For this reason, it's best to find a contractor willing to undertake this type of work if possible as many specialists have the equipment to do this work from the ground without ladders, quickly and safely.
If you are dead set on doing it yourself, then you will need a hosepipe with adjustable nozzle, self-footing ladder, rubber gloves and safety goggles. Before you begin, ensure you're confident working with ladders, practice climbing the ladder without equipment first before you try cleaning your guttering. Place the ladder in a sturdy safe position against the building (not on the guttering) and always get someone to stand at the foot of the ladder to keep it in place, or use a self-footing ladder that won't slip out when you climb it. Wear goggles to protect your eyes from any debris which may come out of your gutter or from the downpipe when using the hose, plus wear gloves to protect your hands from the sort of bacteria ridden dirt which you will find in gutters. Begin by washing off your roof with a brush and water to get as much dirt and debris off as possible, then manually remove any guttering debris. Next, unblock your downpipes using your hosepipe and run water through the pipe to make sure it is clear.
Cleaning gutters checklist and tips
By regularly checking and cleaning your gutters you can increase their life and save money in the long run
You can also avoid a drainage emergency or a leaking roof by cleaning your gutters regularly
You can tell if your gutters need cleaning when they start overflowing in the rain, or if you can dead leaves and moss building up
Many letting agents include the cleaning of guttering as part of the tenants responsibility, to get your deposit back make sure gutters are clean
FAQ's
Why do I need professional gutter cleaning?
Guttering is, in fact, a vital component of your property's drainage system, so it's vital that you keep it well-maintained to avoid damp causing much more serious and expensive structural damage to the building. Professional gutter cleaning contractors use special machines which enable them to find blockages which may not be immediately apparent from below.
Grass is growing out of my guttering, will that be removed as part of a guttering cleaning service?
Yes, however, it may be more expensive than the standard rates as this may not be removed from the ground and have to be removed manually.
How often should my guttering be cleaned?
It's recommended that you clean your guttering around twice a year, but if you have lots of trees nearby you should do it more often.
What happens if I don't get my gutters cleaned or repaired regularly?
Blocked and/or broken gutters can lead to a leaking roof, rotted wooden fascia boards, foundation cracks, insect infestations and damp damage to the structure of the building.
Last updated by MyJobQuote on 18th July 2020.