Cost of Converting a Garage Into a Bedroom
All you need to know about converting your garage into a bedroom along with the costs and tasks that come with it..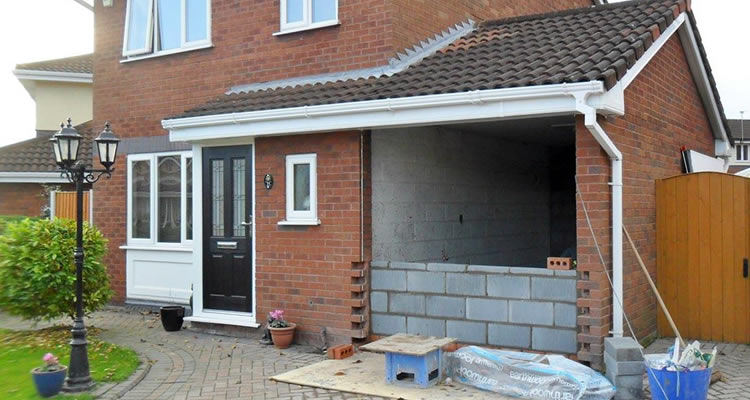 Average cost of converting a garage into a bedroom
This project should take 7-10 Days
£6500
Converting a garage into a bedroom is one of the most popular home conversions most homeowners undertake. Traditionally, a garage would be used for storing cars, however more and more homes aren't really using the area for that purpose. Homes with garages, especially family homes, are using the room as extra storage space for bits and pieces and not making very much practical use of this extra space. Turning that space into an extra bedroom is becoming one of the most popular solutions to utilising this space.

Converting your garage to an extra room will give your home that extra bit of space if it is lacking. It could be a less costly solution to those who would probably be more willing to move properties just for that extra bit of leg room. As opposed to other types of conversions to give your home more space such as an extension, a garage conversion won't eat into your garden or any other areas - so you won't have to compromise. With a garage conversion, you will not need to do that - the conversion could actually add value to your home even if you do wish to sell in the future.

This job could be quite a nice project for many DIY enthusiasts, if they have the time and patience. Doing so will save you on the cost of materials and labour when hiring a tradesman. However, when converting any part of the house, there are a few things that could go a bit wrong if not done properly, such as electrics, heating and insulation. If you aren't too confident in your abilities just yet and want to the job doing professionally, then the easiest way is to use myjobquote, enter your details and receive quotes from three tradesmen in your local area.

Cost of Converting a Garage Into a Bedroom
| Job Description | Duration | Material Cost | Labour Cost |
| --- | --- | --- | --- |
| Single Garage | 7-14 Days | £3000 | £150 per day |
| Double Garage | 14-21 Days | £6000 | £150 |
Things to Consider When Converting a Garage Into a Bedroom
Converting a garage shouldn't be too much of a headache, especially compared to other conversions such as a basement or a loft, or even an extension. the conversion of your garage into a bedroom should be a rather cost effective and relatively stress free project.
Planning permission shouldn't really be needed for a project like this, as it should come under permitted development. However, you will need to inform your local building regulations authority of the work you plan to carry out. As you will likely be changing the garage door and filling in with matching brickwork – you may want to add some windows or a door. This will need permission as any new windows or glazed doors will need to be certified under building regulations. You can either apply for this certification, or a registered window specialist will be able to self-certify. This is why, along with the handling of utilities, you may want to hire a trained specialist to carry out this job for you.
Some costs you will need to be aware will include design fees if you were to hire a structural engineer. On top of your fees for the conversion, expect to pay in the region of £400 pounds for consultation. An architect will cost you at least £1,000 for design, although this would probably be unnecessary for your project.
You will also need to factor in costs for different stages of the project, and may need to hire more than one specialist. A builder will be suitable to perform all round structural and foundation work, as well as the flooring. However, you may need to source electricians and windows fitting specialists.
Doing it Yourself
Converting your garage into a bedroom is a project that many experienced and confident DIYers would gladly tackle. If your garage is of high quality build already and doesn't need any repairs, then most of the hard work is already complete. However, we would recommend hiring a specialist to carry out some parts of the job, such as any foundation, which will need to be done when replacing the garage door, or installing new windows or doors, and anything to do with utilities.
What you will need to do first is plan the design and layout of your converted room. You will need to completely clear out the garage, and strip out the main structure, so that you can clearly gauge what kind of space you will be working, and this should give you ideas on design and layout, as well as any possible problems. Designing your new room is probably the first thing you want to do before starting any new renovations. You can either do this yourself, or leave it to your hired specialist tradesman, or even hire an architect. Inspecting and assessing the existing foundations and walls is important, as this will give you or the tradesman an idea of the scale of work that will be needed for the job. Most modern homes with a garage should have existing solid foundations that won't need much or any work doing.
The floor will likely be made of concrete and you may think it will still be solid enough to leave as is. However, the likelihood is that some work will need to be done to the flooring, such as leveling out, ensuring it is damp proof by laying down a membrane, and ensuring there is sufficient insulation. The same can be said for the walls and ceiling. These will also have to be looked at to ensure that it is fully suitable for living conditions. If you have an attached garage, i.e part of the main building, then the walls and ceiling shouldn't be an issue as they should be up to the same standards as the rest of the house. You will also have to check utilities, which would mainly involve electricity and heating for a bedroom. Most integrated garages already have electricity fed into the room, so that shouldn't be a problem and will save you on extra costs.
A lot of the steps listed here can be quite a challenge for even some of the most experienced DIY enthusiasts. That's why we would recommend hiring a specialist, to carry out the bulk of the job, such as foundation and insulation work, flooring, windows and utilities. If anything were to wrong with these, then the project will end up costing you a lot more than you had planned.
Checklist for Converting a Garage Into a Bedroom
Check foundations and structural quality of your garage before starting any work.
Weigh up costs of different jobs that will need doing to fully convert your garage, such as flooring, windows and utilities.
Be sure to apply for any planning permissions, or at least check with your local authority if any is needed.
A garage conversion is a cheap alternative to an extension, but be sure you are comfortable with the loss of space for your vehicles
FAQ's
Do I need planning permission for a garage conversion?
In most cases, you will not need planning permission for this job if the garage is integral and part of the original structure of your home. However, if it is a detached building you may need to apply or at least check with your local authority.
Will I need to obtain building regulations for my conversion?
Yes, as with any conversion of any room into a living space, you will need to apply for building regulations. You can do this by contacting the Building Control office at your local council and requesting their approval.
Will I need to feed utilities such as gas and electricity into my converted garage?
You will need to have the appropriate utilities fed into your new space. Since this will be a bedroom, the only utilities you should need are electricity and gas for lighting and heating - you will not need water for this room. Most integral garages will already have these utilities running through as part of the main house. However, you may need to hire an electrician and plumber to install appropriate lighting and radiators.
Is it better to do a conversion or an extension on my home?
The answer to this is entirely up to what you want and your budget. Both are options when homeowners are looking for a bit more space in their home. A conversion will always be the cheapest and easier option in comparison to an extension. This is due to there already being an existing structure for you to create your new space in, rather than having to build something new from scratch.
Last updated by MyJobQuote on 15th January 2020.