Kitchen Installation Guide
When deciding to install a new kitchen, there are many things that you will need to consider. Most people will upgrade their kitchen and probably want to replace all existing parts of the kitchen and start again.
Of course, this depends on budget, space, and individual needs, but a kitchen installation is always a large undertaking, so we want to provide some guidance and advice on how to go about it.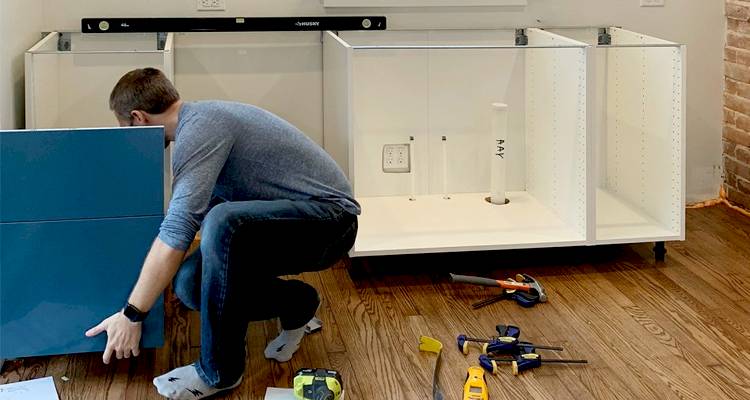 We will look at different kitchen design ideas, layout of various styles, cost of materials and labour, as well as the timeframe for different types of kitchen. The average cost of kitchen cabinets, worktops and other kitchen units will be determined by individual taste and budget, so we will consider different styles and price ranges.
The cost of installing a new kitchen will also depend on whether you hire an installer, and we will provide ideas for what to look for in a professional kitchen installer. The pros and cons of DIY fitting will also be considered.
What is a Kitchen Installation?
A kitchen is possibly the most important room in any house and often referred to as the heart of the home. So, it is natural that people spend a lot of time, money, and effort in making their kitchen a room to be proud of and where they enjoy spending time with family and friends.
Long ago, the kitchen was the source not just of food but of heat, and this is where it became the core of the home. These days a kitchen is expected to be functional, useful, but stylish at the same time.
What Does a Kitchen Installation Involve?
A typical kitchen installation involves fitting a brand-new kitchen, including worktops, cabinets, appliances, and a final decorative finish. A kitchen refurb or refresh can be done by replacing kitchen worktops or kitchen doors.
Still, a true kitchen installation usually means you remove and replace all components in the kitchen.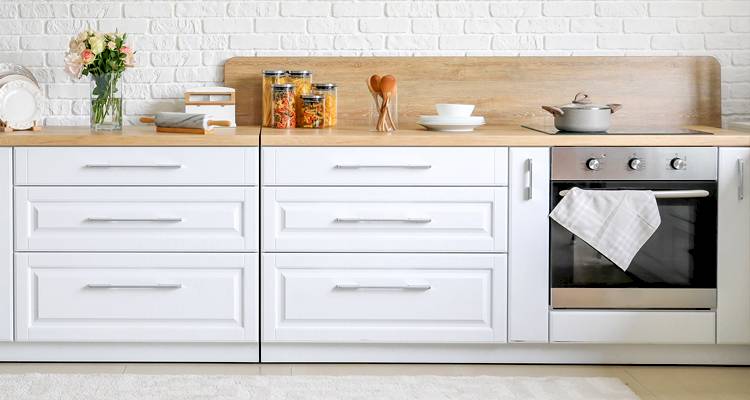 Kitchen ideas are numerous, but the layout of your kitchen will be dictated mostly by the position of existing windows and doors in the room, as well as the shape and size of the kitchen.
Elements of the room that are fixed in place, such as your boiler, can also affect the layout. For example, a lot of people would like to have a kitchen island, but for a lot of homes, there is not the space to include one.
Why Install a New Kitchen?
The two rooms that people spend the most money on in a home are the kitchen and the bathroom. This can be a good investment as a well fitted and stylish kitchen is a big selling point of any house.
It is also a room where we spend a lot of our time, so it is natural that people want it to be a nice place to be. A kitchen should also be as functional as possible, so the layout needs to be carefully thought out.
Kitchens can add to the value of your home, so you should consider this when fitting a new kitchen. Avoiding garish coloured kitchen cabinets or worktops is a good way to ensure that if you decide to sell your home. Your particular taste in kitchen design ideas will be a positive and not a negative influencing factor.
The same is true for semi-permanent elements such as kitchen tiles. Try to stay neutral or at least not overly outlandish. Colour can be added to a kitchen with accessories such as non-fixed appliances, plants, pictures, or window blinds.
Over time a kitchen can become tired and outdated with appliances that are struggling to cope with modern family life. By upgrading your kitchen, you can inject your home with some vitality and create a space where you enjoy cooking and spending time with your family.
House extensions that combine the cooking and dining space and link to the garden are very popular and bring the focus of the home back to the kitchen.
Types of Kitchen Installation
There are many different types of kitchen installation and ways to classify them. You can do this according to the style of the kitchen, e.g., modern, country, or traditional styles.
You can also classify kitchens according to the shape, for example, a U shape, L shape or linear style kitchen. Finally, you can categorise kitchens according to the quality of the materials and finish.
Kitchen Styles
The style of your kitchen typically reflects the style of your home. For example, a country cottage would normally have a country style kitchen, while a city apartment would typically have a modern style kitchen.
This is obviously not set in stone, and people are free to put whatever style kitchen they choose in their home, but there is always the consideration of what works and what doesn't. This is particularly the case where you may be selling the property in the future.
The advantage of having a kitchen style that reflects the style of the property is that there is a natural flow in the house. An art deco kitchen may feel right in a 1930s house but feel out of place in a thatched cottage. So, getting the right match between property and kitchen style can ensure there is harmony between the two.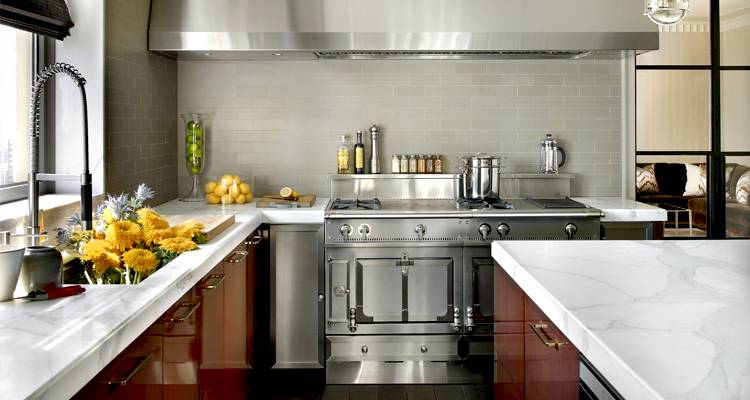 Another advantage of matching the style of your kitchen to the property is enabling choice in a vast array of styles and designs. Sometimes it can be overwhelming to have so much choice, but by sticking to what would best suit the style of the property, the task of choosing a new kitchen should be made easier.
The downside of choosing by style is that you may not actually like the styles that would best suit the house. People who live in apartments may dream of big country kitchens and want to incorporate some of that feeling into their home. Or, if you have a rural home but really like minimalist and sleek designs, you may not want a country style kitchen.
Kitchen Layout
Unlike kitchen styles, when it comes to choosing a kitchen installation according to the shape of your kitchen, there are limitations. It is unlikely that you will be able to change the shape of your kitchen unless you are building an extension or knocking down walls.
There are three or four main kitchen shapes. Linear kitchens can either be built on one wall or two opposite walls for a galley kitchen.
An L shaped kitchen makes good use of the corners of the room, while a U-shaped kitchen is ideal for larger rooms.
G shaped kitchens are a U shape with an additional length of countertop.
Kitchen islands are also very popular if space allows and can incorporate a cooker, sink, or just workspace if needed.
The benefit of fitting a new kitchen according to the shape of your room is that you will know exactly what will work and what won't. A small kitchen will not be suitable for a U or G shaped kitchen and will likely not accommodate a kitchen island.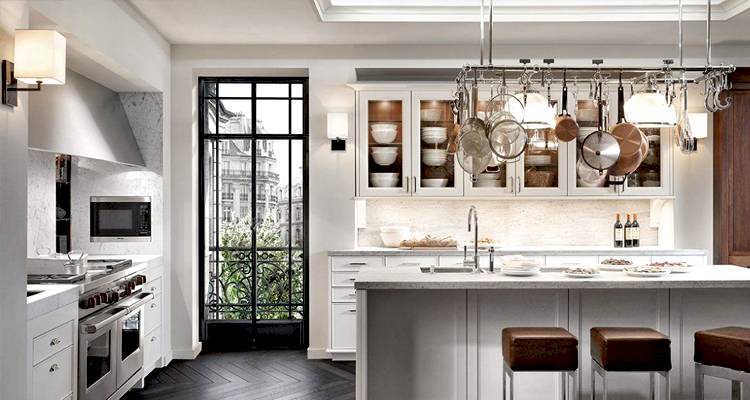 So, you can narrow down the choices and focus on the type of finish, colours, and décor for your new kitchen. Having a layout that will work for you will also help with your budgeting.
A disadvantage of choosing a kitchen according to the layout of the room can be that the original layout was badly designed, and you may be unable to improve it without major construction work. This could also involve expensive issues such as moving services like gas, electricity, or water.
The layout of your kitchen may limit the type of kitchen that you want, and elements that you want to include may not be possible such as a breakfast bar or island.
Kitchen Finishes
The finish of the kitchen cabinets, worktops, and appliances will directly impact the kitchen installation costs. Your budget is one of the key deciding factors on the type of kitchen installation you have. The material that your kitchen cabinets, worktops, and units are made from typically indicates the quality and the cost.
There are cheap cabinets that are made from laminated chipboard, slightly more robust MDF (medium-density fibreboard) cabinets which will cost a bit more and then the solid wood kitchen cabinets, which will be quite expensive.
Laminated Chipboard
Laminated chipboard kitchen units are lightweight, and one of the advantages of these is that they can be quite easy to fit as a DIY project.
As a kitchen installation guide, 30% of the budget typically goes on the cabinets, so if you aim for the cheaper end of the market, you could save quite a bit of money on the overall kitchen installation. This is especially true if you fit the kitchen yourself and save on the labour cost.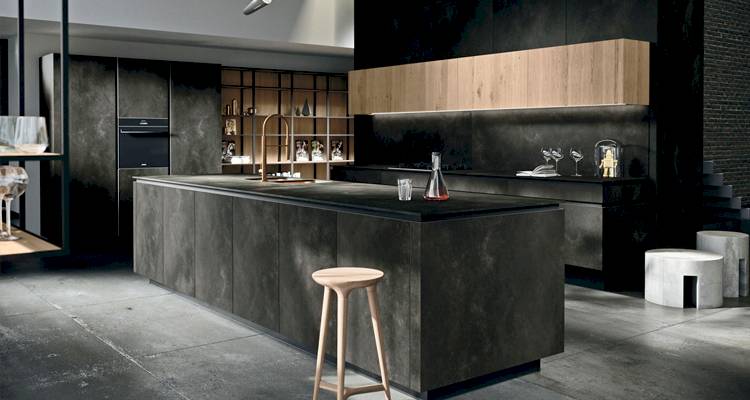 The downside of laminated chipboard kitchen units is that they will not be as robust as MDF or solid wood and will not usually last as long. The quality will not be the same, and aesthetically they may look cheaper than the higher-priced alternatives.
MDF
Although it has fallen slightly out of favour in recent times, MDF is a very versatile material that is still widely used to construct kitchen cabinets, amongst other things.
It is more likely that MDF will be the material used in the kitchen doors rather than the whole kitchen unit. The carcasses will often be constructed from chipboard, and the MDF kitchen doors are often faced with a thin veneer or painted.
As a material, MDF is sturdy and strong. This is due to the fact that it is an engineered board and is compressed at high pressure. For this reason, it is less likely to warp or crack like some other materials. Another benefit of MDF is the new kitchen cost which will be lower than a solid wood kitchen.
Despite being a robust and versatile material in fitting a new kitchen, MDF will never have the aesthetic appeal of a solid wood kitchen. If it gets damaged or scratched, it cannot be sanded down and repaired like real wood and may need to be replaced.
Solid Wood
The cost of installing a new kitchen made from wood will be much higher than for an MDF or laminated chipboard kitchen. But the quality of a timber kitchen will be far better and investing in a solid wood kitchen is exactly that, an investment.
The durability is not just because of the type of materials used to build the kitchen cabinets, doors, or worktops. The method of construction has a lot to do with the durability and strength of the units.
Chipboard and MDF kitchens will be put together with glue, dowels, and pins, while wooden cabinets and doors will be fixed with screws and sometimes handcrafted joints such as dovetail, which is a very strong way of fixing two pieces of wood together.
The strength and beauty of wood is undeniable, and a kitchen that is made from solid timber will last a very long time, giving it a big advantage over other types of finish. Kitchen design ideas that feature cabinets and worktops made from wood will typically be very expensive but will also not need replacing for decades.
However, one of the downsides of having a solid wood kitchen is the maintenance and cleaning of the units and kitchen doors. To preserve the condition of the wood for as long as possible, it is necessary to use special products to both clean and maintain the kitchen worktops and cabinets. Normal household cleaning agents can damage the finish of the wood irreparably.
Kitchen Design Ideas
With so many kitchen ideas to choose from, it can be very difficult to settle on one design for your new kitchen. If your budget allows, you could hire a kitchen designer or go for a design and build company.
There are also online tools that let you plan and design your own kitchen from layout to colour choice and even the types of handles and accessories for your kitchen.
Small Kitchens
For the average size kitchen finding a design that you like and works for you in terms of function and budget is not that difficult. However, if you have a small kitchen, you may struggle with planning and design.
One of the most difficult things with a small kitchen is allowing enough room for your appliances, storage, and a preparation area. One of the more popular solutions is the one-wall layout where you have base and wall units as well as your hob and oven on a single wall of the kitchen. If possible, storage can extend up to the ceiling.
Another design that works in a small kitchen is the galley layout. This is where you have two rows of cabinets on opposite walls with a walkway in between. It is a simple and economical solution as there is no need for corner cupboards or unused space.
Open Plan
If you have a larger kitchen, you have a wider choice of how to plan and design the space, or you may combine your kitchen and dining space. This opens up the possibility to many kitchen ideas such as a breakfast nook, a walk-in pantry or a kitchen island.
The average cost of an open plan kitchen will be higher as the space is usually created by either adding an extension or removing internal walls, neither of which will be cheap. You will then need to add the kitchen installation cost. However, the end result will be a large, functional addition to the house, which will add to its value.
A U or G-shaped kitchen will also be possible in a larger space. U-shaped kitchens have units on three walls which gives lots of storage and workspace, also allowing for more people to work in the kitchen at one time.
G-shaped kitchens have the same three sides of a U-shaped kitchen with the addition of a counter or extra units that extend outward. For this reason, it is also known as a peninsula kitchen.
Kitchen islands are very popular in bigger kitchens and often house a sink and workspace or a hob and oven. An island can also double as a seating area and become a social hub in the kitchen as well as a preparation space.
Kitchen Worktops
Choosing a worktop is as important to the design of your new kitchen as the choice of kitchen cabinets. The worktop adds to the aesthetics of the kitchen, but it also has to fulfil the functions of a food preparation and storage area.
There are many different materials that your worktop can be made from, so you will need to ask some questions about how the worktop will be used. Some materials cannot handle too much heat, while others will stain if spills are not wiped up immediately. Others need to be sealed regularly to protect them.
How you use your kitchen will be important in choosing your worktop and knowing how much space you are going to dedicate to counter space will also be important.
The price that you pay will be a big factor in choosing a worktop, so calculate your budget before you start searching and set a limit.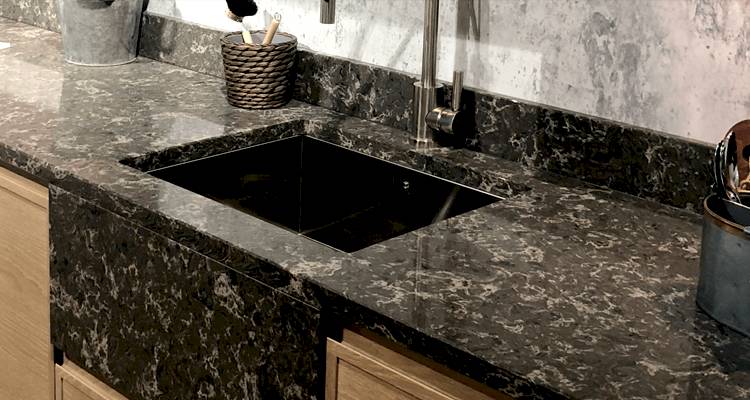 At the lower end of the price spectrum is laminate worktops at an average price of £30 per linear metre, which are perfectly functional but will not take the same punishment as a hard-wearing granite worktop which will cost around £200 per square metre.
One of the most popular worktop materials is composite quartz, a mixture of quartz stone and resin bonding. It is very durable, heat and scratch-resistant, and very easily maintained.
It comes in many different finishes and colours and costs around £300 per linear metre. Stainless steel is also becoming popular as a work surface in domestic settings and will cost approximately £250 per linear metre.
Cupboards
The wide range of kitchen cabinet designs, materials and colours can make choosing the right one for your kitchen a daunting task. However, the style can be influenced by the kitchen's layout, which may help with selecting the right units for your kitchen.
A galley style kitchen calls for maximising limited space so streamlined units with gloss finish door which reflect light may be a good choice. Larger kitchens, perhaps with an island and lots of storage space, may benefit from more traditional shaker style cabinets.
You can also decide between fitted kitchens and freestanding units, which can be changed much easier than those secured to the wall and surrounding cabinets.
Ultimately the choice of what type of kitchen cabinet to have should be dictated by not just the look and style but also the practical and functional application.
Flooring
The floor of your kitchen should be one that can be easily cleaned as there is a high risk of food and drink being dropped on it, so choose something that will not stain and can be quickly wiped clean.
Natural stone and tiled floors are both good examples of hard-wearing materials that are suitable for a kitchen floor. However, they may require specific cleaning products to avoid damaging the surface.
Although they are durable, they can make your legs ache if you are standing for a long time. They can also be cold, but underfloor heating can make it an excellent choice for the kitchen.
Engineered wooden flooring is also a good choice in a kitchen and is more comfortable than stone or tiles for standing on for long periods. It is also very strong and will work well with underfloor heating.
Laminate flooring is a cheaper alternative to engineered wooden flooring but is a good choice for a kitchen as it can be easily cleaned. Not all laminated flooring can be used over underfloor heating, and many also require an underlay, so you should check this before making a final choice.
Vinyl has improved immensely since its first use as a flooring many decades ago and now is a budget-friendly alternative. LVT (luxury vinyl tile) is made by combining several different layers and produces a hard-wearing and water-resistant floor covering. Many of these types are also suitable for underfloor heating and are very comfortable underfoot.
Kitchen Islands
If space and your budget allow, you could fit an island in your new kitchen. The additional storage and worktop space will be a definite plus, and you can even add a hob or sink to your kitchen island. However, you will need to consider the cost of extra cabinets, appliances if you add them, and the added labour costs.
While they do add additional storage and preparation space, kitchen islands can disturb the flow in many kitchens. Kitchen designers utilise the 'work triangle', which links the three most used appliances: the fridge, the cooker, and the sink.
To create the most efficient design, these three should be accessible without obstruction. Unfortunately, the island is a big obstruction. So, unless you place your sink or hob on the island, it's potentially going to be less helpful than you imagined.
What Are the Pros and Cons of a New Kitchen?
If your kitchen is outdated or showing signs of wear and tear, you may decide to remove it and replace it with a new one. Before doing so, there are some things to consider.
PROS
Improves Functionality
By installing a new kitchen, you will not only hope to have a nicer and better-looking kitchen, but you will also want to ensure that the efficiency of the kitchen is improved. With the average cost of a new kitchen at around £5,000, better functionality should be top of your list.
Reduces Energy Costs
By replacing old appliances with more modern and efficient models, you should reduce your energy costs and reduce your carbon output. For example, old refrigerators used harmful gases (chlorofluorocarbons) that contributed to global warming and were banned in the 1980s. The gas that has replaced CFCs is better for the environment and much more energy efficient.
Extends Sustainability
Including sustainable materials in your new kitchen will make it more environmentally friendly. You can use ethically sourced sustainable materials in your kitchen cabinets, worktops, and flooring. They will carry certification from the Forest Stewardship Council or the Program for the Endorsement of Forest Certification.
Contemporary and Up-to-Date Appearance
A new kitchen can bring your home up to date quicker than any other room. By including sleek cabinetry and the latest appliances, you can transform a dated and tired kitchen into a comfortable, efficient, and useful space.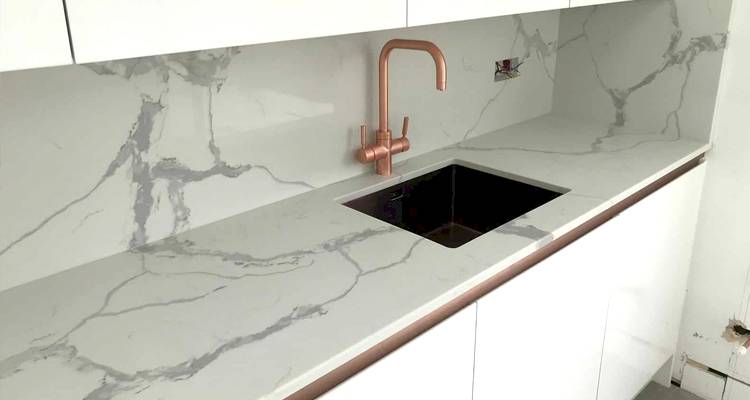 Increased Comfort and Safety
Modern kitchens are focused not only on style but functionality and efficiency. Making the kitchen more efficient also increases the safety and comfort of those working in it. From the 'work triangle' to ensuring counter heights are at the correct height, much thought and expertise goes into a modern kitchen.
Raise the Value of Your Home
Many property agents agree that installing a new kitchen will add value to a property. Even if the increase in value is not that substantial, it will attract buyers who typically look at the kitchen and bathroom as the most expensive rooms to 'put right'.
CONS
Cost
The cost of installing a new kitchen will depend on the quality and finish that you want as well as the size of the room. Typically, the minimum spend on a kitchen is between £5,000-£8,000, although there is no upper limit. However, it is important to keep the new kitchen cost in proportion, and it should be between 5%-15% of the house value.
Disruption to Daily Life
When considering the cost, you should also consider the disruption that installing a new kitchen will cause. The loss of cooking, refrigeration and food storage facilities should be borne in mind and planned for well in advance.
If moving out for the duration of the works is an option, this may be the best choice, especially if you have vulnerable people in your household, such as children or elderly relatives.
Styles Change
While your new kitchen may be bang on trend for this year, what will you think of the style five or ten years down the line? Styles are constantly changing, and what is considered appealing now may look dated when you come to sell your house.
How Much Does It Cost to Install a New Kitchen?
The new kitchen cost will be determined by the size of the room, the quality and style of the kitchen worktops, cabinets, and appliances and if hiring an installer, where you live in the UK.
Size of the room and budget are usually the two biggest determining factors in how much you spend and what style of kitchen you can have. So, you can pay anything from £2,500 for a small, budget-friendly kitchen to £25,000 for a large top of the range kitchen.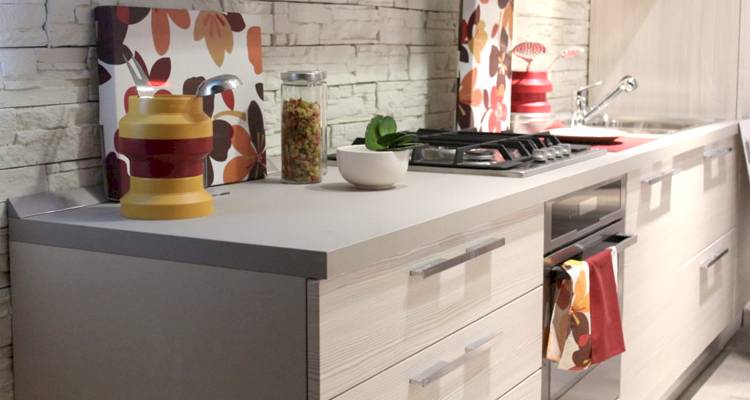 The average kitchen installation cost is around £5,000, but you should always get at least three quotations from kitchen companies and installers. Always compare like for like estimates. For example, some companies may include taking out your old kitchen and disposing of it.
Kitchen installers typically charge around £150-£200 per day, but this can vary greatly depending on where you live.
Additional Costs
Other parts of the kitchen installation, such as laying flooring or fitting kitchen tiles, will add to the overall cost. A 15 square metre kitchen floor will cost around £600-£700 to cover it with a mid-rangefloor tile.
The same area in vinyl flooring will cost on average £250-£300 while Karndean flooring will be between £600-£1,400 for the same sized room.
The cost of tiling walls or splashbacks will depend on the area to be covered, the type of kitchen tiles you choose and your location within the UK. The average cost of a tiler in the UK is between £140-£200 per day or £12-£20 per hour.
How to Fit a New Kitchen
You need to ask yourself several important questions when considering a new kitchen, and the answers to these questions should lead you to an informed decision before you start any work or spend any money.
Planning
The first consideration is what the kitchen is going to be used for. Is it going to be purely functional for the preparation of meals? Is it going to double as a dining room? Do you want to entertain in the kitchen or have an area for the children to do their homework while you prepare dinner?
Once you have thought about the kitchen's daily functions, you can begin to build around this design and include things that are not necessary but nice to have if the budget allows. At this stage, you can also exclude things you definitely don't want in the kitchen.
The appliances that you install should reflect your living situation. A large family would benefit from a six-ring hob and a full-size dishwasher, while this would be too much for someone living alone.
Once you know what you are going to include in your new kitchen, you will need to decide on a style of cabinet and worktop. Many companies have kitchen installation guides that can help, and there are numerous websites and magazines you can turn to for inspiration.
Budget will play a large part in this, and you should try to stick to it even if something more appealing but expensive catches your eye.
Preparation
At this point, you need to decide if you will hire someone to rip out your old kitchen and install the new one or if you are going to do some of the work yourself. While it is always easier to rip something out than to build, you should approach the removal of your old kitchen with caution.
Gas and electrical appliances need to be dealt with by qualified professionals. Even taking out old cabinets can cause damage to the kitchen walls that may need to be rectified before installing new units.
Find an Installer
A good way to find a reputable and reliable kitchen installer is through recommendation from family, friends, neighbours, or work colleagues. This route means that you can potentially view previous work done by the contractor and discuss the installation process with their clients.
However, you should get at least three quotations for your kitchen installation, and you can choose from supply and fit companies, kitchen fitters, carpenters, or general builders. All have their merits, and you will need to decide which best suits your needs.
Installation Process
Once you have worked out your budget, got your design brief, and found an installer, you can begin the installation process.
The removal of the old kitchen will have left less than perfect wall, floor and sometimes ceiling surfaces, so these will need attention first. Some re-plastering may be needed, and once dry, a mist coat of paint can be applied; the topcoat should be left until the installation is finished.
Any new ceiling lights should be installed before the units are fitted, but any protective covers should remain until the topcoat of paint has been done.
Re-routing of electric and gas supply within the kitchen should also be done before the units are put in place so that they can be chased into the wall and plastered over.
Any gas work must be done by a Gas Safe registered plumber or heating engineer and all electrical work by a qualified and registered electrician.
Depending on the type of flooring, it can be fitted before or after the base units are installed. Cheaper materials such as vinyl and laminate can go underneath the cabinets if you wish to avoid lots of cutting around the base units.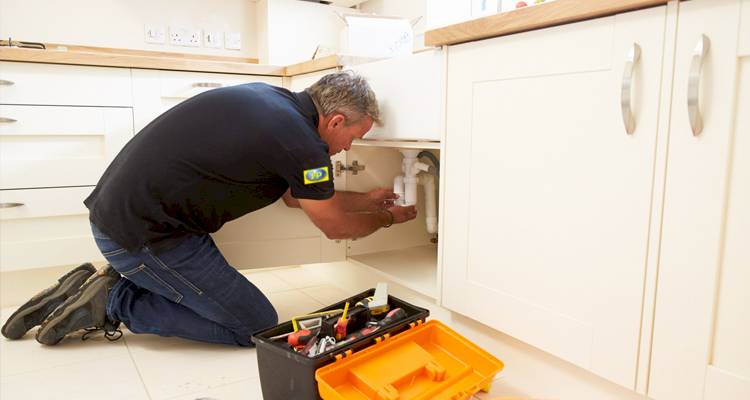 With more expensive flooring, you should probably fit it after the base cabinets and appliances are installed. You will also need to decide if you need new skirting boards.
If fitting a floor covering underneath the units, then once complete, the cupboards & worktops can be done. Sometimes there are separate trades involved in installing the cabinets and the worktop. For most kitchens, the main work of fitting the kitchen units and countertops will take a week or so, depending on the size of the kitchen and the complexity of the design.
Integrated appliances will also be fitted at this time, and any electrical or gas connections for your cooker will be carried out.
When the main installation has been completed, more cosmetic work such as tiling and painting can be done. Make sure that everything in the kitchen is covered with dust sheets to protect them while the final decorating is going on.
DIY Installation
Fitting a kitchen as a DIY job will depend on how experienced you are as a DIYer. While many home improvement jobs are not that technical, a kitchen installation involves a lot of work and various trades such as carpentry, plumbing, electrical and tiling.
Kitchen installation guides can help, but you will need to be confident in your abilities before deciding to go ahead.
The benefits of doing a kitchen installation yourself need to be weighed against the risks. This doesn't just mean the physical risks to you but also the risks of the installation not being as sturdy and long-lasting as it would be following a professional fitting.
Risks of DIY Installation
One of the risks of DIY is working with power tools and should always be done with care. This is particularly the case when using power tools in a kitchen. The danger of drilling or cutting through electrical wires, gas lines or water pipes is very real. For this reason, a pipe, cable, and stud detector should be used.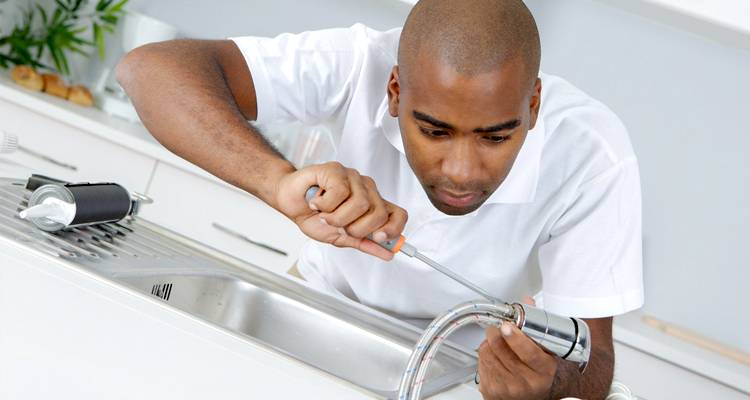 An RCD device (Residual Current Device) cuts the power to the tool in the event of damage to the power cable or when coming into contact with water to protect the user against electrocution.
Underestimating the weight of wall units is another risk when fitting a kitchen yourself. You need to ensure that the cabinets are attached to the stud work in the wall and hold the load when the cabinet is filled.
Benefits of DIY Installation
The advantages of fitting your own kitchen should not be underestimated. As long as you are confident in your own ability and happy with the results when it is done, you will have the satisfaction of completing the work yourself.
The money you save on labour will be around £150-£200 per day, and of course, you can take your time when you are doing it yourself. However, you should plan how you and your family will manage without a kitchen in the interim.
How Long Does It Take to Install a New Kitchen?
The length of time it takes to fit a new kitchen will depend on various factors such as the size, the quality of the finish, and the lead times on things like appliances or bespoke items. A small to medium-sized kitchen will take a team of fitters between 4-5 days to complete.
A medium to large kitchen will typically take between 5-6 days, and a large or custom kitchen can take between one and two weeks.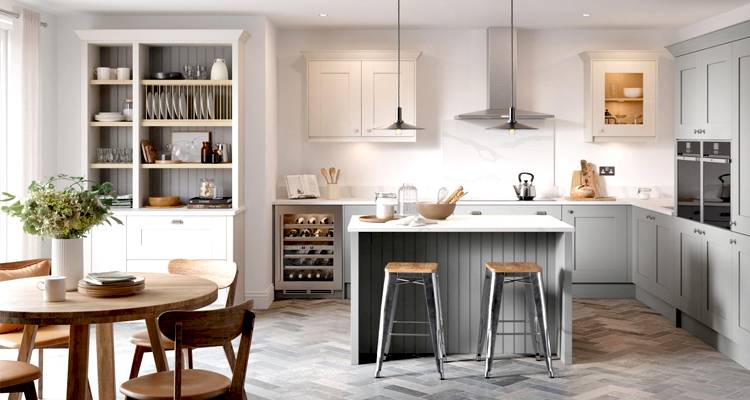 The work of individual tradespeople will depend on the amount of work each of them has to do as part of the kitchen installation.
For example, an electrician may come in on day one to disconnect a cooker and extractor fan, they may return on day three to fit new sockets, and close to completion, they will do a 2nd fix. In contrast, a carpenter or kitchen fitter may be on site for the whole job.
Additional works such as tiling, laying flooring and decorating will add to the completion time, and this will depend on the extent of these works.
Building Regulations or Planning Permission Approval for Kitchen Installations
The need to comply with Building Regulations or apply for planning permission when installing a new kitchen will depend on the circumstances and needs of each individual project. However, there will likely be at least one aspect of your new kitchen installation that will need to comply with Building Regulations.
Building Regulations
Any new electrical work in your kitchen must comply with Part P of the Building Regulations. A certificate that is signed by the electrician who did the work should be part of your paperwork when the job has been completed.
Part G of the Building Regulations deals with sanitation, hot water safety and water efficiency and ensures a reduction in water use, sets standards for water quality and promotes the safety of hot water systems.
Changing or moving a gas appliance or boiler must comply with Part J of the Building Regulations. If this forms part of your kitchen installation, it must be carried out by a Gas Safe registered heating engineer.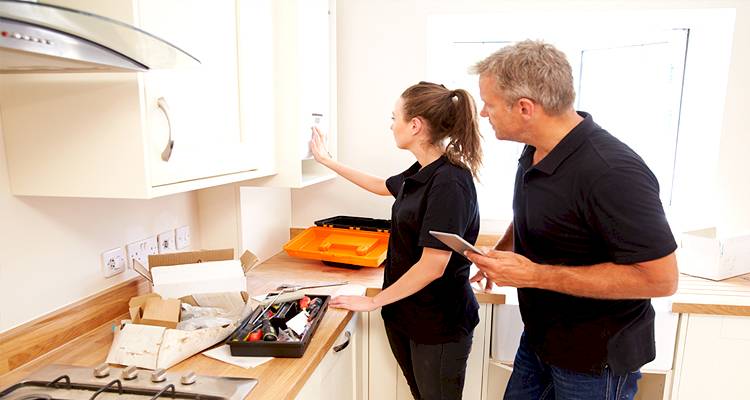 Any building work that affects the property's drainage system must comply with Part H of the Building Regulations. If you are moving or adding to your drains as part of your kitchen installation, you must ensure that the appropriate Building Regulations are followed.
Part F of the Building Regulations, which deals with ventilation, will need to be complied with if you have an extractor fan fitted or changed as part of your new kitchen.
Information on Building Regulations can be found on the Planning Portal or from the planning department of your local authority.
Planning Permission
Planning permission for a new kitchen installation is not usually necessary unless the property is a listed building. In this situation, Listed Building Consent will need to be sought. For the majority of properties, a new kitchen can be fitted under permitted development.
Fees for planning permission are £206 within England, £190 in Wales and £202 in Scotland.
How to Clean and Maintain a Kitchen
The kitchen is one of the most heavily used rooms in the home and, as such, typically needs to be cleaned more regularly and to a greater degree than some other rooms, with the exception of the bathroom. For this reason, it is a good idea to have a good cleaning and maintenance routine for your kitchen.
Cleaning Routine
The rule of little and often is a good mantra for keeping your kitchen clean. Every time you use something in the kitchen, either put it in the dishwasher or wash it in the sink.
While you are waiting for something to cook, use the time to clear away the utensils and wipe any surfaces that you have used.
Wipe down the counter each time you use it and throw uneaten food in the bin immediately to avoid attracting insects and vermin.
Spills should be wiped up immediately and empty your kitchen bin regularly to reduce bad odours that will attract flies.
Floors should be swept daily and mopped weekly unless you have small children or pets, in which case you will probably need to keep the mop handy most days.
Clean your oven regularly, although this will depend on how heavily the oven is used and how quickly it becomes carbonated.
Clear your fridge of out-of-date food or rotten produce and wipe it down with a clean cloth and antibacterial spray before putting your new weeks' groceries away.
If you wash up in the sink, drain it as soon as you are finished. Don't let the water go cold as it will be greasy and leave deposits on the sink.
You should wipe out the sink after letting the water out to clean and sanitise it, removing any pieces of food debris left in the bottom of the sink.
Once a week, thorough cleaning of countertops, cabinet and appliance doors and other surfaces will ensure that a good level of cleanliness and hygiene prevails in the kitchen.
A deep clean can be done once a month and can include washing the filter in your extractor fan and wiping out your dishwasher.
One way to reduce regular cleaning is to keep clutter in the kitchen to a minimum. You can reduce the number of items on the worktops by storing them in cupboards instead. This makes wiping down the counters much easier and also provides more food preparation space.
Regular Maintenance
Certain areas of your kitchen may need specialist attention. For example, some worktops such as marble or granite need to be sealed in order to protect them against staining in the event of spills.
Solid wood flooring in the kitchen will also need high maintenance to keep it looking good and protect it from damage and stains.
Maintenance of appliances usually just involves a deep clean a couple of times a year.
Kitchen Repairs
As one of the busiest and most heavily used rooms in the home, it is unsurprising that repairs are most likely to be in the kitchen. Whether it is the appliances, worktops, cabinets, or flooring, chances are, at some point, you will need to carry out a repair in your kitchen.
Worktop Repairs
Worktops can become damaged through excessive heat, scratches or water damage and may need to be repaired. There are different methods for repairing worktops depending on the material they are made from and the type of damage.
Wooden countertops with superficial burns can be sanded down with a mild abrasive until they are no longer visible. Linseed oil or similar can then be applied to the sanded area to reseal the worktop. A can of worktop oil can cost between £15-£25.
Laminate worktops often suffer from chips and scratches, and while you can pay a specialist to repair it, there are some DIY products available that are also effective.
Some pastes can be used to fill in any accidental holes or scratches in your worktop and are available in many colours to perfectly match your worktop. The cost is around £5-£8 for a 25g tube.
Other worktop materials such as granite, quartz or composite can be a little harder to repair if they get damaged. Luckily, there are repair specialists who can fix most types of worktop material. These specialists can also repair things like uPVC window frames, shower trays and enamel baths.
The cost to repair your worktop will depend on the extent of the damage, the type of material it's made from and where you live in the UK.
Cabinet Doors & Drawers
Moving parts such as cabinet doors and soft close drawers are the most likely things that need repairing. Heavy handed use can mean that the doors or drawers will wear out long before they should, and accidental damage may also occur.
Replacement hinges and drawer mechanisms can be purchased and fitted. On average, concealed cabinet hinges will cost between £2-£5 each and drawer runners will cost approximately £5-£15.
Flooring
Flooring repairs will depend on the type of floor covering that you have in your kitchen. Repairing wooden floors can be done by sanding down the damaged part and resealing it.
Sanding down and oiling a wooden floor will cost on average £18-£23 per square metre, while varnishing will cost £15-£20 per square metre.
If your laminate flooring is damaged, then the affected piece can be removed and replaced. For this reason, when you lay your laminate flooring, you should keep some extra pieces in case of accidental damage.
Specialists can repair Karndean and similar vinyl flooring if it is not possible to remove and replace the affected area.
Appliances
Any electrical or gas appliances that you install in your kitchen should come with a manufacturer's guarantee. The length of these guarantees is typically 12 months, and there is always the option to extend warranties to cover you in case of accidental damage.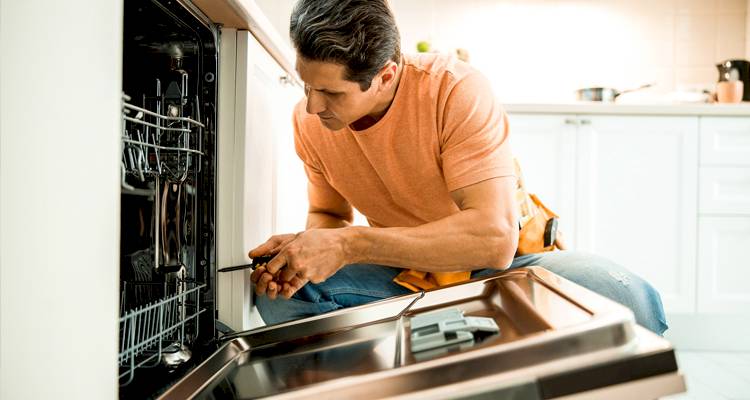 Fixing a kitchen appliance should only be done by approved repairers if the product is still under warranty, and this should not cost you anything.
Beyond the warranty period, you will need to find an appropriate company or tradesperson to carry out repairs. A qualified person should only repair any electrical equipment.
Questions to Ask When Hiring a Kitchen Specialist
When you are looking for a kitchen fitter to install your new kitchen, you should ask a few questions before hiring.
Do you have a portfolio of work that I can look at or letters of recommendation?
Can you provide evidence that you have valid and appropriate insurance to carry out the work?
What are the timeframes for the various stages of the job?
Is removing and disposing of the old kitchen included in the price?
Will you be needing a skip, and is it included in the price?
Can you deal with the utilities (gas, electric, and water), or will you need to bring in outside help?
Is there a guarantee on the work and how long is it for?
FAQs
Can you paint kitchen cupboards?
There are specialist kitchen cupboard paints that can be applied over most cabinet doors, even laminate. Some materials, such as those with a high gloss finish, may need to be lightly sanded beforehand. All kitchen cabinets doors should be cleaned with a degreaser and allowed to dry before painting.
How do you design a kitchen?
There are specialist kitchen designers that will plan your new kitchen for you. If you don't want to spend money on a designer, there are many online planning tools that you can use that allow you to choose your kitchen layout, cupboard design, and even colours. The old-fashioned way is to buy an interior design magazine and get your inspiration that way.
Is it easy to fit a kitchen as a DIY job?
Some kitchens are better suited to DIY installation than others. Most flat pack kitchens are designed with self-assembly and fitting in mind, so if you have the patience, confidence, and time, there is no reason you cannot fit a kitchen as a DIY job. Larger, more complex kitchens or bespoke kitchens will benefit from professional installation.
How do I know which kitchen design will work for me?
Before deciding on a kitchen design, you need to consider the size and shape of your kitchen, including the position of doors, windows, and permanent fixtures such as your boiler.

Then you should make notes of how you use the kitchen, e.g., purely for cooking or do you also entertain in the kitchen, do the kids do their homework there? From the answers to your questions and taking into account the physical space, you should find a kitchen design that works for you.
Should flooring be laid before or after the kitchen units?
This will probably depend on the type of flooring being laid. Vinyl, laminate, and other man-made materials can be laid before the base units are fitted. This reduces the amount of cutting around the units.

However, for more expensive flooring such as natural stone or timber, it would be pointless to install this underneath the cabinets where it will never be seen and will cost you more in materials. Timber flooring will also contract and expand according to different conditions, and this could cause problems for units sitting on top of it.
Sources
https://www.fmb.org.uk/find-a-builder/ultimate-guides-to-home-renovation/planning-a-kitchen-the-ultimate-guide.html
https://www.jmibathrooms.co.uk/how-to-get-a-new-kitchen-fitted/
https://www.idealhome.co.uk/kitchen/kitchen-advice/kitchen-cabinets-buying-guide-183199
https://www.grundig.com/ktchnmag/blog/the-complete-guide-to-kitchen-layouts/
https://kitchensbyemmareed.co.uk/how-much-should-i-spend-on-a-new-kitchen/
https://www.sustainablekitchens.co.uk/journal/solid-wood-vs-chipboard-kitchen/
https://www.magicman.co.uk/examples/worktops-and-countertops/
https://www.flooringsupplies.co.uk/advice/installing-in-kitchens

Last updated by MyJobQuote on 23rd November 2021.