Cost of Underpinning a House
Guide to underpinning a house with prices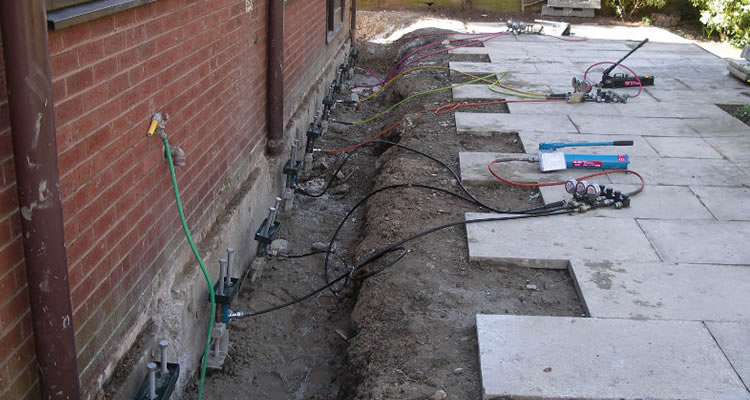 Typical cost is around
This type of project would normally take around 4 weeks
£12000
Underpinning is when extra support is provided underneath a building due to subsidence. This can be to directly counter subsidence where your home is actually sinking, or it can be done pre-emptively if neighbouring homes have suffered from subsidence and you want to prevent it affecting your property. The other main reason for underpinning work is where you want to extend the property by adding an extra level (up or down) which may require extra structural support below ground level.
Extending property downwards into a new or enlarged basement area will normally require extensive underpinning. This is definitely not a DIY project so be prepared to pay for professionals. You will need a structural engineer and a competent builder at the very least. To find local and reputable tradesmen and professional services, please use our FREE service to post your job and receive up to 3 written quotations.
Typical underpinning prices
When people are pricing up the cost of underpinning a house they have to take so many different things in to account. For example fixing your bowing walls with wall ties. This job itself is massive and will take a long time to complete. If you need your house underpinned and your bowing walls fixed then the price you will have to pay is around £18,000 if you have a 3 bed detached property.
| Job Description | Duration | Material Cost | Labour Cost |
| --- | --- | --- | --- |
| Underpinning 3 bed detached property to arrest movement | 4 weeks | £2500 | £9500 |
| As above plus stopping a wall bowing with wall ties | 5 weeks | £3500 | £13000 |
| As above plus returning a bowed wall to it's original position | 6 weeks | £4000 | £18000 |
Things to consider regarding underpinning work
There are three main types of underpinning: concrete pour, beam and piling. Mass concrete pour involves digging holes underneath the existing foundations and filling them with concrete, often with reinforcement. The beam method also uses holes filled with concrete, but a load-bearing beam is also added to spread the weight. The piling underpinning method requires specialist equipment and expertise and is more suitable where deep foundations are required, this is usually the most expensive option.
But there are other factors which can affect the costs, such as your location (London and the South East is much more expensive), the depth and width of the underpinning required, your local council charges for Building Control and the possible requirement for Party Wall Agreements. If you have a shared wall with neighbours then you'll need to serve two months written notice before starting any work and as long as your neighbour's consent you can proceed.
But if the neighbours do not consent, then you'll need to start an expensive and time-consuming party wall agreement process which will involve fees for a surveyor to inspect the boundary wall and a solicitor to draw up the legal document. Expect to have to pay between £400 and £1000 per neighbour!
Doing it Yourself
Structural design calculations are required for any underpinning job, these will be required by any future buyer's solicitor plus you will also have to satisfy your local authority's Building Control that the underpinning work was carried out properly, so please leave this work to the professionals otherwise you will have difficulty ever selling your home and should you encounter problems due to a botched DIY job later, then you won't have a leg to stand on with your insurance company.
Tips for house underpinning
Underpinning is NOT a DIY job
Signs of subsidence include cracks appearing in plaster
Underpinning a house requires structural design calculations
Extending into a basement will likely require extensive underpinning
Hiring a Tradesman Checklist
Always get at least 2 quotes before hiring.
Never pay the full amount upfront.
Get the quote in writing.
For any payment you make, always get a receipt.
On more expensive jobs, ask for references.
Check if the tradesman is a member of any trades associations.
Make sure the tradesman has public liability insurance.
FAQ's
Does subsidence damage constitute a danger to my building structure?
Damage caused by subsidence rarely causes a building to become suddenly unstable. The crack width or movement needs to be quite severe before you need to start worrying about immediate danger. Even with a lot of movement and cracks, many older buildings are still not unstable. Though you should of course always have any signs of subsidence checked by a professional.
What are the causes of subsidence?
The most common cause in the UK is the shrinkage of clay soils beneath the house foundations which can be caused by roots drying out the soil. Other typical causes include softening of the foundation soil due to water because of leaking drains or flooding.
What are the warning signs of subsidence to look out for?
Doors and windows not fully opening or closing, cracks and splits in the walls, walls bowing inwards or outwards, neighbouring homes needing underpinning work and uneven floors.
Will my property need to be underpinned if there ar signs of subsidence?
Not necessarily, only around 20-30% of properties suffering from subsidence need underpinning. In most cases, other remedial measures to remove the cause of the subsidence are sufficient to regain stability.
Will I need to move out of my home while the underpinning work is being done?
No, in most cases the repairs are not particularly disruptive, though they can be messy.
Recent Jobs
Underpinning single-fronted terraced house front and back.
Submitted by Alan
Underpinning required for basement conversion.
Submitted by Oj
I need 2 concrete bases for sheds 6'x8'.
Submitted by Simon
Cracks appearing on walls inside and out, wooden window frame damaged, surveyor confirms water damage to the surrounding ground might be causing subsidence. Need a quote for insurance purposes.
Submitted by Shuncheung
Concrete block beam piling.!Extension 12mx12m house new build.
Submitted by James