Staining your Sheds and Fences
Guide to staining garden fences and sheds with tips and advice on finding a tradesman and DIY.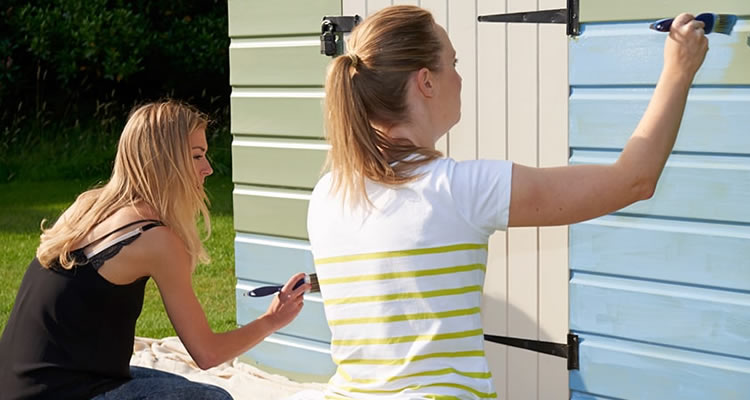 The average cost of staining fencing or sheds
Typically these type of jobs take around 1-2 days
£150
Timber is a popular material for garden sheds and fencing, but needs regular routine maintenance to keep it strong and looking good for many years (particularly in the damp and cold UK weather). By maintaining the wood finish, you can prevent damage and rot, so wood staining and painting is a good investment. Where timber is concerned, moisture is the main enemy. Proper staining will create a barrier that will prevent moisture from penetrating and doing permanent damage to the wood. In particularly rainy/windy regions you will probably need to stain or paint more frequently, while drier regions may require less maintenance, but most experts will recommend staining or painting around every 2-3 years or so in any case. You can check the fence/shed yourself for beading, if the water no longer beads up on the surface, but instead just soaks into the wood, then it is probably time for staining again.

Whether to paint or stain a fence really comes down to personal preference. Either will offer protection from the elements and will extend the life of your fence. Painting is usually less expensive, but requires more frequent maintenance, whereas traditionally staining is more expensive initially, but absorbs into the wood better so will last longer.

Finding a reliable and trustworthy tradesman to stain your shed and/or fence can be difficult, but Myjobquote.co.uk has a "Find a Tradesman" service that helps you to connect with local tradesmen and suitable businesses to get the work you need done. You can use this service for free to have tradesman get in touch so you can gather quotes and vet their credentials.
Costs for getting sheds or fencing stained
| Job Description | Duration | Material Cost | Labour Cost |
| --- | --- | --- | --- |
| Stain small wooden garden panel fence | 1 day | £10 | £90 |
| stain single 6×5 fence panel | 1 hour | £2 | £8 |
| stain 6 foot high wooden trellis type fence | 2 days | £25 | £175 |
| stain small garden shed | 1 day | £12 | £88 |
Things to consider before hiring someone to stain your fence or sheds
Many people simply don't take on into account the need to maintain timber, but the UK climate can be harsh, so it is important to carry out simple maintenance to help protect fences and sheds from the elements. Timber needs protection from the sun's rays and insects in the summer, whilst the winter brings its own challenges in the form of freezing temperatures and snow. A simple protective coat of paint or stainer can stop any damage to the timber and ensure a long lifespan.
Staining gives fence panels a hint of a colour of your choosing, while at the same time maintaining a natural look. When water no longer beads up on the surface of fencing and rather just soaks in, then it is time to re-stain, which could be as often as once a year, best done in late spring or summer when the timber is completely dry. You should always choose an outdoor wood stain that contains UV inhibitors and make sure the wood is clean and dry before you stain. For the best finish always strip off any existing paint or stain and sand the wood ready to accept the new coat. Work with the grain and never stain across it, ensuring you get the stain into all the little cracks and crevices, between boards and around screws using a smaller brush if required. With shared fences always ensure you take the time to speak with your neighbours before you start.
With new fences there are two competing schools of thought when it comes to staining, some suggest waiting for a few weeks before staining a brand new fence to ensure the wood is completely dry, whereas others will point out that it is much easier to stain all the parts of a fence properly before it is erected. Either way, even brand new fences made with pressure treated timber need staining or painting.
Doing it Yourself
Staining a fence or shed is relatively straightforward, whether you have any DIY experience or not. Staining your shed or fence will refresh it, while protecting it against the elements. The first part of any staining job is to remove any loose material and make sure the wood is clean and dry. If the fence is sturdy enough, you can use a power-washer before you start, then scrub well with watered bleach on any stubborn stains before you start. But let the timber dry completely before you start painting the stain. You should also move any garden furniture out of the way and cover any nearby plants before you start.
Check the weather forecast before you start, you don't want to stain in heavy rain and if it is too cold then the stain won't dry either. Try and pick a warm day but wait until the fence is in the shade before you start so the wood is not too hot as this will cause the stain to dry too fast without soaking into the wood properly.
Use a brush to paint the top, edges and sides of the fence, then carry on using a sprayer, roller or larger brush. Always paint in the same direction, with the grain of the timber. Apply the stain liberally, making sure there is enough to penetrate right into the timber, but don't have any drips either. Start at the top of the shed/fence and work your way down. Follow the stain manufacturers instructions carefully in terms of how many coats are required, and how long you should wait before applying subsequent coats. With most stain products, a minimum of two coats will be required to give your fence/shed full protection.
Staining fencing and sheds checklist
Going with a cheaper brand of stain can mean re-staining the fence sooner than you would like!
If possible, try and get a sample of the stain prior to applying it to the whole fence
For new fences it can be a good idea to wait for a few weeks for the wood to completely dry out before staining
If you share a fence with a neighbour, discuss any work with them beforehand to avoid any disputes
FAQ's
Why should I stain my fence or shed?
Staining timber improves the look of timber and will actually save you money in the long run by increasing the life of the wood. Staining protects your fence or shed from the harsh weather, plus stops mould and mildew growth from the damp. Staining can also help to prevent warping as the wood ages, plus keeping moisture out of the wood reduces age-related splitting or cracking over time.
My fence already has a very dark stain applied, can I stain over the top?
When applying a stain the final colour depends a lot on the previous coatings, particularly the depth of the existing and how long it has been on the wood. Over-coating a dark stain with a lighter one will be difficult and is likely to require many more coats. With very dark stains it could be easier to simply strip the wood back to its original surface then apply the lighter colour.
Is there any preparation to do before staining?
Yes, you need to examine the fence and repair any damage before staining. Fill any holes and replacing any broken panels. Then, wash any dirty or mildew covered areas using a pressure washer to ensure all unwanted surface material is completely removed. You need to wait until the fence is then fully dry before staining as any moisture being trapped in the wood during the staining can cause mould to grow. If you don't have the time to allow wood to completely dry, then use a stiff brush instead.
Should I use a sprayer of a brush to apply the stain?
Most stain products can be applied with either, but double check the manufacturer's instructions to be sure. Brushing is harder work and takes longer, plus it can be more difficult to get the finish you want. Spraying is quicker and easier, but you need to buy the spraying equipment and be very careful about over-spray, always cover the ground at the base of the fence to prevent any chemicals from killing the surrounding plants and garden matter.
Last updated by MyJobQuote on 17th August 2017.