Cost of Building a Wooden Wheelie Bin Cover
Wheelie bin cover guide and cost information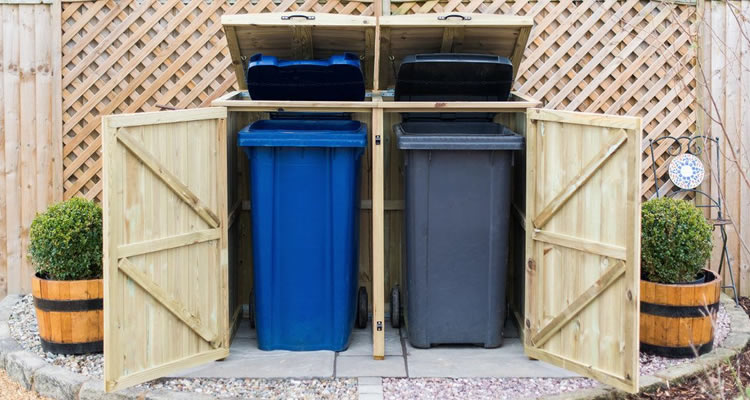 The average price for a wooden wheelie bin cover is
This job will typically take around 1-2 days
£500
Wheelie bin storage units are becoming more and more popular in the UK as they really help to keep your garden looking neat and offer a range of additional benefits. Wheelie bin covers will also stop your bins blowing over in high winds and so you can avoid chasing your rubbish down the street! Adding the security of a cover will keep the bin in place and in areas with extremely high winds you can even fix the wheelie bin cover to the ground or a wall for added peace of mind.
Wheelie bin covers will also protect your rubbish from annoying pests like squirrels, rats and even foxes. Wheel bin storage covers will stop these animals from getting into your bins and making a mess. But the main advantage of wheelie bin covers is that they conceal your ugly bins giving your home a cleaner and more organised look while still allowing you easy access.
The average material price to build a wheelie bin store starts from around £100 for a standard single bin store, but they can easily cost over £500 for fancy triple bin designs! The average carpenter will usually charge around £150 per day just in labour and unfortunately, you are going to need one unless you are a very skilled woodworker! You can get started by simply entering your postcode to begin the process of receiving quotes via our free online system.
Estimated costs of hiring a carpenter to build a wheelie bin store
| Job Description | Duration | Material Cost | Labour Cost |
| --- | --- | --- | --- |
| 1 Wheelie Bin Store Space | 2 days | £100 | £300 |
| 2 Wheelie Bin Store Space | 2-3 days | £150 | £450 |
| 3 Wheelie Bin Store Space | 3-4 days | £200 | £600 |
Things to consider about wheelie bin stores
Wooden wheelie bin stores or sheds completely disguise your bins using an attractive structure that also protects them from bad weather and pests. A professionally made wheelie bin store will last for decades if treated/stained every year and you can even lock them for security. However, these type of stores are a lot more expensive than a simply rattan or bamboo screen and taking your bins out on collection day will take slightly longer.
If buying online you also need to be careful about sizes as UK wheelie bin sizes range from 120 up to 360 litres. In terms of looks and design there is almost an endless choice available, but when it comes to wooden store options there are three main types of wood you can get: Eco, FSC and pressure treated.
Eco is really just marketing talk for untreated wood which is cheaper but will need treatment before using. FSC certified means the wood was sourced responsibly which means it is more expensive, and pressure treated wood will last longer through the use of chemicals to deter rot and insects.
Doing it Yourself
Though wheelie bins are necessary they look ugly whether they are stored in your garden or put out for collection. Whilst there is not much you can do about how ugly wheelie bins are, having a wheelie bin store to put your bins away can have your home and garden looking much tidier. There are some wheelie bin stores that are available to buy online but these can be expensive when you consider how cheap you can build them yourself if you have the necessary tools and skills.
They are not terribly difficult to build as a DIY project but can make your home and garden look much more attractive. You only need basic tools along with the materials including timber and a few paving slabs for the base. There are a number of video tutorials on YouTube that can explain what needs to be done, but basically, once you have decided how big the wheelie bin store needs to be (how many bins you have) and where you want to put it, you simply cut out an area of turf and put the paving stones down, then level it all out and place your paving slabs.
Then build the frames for each side of the shed remembering to include a door to one side. You will need to use hinges for the door and for the roof, which can be constructed using corrugated iron, plastic or timber and roofing material to protect it from the rain.
Wooden wheelie bin cover tips
There's nothing quite as unsightly as a wheelie bin
Wooden wheelie bin stores look smart and natural
A wheelie bin store will prevent pests from rummaging through your rubbish
High winds are no longer a problem with wheelie bin stores
Hiring a Tradesman Checklist
Always get at least 2 quotes before hiring.
Never pay the full amount upfront.
Get the quote in writing.
For any payment you make, always get a receipt.
On more expensive jobs, ask for references.
Check if the tradesman is a member of any trades associations.
Make sure the tradesman has public liability insurance.
FAQ's
Why buy a wooden wheelie bin store?
Although there are a wide range of bin stores available in other materials like plastic and even metal, wooden bin stores are more popular in the UK as they look more natural and tend to complement other wooden garden fixtures such as sheds, fencing, trellis and decking. Plus pressure treated wood offers protection against rot and fungi and can last for decades!
Can I secure the bin store to the ground or wall?
Yes, many wheelie bin stores available do come complete with a floor or wall fixing kit which will typically consist of brackets, screws and plugs. However, you can fix any wheelie bin cover against high winds if you are a DIY handyman. if you are not confident in your DIY skills you can easily find a good handyman using our free "Find a local tradesman" service.
What are the advantages of wooden wheelie bins?
Wooden wheelie bins can easily be painted to maintain a garden colour scheme, for example, painted in the same colour as your garden fence or decking. In addition, pressure treated wood can last just as long as cheap plastic products if well maintained.
How long will a timber wheelie bin store last?
If the stores are manufactured using high-quality pressure treated wood and you treat the wood every year with a wood stain or paint, then you should expect the store to last at least 10 years on average. But cheap untreated timber will last less than half that.
How often do I need to treat wooden bin stores with wood preservative?
You should treat timber once per year to ensure a long lifespan using water or solvent based preservatives or stains.
What size are wheelie UK bins?
In the UK there are a variety of bin sizes, the most popular sizes are 140 Litre(106 x 48 x 55 cm), 240 Litre (107 x 58 x 74 cm) and 360 Litre (110 x 61 x 88 cm). But there are also smaller, recycling bins and caddies for food waste.

Recent Jobs
Think tap washer needs replacing.
Submitted by Alan
1. My larder cupboard is coming off its rollers. 2. My fireplace needs tiling. 3. A small amount of garden clearance to allow gas fitters to install pipework 4. My chimney needs lining
Submitted by Jakki
Repair and repainted wooden fascia.
Submitted by Douglas
I only need to disassemble the side big cabinet for dining room for taking it away.
Submitted by Nensi
I need a heavy dining room table moved from the living room to the dining room.
Submitted by Dipesh