Cost of Installing a Hot Water Tap
Throughout this article, we're going to explore all the costs associated with boiling water taps, including the actual taps, the price of installation and any additional costs that are typically associated with the installation of them.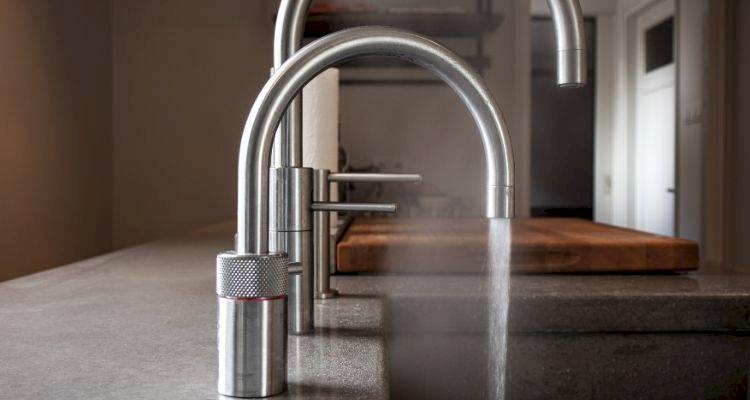 Average Cost of Fitting a Boiling Water Tap:
Depending on the complexity of the job, it usually takes: 1-2 Hours
£400
How Much Does It Cost to Install a Boiling Water Tap?
We've all spent an early Monday morning staring at the kettle, waiting impatiently as it gears up to a boil with an empty mug waiting next to it, and as the old saying goes – a watched pot never boils.
Hot water taps, or as they are also known boiling water taps, look pretty much like any other kitchen tap, however they produce boiling hot water.
Now, you can get a few different types of boiling water tap as some will also produce the standard hot water and cold water you usually have with a kitchen tap, and some simply provide boiling water.
They're incredibly handy to have in your kitchen, not just for hot drinks, but for cooking purposes too, and you can get boiling water taps that have filters on them too for cleaner drinking water.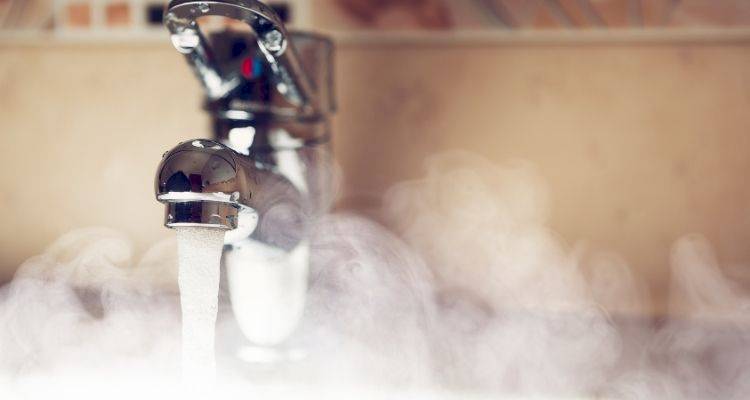 The cost of installing a boiling water tap can fluctuate depending on a few different factors. Firstly, the layout of the kitchen will affect the installation cost, as you will need a little boiler unit fitted close to the tap, along with holes drilled for the tap to sit in.
Of course, the price will differ depending on the type of tap you purchase. For instance, a 3 in 1 tap with filters costs much more than a simple tap without a filter.
The location you live in will also affect the installation price, with big cities like London naturally attracting higher costs for tradespeople due to the cost of living in those areas.
Boiling Water Tap Prices
Below are some estimated prices for material and labour costs of hiring an electrician to replace or install a bathroom extractor fan.
| Type | Duration | Average Cost |
| --- | --- | --- |
| Single Boiling Water Tap | 1-2 Hours | £250-£300 |
| Single Boiling Water Tap with Filter | 1-2 Hours | £350-£400 |
| 3 in 1 Boiling Water Tap | 1-2 Hours | £400-£1000 |
| 3 in 1 Boiling Water Tap with Filter | 1-2 Hours | £400-£1000 |
| 4 in 1 Boiling Water Tap | 1-2 Hours | £500-£1200 |
| 4 in 1 Boiling Water Tap with Filter | 1-2 Hours | £500-£1200 |
Supply Only Costs
Over the next few sections, we're going to explore the costs involved with installing a boiling water tap, focusing first on the supply costs, then the additional costs and finally, the cost of labour.
A good way to work out your budget for installing a boiling water tap is to consider what type of tap you want. If you just want an additional tap installing alongside your current kitchen tap that dispenses just boiling water, you can pick one up far cheaper than any other type at between £150 and £200.
This tap will simply dispense boiling water on demand. It won't have any additional features, and this is usually the easiest thing to install as it doesn't require the removal and replumbing of your other tap.
Now, these types of taps are available with a water filter on them which will clean the water internally, provided completely filtered boiling water. The health benefits of this are clear, and while you will need to pay for a new filter every few months, they can be bought for around £45, so it's not a dramatic additional cost.
3 in 1 taps are the most common type of boiling water tap found within the home as it makes life easier for a lot of people to have all their water dispensers collated into one tap.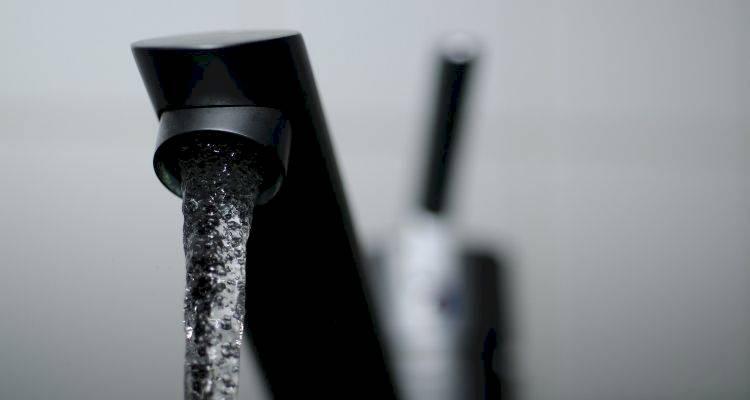 These are a lot more expensive than standalone, single-purpose boiling water taps with prices ranging from £300 to almost £1,000 depending on the brand, material and design you opt for. These taps are also available with a filter to clean the water before you use it.
Lastly, a 4 in 1 tap does everything a 3 in one tap does, but with the added feature of a cold drinking water function. These will likely be fitted with a water filter to provide completely chilled and filtered cold water. 4 in 1 taps are slightly more expensive than 3 in one taps.
They are less commonly purchased because the difference between cold water and chilled drinking water is pretty hard to detect, although it's a nice touch for those wanting a luxury option.
Buying the supplies yourself gives you a great chance to get your hands on the item before its time to install so you can see how happy you are with the quality, size and design before it's too late.
Often, single boiling water taps are much smaller than you may think, so some people are surprised when they see them installed. It also gives you a great chance to shop around for a cheap deal if you're working on a tight budget.
Additional Costs
In this section, we will explore additional costs that are commonly associated with the installation of boiling water taps.
Now, these aren't mandatory costs, but a lot of people will incorporate the installation of a boiling water tap with some of these to get a better price on labour for booking a tradesperson out for the day instead of just an hour or two.
Kitchen Sink Replacement
The average kitchen sink replacement costs about £400, and it takes around 2-4 hours, but that can differ based on a few different factors.
The sink's material and size are the two main factors in the overall cost of the replacement. Stainless steel options cost a little below the average, and materials like cast iron and ceramic costing a little higher than the average.
The labour cost for this work is between £75-£150 for the 2-4 hours of work. However, you can usually book out a plumber for around £150 per half-day, so if you wanted to have a new sink and a new boiling water tap, you could incorporate the jobs and potentially save yourself some money on labour. To find out more about kitchen sink replacements, check out our guide.
Kitchen Worktop Replacement
The average cost to replace kitchen worktops is £600, and it takes a tradesperson between 1 and 1.5 days to complete the job.
Much like the kitchen sink replacement, the cost of this job really depends on the material you choose as some super-premium materials will cost as much as £3,900 to install. The cheaper options tend to be laminate, solid wood, stainless steel and composite, and they are all around that average cost marker.
However, materials like quartz, granite, marble and ceramic are almost four times as expensive. Of course, these materials are incredibly luxurious. They are far from commonly installed, so you'd be better off sticking with the traditional wood and composite materials unless you have your heart set on the luxury options.
If you're interested in finding out more about new kitchen worktop installations, check out our article.
New Kitchen Cost
If you're considering replacing your taps, sink and kitchen worktops, you may as well go the whole way and have an entire kitchen refit.
As you may have guessed, the price of a new kitchen does depend on the materials, the design and the size of your kitchen, with small kitchens on a budget fitted for less than £2,000 and top of the range kitchens fitted in massive spaces for as much as £25,000.
However, the average is usually around £4,000-£5,000 for a typical kitchen refit. Of course, when you start to get quotes on a new kitchen, you can incorporate any form of boiling water tap or any other piece of technology into your kitchen and have the inclusions included in the price.
For more details on new kitchen refits, check out our guide.
Labour Costs and Timescales
Finally, we're going to take a look at the labour costs of installing a boiling water tap. The job doesn't take long at all, and a tradesperson will be in and out in 1-2 hours.
However, a lot of tradespeople will have a minimum job price to account for time and travel. Usually, this is around £40-£50, but this can fluctuate depending on your whereabouts in the UK you are.
As we mentioned earlier, big cities like London and Manchester attract higher trade costs due to the cost of living in the area, which also means that small towns and villages attract lower costs.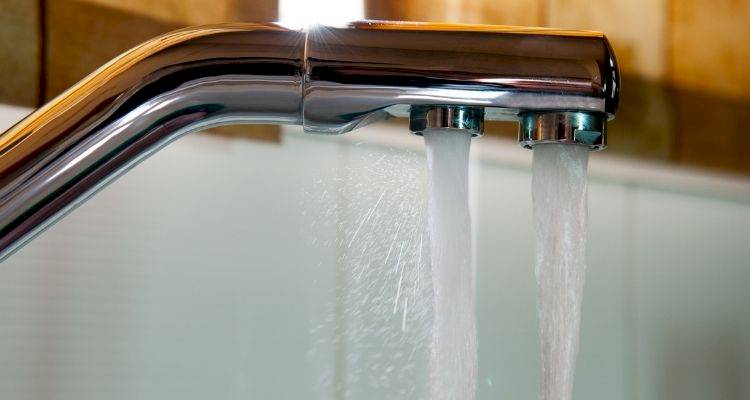 Big cities have dense populations, meaning the demand for a tradesman is high, which is why the costs can be higher without repelling the customer base. In lower populated areas, quite the opposite is true, as there are fewer people to serve.
Bear this in mind when you're factoring in the budget you can set aside for this job and adjust it accordingly. Of course, the best way to get an accurate price is to call plumbers for quotes.
Cost Factors of a Fitting a Hot Water Tap
A few factors can affect the price of your installation, other than the location of your home.
For example, boiling water taps need a small boiler instrument to be installed, so if you don't have an opening cupboard below your sink, you may need to have the units adjusted to get the system in.
Similarly, if you are having a boiling water tap replacing your current kitchen tap, there may be some replumbing needed to connect everything necessary, which could extend the job past two hours depending on your current pipe set up.
What's Involved in a Boiling Water Tap Installation?
There are numerous ways to install a boiling water tap, especially for different types of tap, but we're going to give you a step-by-step guide on how the installation typically looks.
The water will be turned off at the mains.
For a new tap, the tradesman will drill a hole in your sink with a drill and hole saw. This will provide the housing for the tap. Of course, if you are replacing a current tap, this will be removed to provide the housing required.
Next, the boiler will be installed below the tap, and all the necessary pipework laid and connected to the tap. The boiler requires a simple 13amp power supply, so there shouldn't be any power issues.
The water supply will be turned back on, and the tap will be tested for temperature and flow.
The unit will be sealed for waterproofing, and the job is complete.
Can I Install a Hot Water Tap Myself?
Hot water taps are fairly straightforward to install, but there are certain safety aspects that would make any mistakes pretty dangerous. Firstly, the combination of electric boilers and a water system presents potential issues that are pretty clear.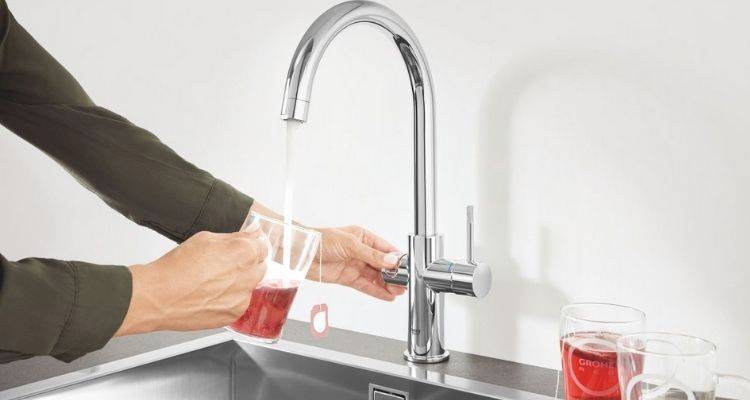 While it may seem straight forward to use a circular drill saw to create a hole for the tap, it actually requires a little skill. We would definitely suggest that you leave these types of jobs to trained and qualified specialists.
Choosing an Instant Boiling Water Tap
Here is a list of the different types of boiling water taps that are available:
Single Boiling Water Tap Cost
This is a tap that has only one function, to dispense boiling water. The temperature of this water ranges from 75-95 degrees, and some taps do have a temperature adjustment on them for fine-tuning how hot you want your water.
For example, coffee drinkers prefer hot water around 75 degrees to avoid burning the coffee, whereas tea drinkers want the water as hot as possible to infuse the water.
Single boiling water taps are used in tandem with a kitchen tap, and they are not a replacement for them. You can get these taps with or without the filter function in them, and the filter simply filters any impurities from the water to make sure it is truly clean.
3 in 1 Boiling Water Tap Cost
The 3 in one version of the boiling water tap does replace your kitchen tap as it provides boiling hot water, standard hot kitchen water and cold water.
Again, you can opt for versions with or without filters to purify the water that you use. These taps tend to be much larger than single taps and mimic kitchen taps much more than single boiling water taps.
4 in 1 Boiling Water Tap Cost
A 4 in 1 boiling water tap is pretty much identical to the 3 in one option with one key difference. The 4 in 1 tap has the ability to dispense filtered and chilled drinking water.
In all honesty, you'd be hard-pressed to tell the difference between chilled drinking water and simple cold water, but still, some people like to have that option for their kitchen.
Notable Brands
Here are a few notable brands to consider when thinking of installing a hot water tap:
Quooker Taps
Quooker is a huge name within the boiling water tap industry, and they boast that at one time the only provider of a tap that dispensed water at 100 degrees consistently.
They also have a new product called Quooker CUBE that allows for filtered and chilled drinking water in either still or sparkling. They are considered a premium brand, and their products are high-end, but their reviews speak for themselves, and they won't let you down.
Franke Taps
Like Quooker, Franke are also titans in the boiling water tap industry, and they too feature taps that concisely dispense 100 degree water.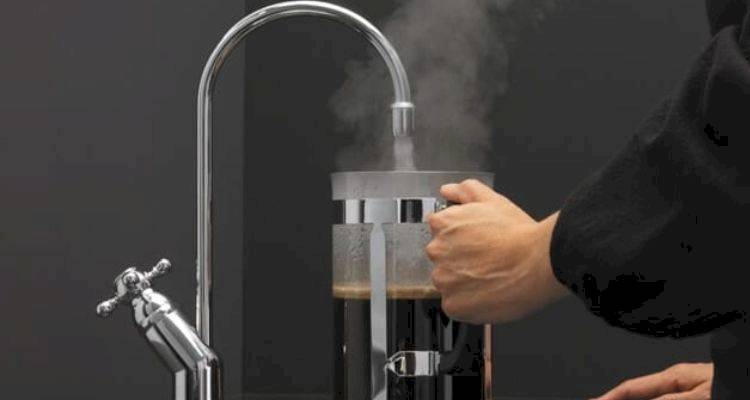 Again, Franke is a high-end brand, and their luxury products include a large range from single boiling water taps to a 4 in 1 option. You can purchase their products from reputable retailers across the country.
Benefits of Boiling Water Taps
Still not made up your mind? Here is a list of benefits of installing a boiling water tap:
Convenience of Boiling Water on Demand
Kettles can be an annoyance. Not only do you have to wait for them to boil, but they get pretty grubby with limescale, and they degrade pretty quickly over time, meaning you need to buy new ones every couple of years.
With boiling water taps, you never have to worry about any of that, and you'll have boiling, clean and quick water at the touch of a button.
Energy Savings
According to a study from 'Which?', a boiling water tap consumes 3p of energy per day on standby, whereas a kettle uses 2.7p every time you boil a litre of water, which means that over the year, your tap will cost you £10.95, while a kettle costs almost £42.50 on average per year.
The savings may only be small, but they make a huge difference over the years, especially considering the amount of wasted water from a kettle.
Safety Features
Kettles are pretty dangerous in the household. Not only do they remain plugged in pretty much all the time, presenting an electrical risk, but they can be boiled by simply clicking a button, and then the water flows freely and easily.
This can be dangerous if children are using them or if you're using a kettle without paying attention.
However, a boiling water tap is fixed, so that water can only escape into the sink, and they have safety features on them to prevent children from turning them on. Ultimately, boiling water taps are a lot safer than kettles.
Boiling Water Tap Repairs
Boiling water taps are pretty small instruments, with everything powering and feeding it kept close by. That means if there are any issues with the boiling water tap, they can be easily diagnosed and fixed.
They are also built to be easily maintained, so it shouldn't take a plumber longer than an hour to fix any issue with your tap should they ever arise.
Building Regulations & Planning Permission for Hot Tap Installation
There are no restrictions when installing a boiling water tap in your home, and you don't need any planning permission to carry out the work unless it is a listed building.
If you do live in a listed building, contact your local governing body for advice on how to proceed with any integrations or replacements.
Hiring Contractors to Install a Boiling Water Tap Checklist
Traditionally, finding a good tradesperson to carry out work on your home relied heavily upon word of mouth to find someone who comes recommended.
However, now we have the internet to find out everything we need to know about companies and traders before hiring them:
You can use a search engine to find a plumber in your area, and at the same time, find their contact details along with any reviews and work examples either they have uploaded, or previous clients have uploaded on independent sites.
Always ensure they you get quotes from a few different people, check their previous reviews and if you are unsure, as for some examples of similar jobs that have done recently.
FAQs
How does a boiling hot water tap work?
Boiling water taps work very much like electric showers as water comes from your main supply and passes through the electric heating element within the mini boiler unit to dispense boiling hot water at between 75-100degrees depending on the make, model and settings.
Are instant boiling hot water taps safe?
Boiling water taps have many safety features that prevent you from accidentally turning on the boiling water and to prevent children from operating the tap. These include handles that must be turned in conjunction with buttons and safety clips.
How long do boiling hot water taps last?
Boiling water taps will last you just as long as any other tap within your home. If you keep them well maintained by cleaning them regularly, you will get many years from them.
How much are replacement filters for boiling hot water taps?
Replacement filters are usually around the £45 mark, depending on what brand and model tap you have, but you can also buy them in sets of three and five to get a better price on them.
Can you adjust the temperature on all boiling hot water taps?
Some taps do have this function, but not all taps. Check out all the features in full before committing to having a specific model installed in your home.
Sources
https://www.which.co.uk/news/2019/01/are-instant-hot-water-taps-really-cheaper-than-kettles/
https://www.franke.com/gb/en/hs/products/instant-boiling-water-taps.html
https://www.quooker.co.uk/
https://www.victorianplumbing.co.uk/taps/kitchen-taps/boiling-water-tap
https://www.tapwarehouse.com/c/kitchen-taps/boiling-water-taps?page=1&sort=price

Last updated by MyJobQuote on 20th April 2021.