TV Aerial Installation Cost
Trying to find out how much it costs to install a TV aerial? In this article we look at TV aerial and cable installation prices for different house types and scenarios.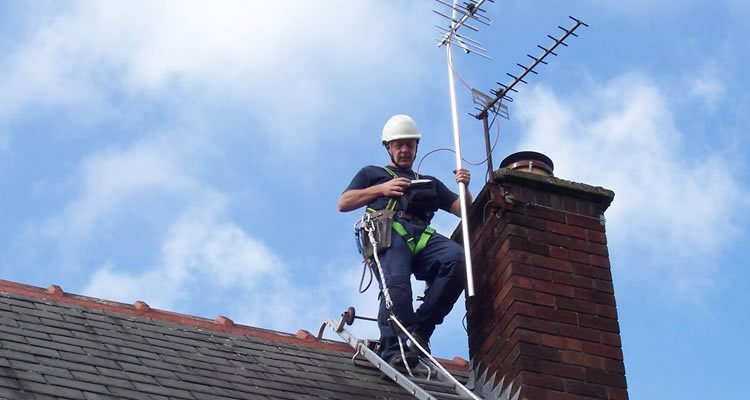 Average Cost of Installing a New TV Aerial:
Depending on the complexity of the job, it usually takes: 1-2 hours
£110
How Much Does Installing a New TV Aerial Cost?
On average, the cost of installing a new TV aerial is £200 and takes around 3-6 hours to complete by a trained and licensed professional. Aerial installation is most likely to be required for you to make the most out of your TV or TV services.
If you've had issues with the strength or quality of your TV signal in the past, it may be time that you considered installing a TV aerial to improve the clarity of your TV picture and the consistency of your TV signal.
Some factors can affect this installation price, for example, if your home has tricky access points, preventing the worker from reaching the parts of your home to wire or install the aerial, further costs could be induced for additional resources.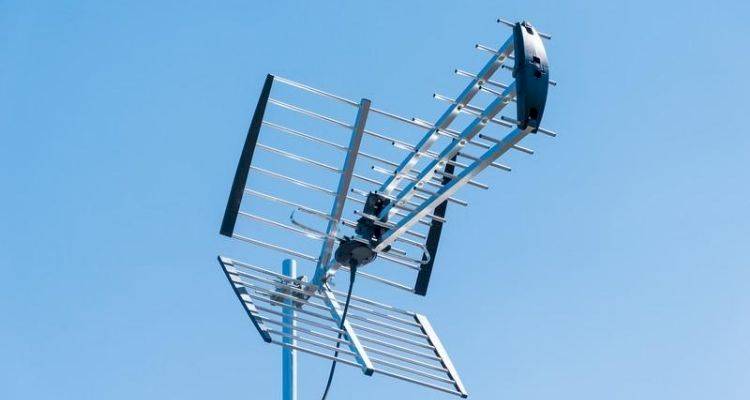 If there is a larger than usual distance needing to be covered around your home, there could be additional costs for extra wiring. Another price affecting factor is your location. Busy capital cities and some southern areas with a higher cost of living incur higher trade fees. This is standard across all jobs and trades.
To install an aerial, an engineer is required to work above the ground to connect cables from your home to an aerial somewhere up high on your home. We always encourage homeowners to enlist licensed and trained professionals to carry out this type of work, to ensure they carry out the work to the highest standard while maintaining safe working at height ideals.
Now, depending on your current service provider, there are different cable thickness options for you to choose from, something which a licensed professional will be able to advise on to assure you make the best choice for your home.
Installing New TV Aerial Prices
| Job Description | Duration | Material Cost | Labour Cost |
| --- | --- | --- | --- |
| 1 Wire Aerial Installation Cost | 2-4 Hours | £50 | £100-£150 |
| TV Aerial Installation Cost | 1-2 Hours | £20-£50 | £50-£100 |
| Replace Existing Aerial Cost | 2 Hours | £50 | £50 |
Supply Costs Only
The supply costs for TV aerials are reasonably priced across the board, with each type retailing at anything between £20-£50, so there will be an option to suit all budgets.
Of course, the main cost incurred when having a professional install the aerial is the actual labour fees, as opposed to the cost of the materials and supply.
There are several different types of TV aerial available on the market, and the type you need will depend on whereabouts in the country you are, how strong your current signal is and how much of an improvement you need.
We'll go over the different types of aerial in more detail further along in the article, but here's a handy table to show how much each type will cost.
| Aerial Type | Price | Uses |
| --- | --- | --- |
| Yagi | £35-£50 | Provides a great signal range |
| Log Periodic | £25-£40 | Great at blocking noises that interfere with the TV signal |
| Grouped | £25-£35 | Distributes an even signal across channels |
| Indoor | £15-£35 | Offers digital compatibility and a clear picture |
| High Gain | £20-£45 | Offers the highest signal possible |
| Loft | £20-£40 | Offers a solution to bad weather while sustaining a good TV signal |
Additional Costs
When you are quoted for the installation of a new TV aerial, this will be for the materials and labour, but there are sometimes additional costs that can be added to your quote if unforeseen circumstances crop up that require a fix.
For example, if your home has accessibility issues, the workers may need to utilise scaffolding to work safely at height, in line with regulations from governing bodies.
This scaffolding cost would be attributed to the overall cost of the job. You can explore scaffolding costs in full here.
Your aerial may also need to be secured with an aerial mast if the tradesmen deem it necessary, these masts aren't expensive, so it's always worth using one to ensure that the aerial is entirely safe and stable.
Masts are priced between £5-£10, with aluminium being priced higher than their cheaper steel counterparts.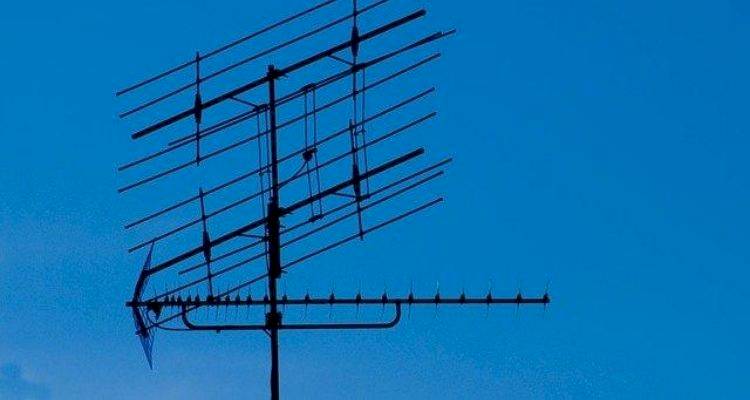 One of the main additional may be extra aerial cables, especially if your home is quite large. The job may also involve securing brackets and cable clips to assure a neat and orderly finish and maybe even a signal booster if your home is in a low coverage area.
Again, all of these things are inexpensive but worthwhile additions. Signal boosters cost around £20-£40 depending on the number of rooms that require coverage, cable clips cost around £2 for 100, aerial cables cost about £40 for 20m, and a bracket is about £5.
Another additional cost that is commonly overlooked is the possibility that you may need to redecorate, touch up your décor after the installation of a new TV aerial, as cables will need to be run from outdoors, into your home in some cases.
Labour Costs and Timescales
Working with the average cost of £200 for a standard TV aerial installation, the labour fees will account for around 75% or £150 of that cost. That's for the installation of the aerial, the metal bracket and the aerial mast.
Contractors will charge more or less depending on whereabouts in the UK you are, with big cities and London generally seeing contractors charge above average as standard. This can also change if the work extends over the estimated 2-4 hours for whatever reason, or if there's additional work to be completed like the installation of signal boosters around the home.
Cost Factors of Installing a New TV Aerial
Several factors can affect the cost of installing a new TV aerial from the type of aerial being installed, to the location of your property. Here we'll delve into these factors in a little more detail:
Type of Aerial
As we've illustrated in the previous pricing table, there is quite a difference in the pricing of aerials depending on which you'll need for your home.
For example, an indoor loft aerial will cost just £15 at the low end, while a Yagi aerial would cost £35. In addition to the cost of the aerial, different types require different configuration and adjustments. This can add to the timeframe and overall cost of labour.
Location of Property
The location of your property will play a large part in the pricing of trade jobs. Big cities like Manchester, London and Birmingham will naturally have higher labour prices than small towns and villages. Be prepared for receiving quotes that exceed the average by a little.
Ease of Access
Some homes are naturally tough to manoeuvre around, whether down to the shape or size of the house, or the layout of neighbouring properties.
If your property does have some issues with access, there may be a requirement for a different structure to safely access the space that the aerial will be installed. Usually, this is in the form of basic scaffolding, but some tradesmen have been known to use small cherry pickers as well.
What is a TV Aerial?
A TV aerial, or antenna, is a designed to receive television broadcasts from TV stations, transferring them through the tv cables and into your TV where it's transformed into picture and audio.
They come in two main types, indoor and outdoor, and both are used in different ways. Indoor aerials tend to be placed atop tv sets or in loft spaces, whereas outdoor are typically found on the roof, or high up on your home. Aerials are made from different types of metal, which therefore makes them look different in appearance.
What's Involved in Installing a New TV Aerial?
If you already have an aerial or had one in the past, and there is an internal cable fitted to the home, the job will be much quicker and easier. However, if this isn't the case, or you require relocation of this internal cable, the job will take much longer and will likely be much messier.
First, the fitter will locate a position on your home in which the aerial will be fitted. This will be in a space where your aerial will be best suited to receive the TV transmissions and is usually between 10-20 feet off the ground. Once the installation area has been chosen, the antenna will be mounted to the wall or roof, it will be mounted to a metal bracket and an antenna mast, to assure complete structural stability.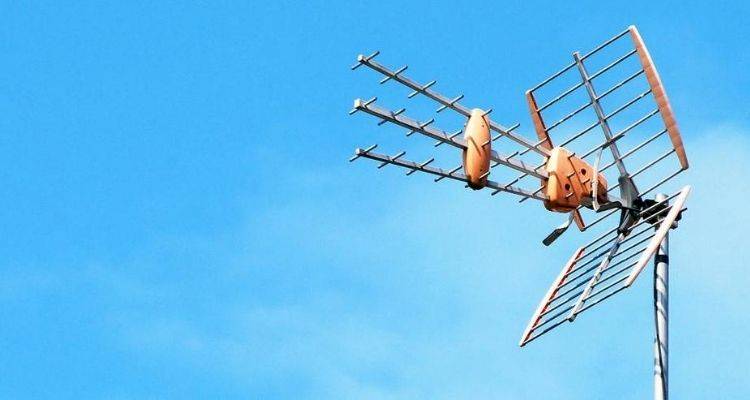 Next, the cable will be installed at the best entrance point for your TV, usually at the front of your home, where your living room is likely to be.
Once the cable is safely connected from the aerial to the inside of your home, and the cable has been safely clipped to the wall for neatness and to ensure a safe lay, it will be plugged into your home to test the system. Once your TV is working fully, the added step of adding a ground to the aerial will be completed to protect it from static and indirect lightning hits.
This is the typical, straightforward way to install a TV aerial; however, if your home has any particular requirements, additional steps may be added or removed as required.
Can I Install a New TV Aerial Myself?
A lot of people are completing more tasks themselves, rather than hiring a professional. However, installing a TV aerial isn't on a par with a simple flatpack assembly.
Working at height is incredibly difficult, especially if you have no prior experience working at height. Additionally, the intricacies of choosing the right aerial, coupled with the decision on the location of the aerial on your property can be very tough. After all, the location is paramount with TV aerial installations.
The dangers of working from height are very apparent and can become very scary when conditions turn on a whim. Falls from height make up the majority of fatal accidents across all industries in the UK, and that's from trained professionals. The layman will find it even more difficult, as it's likely they won't have the correct equipment to work safely and efficiently.
Now, there are some aspects of TV aerial installation that you can complete yourself. Indoor aerial installations are very straightforward and pose no threats or dangers to your safety, along with the configuring of your TV set.
The clipping of TV aerial cables to your home, to ensure it's neat, tidy and safe is another task that can be done very quickly. However, we would always suggest using a trained professional to install the actual aerial and mast.
Types of TV Aerial
Yagi Aerial Cost
This aerial is the most commonly used in the UK and resembles the typical TV antenna. The Yagi has a long boom-rod on it, and a right angle that shows several metal pieces that act as semi-conductors, which will actually pick up the TV signal and transmit it down the boom. These aerials are faced in direction and receive a wide beam of signal in order to achieve better signal strengths.
High Gain Aerial Cost
A high gain aerial is designed to increase and boost the TV signal received from the TV stations to provide a more stable and clearer connection. It's perfect for those areas that struggle with TV signal and is usually the best choice for those locations.
The high gain aerial is a lot larger than others in size and requires a longer boom section to work fully. It also requires a more robust aerial mast to avoid bending over time.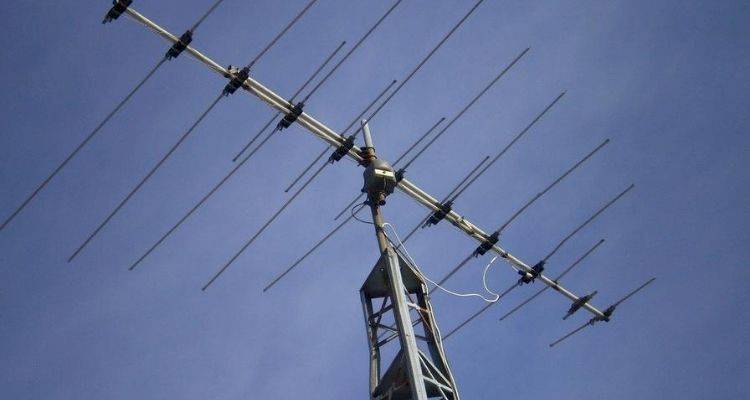 Grid Aerial Cost
Grid aerials are quite unique in which they are flat panels, with all the elements hidden inside. It's relatively uncommon to come across a grid aerial as they don't work very well with digital TV's. They also don't have a significant gain on them, making them virtually useless in poor signal areas.
Indoor Aerial Cost
An indoor aerial is a digital box that sits close to your TV, providing a signal boost to your TV services if you're suffering from a fuzzy or weak picture. These aerials come in a variety of shapes and sizes, from a variety of providers, they're not renowned for being revolutionary devices. Still, they could provide the extra bit of power you need.
Loft Mounted Aerial Cost
Loft mounted aerials are cheaper than outdoor aerials, despite working in a similar fashion. Due to them being under cover, they don't need to be as heavy-duty as aerials left out to battle the elements, making them cheaper and very effective.
Building Regulations & Planning Permission for TV Aerial
You won't need planning permission for the installation of a TV aerial as it is covered under the permitted development rights on your home. But there are some restrictions on the type and size of aerials you are allowed to install.
For houses up to 15 metres high:
There can't be more than two aerials on the property
If you're installing just one antenna, it can't be more than 1m wide, if your installing 2, the additional aerial can't be wider than 60cm
The cubic capacity of the aerials must be less than 35l
If you're mounting the aerial on your chimney stack, it can't extend more than 60cm above the stack
If you're mounting it on the roof, it can't extend past the highest point of the roof
For houses over 15 metres high:
There can't be more than four aerials on your home
Each aerial cannot be wider than 130cm
Each aerial must have a cubic capacity of 35l or less
An antenna mounted to a chimney stack cannot exceed 60cm in width
An antenna cannot extend more than 300cm from the highest point of the roof
When you hire an installation expert, ensure that these rules have been followed; otherwise, it will be you that has to pay any fines or cautions for breaching the regulations.
Cost of Removing a TV Aerial
You may want to remove your TV aerial to take it to a new home, take it down as you don't use it or remove it after fearing it has become unsafe over time.
Simply removing an aerial instead of replacing it is much cheaper and more straightforward. However, we still wouldn't recommend it as a DIY project as it still involves working at height with heavy materials.
If you did need an aerial removed, you can call the same people that would fit one, and they can typically take it down and dispose of it for less than £100, that is of course if you don't want to keep it for any reason.
Hiring Contractors to Build Install a TV Aerial List
You should first speak to friends, family and neighbours to see if they have any recommendations for an installer. Word of mouth is often more reliable than any online review.
But, if you can't find any recommendations, take to the web and explore the installers in your area. It would be best if you asked some questions to ensure that they are fully qualified and experienced enough to take on the job. Ask them:
Are they a member of the CAI (Confederate of Aerial Industries)?
Is aerial installation their primary trade?
How much experience does their team have?
Have they done any recent work in your area that you could have a look at?
You should also take a look at their reviews online to see how other people have found them. Try and get a few different quotes and speak to a few different companies before settling on one.
FAQs
What TV aerial do I need?
It will all depend on the signal strength in your area. If you live in a place where the signal isn't an issue, you should be fine with the inexpensive, standard Yagi aerial or maybe even an indoor aerial. Whereas if you live in a low signal location, you may be better suited with a high gain aerial. You can test your areas signal strength on the BBC's website to pre-empt what type of aerial you're likely to need.
Can I watch TV without an aerial?
You can watch TV without an aerial, but not live Freeview TV. If you have an internet connection, you can use Smart Tv device like the Amazon Fire TV Stick or a Google Chromecast. You can also use Smart TV boxes from providers like Virgin Media. All of these solutions have apps that provide live TV streamed via the internet instead of via antenna.
Why has my TV reception dropped our overnight?
There are a few reasons why your signal could have dropped out seemingly overnight. If your area has experienced bad weather, the aerial could have been blown out of position, or the equipment could have been damaged in some way. It's best to have a licensed professional investigate your equipment, as they'll know the best course of action to take.
I can't get Sky to install a satellite dish, do I have any other options?
While Sky directly may not be able to install a satellite dish on your home, an independent installer should be able to. This may incur a higher installation fee than Sky but will still be able to solve the problem. Sky have stringent regulations on access points and locations, which is why they often aren't prepared to carry the work out themselves.
How long should a TV aerial last for?
TV aerials are incredibly durable, especially those made recently. A good quality TV aerial should last between 10-20 years before you need to consider the need for a replacement, depending on the conditions it is subject to. Obviously, indoor aerials will last far longer as they are completely protected so if you live in an area with sufficient signal strength, you could utilise an indoor aerial.
Sources
https://www.adsdigital.co.uk/blog/how-to-choose-the-right-outdoor-tv-aerial-for-your-home
https://www.bbc.co.uk/reception/help-guides/freeview/what-type-of-aerial-do-i-need

Last updated by MyJobQuote on 17th March 2021.