TV Aerial Installation Cost
Trying to find out how much it costs to install a TV aerial? In this article we look at TV aerial and cable installation prices for different house types and scenarios.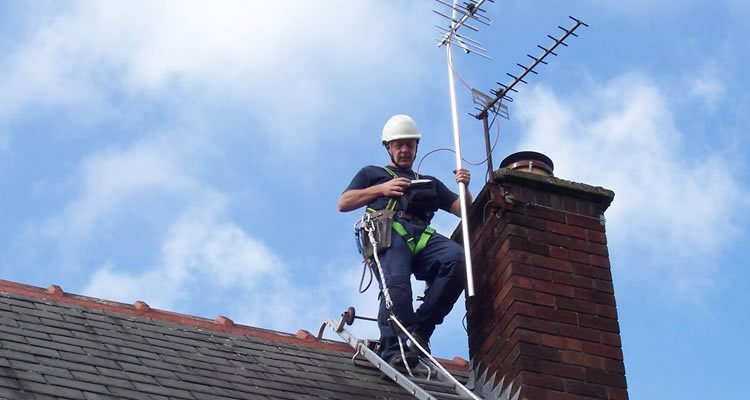 Average Cost of Installing a TV Aerial
Duration of new aerial installation is between 3-6 hours.
£110
How Much to Fit a TV Aerial?
Aerial installation might be required for TV services. If you've ever dealt with poor signals and connection, you might want to consider having a new aerial cable installed. It is going to improve reception, help get a clearer picture and you are not going to deal with blackouts as often as in the past.
Installing an aerial includes climbing above ground and connecting cables from the home to an aerial mounted somewhere on your home. When having this work done, homeowners should hire licensed professionals for the job.
Depending on the type of provider you have, there are different levels of thickness from which you can choose when setting up and installing the new cables. So, it is important to consider this as well, in order to choose the best specialist to install the new aerial cable outside of the home.
Whether you want to improve reception quality or simply have to do the installation for new services, there are several companies which offer installation services. Prior to hiring a local company, consider a few of the aspects below as it relates to cost, to find the most affordable provider locally.
TV Aerial Installation Prices
| Job Description | Duration | Material Cost | Labour Cost |
| --- | --- | --- | --- |
| Installing 1 Aerial Wire | 2-4 Hours | £50 | £100-£150 |
| Installation of additional sockets for more than one TV | 1-2 Hours | £20-£50 | £50-£100 |
| Replacing Existing Aerial | 2 Hours | £50 | £50 |
What to consider prior to installation.
Installing a new aerial cable is necessary for some, and simply a matter of improving reception quality for others. No matter why you are installing the cables, take the time to choose the right company; not just for affordability but also to ensure they choose the right cable and placement.
Consider the type of TV provider. Depending on service needs, certain cables are better than others, and aerial placement will make a big difference. So, discuss this aspect with the company you choose to hire, to ensure the best quality and reception possible.
Compare prices and providers prior to choosing one. You never know what you are going to get in terms of quality; but, when you compare service options, you can find better reception and quality, for a more affordable price as well.
Doing it Yourself
Installing a new TV aerial is a DIY job you could complete if you have the correct equipment for the job. As this job will entail you going on the roof in most cases you will need to make sure you have the right safety equipment before climbing on the roof. Although you could do this job yourself we would recommend getting someone who specializes in this to not only make sure you have set it up correctly and are getting the best signal but to make sure that you are not putting yourself at risk when doing the installation.
Hiring an installation provider.
Choose companies which offer local services to many residents.
Make sure you know what cable and extensions they are using.
Inquire about placement, width, and other aspects as it pertains to the cable signal for quality services.
Make sure you know what pricing include, from installation to equipment rental.
FAQ's
How long does it take to install the aerial?
Jobs will typically take between 1-6 hours. Depending on the distance from the home, height, and other factors, every specialist is going to take a different approach to installation.
How much are new aerial cables?
For a new installation you will pay between £150-£200; for an additional socket for more TV sets or rooms, you should pay an additional £45-50 per socket.
Do I need equipment for installation?
Lifts, electrical equipment, and other commercial grade tools and supplies are necessary. For these reasons, you should consider hiring a specialist to perform aerial cable installation services.
Last updated by MyJobQuote on 30th October 2020.