Cost of Getting your Locks Changed
Lock fitting prices and tips.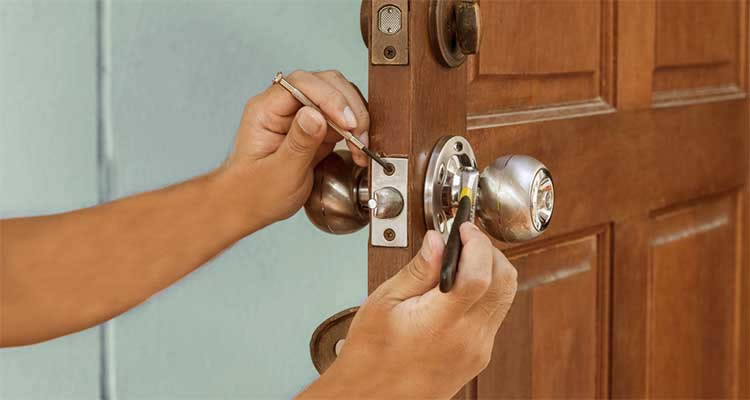 Typical cost for single lock replacement is around
This type of job normally takes around 1-2 hours to complete
£100
A locksmith can replace and upgrade your home's locks, the most common reasons why new locks need to be fitted include moving into a new home, current locks insufficient for insurance reasons lost keys, or the existing lock is worn or faulty. So a good locksmith can be of great assistance, especially if you find yourself locked out. But finding a good locksmith is not easy, there is no government licensing of locksmiths in the UK, so anyone can advertise as a locksmith! So it is extremely important that you only deal with reputable and professional locksmiths that are vetted, inspected & background checked, the easiest way to do this is to use only MLA (Master Locksmiths Association), locksmiths.
The Master Locksmiths Association scheme means all their locksmiths have been vetted and they are regularly inspected and are qualified locksmiths with proof of competence. There are other organisations which locksmiths can belong to, but some are unscrupulous entities which simply offer accreditation by post for the payment of a small fee with no checks whatsoever! So the locksmith gets to add an official looking logo to advertising which helps to convince customers they are competent and reliable - but this is often far from the case!
So stick with MLA approved locksmiths wherever possible. To gather quotes easily from up to three local locksmiths, you can use the free system on MyJobQuote.co.uk, simply enter brief details about the job then we will put you in touch with local tradesmen to provide quotes and further assistance.
Average lock changing quotes
| Job Description | Duration | Material Cost | Labour Cost |
| --- | --- | --- | --- |
| Change 2 mortice locks during normal business hours |  2 hours | £130 | £75 |
| Change 2 Yale lock barrels during normal business hours | 1 hour | £40 | £60 |
| Fit good quality deadlocks front and back | 1-2 hours | £140 | £100 |
| Change UPVC multipoint Eurolock | 1-2 hours | £100 | £75 |
Things to consider about locksmiths
It is incredible that something as security sensitive as the UK Locksmith industry is currently totally unregulated! This lack of protection under the law means that anyone can quite legally operate as a Locksmith even if they have absolutely no experience. In fact, someone could get out of prison for burglary one day, then set up shop as a locksmith the next! This, unfortunately, means that there is the potential for unscrupulous people to take advantage of the lack of laws surrounding the security industry.
Locksmiths you find advertising online and in local directories could be completely unqualified with no criminal records check, they could even be professional burglars! To find a genuine locksmith, someone with training, experience and integrity, you need to look towards respected trade organisations such as the Master Locksmith Association. This is the main Governing Body for the Locksmith Industry and is recommended by various Police Forces around the UK.
The Master Locksmith Association (MLA) has a strict vetting procedure for their members and only qualified and experienced locksmiths can become affiliated Master Locksmiths that are CRB checked and regularly inspected to check on their business practices. You should always check the small print on your home insurance policy to make sure your locks are up to standard, or at least to advise the locksmith what type of locks will be suitable. Though decent locksmiths should be well aware of the type of locks stipulated by insurance companies and will be able to help you make the house secure and keep your insurers happy at the same time!
Doing it Yourself
There's nothing to stop you fitting your own locks but this is not recommended for most unless you know exactly what size and type of door lock you need to keep the home secure and to not invalidate your home insurance. In addition, do you know how to fit the locks properly so criminals cant easily bypass them? Lock snapping is a common method used to gain entry by burglars, do you know what this is and how to prevent it? Lock snapping is a way to get past some cylinder locks which are prone to it, but a Master Locksmith will be able to give advice on fitting the correct standard of Euro Cylinder lock to prevent lock snapping!
There is a big list of standards that relate to locks including Kitemark, PAS3621, EN1303, BS3621, SS312 Diamond, BS8621, BS10621, TS0071 etc – how is anyone expected to know what standards are required and when? Your property keeps your family and possessions safe and secure, do you really want to compromise that with a spot of DIY just to save a few quid?
Incorrectly specified and/or fitted locks are useless when it comes to stopping criminals so the best bet is to get advice from a Master locksmith to prevent any security issues. If you decide to ignore the advice of the Police and consumer organisations and fit locks yourself – at least take advice from a locksmith on which locks to buy and make sure you fit them correctly following all the manufacturer's instructions.
Changing a Lock Checklist
There are no government licensing or registration for locksmiths, so anyone can call themselves a locksmith
Check before hiring if your locksmith is licensed by the Master Locksmiths' Association
Always ask for a fixed all inclusive quote before authorising any work
Often you dont need to replace the whole lock if you want to change the locks for security reasons
FAQ's
Can I fit new locks myself?
Fitting and changing any type of lock yourself is not recommended as you could be inadvertently putting your property at risk if you fit the wrong type of lock or fit the right type of lock incorrectly.

How much does it cost to replace the locks?
The price a locksmith charges for changing locks will vary between various locksmiths and also depend on the type of locks to be fitted. There is no governing body for locksmiths, so there is no set price they have to follow.
What locks do I need to have in order to comply with my home insurance policy?
This differs from one policy to the next, so the best advice is to check your individual policy for the small print. But generally, most insurance companies want either a five lever mortice deadlock rim automatic deadlatch complying with BS3621.
Should I change the locks when I move home?
There is no need to change the locks on your old home when you move, but you should definitely change the locks on your new house when you move in as a priority! When you get the keys to a new property, you have no idea how many keys already exist for those locks, or who has a set of keys. Don't leave getting new locks/keys until after you have moved in and settled, as burglars love to rob homes when the new owners are still in the process of moving in and have left lots of valuables in boxes!
Should I change the locks if I lose my keys?
Definitely. It's better to be safe than sorry and if you are burgled using your own house key, your insurance will likely not pay out!
Last updated by MyJobQuote on 7th May 2019.