House Extension Guide
Thinking about a house extension?
This article will look at the different house extension types, including the labour and supply costs that you can expect to pay. It will also consider the timeframes for different extensions, the choice of design ideas and the average cost of house extensions.
We will discuss the advantages and disadvantages of building your own home extension and what questions to ask when considering adding an extension to your home.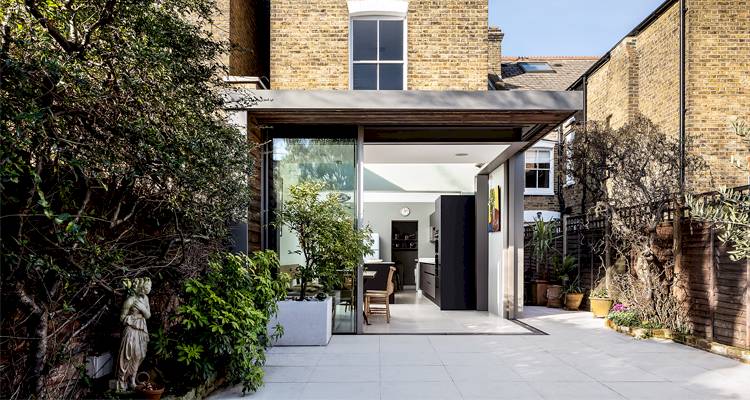 With so many different types of house extension to choose from, the process of matching the right extension to not only your property but also to the needs of your household is not easy.
This article should help you decide which type of extension is best for your house and will best serve the needs of your family.
What is a House Extension?
As there are so many different ways of extending a property, it can be confusing as to what constitutes a house extension. Some are called conversions, so does this qualify as an extension? And is a garage conversion an extension?
An extension is part of a property that was not part of the house's original construction and may include elements that are removed or replaced. A loft conversion is an extension as it is added later as is a conservatory or a side return extension that was not part of the original house plan.
There are many reasons why someone would want or need to extend their home. One of the most common reasons is because your family is growing in number or size. The need for extra bedrooms is probably the most often cited reason for a home extension.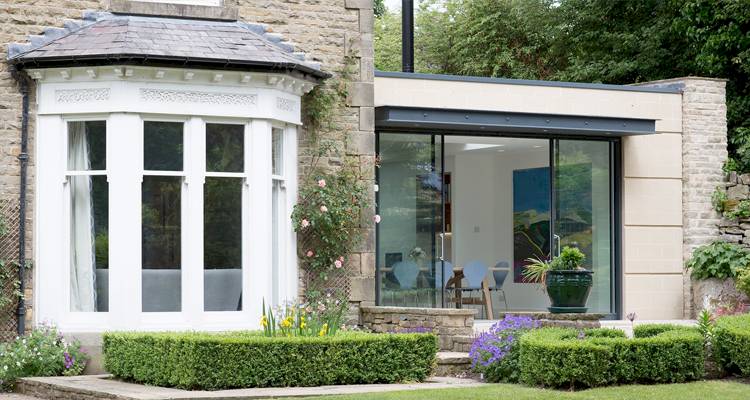 Whether this is to accommodate new family members or because children have outgrown their bedroom and need a bigger space, a property extension is often preferable to moving to a larger house. Even a small house extension can create a better living environment for your family.
In recent times a large proportion of the working population have had to adjust to working from home and are now having to find a suitable space in their house to do this.
It may mean that a garage is converted to a home office or a loft conversion is installed to enable someone to have space away from the rest of the household to work undisturbed. This more recent development has been driven by necessity more than personal choice but is a valid reason for having a home extension.
Types of House Extensions
The house extension cost will depend on the type of extension or conversion you opt for. This choice will also obviously depend on the reason for the property being extended. While there are no cheap home extensions, the price you pay will be influenced by the kind of extension you choose.
Side Extension
A side extension will work for most properties, whether detached, semi-detached or terraced, with some limitation on space for a terraced home.
They are one of the most straightforward extensions to build, and there are many side extension ideas to choose from. A two-storey side extension will usually require planning permission.
Pros:
✔ Potentially the easiest and one of the least expensive extension options.
✔ It can also be done on a terraced home in most cases as a side return extension.
✔ Increases the amount of living space, particularly for kitchen/diners.
Cons:
✖ Will typically only be single storey with a maximum height of 4 metres under permitted development.
✖ May not add to the value of the property as much as a loft conversion or similar.
✖ The loss of outside space or garden may reduce the saleability of the house in future.
Rear Extension
For rear extension ideas adding additional functional living space is perhaps the most common. The most popular room to install in this type of extension is a kitchen or kitchen/diner, often with direct access to the garden. Rear extension ideas also include conservatories, sun rooms or enlarged living rooms.
Pros:
✔ Possibility to extend by 8 metres for a detached property or 6 metres for an attached house when building a single storey extension.
✔ An existing kitchen can be enlarged and transformed into a modern and light-filled kitchen/diner.
✔ A rear extension can blend the house with the garden making it an enjoyable and sociable space.
Cons:
✖ For a double storey rear extension, it is only possible to extend by 3 metres.
✖ Rear extensions are typically more expensive to build than a side extension.
✖ The loss of outside space such as a garden or terrace should be considered.
Double Storey Extension
This type of extension involves building a ground floor and first floor addition to a property. While there are some restrictions, recent government regulations have relaxed planning rules for adding two-storey extensions to detached properties.
The cost of house extensions with two storeys is not that more much than a single storey extension with both needing foundations and a roof which are the most expensive elements of the build.
Pros:
✔ Two-storey extensions are not that much more expensive than single-storey extensions.
✔ Functional rooms such as kitchens and bathrooms can be added as well as bedrooms.
✔ Will typically add value to a property with the increase in bedrooms and habitable space.
Cons:
✖ You will almost always need planning permission for a two-storey extension.
✖ Objections from close neighbours may be more likely with a potential loss of light, raising issues.
✖ A rear double-storey extension will potentially take up a large portion of outside space.
Multi-Storey Extension
A multi-storey house extension involves adding more than one type of extension to a property and will most certainly require planning permission in the majority of cases. The most common problem will be exceeding the square meterage allowance.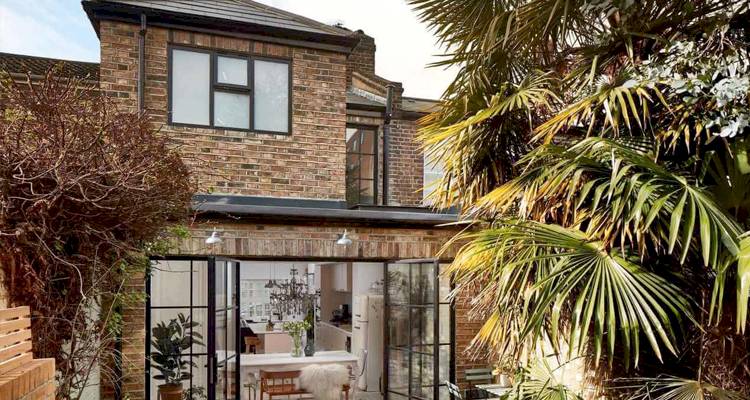 Pros:
✔ Allows greater expansion and use of space within the property.
✔ By increasing the habitable space, the value of the house should be increased.
✔ You can future proof your house by adding rooms that may be needed later, e.g., larger bedrooms or separate accommodation for an elderly relative.
Cons:
✖ More expensive with materials, labour, and the cost of applying for planning permission.
✖ Professional contractors will be necessary for a project of this size, not a self-build option.
✖ Planning permission will be required for anything that exceeds the square meterage allowance under permitted development.
Bungalow Extension
There are many bungalow extension ideas to choose from, a bungalow is an ideal property for a loft conversion, side or rear extension. Typically, pre-1960s bungalows have large footprints, and many are sited on good-sized plots.
Pros:
✔ An extension such as a loft conversion can almost double the amount of habitable space of a bungalow
✔ Most bungalows have good-sized gardens, which will allow for a side or rear extension
✔ Planning permission, if needed, is normally given to allow older properties to be redeveloped and not left empty
Cons:
✖ Restricted to either a loft conversion or single storey side or rear extension
✖ Any additions to a bungalow must blend with the original materials and look of the property leaving little option for modernising
✖ Side or rear extensions can use up a lot of garden space which can impact the re-saleability of the house
Loft Conversion
This is one of the most popular types of extension as most properties have a loft that can be converted. It also leaves outside space and garden untouched, adding to the overall appeal of the property.
Pros:
✔ Increases the habitable space of the property without compromising the outside space or garden
✔ Most lofts can be converted, and typically you can add at least one bedroom and a bathroom
✔ The added value to a home from a loft conversion often outweighs the cost of the work
Cons:
✖ Valuable storage space is lost, especially if you have nowhere else to store little-used items
✖ Without applying for planning permission, the conversion will be limited to the constraints of permitted development and the height of the roof
✖ A loft extension typically only allows for a bedroom, bathroom or home office and cannot normally facilitate a larger kitchen, unlike a side or rear extension
Garage Conversion
If you require additional living space and have a garage that is only used for storage, then a garage conversion is an ideal solution. This kind of extension can comprise additional bedrooms, living areas or even a larger kitchen or bathroom.
Pros:
✔ Much cheaper than building an extension or loft conversion
✔ Typically planning permission will not be needed but should be checked nevertheless in case there are planning conditions attached to the use of the garage
✔ Minimum disruption during construction work unless a full ground floor remodelling is included
Cons:
✖ Permitted development only applies to an integral garage for conversion, a separate garage will need an application for change of use
✖ If you do use the garage for parking your car, then you will need to consider where your car will be stored, as this may affect your car insurance
✖ The space available for development will be limited to the footprint of the garage
Conservatory
Rear extension ideas include this type of house extension, which has acquired a somewhat undeserved bad reputation as an old fashioned and underused addition to a home. While it is true that some older conservatories were little used in all but the sunniest weather, modern conservatories can be both practical and stylish.
Pros:
✔ Can be added to your home under permitted development
✔ Modern conservatories typically have underfloor heating and electrically operated roof lights to control the interior temperature
✔ Available in many different styles and designs to complement most homes
Cons:
✖ Conservatories have come a long way in style, design and functionality but are still viewed by many as outdated and pointless
✖ Limited in their use as they cannot be used as a kitchen or bathroom
✖ A cheap or badly installed conservatory can detract from the value of a property
Basement Conversion
Not everyone will have the option to convert a basement, but those who do can create a whole new level in their home with various potential uses. As part of a multi-storey house extension, a basement can significantly increase the value of a property where land is at a premium, such as London or other large cities.
Pros:
✔ Almost any type of room can be incorporated into a basement conversion
✔ In areas where land is at a premium like London extending your home into the basement is an ideal way to increase the habitable space
✔ Can add to the value of the property, particularly in areas such as London or other major cities
Cons:
✖ The financial outlay should be weighed against property values in the area
✖ Depending on the original use of the basement and the head height, you may need planning permission
✖ If underpinning or digging out the floor is necessary, then the cost will be almost double
House Extension Ideas
There are countless house extension ideas with only space, budget, and building regulations placing limitations on what you can achieve.
How much room, time, money, and development allowance you have will play a part in your house extension plans, but there are so many options that you will not be left without ideas.
Extending & Re-modelling
Perhaps the first consideration when planning an extension is how to blend it into your existing house. If you have purchased an older property with lots of character, you will want to decide how to incorporate an extension into the current house.
Or you may want to re-purpose existing rooms in the house and blend them into the extension, for example, by merging an unused dining room with a new reception room to create a larger living space.
Kitchen/Diner
One of the most popular house extension ideas is to add more space onto the existing kitchen, thereby creating a large kitchen/dining area. Large, glazed doors such as bi-folds and roof lanterns on an extension can make a kitchen/diner blend seamlessly into the garden or outside space. This is a popular idea for single-storey rear extensions.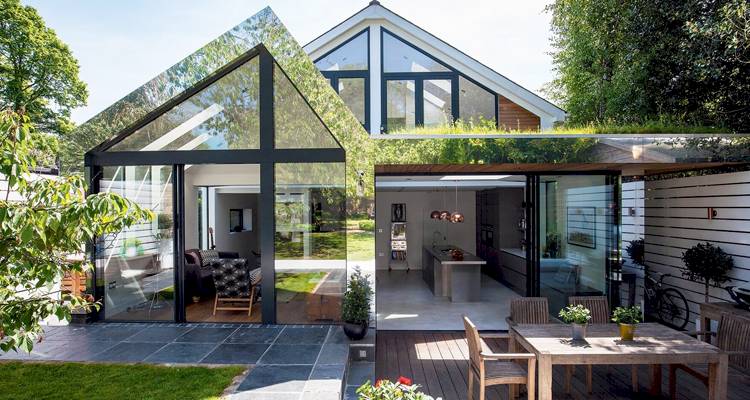 Upside-down Living
An unusual idea but one that works very well in some properties is to add an extension to a property but have the living space on the top floor and the bedrooms on the ground floor. This house extension idea allows homes that have good views from upstairs to be enjoyed during the day.
Conservatory/Orangery
Installing a conservatory or orangery can add beautiful living space to a home and can be creatively linked to the garden through the use of glazing, pergolas, or lighting.
Although not the most popular of rear or side extension ideas, conservatories can be used as functional space or an additional living room, depending on your needs.
Complement or Contrast?
Adding an extension to an existing property offers the choice of whether to be decorated in line with the original design or contrast with a completely different look.
For example, a stone-built cottage with a glass and metal constructed extension or a bolted-on design where an extension is linked to the original building via a glass corridor.
Small house extensions will not pose too much of an issue, but two storey extensions will need careful consideration on whether to complement or contrast.
What Are the Pros and Cons of a House Extension?
Deciding to add an extension to your home is a big step and should be considered with care. Not only do you need to think about the cost of building an extension but also furnishing it, the disruption to daily life and what impact it may have on your neighbours.
Here are some pros and cons of a house extension which you need to consider.
PROS
Improve Don't Move
By extending your house, you will be adding to the existing living space and giving your family more room. It may also mean there is no need to move with all the upheaval, disruption, and cost that a house move involves.
This is especially true when you have children as it removes the need to change schools or leave friends behind, both of which can be unsettling.
Adding Value
An extension can and should increase the value of your home. By adding additional bedrooms, in particular, you will enhance the future saleability of the house with the potential to add up to 15% to the value of the property. Increased living space and a well-designed extension are always appealing to potential buyers.
Future-Proofing
For those living in two-storey homes who do not wish to move, adding a ground floor extension is a good way to future proof for decreased mobility later in life.
By having a downstairs bedroom and bathroom, problems with access will be avoided while still having available accommodation for visiting families or friends.
CONS
Overspending
When considering an extension of any kind to your home, you need to ensure that you are not overspend you will get a return on your investment. Not just in terms of additional living space, but you should have increased its value when it comes to selling the house.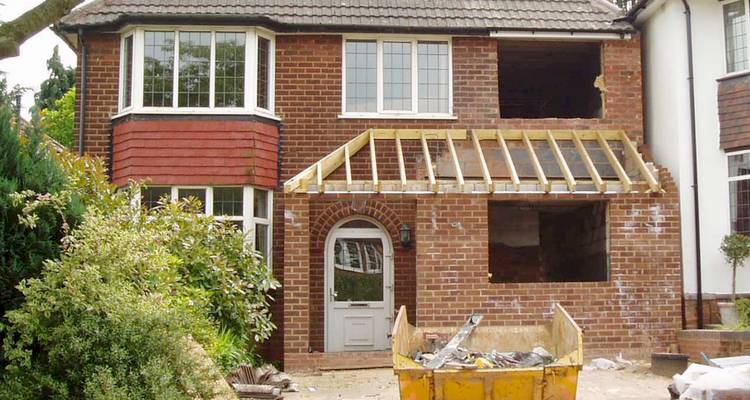 Before deciding on the size and standard of finish for your extension, you should research what the ceiling price on your type of property is for the area. If you spend too much on the extension, there is a risk that you will not recoup the outlay.
Disruption
Having construction work is always disruptive, whether it is a loft conversion or a full wrap-around extension.
The question of whether you should move out during the works will depend on your individual family situation and your budget. Those with small children, elderly relatives or pets may want to avoid living with the noise, dust, and upheaval of major construction work if the budget allows.
How Much Does a House Extension Cost?
The average cost of a house extension will depend on several factors, including the size, type, location, and standard of finish.
Side Extension
From the various types of house extension available to most people, the side extension is potentially one of the most popular. This is because most houses have the capacity for even a small side return extension.
The average cost of a side extension is approximately £30,000 and will take approximately 12 weeks to complete depending on the complexity of the build.
Single Storey Extension
A single-storey extension, whether to the side or the rear of the property, is also a very popular choice, and many are used for new kitchen/diners.
The average cost of a single-storey extension is approximately £35,000 and will take around 11-13 weeks. A single-storey rear extension can span the entire width of the house and, when fitted with large, glazed doors, can link the house with the garden.
Double Storey Extension
For a double-storey extension, the cost will be around £40,000 and takes an average of 10-12 weeks to construct.
New planning rules for detached homes means that this type of extension can be built under permitted development rights, making it easier for many homeowners to considerably increase their house size.
Multi-storey Extension
If you want to build more than one type of extension on your home, you will likely need to apply for planning permission.
A multi-storey house extension may entail a loft conversion and rear or side extension, and the average cost will be in the region of £47,000 depending on location and finish.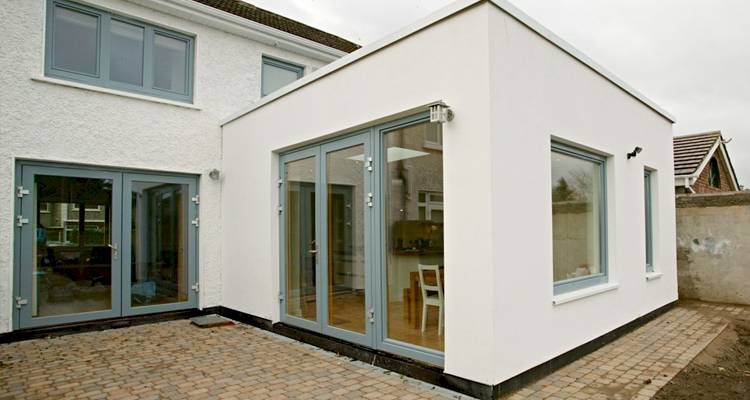 This type of extension is not very common, but those with space and the correct planning permission can create wonderful additions to their home.
Additional Work or Costs
When calculating the cost of building an extension, you need to remember to include the price of skip hire. This will vary according to where you live in the UK, as well as the size of the skip and the duration of the hire.
A 12-yard skip is normal for most domestic extension or conversion work, and a 10-12 week hire can cost between £2,500-£3,000. Most building contractors will include this necessary cost in your quotation.
Another expense to consider is the fitting out and decorating of the finished extension, whether that is a basement conversion, side return or double-storey extension. Fitting flooring for the extension could involve laying carpet, tiles, or wooden flooring.
The average cost for carpet laying is around £200-£400, depending on the quality of the carpet and the size of the room.
You may prefer wooden flooring in your extension, but wooden flooring prices will vary according to the type of wood used. This could be oak, pine, maple, or engineered wood, and prices can be between £35-£75 per square metre on average.
For many people, a single-storey rear extension involves adding a kitchen/diner, and the cost of fitting out a kitchen should be borne in mind. An existing kitchen will typically be remodelled, and new units and equipment will be needed.
The cost of remodelling a kitchen will depend on the size of the room, the quality of fittings and how much of the existing kitchen needs to be replaced. An average price will be around £5,000-£6,000.
Of course, even a small house extension will need to be decorated regardless of what type of room you are adding. This is obviously something you could do as a DIY job, but many people prefer to use a professional decorator.
Depending on the size of the extension and the area that you live in, the cost to decorate a room will be approximately £400.
How to Build a House Extension
The process of building an addition to your home, whether that is a loft extension or a side return extension, will differ according to the type of extension, size and specification.
What is the Process?
The stages of adding more space to your home will begin with house extension plans. This is an important part of the process as you will decide the size, design, and layout of your extension.
A two-storey side extension will involve more thought and planning than a garage conversion, for example. Architect fees will vary according to where you live, but an average cost will be £2,000-£3,000 for plans and structural calculations.
Pre-construction
Once you have plans, you can approach various building contractors and ask for detailed quotations. You should expect to pay around £1,000-£2,000 per square metre as an average cost of building an extension.
The contractor will calculate the type and amount of materials needed and arrange deliveries with local building material suppliers.
If this is a permitted development extension, there will be no need to go through the planning process. This will depend on how large the extension will be, the area you live in and any restrictions such as living in a conservation or other designated area.
If you require planning permission, this will take between 8-13 weeks, depending on the complexity of the plans.
Regardless of the need for planning permission, even a permitted development extension will require a building notice to be submitted to the local authority. This informs them of the work that you intend to carry out.
Building the Extension
When all necessary permissions have been received, you can start the construction of your house extension. By now, you should have all the necessary timber, blocks, sand, cement, and all other required materials on-site, as well as a skip to remove waste and scaffolding if appropriate.
The foundations will be laid first, and then the walls of the extension will be built. When they are complete, the roof structure will be built and the windows and doors installed. This will make the extension weather tight.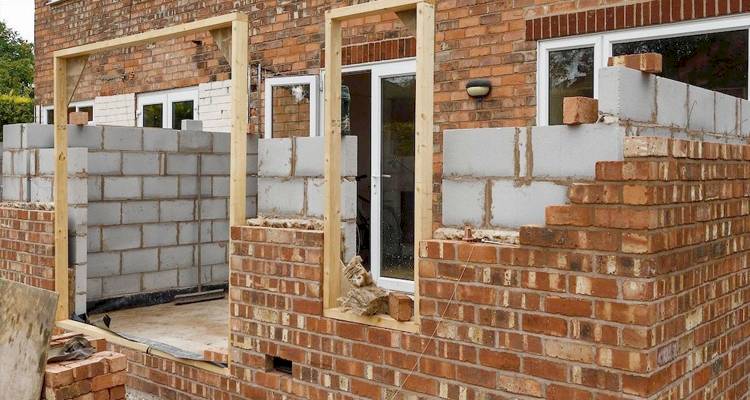 Insulation should be fitted in the floor, roof, and walls to meet Building Regulations. Regardless of whether you are building a permitted development extension, you will still need to comply with all Building Regulations.
First fix electrics and plumbing will be completed, followed by plaster boarding and plastering. Once the plaster has dried, the second fixing can be done including, electrics, plumbing and carpentry. Decorating should be completed before any final floor covering is laid to protect it.
Post-construction
Various stages of the build will need to be inspected by a building control officer from the local authority or an independent building control company to ensure that it complies with all the necessary Building Regulations.
When all these checks have been done, a completion certificate will be issued to confirm that the work meets all Building Regulations. You should keep this safe as it will be needed if you ever sell the property.
DIY or Professional Contractor
Some extensions can be undertaken by a competent and experienced DIYer. However, at the very least, there will need to be a qualified electrician hired to undertake the wiring and complete it according to Part P of the Building Regulations.
While many DIYers are very handy, there are various stages involved in building a house extension and many areas of expertise needed, including electrics, plumbing, and plastering.
Elements of the work will be inspected by a building control officer and will need to be signed off by them as meeting Building Regulations, so a DIY builder will need to be aware of these requirements in advance and ensure they are met.
It can be tempting to think that doing any home improvement work as a DIY project will save you money, but this is not necessarily always the case. As the work needs to meet certain standards, the risk of them not doing so and needing to be remedied is an expensive route to take.
As well as needing to be multi-skilled in order to do the majority of a house extension yourself the project itself will take longer than if you have two or three trades on site simultaneously. Your house extension plans may not be particularly ambitious or large but will nevertheless take a lot longer if you do it yourself.
How Long Does It Take to Build a Home Extension?
Different types of house extensions will vary in the time they take to complete. Various factors such as size, design and the need for planning permission will impact the timeframe for a home extension.
Loft Extension
There are several types of loft conversion, and they can vary from 6 weeks for a rooflight conversion to 14 weeks for a mansard style conversion. The complexity of the build, as well as the need for any necessary planning permission, can influence the timescale for a loft extension.
Single Storey Extension
A side or rear single-storey extension is one of the most straightforward projects to increase the habitable space of your home. This work should take between 8-10 weeks, depending on size and allowing for good weather conditions to complete the build.
Double Storey Extension
Two-storey extensions are going to take a bit longer to finish. However, there are many complex elements that are similar to a single-storey extension, including foundations and the roof. However, the second storey will add to the timescale, and this can mean that a two-storey side extension can take between 10-14 weeks.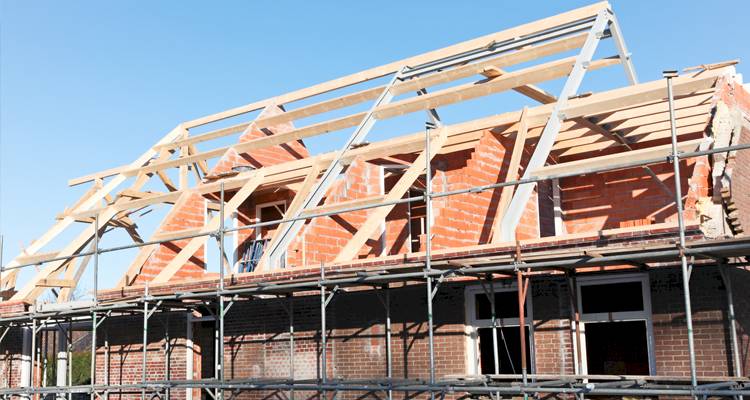 Garage Conversion
There are many advantages to converting your garage, such as not needing planning permission, minimal disruption to daily living and no need for scaffolding. Another advantage is that a garage conversion should take no more than six weeks to complete.
Conservatory
Building a conservatory is something that specialist contractors and companies normally undertake. The average installation time for a conservatory or orangery is 3-4 weeks, although this can vary according to the size and complexity of the design.
Basement Conversions
These are not the most common house extensions but are popular in London properties where space is at a premium and homeowners can afford this type of conversion. However, due to the nature of the construction work, it can take a lot longer than normal house extensions.
Issues such as access, waterproofing and proximity to underground services can have a severe impact on the timescale of a basement conversion which can take anything from 8-20 weeks.
Building Regulations or Planning Permission Approval for Property Extensions
Not all house extensions will require planning permission, but all extensions will need to adhere to Building Regulations regardless of type.
Building Regulations to be Followed
There are different Building Regulations that need to be adhered to according to the type of house extension being built. The majority of extensions will need to adhere to Building Regulations for the following:
Doors and windows
Drainage
Electrics
External walls
Kitchens and Bathrooms
Internal walls
Roofs
All requirements for extensions in relation to adherence to Building Regulations can be found on the Planning Portal.
To ensure that your house extension follows the necessary regulations, a building control officer will visit your site at appropriate times during construction to inspect and check that this is the case. If there is a failure to meet the required regulations, the work will need to be rectified and re-inspected.
Building Control Fees
There is a fee for the inspections by a building control officer, but these vary between local authorities. If you have a private building control company that perhaps your building contractor uses regularly, this fee will normally be included in your quotation.
The use of private building control companies is useful for contractors who work in lots of different areas and deal with various local authorities.
Planning Permission for Extensions
Depending on your house extension plans and the area you live in, you may need to apply for planning permission.
Your architect or building contractor will be able to advise if the area that you want to develop in your property exceeds the permitted development allowance meaning that you will need to submit a planning application.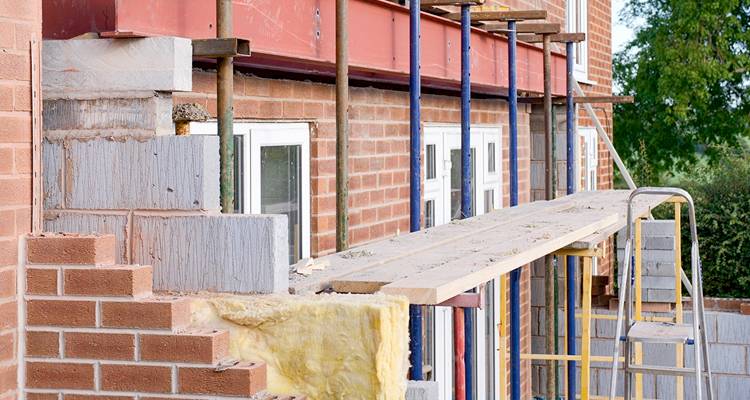 Bungalow extension ideas or side extension ideas rarely need planning permission as these are typically within permitted development allowances.
Two storey or multi-storey extension plans will usually need to be submitted for planning permission, but this can vary according to the property and the area you live in. The cost to apply for planning permission is £206 within England, £190 in Wales and £202 in Scotland.
Party Wall Issues
If your proposed house extension affects a party wall, you will need to inform your neighbour about the upcoming works.
The Party Wall Act provides guidance and a framework for understanding any construction that will affect a wall that is shared by two properties.
If your extension involves a wall that is shared with a neighbour, then you will need to issue a Party Wall notice to inform them.
Any disagreement about the proposed works will need to be resolved through a party wall surveyor.
The cost of this surveyor will be down to you as the person proposing the work.
Alternatives to Home Extensions
If you don't have the option of a home extension, then there are other things that you could consider if you need more living space in your house.
Summer House
A garden room or summer house is an ideal place to base yourself if you need to work from home or a nice chill-out zone away from the bustle of family life.
Most homes have some outside space, and there are many different designs of garden rooms or summer houses, so you are bound to find something suitable for your needs. And a big bonus is that you don't typically need planning permission unless you are in a designated area.
Shepherd Hut
A shepherd hut is an attractive space to either work from or use as a quiet space. They can be installed on private land without planning permission, but if you intend to rent them out as a B&B or similar, you would need to apply for the proper permission.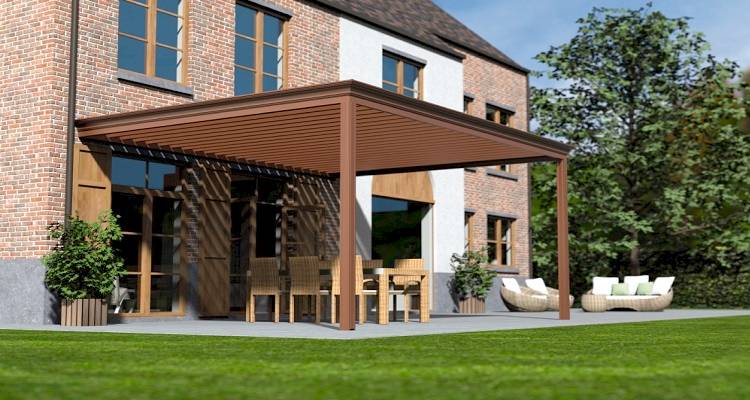 The option favoured by home buyers is typically the summer house or garden room as it allows extra living space such as a home office or chill-out area in the peaceful setting of the garden. A well-designed garden room can also increase the appeal of a property when it comes to selling.
Questions to Ask When Hiring an Extension Builder
There are a few important questions that you should ask when hiring a builder to construct your extension. However, each project is unique, and there may be specific questions that relate to the work you want to do.
So, it is a good idea to sit down and make a list of questions before meeting with prospective builders to ensure you are properly prepared.
FAQs
Is a bungalow extension a permitted development?
Bungalow extension ideas can vary from full loft conversions to side or rear extensions, and while many will fall under permitted development, there are limits to what you can do.

The square meterage allowance for attached and detached homes has to be adhered to, as well as other constraints on size and height. There may also be restrictions due to where the property is located.

Any bungalow sited in a conservation or other designated area will need planning permission, as would any that are listed buildings.

It is vital that you check with your local authority's planning department prior to any work being carried out if you are unsure.
How big can I build a rear extension?
A rear extension on a detached house that does not require planning permission can extend up to 4 metres, while on an attached building, this is reduced to 3 metres.

The height of the extension cannot exceed 3 metres if it is within 2 metres of the boundary or 4 metres in other cases. Anything larger than these dimensions will require a planning application.
Will I need to inform my neighbour?
If the extension you intend to build affects a wall shared with your neighbour, you will need to let them know through a Party Wall Notice.

This notice should include the address of the property where the work is being carried out, the owners' names, signed and dated by them. It should also include details of the proposed work and start date. The notice must be served to the adjoining property's owner and not any tenants.
Which type of extension is better value for money?
This will depend on the reason for building an extension, such as the need for extra bedrooms or a home office. Potentially adding bedrooms will increase a property's value by 15-20%, while the recent restrictions will increase the appeal of a ready-made home office.

A loft conversion will add a bedroom and bathroom typically while preserving the outside space that a ground floor extension would use up. This retains the appeal as a family home.
Do I need architectural plans?
It is always advisable to have properly completed architectural plans and structural calculations for an extension.

While some homeowners may think this adds unnecessarily to the cost of house extensions, it is an invaluable resource and guide for your building contractor.

Indeed, removing walls or replacing elements of a building without proper structural calculations and architectural plans is a bad idea.
Sources
https://www.idealhome.co.uk/conservatories/10-ways-to-use-a-conservatory-55008
https://www.homebuilding.co.uk/ideas/modern-extension-design-ideas
https://www.gov.uk/government/publications/building-regulations-part-p-electrical-safety-in-dwellings
https://hoa.org.uk/advice/guides-for-homeowners/i-am-improving/home-extension-where-do-i-start/

Last updated by MyJobQuote on 23rd November 2021.