Flat Pack Home Costs
Trying to find out how much a flat pack home costs? In this article we look at the prices of different sized flat pack homes as well as the cost of hiring a builder to construct the house.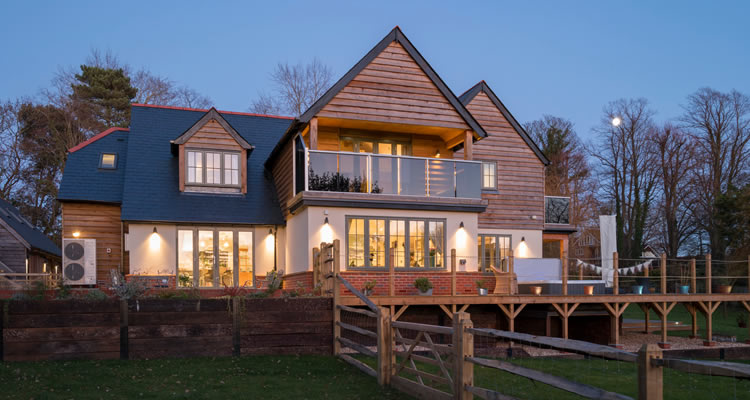 Average cost to build a flat pack house
This job usually takes 3-6 months
£280000
How Much Do Flat Pack Homes Costs?
Many people in the UK today are opting for prefab homes due to the rising costs of home ownership. Prefabricated homes today should not be confused with those ugly monstrosities that were constructed post-World War II, modern flat pack homes are stylish and highly desirable. With flatpack homes not only do you save a fortune in construction costs but the architect's fees are much cheaper too.
Many of these flatpack homes are of our modular construction offering plenty of scope for both the interior and the outside appearance of the home. Although the construction is much simpler and therefore quicker, this is still a job for a builder rather than a DIY enthusiast. To connect with local reputable tradesmen, please use the free service on this website to gather up to 3 quotes.
Prefabricated Home Prices
| Job Description | Duration | Material Cost | Labour Cost |
| --- | --- | --- | --- |
| Huf Haus type construction | 20 weeks | £1600 per square metre | £800 per square metre |
| Baur Fritz type construction | 14 weeks | £1000 per square metre | £500 per square metre |
| Scandia Hus | 15 weeks | £1200 per square metre | £600 per square metre |
Things To Consider When Purchasing a Flat Pack Home
With the flatpack home you simply buy the land with planning permission as you would with a conventional build, but you only need to pay a fraction of the traditional construction costs! Some companies will be happy to supply you with the modular elements to build your home in a kit form, whereas others will have their own fully qualified installation teams so they can construct your dream home to order. The three main types of building materials used in modern flatpack homes are timber, structural insulated panels or oak frames. Oak frames are the most expensive as they are thick cut oak timber designed for a stylish finish.
You should always ensure you have the financing in place before going down the flatpack route as some mortgage lenders are not keen to lend against prefabricated properties, so shop around for a mortgage and get a decision in principle before you commit to a flat pack build. The cost of the basic skin with a flat pack property can vary from around £75 up to £200 per square metre. But this cost will not include the foundations, plumbing, electrical work, gas installation, utility connections, interior fixtures and fittings, kitchen and bathroom furniture, white goods, flooring or decorating. The actual costs will typically be anywhere from around £1500-£3000 per square metre for the finished home ready to move into.
Doing it Yourself
This is not typically done as a DIY project, though much of the work involved can be done by the average DIY enthusiast to save money. However, unless you are an experienced builder you should probably leave the basic construction to erect a watertight structure to the professionals and then use the appropriate tradesmen for the gas, electric and plumbing installation.
Once you have the main building water tight and all the utilities connected, a lot of the interior fixtures and fittings work can be done yourself, such as decorating, flooring and minor fixings.
Flat Pack Home Checklist
Flat pack is a cheap way to create your own Grand Designs home
Modern prefab buildings can be designed masterpieces
Do not confuse modern flat pack buildings with the ugly Prefabs of the past
Modern prefabricated homes offer huge flexibility
FAQ's
Are there any disadvantages flatpack homes?
Yes, getting a mortgage can be more difficult and future extensions to the building are often not easily possible.
What are the advantages of flatpack homes?
The main advantage is the cost with considerable savings to be made when compared to conventional construction.
Can I customise my flatpack home?
Yes you can choose size, shape, number and type of rooms, construction materials and much more!
What about water, electricity and gas connections?
If doing the build yourself you will need to get in touch with the local water board, gas company and electricity company to arrange connections. But if you're hiring a construction company they can take care of this on your behalf.
Do I need planning permission for a flat pack home?
Yes you do but the process is exactly the same as for standard build, however, in conservation areas you may find it difficult to get planning permission.
Last updated by MyJobQuote on 26th October 2020.