How to Lay a Patio
In this article we break down step by step with images how to lay a patio. We explain everything that you might want to know regarding the materials, maintenance and answer the most frequently asked questions.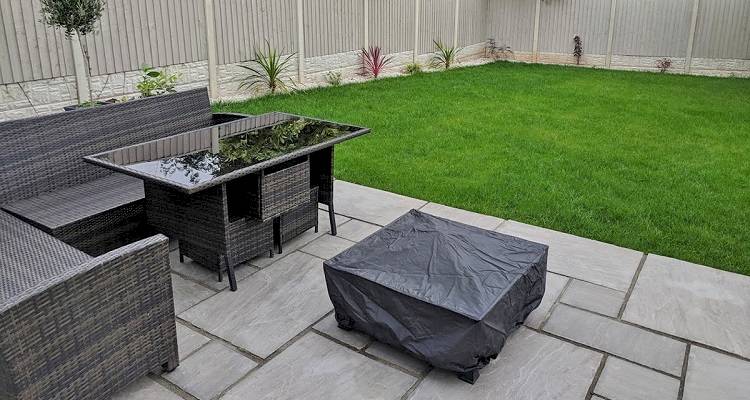 What Is a Patio?
A patio is a paved outdoor area, usually outside of a home or social communal area. Simply put, patios are an area of concrete slabs, but you can use them as a great opportunity for combining unique design and surface to create a harmonious space. Traditionally, the most common materials to build these areas include stone, concrete and brick. These areas are often used as a point of socialising with family and friends, a place to stabilise your patio furniture, or even just as a go-to place to relax in your garden.
Patios are becoming increasingly popular due to their long lifespan, and easy maintenance which appeals to the masses, and can often be an alternative to grass areas or even decking.
What Tools Do I Need to Lay a Patio?
So, you're thinking about laying a patio? To be able to do this, you should ensure that you are equipped with the correct tools for the job. Not only will having the proper equipment give better results, but it will make the process of following our instructions so much easier for you. We recommend that you acquire the following tools:
Cable avoidance tool (CAT)
Pegs & multi-purpose string length
General-purpose folding square
Garden spade or lawn edger
Heavy-duty tape measure
Cordless combi drill or electric screwdriver
Spirit level
Rake
Tamper or wacker plate
Rubber Mallet
Watering can with a fine rose or spray gun
Plastic sheet
Bucket (if mixing a wet mortar)
Trowel
It would also be advised you have a brush to hand at the end of the process to brush off any excess material to keep your patio clean.
You can find these tools in your nearest DIY store, don't worry about having to purchase expensive equipment for this project as some tools will be available for you to hire.
What Safety Equipment Do I Need to Lay a Patio?
It goes without saying, when using these tools, it's important to stay protected. Safety is key here; you don't want to put yourself or anyone else at risk during this process. To ensure safety, we recommend that you obtain the following items:
Dust mask
Rigger Gloves
Ear defenders
Safety boots
Safety goggles
You will need to wear suitable clothing at all times, ensuring you have protected footwear, and use gloves when you handle the following: slabs, sand, gravel/cement and use them when digging.
When it comes to using the wacker plate, you should wear ear defenders and steel toe-capped boots for protection.
Be cautious when using mortar mix, or slab layer, ensure you wear a dust mask, safety goggles & protective gloves. Don't forget to follow the manufacturer's instructions on all of your products.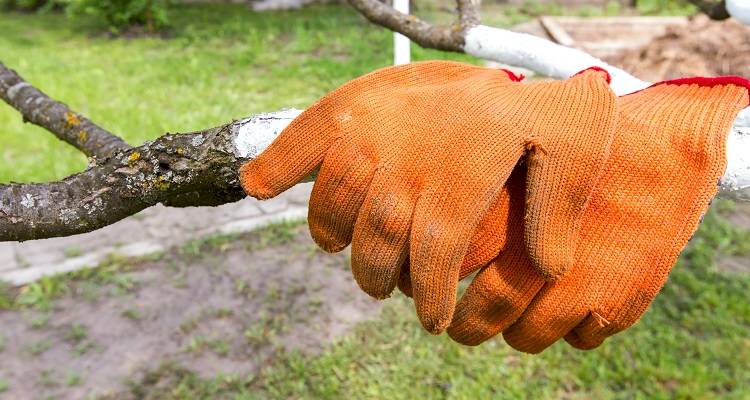 Cement can cause irritation and burns when using don't forget to cover any areas of your skin. If any cement does make contact, wash the area immediately.
If you are mixing concrete, protect your eyes with safety goggles, wear protective gloves and your dust mask to stop any dust entering your system.
Some slabs can be very heavy, so proceed with caution and ask someone to help you if necessary.
What Materials Do I Need to Lay a Patio?
The following are also materials that you will require to install a professional looking patio area:
Paving slabs (these can come in a wide variety of shape, size and colour. There will be something out there to suit every budget so shop around and make sure you get the right product to suit your design needs).
Treated timber for edging boards
Treated wooden pegs
MOT type 1 or hardcore
Slab-layer
External grade screws
Sand & cement (dry mortar mix)
Planning Your Patio
A little bit of planning goes a long way when it comes to designing and creating a fabulous patio. So, before you pick up any tools, you'll need to get yourself a pen and paper, jotting your ideas down will save you time, potentially save you money to ensure you have the patio design that works for you.
We suggest you start by measuring out your space first, as it's crucial to get the right size and shape materials. This will also be a big help to you when it comes to pricing up your materials and budgeting.
To begin, you should start by looking at the shape, consider how the shape will look with the current property. Your patio will be a central or focal part of the garden, make sure you are making the most of your outdoor space and surrounding garden area, decide on a clear intention for this feature, whether that be for socialising, patio furniture, or simply a place to unwind.
Preparing to Install Your Patio
So, you've decided on your patio design, collated your tools and materials together, excellent! Now it's time to start preparing the area for your patio. Ensure you don't rush this part, taking the time to prepare the area carefully will help you create a professional patio.
Clearing the Area
Having decided the area for your patio, you'll need to check the grounds using a Cable avoidance tool (CAT). This will help you detect the presence and approximate location of buried services in advance before undertaking any tasks. Secondly, you'll need to mark out the area using your pegs and string, ensuring the check the measurements are correct, as you go.
After you have mapped out your chosen area, you will need to prepare the ground. Begin by removing any existing turf or weeds, ensuring that you eliminate as many roots as possible to prevent any future growth returning, using weed killer will give you the best results. This step is key to ensuring a clean and level surface before installing your slabs.
Sub-base for patio
A sub-base is the foundation on which the patio slabs will lay. You need to create a firm, level base for your foundation. We will discuss how to lay slabs on the sub base for patio shortly. Start by using your string as a guide, grab your shovel to mark out the edges then work your way to the centre digging out your turf. Remember, you'll need to allow for 100 mm of sub-base, 25 mm of slab layer and the depth of your chosen pathing slabs. Ensuring you include the necessary fall of 1 in 60 into your calculation.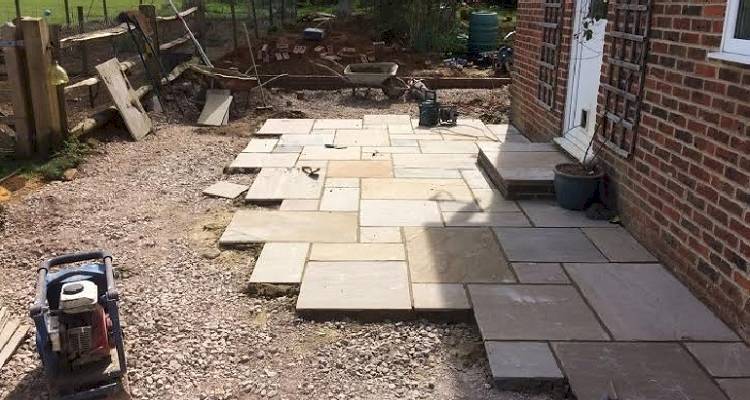 Add MOT Type 1 or hardcore to a depth of 50 mm, then using the rake ensure that you get the surface level. You'll then need your wacker plate to compact the material so create a level surface. Next, repeat the process by adding the next 50 mm of sub-base, raking, and then compact the ground again. This will provide you with the strong base you need for your patio. Ensuring you follow safety guidelines whilst operating this equipment.
Add the slab layer to a depth of 25 mm and rake the surface until it is roughly level. Following the instructions advised by your manufacturer, get your watering can fitted with a fine rose, and spray over your base and rake through.
Make Sure Everything is Level
Ensuring that everything is level is important for the longevity and appearance of a patio, as well as its usage. Use a spirit level (or a block of wood if you don't have a spirit level) to ensure that everything is level both before laying the slabs, and after laying the slabs.
How to Lay a Patio - Step by Step Guide
Installing your patio should be fairly straightforward, following this simple step by step 'how to lay patio for beginners' guide:
Step 1
Start by measuring the area where you would like your patio to lay. Then, mark out this area with your string and pegs, using a mallet to fix the pegs into place.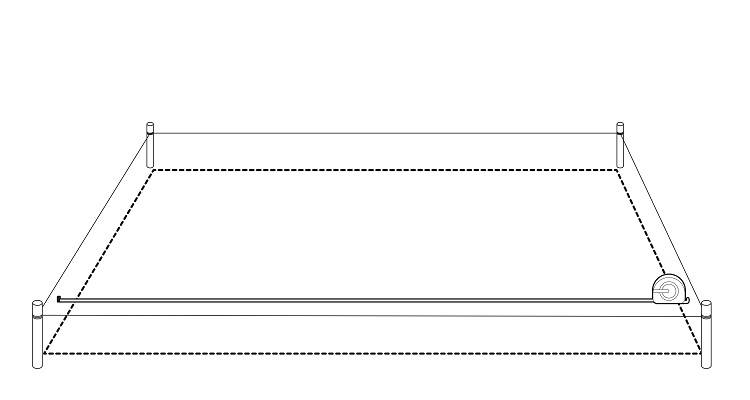 Step 2
Using your string as a guide, use your shovel to dig out this area, ensuring removal of weeds and other debris first. It's crucial you allow for 100 mm of sub-base, 25 mm of slab layer and take the depth of your chosen pathing slabs into consideration when doing your calculations. (Keeping the surface as level as you can).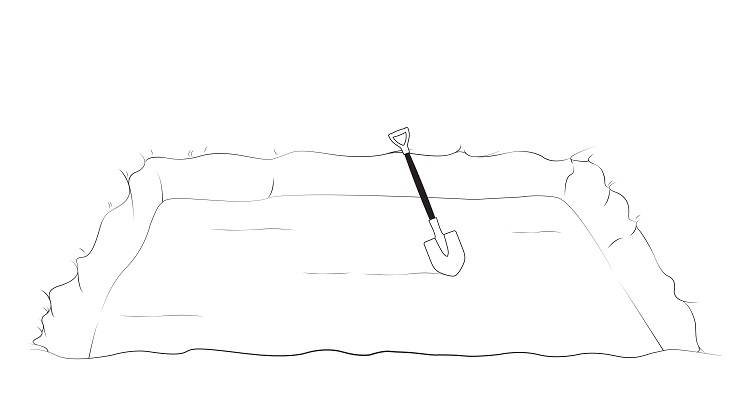 Step 3
Add MOT Type 1 or hardcore to a depth of 50 mm, then using the rake ensure that you get the surface material level. You'll then need your wacker plate to compact the material so create a level surface. Next, repeat the process by adding the next 50 mm of sub-base, raking, and then compact the ground again.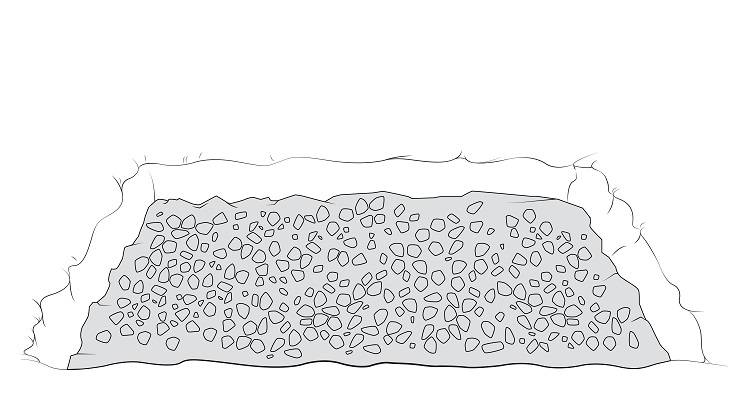 Step 4
Add the remaining slab-layer to a depth of 25 mm and rake the surface until level. Following the instructions advised by your manufacturer, fill your watering can fitted with a fine rose, and spray over the sub-layer base and rake through.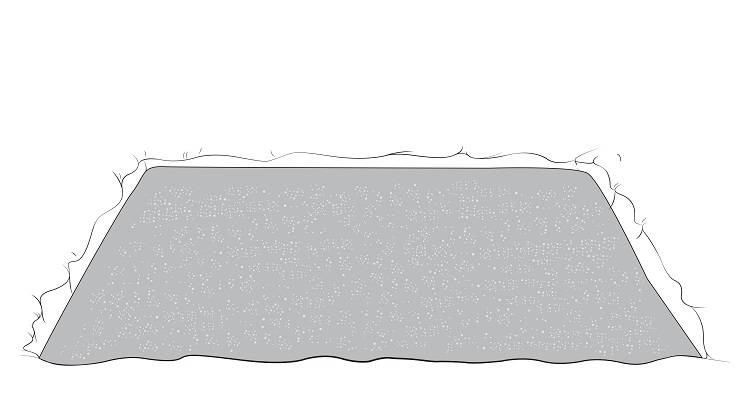 Step 5
Next, you'll need your paving slabs. Remember when you are laying these, you'll need to allow for a slope of 1 in 60, as this will encourage the flow of rainwater. Take a brush and dampen the underneath of your slab with water before you lay the slab onto the slab-layer.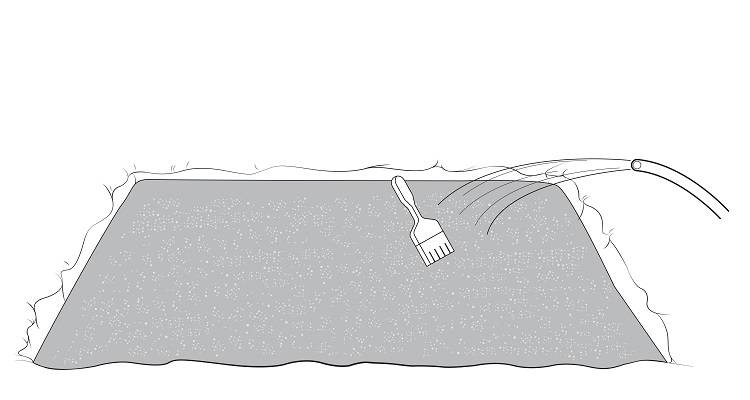 Step 6
When laying your first slab, you'll need to put this on your highest point of the patio. You can then use this as a guide for your other slabs, so ensure this is level before continuing. Once you are happy, carefully tap down on the slab, using your rubber mallet to secure its position.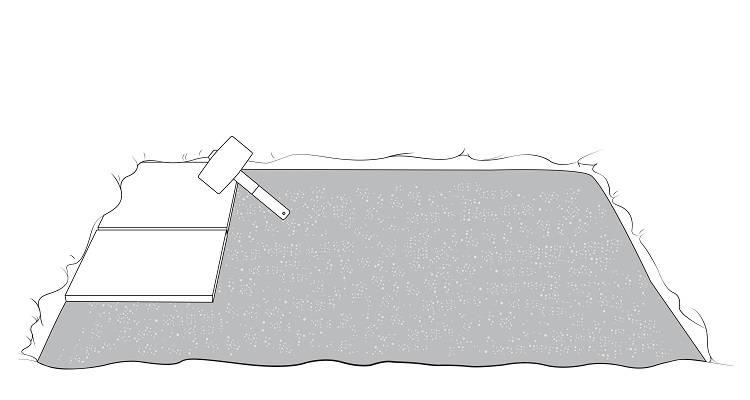 Step 7
Being careful not to rush, continue laying paving slabs, making sure you leave gaps between each, for the jointing material later. You can use a thick piece of wood, or spacer to create aseptically pleasing, even spacing between each. Don't forget to keep checking the levels of your slabs are evenly laid before tapping into place.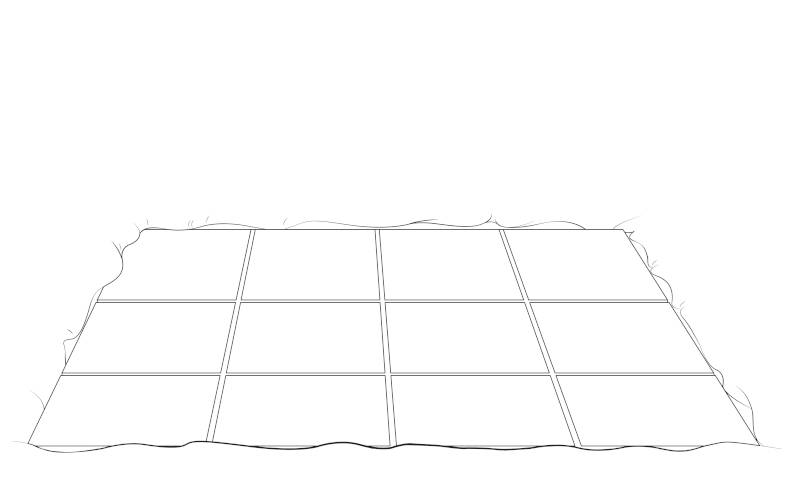 Step 8
After this, you'll need to allow time for drying, so remember to cover the surface with a plastic sheet and weigh down the edging with bricks overnight. This will allow sufficient time for the slab-layer to dry.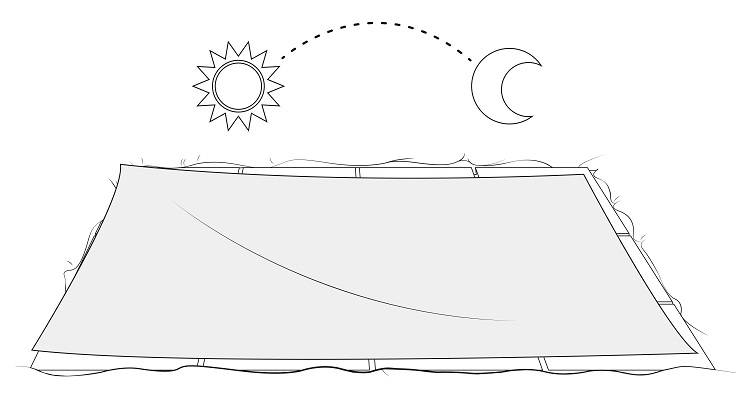 Step 9
You'll now be ready to fill in the joints with your remaining slab-layer or a mortar mix (4 parts sand to 1 part cement). You will need to add water to create a slightly damp consistency, being careful not to over-saturate your patio sealant. Using your trowel spread the mix in the gaps of your slabs, ensuring you pat down to compact the material.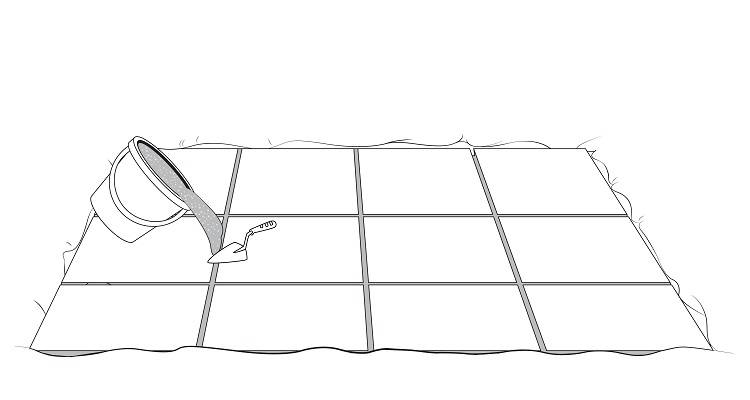 Step 10
Finally level off any excess slab-layer/mortar. You can then sweep this off from the surface of your slabs. Please ensure you do this before it sets.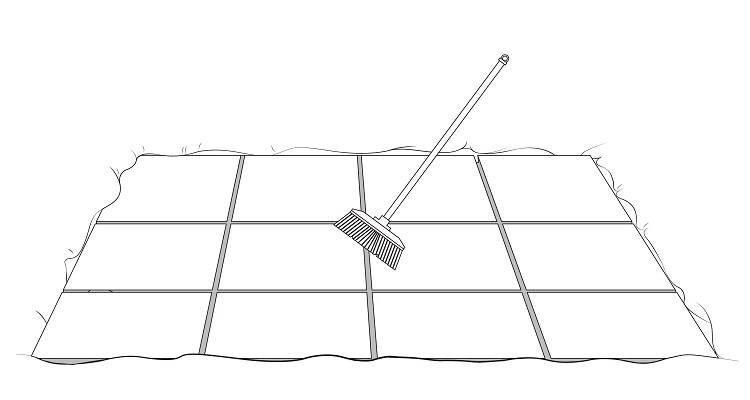 If laying your own patio is too large or complicated of a task then consider hiring a tradesman to carry out the work for you. We have researched the cost of hiring a specialist to install a patio. Laying a patio is a labour intensive job with heavy lifting and hard landscaping. Opting to take the job on if you're not physically capable can lead to serious injuries.
Choosing Where To Lay Your Patio
Normally, the area adjoining the house is usually the most convenient place for a patio, as you can walk safely to and from your house without having to walk over grass to get to the area. It's important to remember that if your patio is adjacent to your house, you'll need to lay it so that it is 150 mm below the damp proof course.
As we mentioned before this area is used for socialising and relaxing, so utilise your space accordingly. Perhaps a key aspect of the design to build an area which allows you more privacy, so you might want to locate the patio away from the house for this reason. The choice is yours but think about the purpose of your patio before designing.
Choosing The Right Patio Slabs
The biggest decision you will make during the planning process will be the type of material you use for your patio paving; this is an integral part of the overall aesthetic of your finished design. With such a huge variety of material, shape and colour you could be inundated with choice, making the decision process that little bit more difficult, so take the time to invest in doing your research for your patio ideas, looking online and through magazines to get inspiration and gauge how your chosen material can be incorporated into the overall surrounding.
From their visit your local garden centres or similar shops to see the slabs (both dry and wet), which could give you more of a feel for what you're working with. We will discuss how to lay your paving slabs in our step-by-step beginners guide shortly.
When Is The Right Time Of Year To Install A Patio?
Ideally, you want your patio area finished for the summer months so that you can fully enjoy the space you have designed. So, we would highly recommend early spring, but autumn would also be appropriate. We say this because you want to avoid heavy downpours as this can cause complications preparing the ground, not to mention, things could get a little messy. You'll need to be prepared, after using your mortar mix, make sure you have hessian sheets to hand to cover overnight to protect the ground.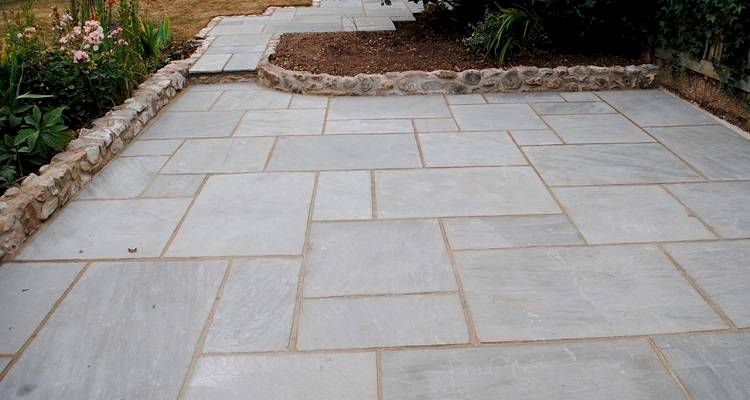 Not all issues can be caused by rain, frost and snow, in the summer months, the heat could be just as damaging to your patio installation. Why? Well, the heat in the summer can cause mortars and concrete to dry extremely quickly, which will result in cracking and crumbling of your patio.
Patio Repairs and Maintenance
Now that you've laid your patio, you want to be able to maintain your area. Luckily, as we've stated before, patios are fairly low maintenance, which is why they appeal to the masses. Make sure you are regularly sweeping your patio, and washing with water to stop any growths, such as algae. Keep an eye out for any gaps that need filling, as they can wear away after a period of time due to weather and usual wear and tear. Doing this should keep your patio looking fresh and clean.
How to Clean Your Patio?
You will want to ensure you keep on top of your patio cleaning regime. It's simple to do and low-cost, without the use of expensive jet sprays! For your patio cleaner, all you need is a bucket with warm water and mix a cup of washing up liquid. Then, apply the water generously across the surface of your patio; you can then begin scrubbing. Don't be afraid of getting stuck in. We recommend you do this four times a year, so once every season would be a good way to remember it!
FAQs
What is a good slope for a patio?
Generally speaking, your patio should slope away from the house at a rate of 1/8" (3mm) per running foot.
Can you lay paving slabs on building sand?
This thought crosses many people's minds, as it can be an appealing and 'cheap' option to many first-time patio layers. Sadly, the slabs will not set in the sand as it's not a suitable material, and they will require mortar to fix them in place.
How important is patio location?
Take the time to examine your area, take into account the position of the sun and its intensity at different times of the day. Also, bare-in-mind the wind factor in its position and if you will need to acquire protection such as a trellis.
How much hardcore do I need?
For you to calculate the amount of hardcore, you need for your project you will firstly need to know the length, width and depth (in ft). Multiply these figures to get the volume in cubic feet, divide it by 27 to get cubic yards and finally, multiply your result by 1.5 to get the correct amount. If that all seems too much for you, you can use an online hardcore calculator or aggregate calculator to determine how much hardcore you will need.
How long does it take until I can walk on my patio?
After completion of your patio, we recommend you leave about 12-24 hours for your design to fully set.
Last updated by MyJobQuote on 3rd April 2020.