Professional Oven Cleaning Cost
How much does it cost to get your oven professionally cleaned?.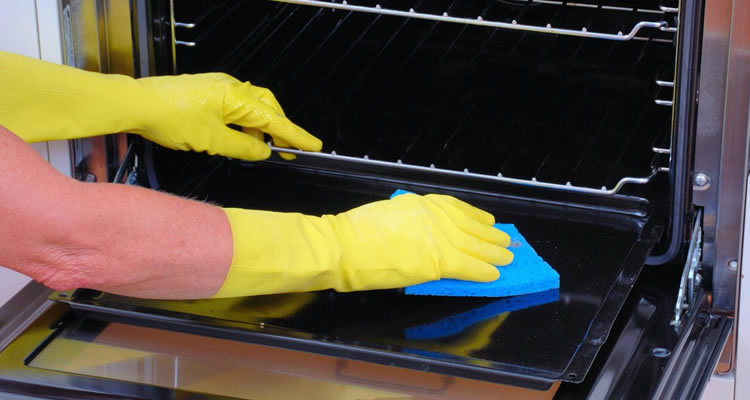 £50-£100 is the average cost of professional oven cleaning
The duration of this cleaning is typically 1-3 hours.
£75
Oven cleaning is simple right? But, what about that deep, stuck on grease? Or, that stain/piece of food which just won't come off? Sometimes, hiring a professional company to perform professional services is the only way to ensure your oven looks brand new, once the cleaning professionals have completed services.
What exactly do professional cleaning services entail? Single or double-rack ovens require different cleaning agents. Further, depending on the oven's size, the type of cleaning products and cleaning agents used, might vary. If an oven is gas vent versus electric, the cleaning method will also differ. Only professionals, who work with these products regularly, are capable of determining the best method to go about cleaning the oven.
Removing the racks, cleaning coils, traps, vents, and even the flue, are services which are performed when you hire a licensed professional to clean your oven. So, rather than spray it with a harsh chemical agent or just turn on the auto-cleaner for a few hours, why not have your oven professionally cleaned? It will finally eliminate those stuck on messes, and the grease which has been caught in the vents since you've owned your home for good.
Cost of cleaning services - Cleaning an oven
| Job Description | Duration | Material Cost | Labour Cost |
| --- | --- | --- | --- |
| Cleaning Standard Oven | 1-2 Hours | N/A | £50 |
| Cleaning Standard Double Oven | 1- 2 Hours | N/A | £70 |
| Range Cooker 90cm/100cm | 2-3 Hours | N/A | £80-£100 |
| Ceremic/ Glass Hop | 30 mins- 1 Hour | N/A | £15-£20 |
Things To Consider When Having Your Oven Professionally Cleaned
Professional cleaning services are great. Remove the stuck on grease. Clean the traps, get rid of gunk built up in the vent and exhaust system. But, it comes at a premium price, and you have to take your time to hire the right professionals for the job.
Before hiring a company, consider reputation. Make sure they are licensed and bonded. Only hire a company which fully screens their employees prior to hiring them, so you know who is coming into the home. And, take the time to compare cleaning methods, how they clean your oven, agents used, and if they offer "green" cleaning services.
Do they clean single or double-rack ovens? Depending on the oven's size, and source of fuel/energy, not all companies are going to offer the cleaning services you desire. So, taking your time to compare local companies, the work they perform, and how they go about performing such services, are a few of the many factors to consider, as you are deciding who to hire.
It is also a good idea to learn about cleaning methods, the chemicals they use, duration, cost, and how long it will be prior to being able to use your oven. Every detail matters. So, taking your time to learn about services, how they are performed and what you should know before using your oven again.
Doing it Yourself
Sure, you can always clean your oven. Many today have built in self cleaners. So, you simply remove the racks and turn on the self cleaner. The problems is that after you still have to wipe off surfaces and the vent system is not properly cleaned. Plus, you still have to clean the exterior.
If you manually choose to clean the oven, you might not have the best cleaning agent to do the job. So, this may result in less than ideal cleaning. So, you might not be pleased with the outcome.
A third alternative is to hire a professional company. For those who want detailed, full-cleaning services, this is the best alternative to consider. It is quick, it is efficient and you know exactly what you are getting and what you can expect. You know they will use the best cleaners, do a full-cleaning, detail and touch up work and they will guarantee your satisfaction with the services which they are going to render.
Before you hire a company, think it through. Compare reputation, how well known they are locally, how much they charge, and so forth. Doing this will not only give you a better idea of what to expect, but also how you can go about hiring the most qualified, for professional cleaning services.
Hiring an oven cleaning company
Make sure they are licensed and insured
Learn if they offer "green" or chemical free cleaning options
Find out how long the job will take and how long before you can use your oven again
FAQ's
Can I clean my oven?
Sure. But, the level of detail, cleanliness, cleaning agents, and amount of time it will take, will greatly exceed hiring a professional company. And, the results are not going to come close to those of a professional cleaning company.
Is a self-cleaning oven the same?
No. It will clean the oven, but it will not do detail work. And, afterwards, you are going to have to clean the exterior, wipe off powder, dust, and the interior surfaces. And, it is not guaranteed to get off all types of dirt, or stuck on grease, as is the case, when you hire a professional cleaning company.
How long will cleaning take?
Professional companies can typically clean a single or double-oven in a matter of hours. In fact, even very large ovens, or those with detailed work throughout, should not take much more than a few hours to finis.
Last updated by MyJobQuote on 7th May 2019.