Cost Of Pressure Washing Your Roof
How much will you pay to have your roof professionally pressure washed? .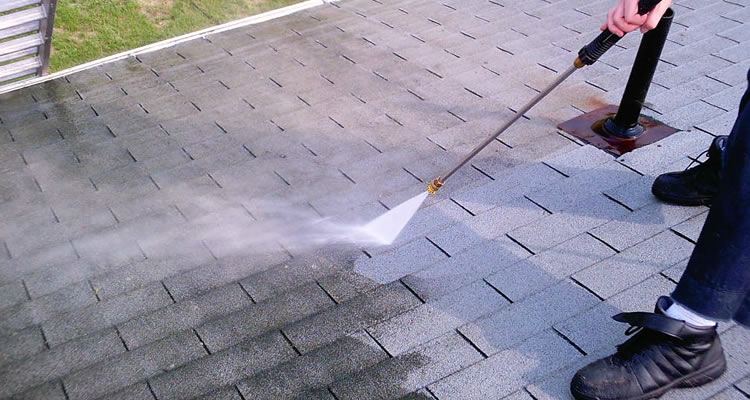 Costs can run from £300-£700 depending on your property
Duration for pressure washing a roof can last from 3-7 hours.
£450
Pressure washing is an easy to way to improve your home's appearance. You'd be surprised to see how much moss, dirt, and debris get stuck up there, in a matter of a few months. And, since you don't clean your roof routinely, pressure washing is a simple way to do what would otherwise take a matter of days, in only a few hours.
Whether you are presenting your home for sale, or simply want to give your home that fresh, new look feel, pressure washing will do the trick. And, when working on the roof, many companies also offer whole home pressure washing as well, which will save on the overall price of services.
It is important you choose a company that knows what they are doing. Not only to use the right pressure settings, but also to be careful with roofing materials, sizes, and other factors. You only want to hire the most qualified specialists, when the time comes to have your roof pressure washed.
No matter the reason, when the time comes to clean the roof of your home, pressure washing is a premier way to get the job done. It is efficient, timely, and it is much easier than going up on the roof yourself, and cleaning out those gutters.
Costs To Pressure Wash A Roof
| Job Description | Duration | Material Cost | Labour Cost |
| --- | --- | --- | --- |
| Detached | 6-7 Hours | N/A | £550-£600 |
| Semi Detached | 4-5 Hours | N/A | £350-£450 |
| Terraced | 3-4 Hours | N/A | £450-£500 |
| Bungalow | 3-5 Hours | N/A | £300-£450 |
Things to consider when hiring companies for pressure washing.
When hiring a company to pressure wash your home, consider reputation. A company that has been in business for 20 years, is going to do the job right. So, take your time to find the right specialists for the job.
Make sure you choose a company that is familiar with pressure settings. Pressure washers are dangerous, and if too much pressure is applied, can damage windows and break the roof. So, make sure you hire specialists who are trained in using the equipment safely and efficiently.
Consider types of pressure washing for your roof. Not only for the best clean, but also to avoid damage to the roof tiles, and other detail work on the roof.
Shop around for the best prices.  You shouldn't rent equipment and try to do it yourself; but, you can hire a company which allows you to rent your own equipment, and simply charges for labour, so that you can save on the overall prices being charged.
Doing it Yourself
Doing it yourself is not advised as it relates to pressure washing a roof. In addition to using too much pressure, you can damage the roof, break windows, and damage other areas of the home. This is dangerous equipment to work with, and it should be handled by those who are licensed in its use. Don't attempt to pressure wash your roof or home, if you have never used this powerful equipment in the past.
Hiring a pressure washing specialist
Hire companies using the most efficient equipment.
Compare materials, pressure levels and safety aspects.
Consider a company with a solid reputation in the field.
Make sure they fully detail all work to be performed and provide a written quote
FAQ's
How much does pressure washing cost?
It can run between £150-£500 for a single-story home. Depending on the size and if you have the siding and other areas pressure washed, pricing will differ for each homeowner.
How long does pressure washing last?
It will require a minimum of 3-5 hours for a single-storey home. Depending on the dirt build up, it can take up to 4-8 hours to complete the entire home.
How often should the home be pressure washed?
Most roofing companies will suggest every 18- 42 months. If the home is very dirty, some companies might suggest getting it done more often, but most homes only need it done once every 18- 42 months.
Last updated by MyJobQuote on 27th March 2018.