How to Fit Laminate Flooring
In this article we demonstrate how to fit laminate flooring. We explain everything that you might want to know regarding the materials, maintenance and answer the most frequently asked questions.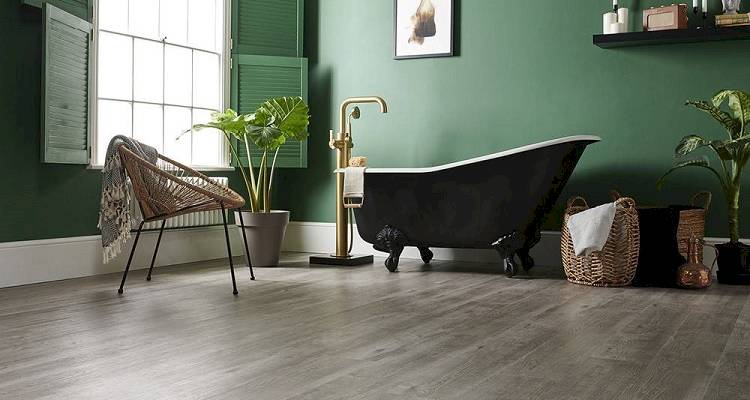 What is Laminate Flooring?
Laminate flooring is multi-layered synthetic flooring, numerous layers are fused together, in the process of 'lamination' which creates wood-look flooring. Laminate flooring was invented in Sweden in 1977 by a company called Perstorp.
The popularity of laminate flooring has really grown significantly, this more than likely due its simple installation process compared to other alternative floorings, relatively easy maintenance, and its reasonable price point.
Not forgetting the vast number of colours and styles that you can choose from. Laminate flooring really is accessible and appealing to the masses; you're sure to find something to suit your style, budget and taste.
What Tools Do I Need to Fit Laminate Flooring?
So, you've decided on revamping your floor? Fantastic! Before you can begin installing your laminate flooring, you'll need to assemble the correct tools needed to carry out the job. Collecting all the tools will really ensure not only is the job properly organised, but also help you install professional looking flooring which you can be proud of.
Here is a list of recommended tools you will need for this job:
Chisel
Knee Pads
Hammer
Hand Saw
Circular saw
Clamps
Tapping block
Pulling bar
Fine cutting blades
Metal ruler
Pencil
Tape Measure
Mitre block
Hack Saw
Hammer
Pins
You can find these tools in your local hardware shop.
What Safety Equipment Do I Need to Fit Laminate Flooring?
Safety is paramount with any DIY job, and this job is no exception. As you'll be spending the majority of time on your knees, we strongly advise you invest in some knee pads to protect your knees, trust us; you'll thank us for it later. We also recommend wearing safety goggles and a dust mask when you're using a saw or drilling to protect your eyes and mouth. You want to keep the room as ventilated as possible when sawing, if you can, going outside for this process is highly advised.
What Materials Do I Need to Fit Laminate Flooring?
You will need the following materials to help you fit your Laminate flooring:
Underlay
Laminate floor panels
Scotia Trim
Glue (for the trims)
Please ensure you check your manufacturer's instructions before installing your laminate flooring.
Preparing Floors for Laminate
Preparing your room before you install your panels is a really key job that you should do carefully and accurately; this will ensure you have an accurate and long-lasting finish.
You should start your preparations by clearing the intended surface, remove any existing flooring, that includes tiles, and double-check to make sure there are no nails or screws poking out from the surface. It's important that your floor is smooth, clean, dry, and of course, level.
Before you can lay your laminate floorboards, you will firstly need to use underlay. This will allow some insulation and soundproofing to the room, whilst also providing that extra layer of comfort. As there are several types of underlay options, it is important you select the right one. This will all depend on the type of subfloor you have.
If the subfloor is concrete, you will need to add a damp-proof membrane in first. The most common types of underlay are fibreboards or foam. Please check the manufacturer's guidance before purchasing and installing.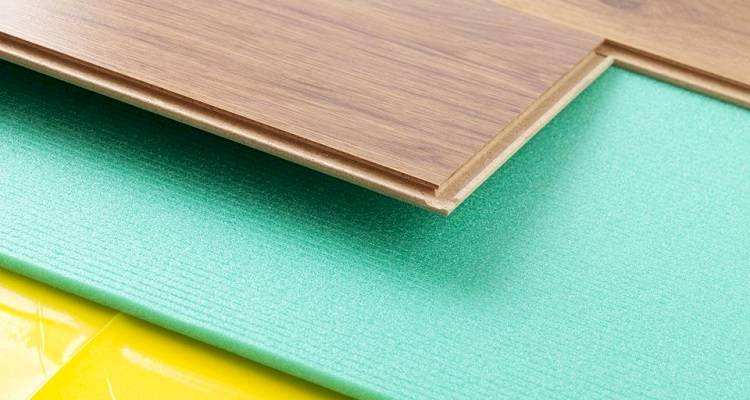 You'll need to calculate how much flooring and also underlay you require for your room. To do this, we recommend you work out the size of the room in m² (length x width = number of metres squared) don't forget to include areas around doors and alcoves. You can then check the pack and calculate how much you will need.
With most projects, we always recommend having a 10% extra on top of your calculations to allow for any wear and tear or mishaps.
It's really important that you leave your unopened laminate flooring in the room, stack them up together, and leave them for at least 48 hours. This will allow your laminate to acclimate to the temperature of the room before insulation.
Fitting Laminate Flooring - Step by Step Guide
Use our step-by-step how to guide, which will lead you from preparation, right the way through to completion of laying your laminate flooring.
Step 1
After gathering all your tools and materials together, you will need to leave your laminate flooring materials in the room for a minimum of 48 hours to allow them to acclimatise.
To work out how many laminate floorboards you will need, simply follow this calculation: Length of the room ÷ width of your floorboard = Number of rows required.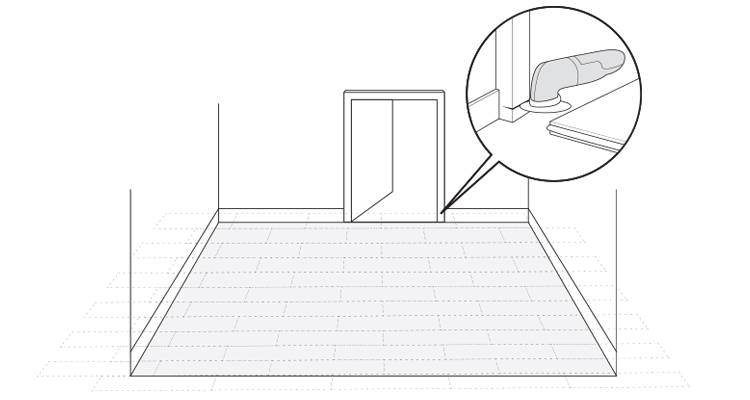 As part of your preparation, you might also want to decide which direction to lay your floor panels. You can do that lengthwise or width ways.
Lengthways: Allows you to follow a line of light which comes from your window.
Width ways: Can make small rooms appear bigger.
You will also need to calculate and check if the thickness of the underlay, laminate flooring will stop a door opening into the room. You will need to remove the door and trim it down to give the necessary clearance to the room. We suggest you leave the door off whilst you lay the flooring as you'll need to cut into the architrave.
Firstly, you will need to line up an offcut of a floorboard and underlay with the architrave. Then mark this with a pencil on the door frame. Take your panel saw to trim the architrave to the correct height. Then, use your hammer and chisel to gently remove enough of the bottom of the architrave, so that you allow for the laminate to fit underneath. It's important that you leave a 10 mm - 12 mm expansion gap.
Step 2
It's time to prepare the floor and install the laminate floor underlay. To do this you will need to ensure that any existing underlay and flooring including tiles have been removed and that you are left with a level, smooth, clean and dry surface to lay your laminate..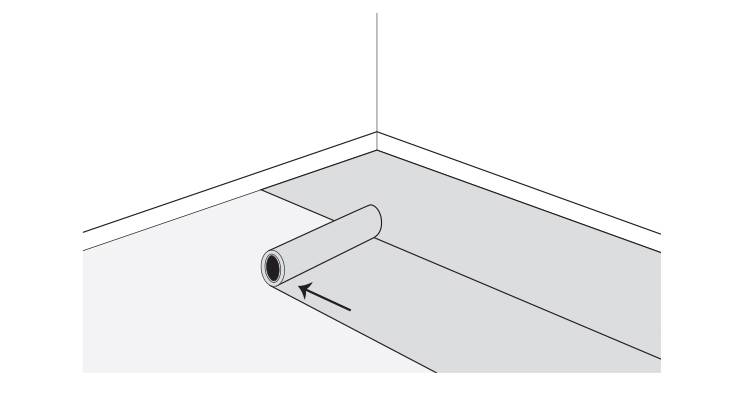 You can now install your underlay, please ensure you choose the right type of underlay, usually this is determined by the type of subfloor you are laminating on. Please check with the manufacturer's instructions and guidelines. If you have a concrete floor, you'll need to use a damp-proof membrane as a sub-floor.
Step 3
Now, your underlay is in place, you can start to install your laminate flooring. To fit your laminate flooring, take a full board, and start to lay this down from the corner of your room, make sure that its tongue edge is against the wall. Take the fitting wedges and slot these between your skirting edge and your board; this will create an expansion gap around the wall edge.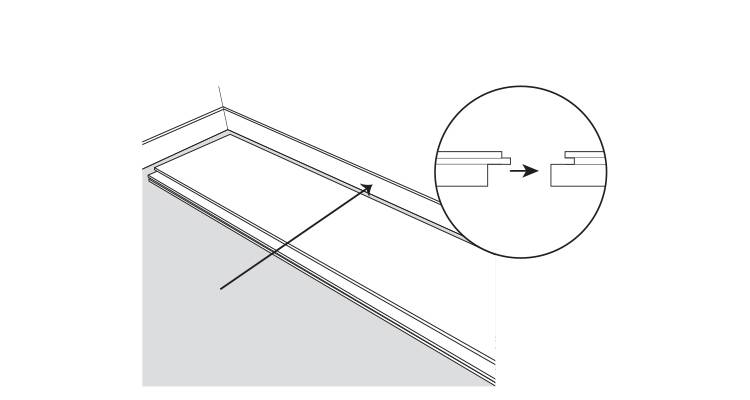 Repeat the process, lining the next board up correctly, to secure the boards together, press down to click it into position, and continue all the way down the wall.
Step 4
When it comes to laying your last board, you may find you need to cut to fit. To do this, turn your board over with the laminate surface face down to the floor. Slide the laminate board to the remaining gap till it touches the wall, ensure you still have your fitting wedges installed to the skirting board.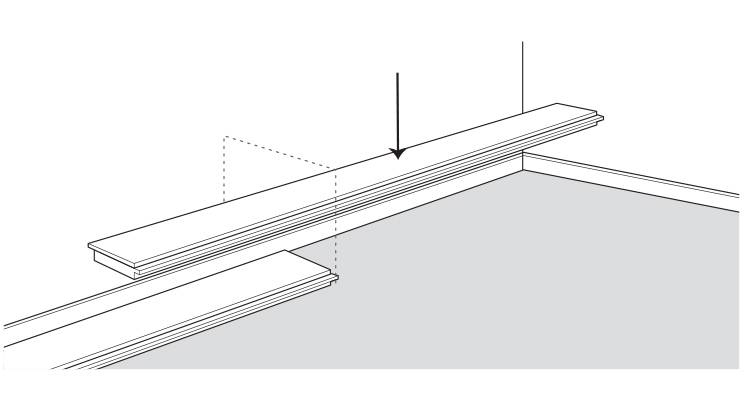 Take a try square or ruler and a pencil and carefully mark your cutting guidelines, ensuring that this line is barrel and matches with the ending of the previous board.
Step 5
Now, we need to learn how to cut your laminate flooring. You will need to face your board laminate side down on your workmate, use the clamps to secure the laminate board in place. Then, using your circular saw, cut along your cutting guideline.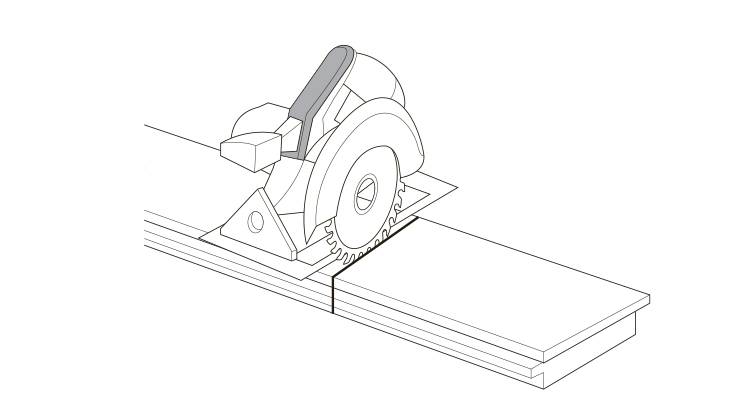 Then slot the remaining board into the space, being sure to tap on the surface to secure the laminate boards together securely.
Step 6
Move the laminate row you have just created away from the wall slightly. You will need to add a piece of laminate and cut to fit into your doorway. To do this, measure the distance between the outer edge of the architrave on either side and also the gap between the first row and the door. Using these measurements, correctly mark these onto a board and cut to size using a panel saw.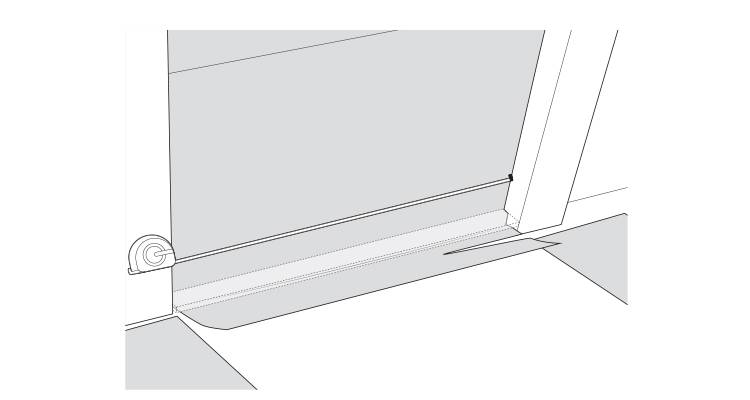 Then carefully slot your row back towards the doorway. Using a tapping block, gently tap back into place until the flooring slots neatly underneath your door frame.
Step 7
Use the offcut piece of flooring to start the next row; make sure that you start the same end as your first row. We recommend that the joint between the boards in adjoining rows is always offset by at least 200mm.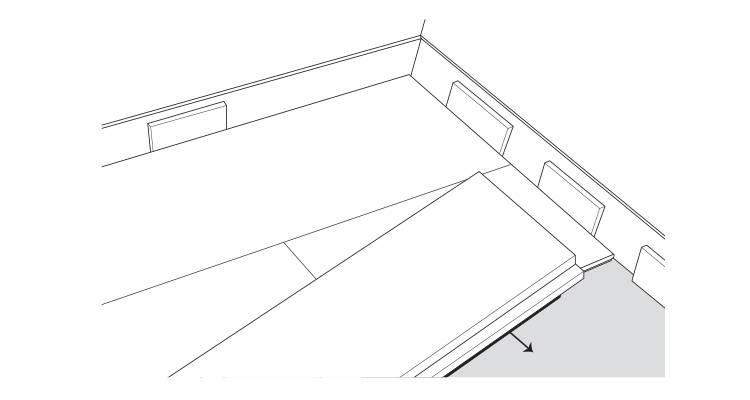 Don't forget to use the fitting wedges around the wall edges and use the tapping block and hammer to secure the panels into place and tight to the fitting wedges. Continue this technique and lay the subsequent rows.
Step 8
You'll need to cut the last set of boards to fill the gap. Use the circular saw, to cut to the correct size.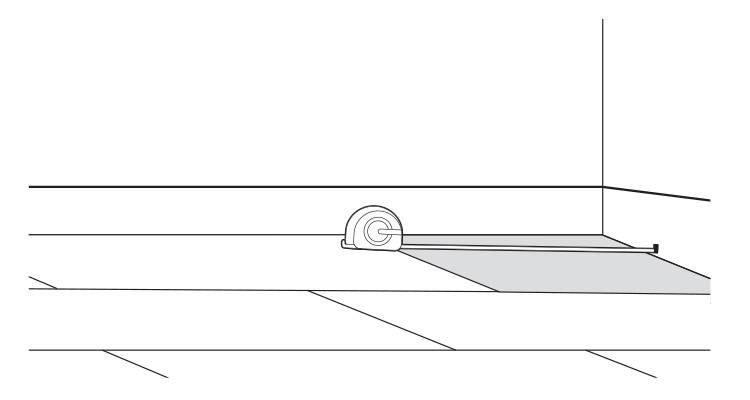 Don't forget to include your fitting wedges into the calculation. Then lay the panels.
Step 9
At this point, you won't be able to use your tapping block to secure the flooring and make it tight. Instead, take your pulling bar, and use it along the edge of your last row. Tap the pulling bar using a hammer to ensure the boards are locked, tightly, into place.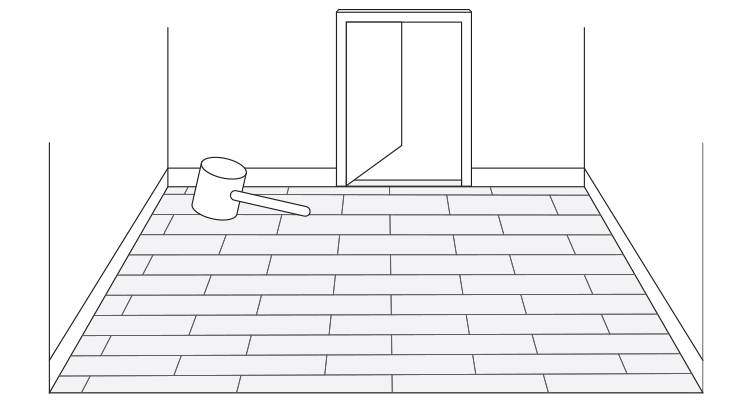 Finishing off with fitting wedges into the gaps between floor and wall.
Step 10
Now the laminate flooring has been installed; it's time to fix your trim around the edges. For this stage you will need your: mitre block, hacksaw, scotia trim, hammer, glue and pins. First, you'll need to measure the edges of the room to calculate how much trim you need.
Secondly, use a mitre box, this is to make 45-degree angle cuts in your trim to allow the corners to join neatly together. We recommend that you save the trim cut-offs for your doorway.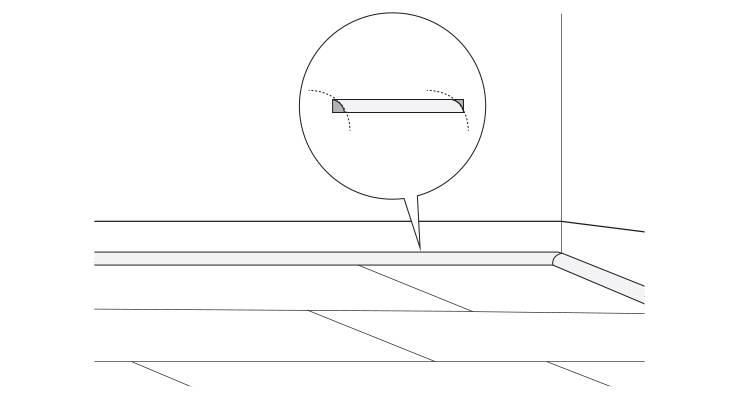 Add the glue to edges of the trim (this is the side that faces the skirting board), then stick the trim to the skirting board, NOT the laminate floor. Take your panel pins and gently hammer these in sections of your trim to hold this into place whilst you allow the glue to dry. Once dry, remove the panel pins from the trim.
How to Choose Laminate Flooring
With so many laminate options available to you, it can be difficult to know where to start. When you are deciding on what type of laminate you want for your home, you should consider the following:
What type of look are you going for in your home?
Do you want the laminate to resemble a hardwood floor?
Do you want a slick, polished look instead?
Consider the room the floor is being laid on and the functionality of it?
How long do you intend your floors to last? How durable do they need to be?
When you have the answers to these questions, you will be able to proceed a little easier.
If you choose to go with a 'wood grain' laminate, we find this is the most common, as this resembles hardwood flooring. The great thing about this option is it's great for someone on a budget, who still desires that wood look in their home.
There will also be a multitude of choices in colour, so you can pick that perfect shade to bring your home to life. This would be your cheapest laminate option, and this should be considered if your budget is low.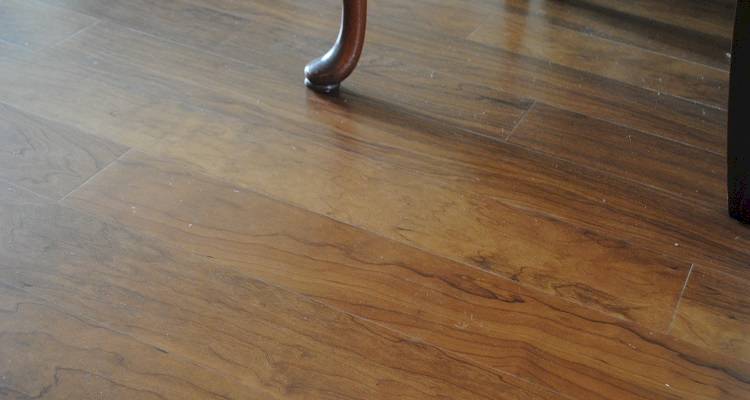 Did you know that laminate flooring comes in several different textures, to suit your design requirements? You can choose from marble, stone, slate and limestone to name a few. These style boards can vary in price. However, the cost of these will still be a huge fraction of the price if you were to get the real deal.
Please also consider the thickness of the floor, the thicker the flooring, the more durable and lasting the flooring will be. It will be no surprise that with an increase in thickness also comes an increase in price.
Should your budget allow, it is possible to make your flooring last up to 25 years if cared for properly. We will go into details about caring for your laminate flooring shortly.
You should also be aware that laminate can come 'glued' or 'pre-glued'.
Glued flooring is your traditional style laminate, and it means that flooring will require a special adhesive formula applied to the tongues and grooves (these are the edges that connect your flooring panels to each other) to set it in place.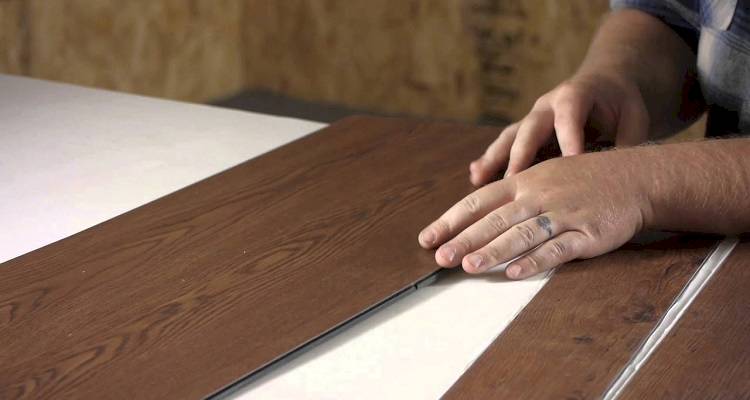 Pre-Glued does what it says on the tin, the edges of the grooves are already on the boards, making it quicker and easier for you to install.
So, you've got to this stage, you're probably wondering what the best type of laminate flooring is? So, we have created a list of the top 5 brands, all of which have been professionally approved.
Pergo
Pro: As you might remember from before, these guys are the inventors and creators of laminate flooring.
Con: As it's the original and founding brand, expect to pay the price for high quality.
Armstrong
Pro: The overall look of the flooring is incredible and will not disappoint.
Con: With beauty comes a cost, these guys are fairly pricey.
Mohawk
Pro: If you are looking for something to last, then choose Mohawk.
Con: Again, for durability, you are going to be paying more.
Quick-Step
Pro: If you're looking for something a little cheaper then look no further, they also offer advanced technology, allowing your boards to be moulded easily to the desired shape.
Con: The board quality isn't the best.
Berry Alloc
Pro: So diverse in pattern, texture and style, probably the most realistic looking boards on the market.
Con: They only offer planks and not any trim to match.
Laminate Floor Maintenance
To maintain and care for your laminate flooring, you should always check the guidance given by your manufacturer first. Generally speaking, you should not use wax, polish or oil on your laminate flooring.
To keep your floor looking fresh and new, frequently brush or vacuum, and should you need to, use a damp cloth to clean and remove any dirt or stains.
Your laminate flooring could be easily scratched by heavy furniture, so we advise that you apply some soft felt furniture pads underneath these objects to avoid marks. Laminate flooring should be very durable, but should you notice any damage here are a few DIY tips on how to fix these problems.
Should you notice some minor scratches; you can try using a wax pencil or repair putty, these can both be found at your local hardware store or online. Please follow the manufacturer's guide on how to use it before getting stuck in.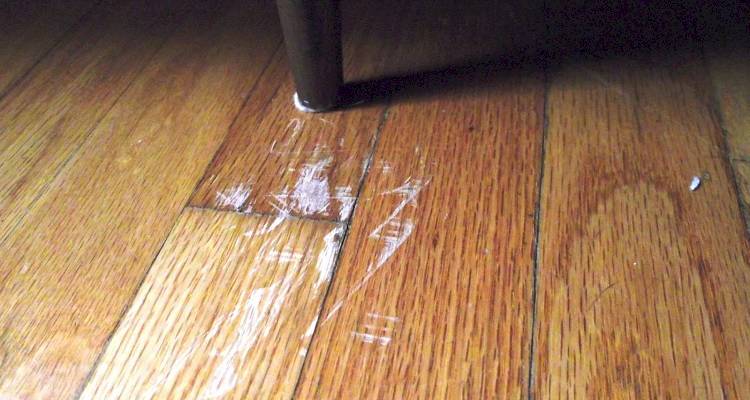 How to remove scratches with a wax pencil?
You must firstly match the colour with your flooring. You can then start to colour in the scratch. Rub the waxing the damaged area using a range of motion to fill the wax in the groove. Once finished, buff the area with a dry cloth.
How to remove scratches with repair putty?
You should try using a wax pencil first but should you scratch be a little deeper you should consider using repair putty.
You'll need to match the colour of the putty to the laminate. Then take a putty knife and spread the putty into the damaged area. Gentle pat down on the area, making sure you have used multiple directions to fill in the scratch completely. Level this, then allow it to try for 24 hours minimum.
Dealing with damaged laminate boards
Should the boards be damaged, you might want to consider replacing the laminate board. As there is no glue involved, this process can be fairly simple but perhaps a little time-consuming.
Firstly, start by removing the skirting edges, remove the flooring panels one by one, until you reach the damaged panel.
Take the damage out and replace with a new one.
From there continue filling the flooring back in with your panels, using the technique. (Refer to our step by step guide for instructions).
You will need to replace the skirting and glue this back in place.
How to Clean Laminate Flooring
Cleaning your laminate flooring should be a breeze, so long as you remember that wood and water don't really mix together, so avoid moisture where possible.
Do not use steam cleaners and wet mops; these will cause the laminate to lift and damage your flooring beyond repair. Should you get stains or tough marks on your flooring, then wipe the selected area with a damp cloth.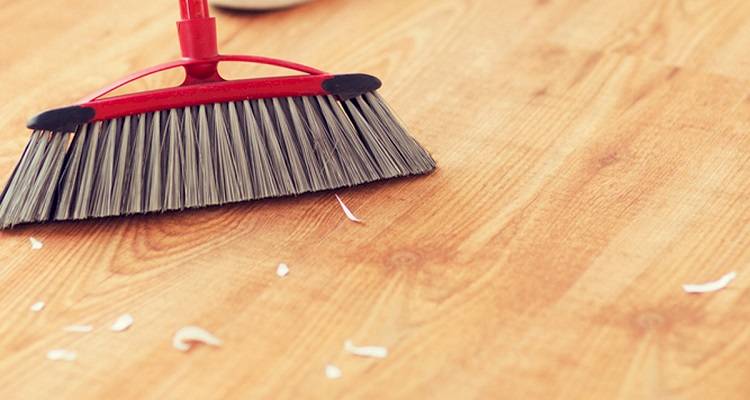 As with any flooring, please make sure you keep on top of vacuuming and sweeping to get rid of dust and dirt.
You can use cleaning products on your flooring but do ensure that you buy cleaning products specifically for laminate flooring only. Always check with your manufacturer before using any products.
FAQs
What Is The Best Laminate Flooring?
The best laminate flooring would be Pergo. Pergo is the company who originally invented laminate flooring, so you are in safe hands, knowing you are getting a quality product from the experts.
What's The Best Underlay For Laminate Flooring?
The best underlay for laminate flooring would be foam. Foam underlay acts as a good sound barrier, provides comfort, and is also cost-effective.
What Is Laminate Flooring Made Of?
Laminate flooring is created where multiple layers of materials such as melamine resin and fibre board materials. The materials are then fused together in a process called lamination.
How Many Boxes Of Laminate Flooring Do I Need?
To work out how many laminate floorboards you will need, simply follow this calculation: Length of the room ÷ width of your floorboard = Number of rows required.
Is Laminate Flooring Waterproof?
Laminate flooring itself isn't typically waterproof. Because of the materials used to make up laminate flooring resembles a type of wood; it is then easily damaged by water. Once the laminate becomes damp or frequently wet, the laminate boards can be irreparably damaged. Avoid any contact with water.
Last updated by MyJobQuote on 1st May 2020.