How to Build a Shed
In this article we demonstrate with images how to build a shed. We explain everything that you might want to know regarding the materials, maintenance and answer the most frequently asked questions.
Not sure about building a shed DIY?
Request a quote from one of our tradespeople instead.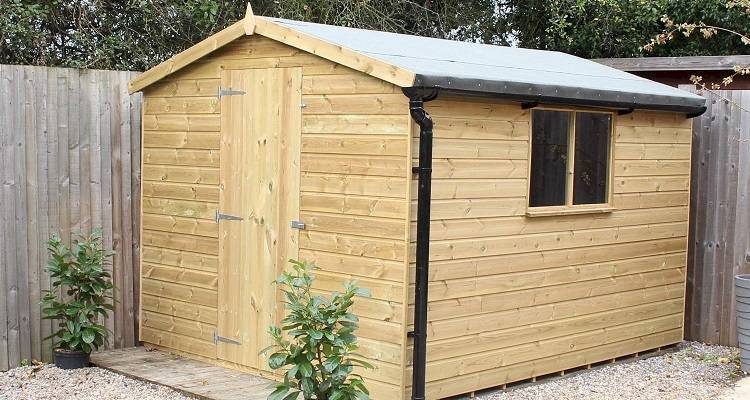 Do I Need a Shed?
So, you're thinking about building a shed? Wondering what you might use a shed for and if you really need one? There are so many usage possibilities for a shed; your options are endless. Whether you are looking for a safe haven for your tools, a workout space, a play area for your children, or even just as a storage area, a shed can be a practical investment for your property.
A shed can offer you that space to kick off a new hobby or allow you to continue with current interests, and you can see why they are becoming fashionable amidst homeowners. If this sounds like something you've been looking for, then perhaps it's time to take the plunge and construct a shed of your own.
What Tools Do I Need to Build a Shed?
Having the correct tools is essential if you plan on building a professional-looking shed, with the best possible and professional finish. A workman is nothing without his tools; we recommend you gather the following together:
Power Drill
Shed and fixings
Clamps
Hammer
Ladder
Stanley knife
Fork
Shovel
Spade
Trowel
Spirit level
Rake
90-degree builders square
Tape measure
Depending on whether you want to decide to insulate your shed or leave it wooden, you would also need some shed felt and a sealant gun.
A pencil or pen will also be of use when it comes to marking the areas off on your shed base before drilling anything down.
For the base of the shed, we recommend you get yourself some string, wooden pegs and a rubber mallet to mark out the area of your shed.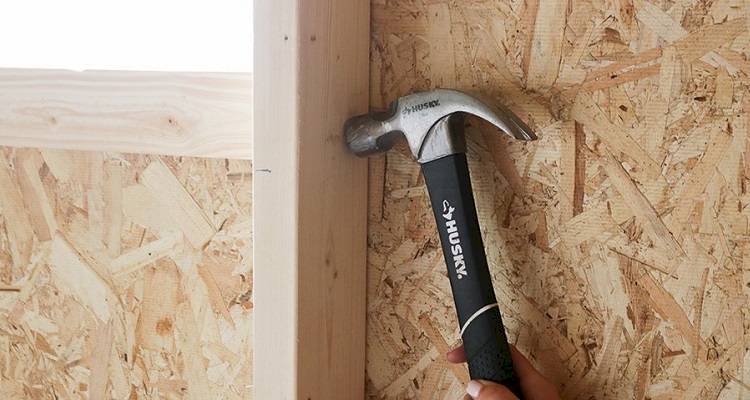 What Safety Equipment Do I Need to Build a Shed?
But first, it is essential to make sure you have the correct safety equipment before you start your build. You'll be handling wood and machinery, so it's advised you keep yourself safe. It's always better to be safe than sorry, so we recommend you acquire the following:
Heavy Duty Gloves
Eye Goggles
Protective clothing
You will also be sure to be using a wood preservative at the end of the process, so it's highly important you wear protective clothing during this process too.
It's important to note that the individual sections of your shed aren't too heavy, but they could pose a problem for one person to handle and manoeuvre, so it's advised you have someone to help you during the build.
You'll need to take extra precautions when using a ladder, injuries which involve falls from height are frequent in the building trade. Before using your ladder, don't forget to check the ground is flat and sturdy and have someone with you whilst you are using.
What Materials Do I Need to Build a Shed?
You've got the tools, so now it's time to collate the materials needed to embark on your building project. Make sure you have the following:
Shed base
Gable ends
Roof panels
Shed felt
Side panels
Hardcore (10ml to dust)
Clear sealant
Screws & Nails
We also advise you source yourself some solid concrete slabs, as this will be used to prepare the base of your shed. We will explain what to do with these shortly.
Preparing to Build Your Shed
As with anything you build, whether that be a house or a shed, it's vital that the area you are building on has the best foundations possible to avoid problems further down the line. So, you need to decide on the best place to build your shed, preparation is key.
To prepare the area for your shed, you will firstly need to check that you have a solid foundation to keep the shed upright and sturdy. It's important that you select an area where the ground is already level if it's not, or you don't have the correct amount of or support for the weight of the shed then this could result in the shed cracking, leaning or even falling down. We advise that you look for an area that stays fairly dry and avoid areas that are known to collect water. You wouldn't want the base of your shed to get damp and damaged.
Once you think you've found an area, be sure to check the dimensions of your shed against the area, get yourself a tape measure and double-check that your shed will fit against the dimensions. You can do this by taking your pegs, string and a mallet to carefully mark out the area correctly.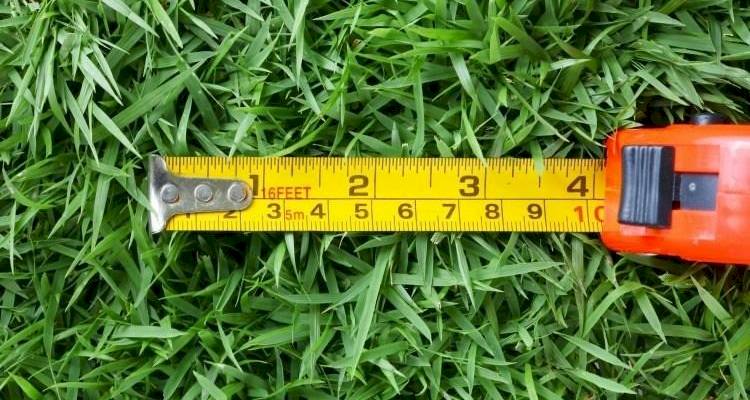 Now it's time to build your shed base; this will act as the support system for the overall building. This is where your concrete slabs will come in to play; you'll need to take these to plan your flags against the area, lay them out close together to fill the space, (3 slabs x 4 slabs as an example) as these will act as your base.
Let's start by preparing the ground; you can use your string as a guide, take your shovel to mark out the edges then work your way to the centre digging out your turf. For your calculations you'll need to allow for 100 mm for your sub-base, 30 mm for the concrete flag, 20 mm for the dry mix of sand and cement (which is what you will lay your slabs onto) and finally 50 mm base of hardcore (10 ml to dust) and this will really solidify your base.
Once you have dug out the area to the correct depth, ensuring everything is as level as you can, it's time to start adding the 50 mm of hardcore to this area, fill in as evenly as you can and rake through to create an even surface. To compact the ground, use a wooden plank (the width of your base), drag this across the length of your base.
Place your spirit level along the wooden plank to check that your surface is level. Once you are happy, lay your wooden plank flat along the surface, take your mallet and begin to tap down along the plank to compact the surface underneath. You'll need to repeat this process until all the area has been compact.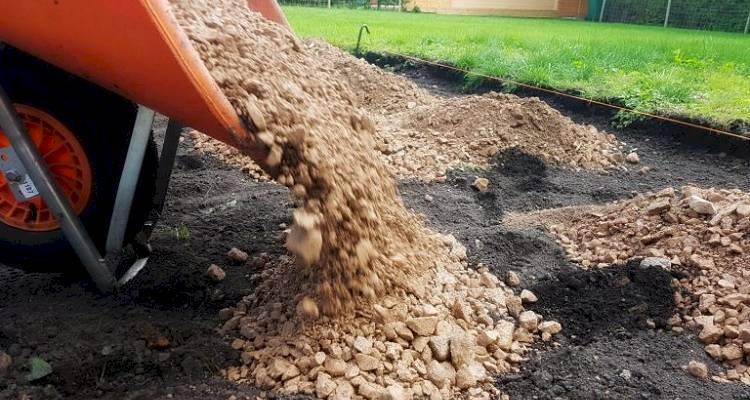 It's now time to lay your dry mix of sand and cement down, don't forget to use nine parts sharp sand to one-part cement. Spread this evenly across the area, and again take your rake to spread the mixture evenly across, to create a level surface base.
Take your concrete slabs and lay them on top of the surface, ensure you leave a small even gap between each slab, as you will need to add joining mixture later. You can use a thick piece of wood, or spacer to create even spacing between each. Making sure you use your spirit level to check the surface levels of your slabs to ensure a level finish for your base.
You'll need to secure the slabs with a jointing mixture, take five parts sharp sand to one-part cement. Take your trowel to spread this evenly and fill the joints, then tap down evenly to create a tight, solid core. There you have it! You'll need to take a brush to sweep off any excess mixture from the surface.
Building Your Shed - Step by Step Guide
Now your shed base has been established building your wooden garden shed should be fairly straightforward to erect and assemble. Follow our 12 easy steps to help build your own shed, please ensure you are following safety guidelines when using equipment and tools, we strongly recommend you have a friend to help you with this section. It's important to note that all shed packs will differ in size and shape, always make sure to follow manufacturer's instructions as you go for the best results.
Follow the following steps to complete your DIY shed build:
Step 1
Take your wooden shed base and lie this directly on your concrete base. You'll need to mark with a pencil where your floor bearers are; you can then use these markings as a reference to know where to screw the side panels down.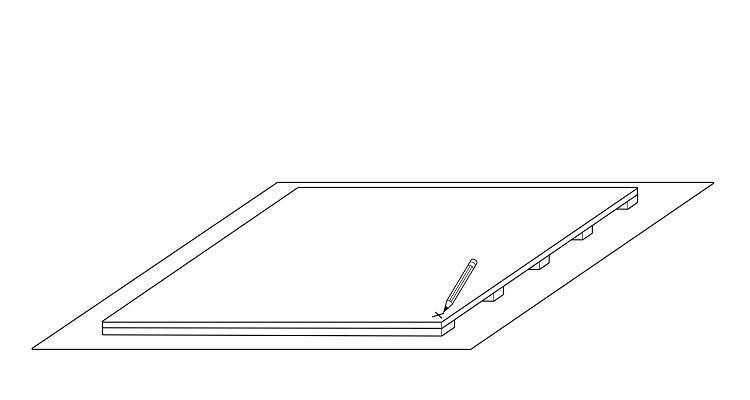 Step 2
Take the gable end of your shed and stand it up, along with a side panel; these will need to be secured together. Ask your partner to hold the panels upright. You'll need three screws (one at the top, middle and bottom) and drill in the screws to connect the side and the back together, before drilling the screws our advice would be to pre-drill the holes before adding screws, this will stop the wood tendons from spitting.
Repeat this process with the other side panel and attach it to the back gable. This is going to give you a really solid base to work from for the building of your shed. It's important to note that you are not screwing anything to the base at this point this will happen later.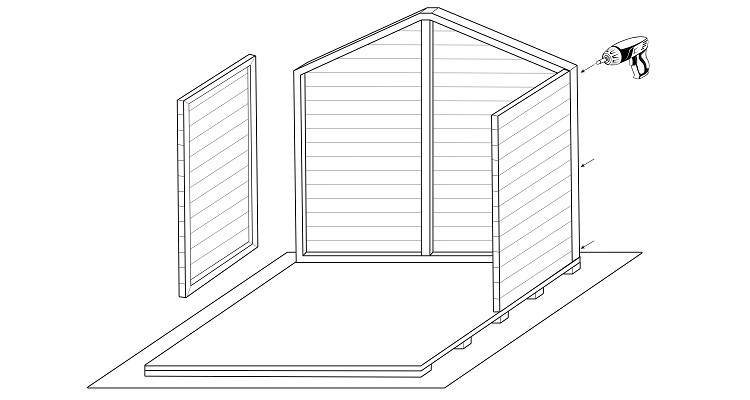 Step 3
Next take your side panels, you want to make sure these are perfectly aligned with one another, to do this accurately you'll need to use a clamp, using this to hold both sides together before screwing in with your dill, again make sure to spread these evenly. Do the same with the window panel of your shed.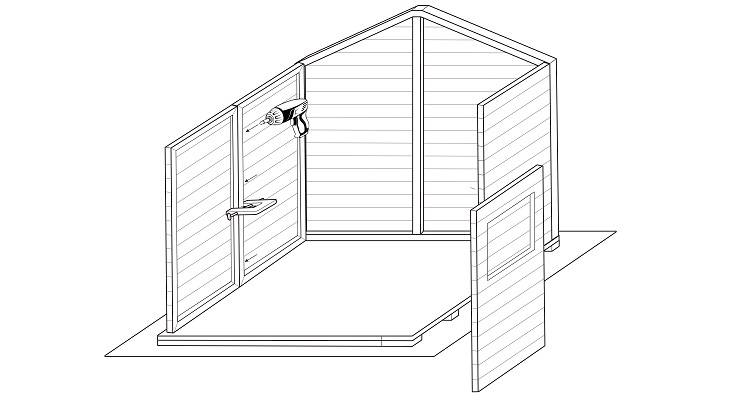 Step 4
We mentioned marking the floor of the shed to show where the bearers run across the floor. This is the section you will fix the sides to the base of the shed. Like we did with the side panel, we advise you pre-drill the holes first before adding screws. Please make sure you check the overhang of the panels to the base, ensuring this is tight to the base. Don't screw to the base at this point as you will need to wait till all the panels and gables are screwed together at the sides.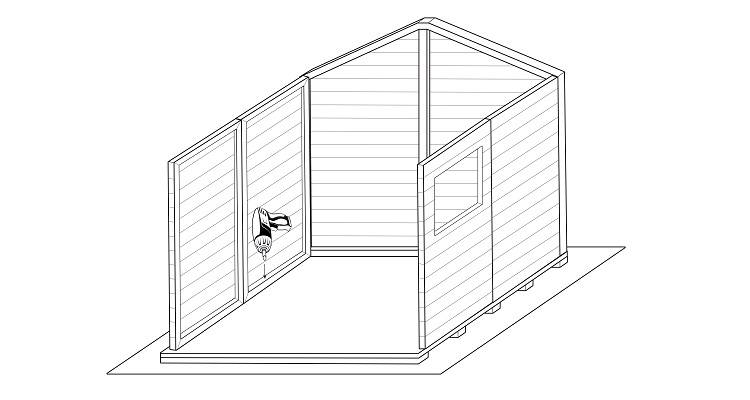 Step 5
It's now time to take your front gable, continue as before and screw the sides to the adjoining panels. You are now able to screw down to the base of the shed, using the pre-made drill holes created previously.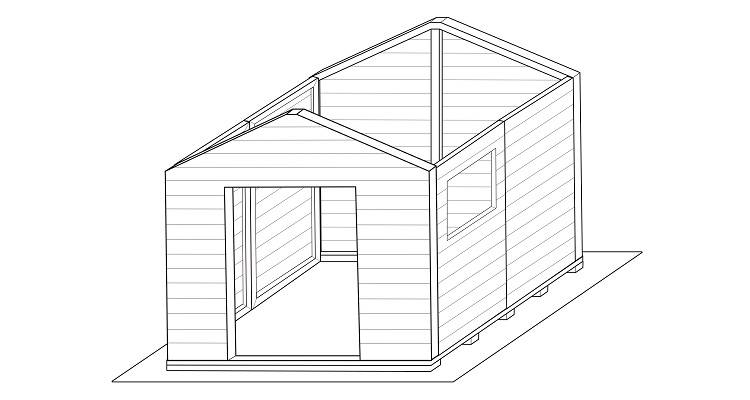 Step 6
After all that's secure it's time to get your roof rails, these will go across the top of the shed, which will allow you to connect your roof panels. Notice, there should already be a pre-cut area in the gables for you to slot these into. After these are in place, screw both of the wooden rails together which will create the support you need for your roof.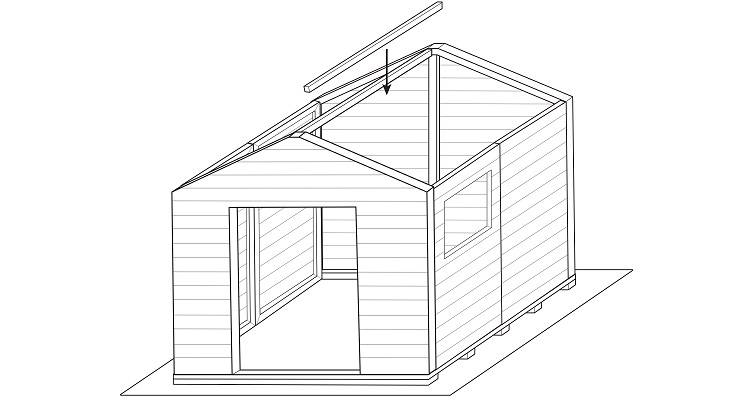 Step 7
You should now be ready for the roof panels. With your two extra roof rails, you will need to attach each one (on the longest side) of each roof panel. Match the roof rail up to the edge of the roof panel and nail these together. This will then allow you for something to connect the felt to later on in the process. Repeat the same on the other side. You can now slot the two panels into place to create your roof structure.
The roof rails you have just attached to the panel should be left on the sloping edge of the shed. The panels are now ready to be nailed, make sure they are nice and square, and the two panels meet without crossing over each other, then nail down You'll need to be more generous with screws here as you don't want your roof coming off. As always, make sure you are following the manufactures instructions.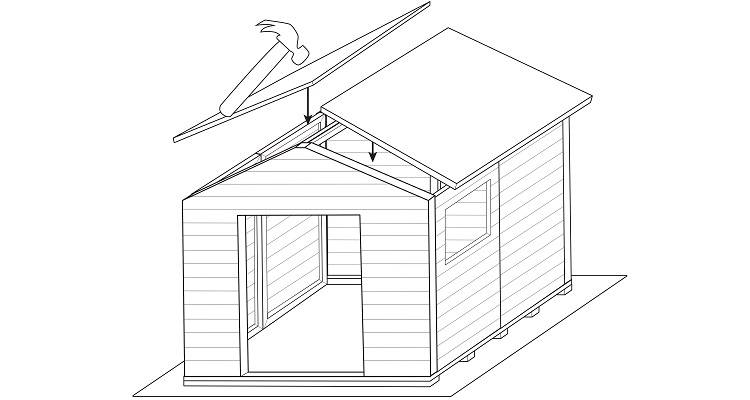 Step 8
This is where the felt comes into play; it's crucial that you get the felt the right side up. One side will appear more mineral in texture, and this is the side you need facing upwards. To begin, get the felt in place on one side, begin at the edge in which you created your beam (we mentioned this previously). Nail the felt starting from underneath the beam; this will enable you to keep the felt sturdy and tight, pull the felt up to the centre of the roof.
Repeat this process on the other side. You'll need to use a ladder for this stage, so make sure you stay safe. You will have an overlap of felt, don't cut this away, just overlap the excess to keep your shed watertight. Nail the felt down, to make it easier to start from the middle and work your way outwards.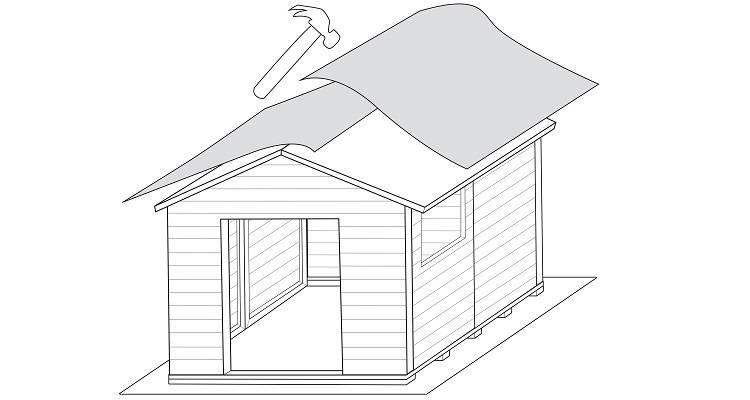 Step 9
You should now be left with an even overhang of felt on both sides of the shed. Again, do not attempt to cut this off. Simply fold the excess felt, your wooden fascias will ensure the excess is hidden. Take your fascias and make sure you nail this to your wooden support beams, one at the outer edge, and one in the centre. You can then repeat this on the other side of the shed.
There should also be some finishing strips in your pack, which do as they say on the packet and add those finishing touches to your shed to keep it looking tidy. There should be one for each corner of the outer edges of your shed (where the panels join), and also one of each panel in the middle. We advise you nail these on now before continuing.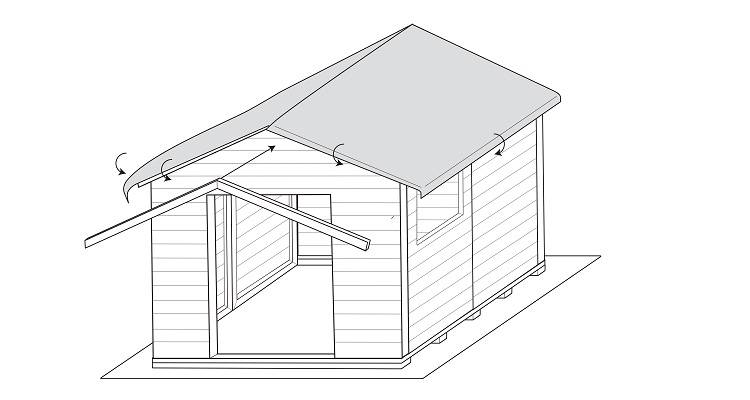 Step 10
Now your shed needs a door, so it's time to grab your T hinges, there should be three, which match the three cross rails on the other side. Make sure you place these in line with the wooden rail. This should be easy as you should already see where they have been attached, making it easier for you to place your hinges more accurately. Then begin in screw these into place on the door.
After this, you are now ready to put the door into position, ensuring you leave a nice even gap around the sides. Screw the hinge onto the frame of the shed. Double-check the shed door opens and shut easily; you don't want to mess this part up. Take extra care.
To ensure your shed is fully secure, you'll need to fit your hasp and staple. It's really important that when you screw this down, the fold covers the screws; otherwise a burglar will have a really easy time opening your shed. This should also overlap to the door and the wall panel to allow it to fit the staple correctly, you can then add your lock.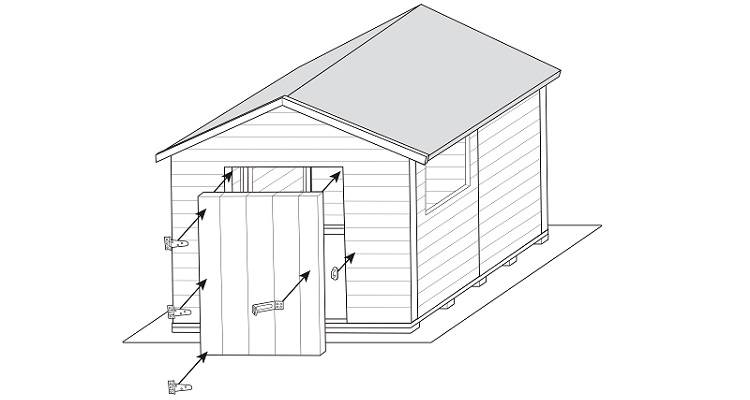 Step 11
You are now on to the final stages, and completion of your shed is in sight. You need to secure the window of your shed; please make sure you wear appropriate gloves when handling glass. Before installing the glass, you'll need to place and secure your window ledge to allow any water to drip off, take your hammer and screws and install into place.
You now need to form a rebate for the glass to fall into; you should have two long pieces and two shorter ones. Nail the shorter ones into place first, and then the longer ones, this acts as a frame for your glass. To help you massively, we suggest you use a bead of clear silicon around the wooden rebates you have just installed; you can then place your glass into the space.
With the remaining wooden rebate, you need to use these to trap the glass into place. Pre-drill these with the screws before trying to attach to the window space, as if you use a hammer; you could cause the glass to shatter. Then drill the final screws into place.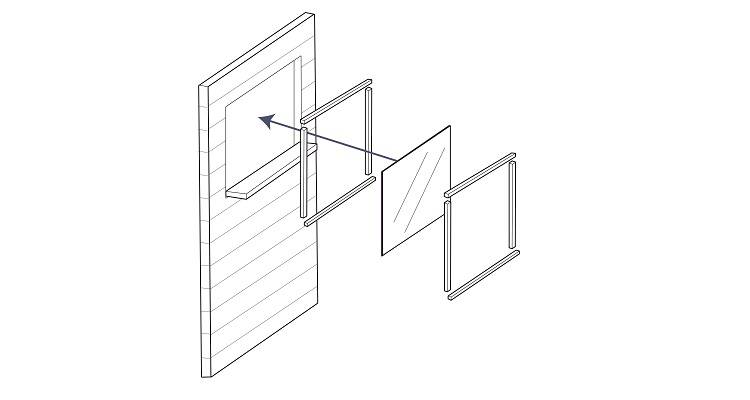 Step 12
Hurrah! Your shed is now built and complete, all that's left to do is coat the wood with wooden persevere. This will help protect your shed from weathering and prolong the life of your structure; after all, it's going to have to withstand hot summers and pretty wet and miserable winters.
Do your research and shop around for a preserver that suits your needs and the overall aesthetic you require. Coat the wood with preserver (both inside and out), and for this you'll need to wear goggles, a dust mask and gloves. Aim to do this within 7 days of erecting your shed for the best results.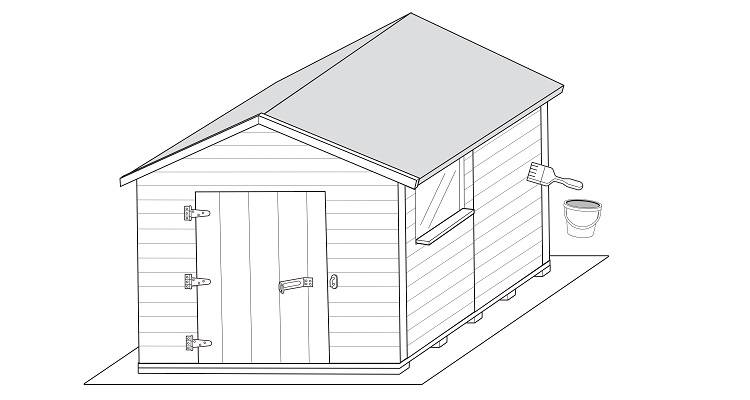 Building a garden shed is a complicated task and you should consider hiring a tradesman to carry out the work for you. We have researched the cost of building a garden shed. A shed build is a labour intensive job with heavy lifting and landscaping. Opting to take the job on if you're not physically able can lead to serious injuries.
Shed Repairs and Maintenance
Now you've spent money and time in your shed; you want to ensure you maintain it correctly. As stated in our step by step guide, you should have already treated your shed with a wood preservative of your choice; you should aim to repeat this process annually. Failure to do so could result in some unwanted rotting to your shed.
As the roof of your shed is felt, over time, wear and tear from the elements could cause damage. This is why we recommend you check your roof every 3 months for tears or rips. If you do find any damage, we recommend you apply a felt adhesive over the tears.
Keeping an eye on general wear and tear is always advised, in years to come you may want to consider replacing old screws with new to keep your shed in tip-top condition. Make sure you remove the old screw before replacing with the new.
Perhaps you want to give your shed a new lease life, a makeover if you will. These days it is not uncommon to paint your shed, it can also add a little colour into your garden space. So why not consider exterior shed paint? Add interest by using two colours; you can really get as creative as you want. Using a simple roller should do the trick, but if you want to ensure even coverage of paint, you might want to consider spray pump.
FAQs
How Close Can A Shed Be To A Fence?
There are no set-in stone rules as to whether your shed can be next to a fence. It is always recommended at your shed has an area of breathing room all around the exterior. If a shed is too close to your fence it has the potential to build damp.
How Do I Waterproof My Shed Walls?
You should consider a timber treatment inside and outside of your shed. This treatment provides a water repellent coating to the wood. This should ensure that water doesn't enter the shed through splits and cracks in the timber.
How Much Concrete Do I Need For A Shed Base?
For you to calculate the amount of hardcore, you need for your project you will firstly need to know the length, width and depth of your base. You can use an online hardcore calculator or aggregate calculator to determine how much hardcore you will need for your base.
Do I Need A Base For My Shed?
Shed bases are designed for purpose, and it's important you don't skip out on this step. The base is there to provide a sturdy and level ground for your structure. The second reason is to support the weight of your shed. Lastly, you need to allow a flow of air around the build as this will decrease your chances of damp.
Can I Build My Shed On Asphalt?
No, you can't. Asphalt is not considered a structural material even though it may feel as strong as concrete. It doesn't' offer the suitable structural support required.