Boiler Repair Near Me
A well-functioning boiler is critical to keeping your home warm and cosy, particularly during winter. When your boiler needs repairs, finding a reliable boiler repair service near you becomes paramount.
In this guide, we'll look at how you can find and hire the perfect boiler service in your area to make sure your heating system is up and running properly.
Let's begin!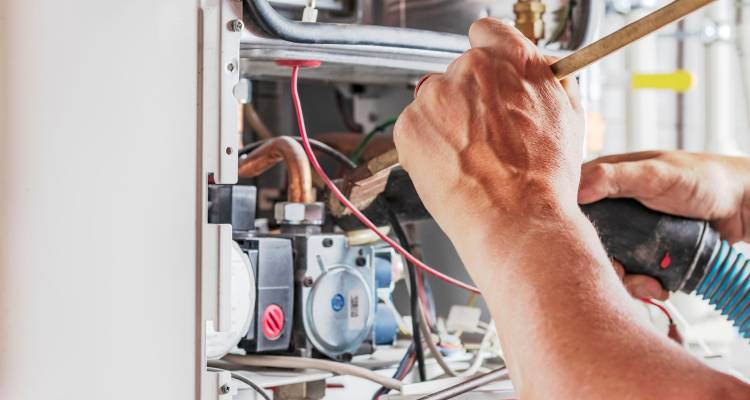 Assess Your Boiler Repair Needs
Note: If there is a gas leak or you suspect there is one, you and everyone on the property should leave immediately. Once safely outside and sufficiently distant from the property, call your area's emergency gas phone number.
To get things started, before hiring anyone, you'll need to determine the type and extent of the boiler issue at hand. You may have found a malfunctioning pilot light, strange noises, or a complete breakdown.
At this early stage of the process, you'll also want to take note of specific concerns, including the boiler's age, brand and model.
What Can Boiler Repairers Do?
Boiler repairers can undertake many tasks, including:*
Repressuring a boiler
Bleeding a radiator or several radiators
Fixing or replacing a Printed Circuit Board
Fixing or replacing a pressure relief valve
Fixing or replacing a diverter/zone valve
*It's important to note that these are just some repairs a heating engineer may offer. All in all, the exact list of jobs any given heating engineer will do can vary on a case-by-case basis
Utilise MyJobQuote's Online Directories
You'll be glad to know there are a few ways of securing quotes from boiler repair services in your area through MyJobQuote.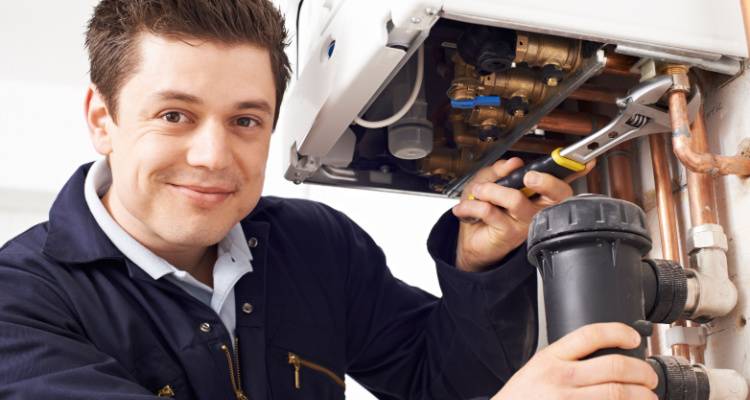 One such way is by finding boiler repairers in your area via our boiler repair directory. Here, you can evaluate the MyJobQuote profiles of various heating engineers near you.
These profiles will offer details like reviews, ratings and feedback from previous customers, allowing you to make an informed decision when seeking the most suitable professional in your area.
Verify Boiler Repair Credentials
Before hiring someone, you'll also want to ensure they are properly licensed and insured. This can safeguard you and the boiler repairer should accidents or damage occur during their repair work.
When considering heating engineers, you should also request references from past clients to get a sense of their professionalism and quality of work.
Request Multiple Boiler Repair Quotes
As mentioned, contacting several boiler repair companies is best to request detailed quotes for your boiler repair project.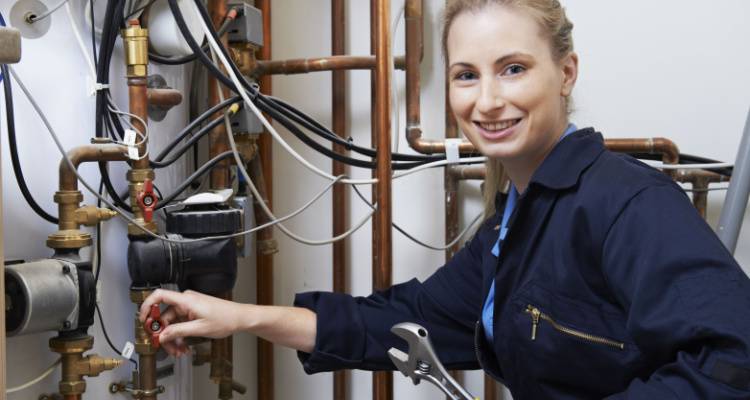 With several quotes, you can compare the pricing, services offered and any special promotions or discounts from various heating engineers. Aside from using our boiler repair directory, you can also use MyJobQuote's quote form.
Regarding the quote form, upon accessing this web page, you can apply by following the required steps. Once you've done so, simply wait for several heating engineers in your area to get in contact with a quote each.
Here are the steps required to fill out the MyJobQuote quote form:
Click on 'I need a job doing'
Select 'Heating Engineers'
Choose the type of heating system you have (e.g. gas boiler)
Select the type of boiler work needed (e.g. Repairs)
Fill out the final details and follow the remaining steps before submitting your form
Whether you're looking for a gas boiler repair, an electric boiler repair or an oil boiler repair, the MyJobQuote quote form can help you find the right person for the job.
Seek Boiler Repair Recommendations
Along with using one of the MyJobQuote tools discussed above, you may also want to seek boiler repairer recommendations from people in your life. Ask friends, family members, neighbours or work colleagues for recommendations.
One of the key upsides of personal referrals is that they generally lead to reliable boiler repair professionals.
Discuss Repair Methods
Note: Again, if you're looking for an emergency boiler repair, there's no need to spend lots of time prepping and choosing the ideal person for the job. If there's an emergency, such as a gas leak, you'll want a professional on-site as soon as possible.
As mentioned, you can do this by taking the necessary steps and calling the relevant number in your area.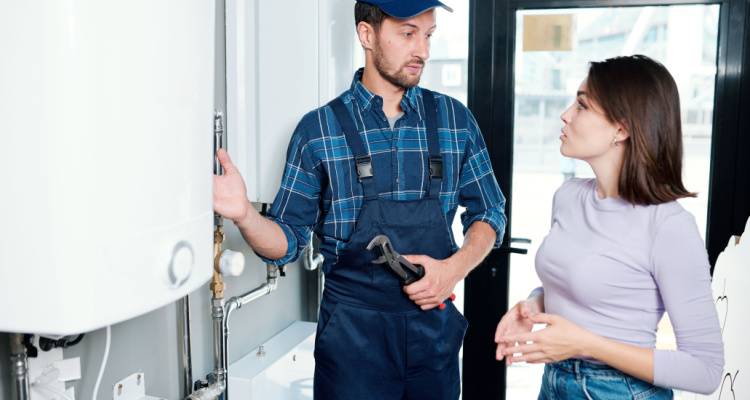 You'll also want to inquire about the boiler repair methods and parts different contractors have before deciding who to hire. You should ask if they have experience with your boiler's make and model.
Beyond that, you should discuss their approach to diagnosing and fixing boiler issues to ensure transparency and thoroughness.
Confirm Availability and Timeline
Next, make sure the schedule of the boiler repair service you're planning to hire works for you. This is especially so if you need someone out fast, such as due to harsh weather conditions.
If you are concerned about the well-being of those in your home due to the cold, you should consider using one of the emergency contacts listed in the previous section or/and moving to the home of a family member or neighbour while you wait to have your heating up and running again.
Clarify Contract Terms
Along with the points raised already, you'll also need to request a written service agreement before officially hiring someone.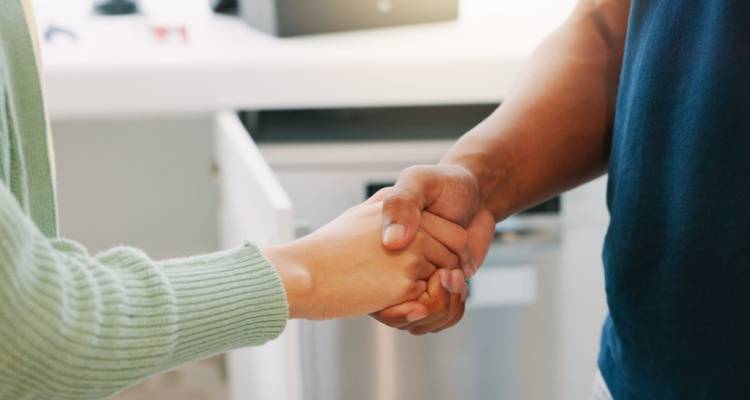 This written service agreement should outline the scope of work, pricing, payment terms and guarantees or warranties if applicable.
Lastly, make sure all your expectations and any special requests are clearly documented in the contract.
Monitor the Repair Process
If you have concerns or questions, don't be afraid to pose them to the heating engineer when they're over.
With that said, if there's an emergency, ensure the situation is dealt with before discussing things unless it is essential for the safety or well-being of you, the heating engineer or/and others that you communicate your concerns/questions before they get to work.
In most cases, though, it will be fine to raise concerns and ask questions before they start repairing your boiler. However, it's best not to talk to a heating engineer while they are focused on the repair, as this could distract them from their work. So, find an appropriate time if you need to interrupt them with a query unless it is urgent, of course.
Fast boiler repairs are essential for homes to stay warm and comfortable, particularly during the coldest times of the year.
By following the steps discussed in this article and undertaking the right research, you can find a suitable boiler service near you to fix your boiler and keep it working correctly and efficiently.
With a trusted professional, you can make sure your heating system stays reliable and efficient while keeping you and everyone in your household warm during the winter and other cold times of the year.
Start your search for the ideal boiler repair company today and keep your home warm and cosy. You can do so via our boiler repair directory or with the MyJobQuote's quote form.
Sources
https://www.warrantypeople.co.uk/what-is-boiler-service-and-what-does-boiler-service-include/
https://www.prestige-plumbers.co.uk/the-many-roles-of-a-heating-engineer/
Last updated by MyJobQuote on 11th October 2023.