Cost of Bleeding a Radiator
Everything you may want to know about bleeding your radiators, including the labour costs and time frames you should expect.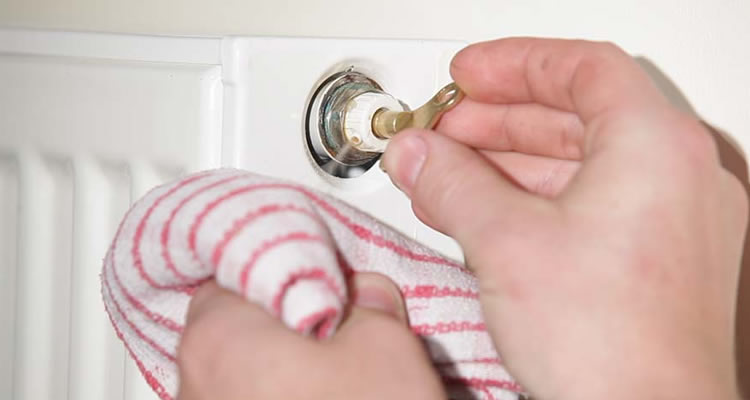 Average cost runs between £80-£150
Depending on the amount of radiators, it will usually take: 1-3 Hours
£100
Bleeding a radiator is a task which should be done for general maintenance. It is something that a homeowner should have done every 1-2 years, depending on how the radiator is performing, and depending on the operational costs annually. If costs are high, it might be an indication it is time to bleed the radiator.
Bleeding the radiator is simply a matter of draining the water out slowly. This not only helps to reduce moisture and condensation levels, it is also going to improve overall performance. Your radiator won't be noisy, it is going to operate more efficiently and you don't have to worry about a pool forming below it, each time you turn it on.
Air bubbles or cold spots tend to form over time; when these cold spots form, it prevents the radiator from being able to produce max heat levels. You not only feel uncomfortable in colder weather, the radiator also has to work harder to heat up the home. In turn, you are going to pay more to operate the system as it will make your central heating system work harder.
Let's take a look at what goes into bleeding the radiator, and what the associated costs are to perform this if you opt to hire a professional to do it.
Costs of Hiring a Plumber
| Job Description | Duration | Material Cost | Labour Cost |
| --- | --- | --- | --- |
| Bleed 5-10 Radiators | 1-2 Hours | N/A | £80 - £100 |
| Bleed 10-15 Radiators | 2-3 Hours | N/A | £100-£150 |
What To Consider When Bleeding The Radiator
First and foremost, performance is an indicator that your radiator needs bleeding. In the event it is taking too long to heat up or you are paying much higher costs during the winter months, this is an indication it needs to be bled.
Once determined, you want to find a local plumber that will do this job. Even in busier areas or major areas such as London the costs shouldn't be too high. And, given you only have to do it 1-2 years, it shouldn't be too much of a maintenance issue.
If you choose to do it yourself, make sure you pay close attention to which direction you turn the valves, the speed and how you do so. This is important to avoid clogging or other performance issues.
Ultimately, hiring a plumber is an easy and efficient option. It is not only affordable but it is the only guaranteed way to ensure bleeding is done properly, and that your radiator is going to function as efficiently as possible, during the colder months of the year.
Doing it Yourself
This is a simple task; in fact, most homeowners will find it quite simple to do. It is time consuming, however; since you have to work slowly and wait for all water to drain prior to turning the dial, it can take a few hours.
If you decide against DIY bleeding, you should hire a local plumber. In doing so, take the time to find one which is fully licensed, certified, and insured. And, it is a good idea to hire a plumber which does this type of work routinely. It ensures they have the experience, equipment, and will complete the work in 1-2 hours.
Make sure you choose an honest plumber as well. They will  inform you if it is work you should do annually or can wait every two years to perform on the radiator.
Hiring a local plumber for radiator bleeding.
Hire specialists in this service/industry
Choose plumbers which exclusively do repair and maintenance on radiators
Look for a local specialist that will fully guarantee and warrant the work they perform
Make sure they give you a fully written quote of all services performed, and maintenance records
FAQ's
How long does bleeding a radiator take?
If you hire a plumber, they can typically finish this job in 1-3 hours. If you opt for a DIY job, it might take a bit longer (can take up to 6/7 hours), since you don't know the intricacies of this type of work.
Should I do this myself?
You can. But, again it will take longer, and you should rely on a detailed guide, if you choose to perform the radiator bleeding yourself every 1-2 years.
How often does the radiator have to be bled?
It is advised to do this type of maintenance work on the radiator 1-2 years. You will have an indication based upon energy bills and consumption costs as well as the overall performance of your radiator.
Last updated by MyJobQuote on 5th February 2020.