Concrete Driveway Guide
Are you looking for information about concrete driveways?
We have created this guide with everything you need to know about concrete driveways, including the cost of installing a concrete driveway, the different types of concrete driveway, how to install a concrete driveway and the best ways to clean and maintain your concrete driveway.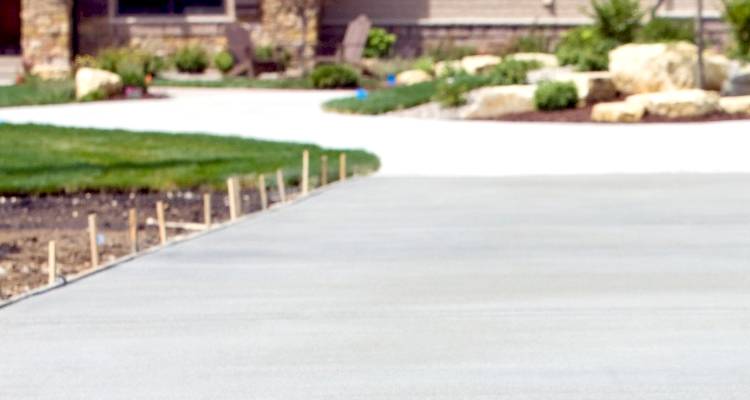 What is a Concrete Driveway?
A concrete driveway is a very popular type of driveway in the UK and beyond. This is because concrete is extremely strong and durable and so makes the perfect driveway building material.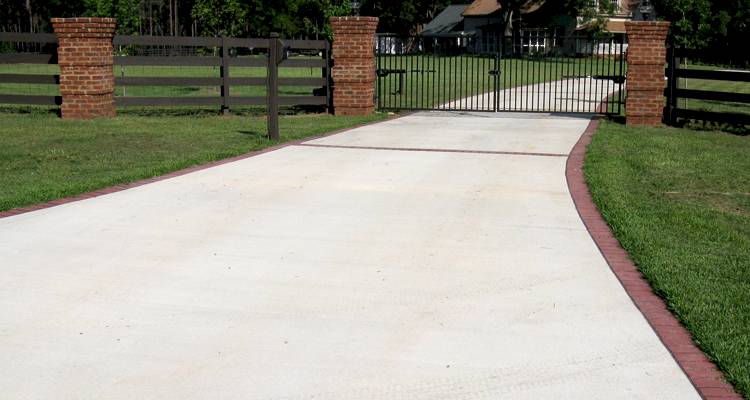 Concrete driveways tend to last for a very long time and require little maintenance, so they're seen as a very good investment.
Types of Concrete Driveways
There are several different types of concrete that work well as a driveway material. The type you choose will depend on your particular taste, budget, and how you intend to use your driveway.
Below is a list of the different types of driveway concrete and the pros and cons of each type:
Plain or Coloured Concrete Driveways
Many homeowners choose plain or coloured concrete because it is simple, sleek and looks great. This means that it's suitable for pretty much any home. This type of concrete is also durable, long-lasting, and can be poured over any surface.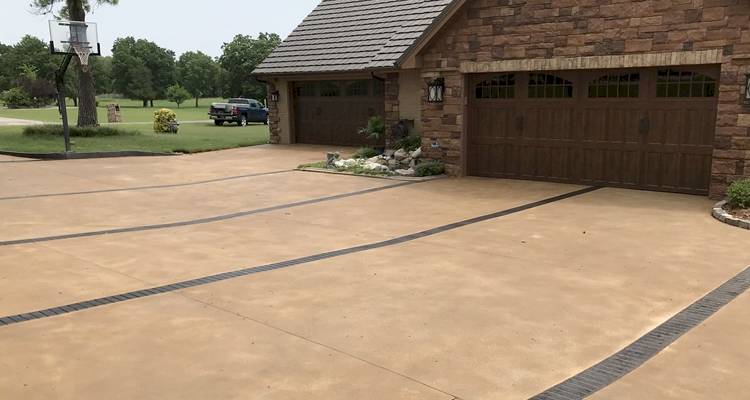 If you're not a fan of the classic grey concrete colour, you can opt for a coloured concrete option that provides the same simplicity with a bit of personality to match the aesthetic of your home.
PROS
✔ Simple
✔ Aesthetically pleasing
✔ Range of colours available
✔ Easy to install
✔ Easy to maintain
✔ Durable
✔ Long-lasting
CONS
✖ Some may see it as boring
Slate Concrete Driveways
A slate concrete driveway is created by stamping slate-textured mats onto ready-mixed concrete. This is usually done just before the setting stage. The result of this creates a look that is very similar to slate or stone but requires much less work than a proper slate or stone driveway.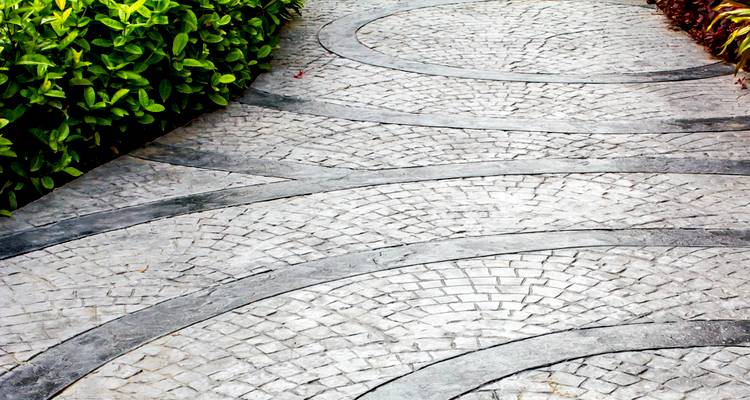 The slate concrete can also be sealed to create a glossy finish that looks absolutely luxurious. There is a wide range of colours and patterns available for this type of concrete driveway, so you'll easily be able to find something that suits your property.
PROS
✔ Sophisticated look
✔ Wide range of colours
✔ Wide range of patterns
✔ Aesthetically pleasing
✔ Easier to install than the real thing
CONS
✖ May require more maintenance
✖ More difficult to install than other concrete types
Stencilled Concrete Driveways
Stencilled concrete allows you to achieve a look similar to a tiled or paved driveway but without the need for bricks, tiles, pavers, or stones. Instead, the method involves stencilling on the desired design just before the concrete hardens fully.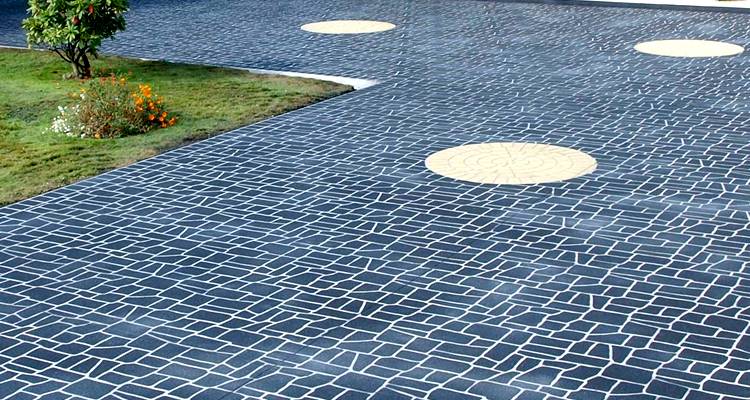 If you are looking for something unique, distinctive, and sophisticated, this is a great option. There are many stencilling options available, so you'll easily be able to find something to suit your taste.
PROS
✔ Unique designs
✔ Achieve tiled or paved appearance without the materials
✔ Many patterns
✔ Lovely aesthetic
CONS
✖ Difficult to install without the right equipment
✖ May require additional maintenance
Exposed Aggregate Concrete Driveways
This type of concrete is becoming an increasingly popular option. It is attractive in appearance and provides a durable surface that is very stylish and versatile. There are so many different colours and textures to choose from.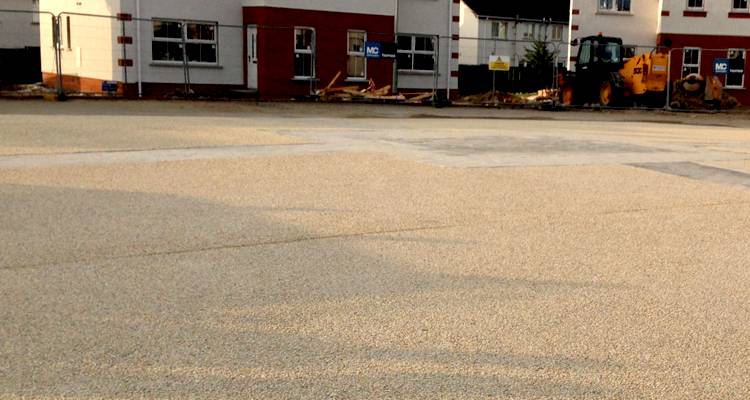 The process involves mixing concrete with aggregates such as sand and stone and then pouring this mixture onto the surface. It produces a gorgeous textured look that looks great in front of most homes.
PROS
✔ Beautiful aesthetic
✔ Unique design
✔ Versatile
✔ Durable
CONS
✖ Difficult to install
✖ Not to everyone's taste
✖ Requires maintenance
✖ Stones can become loose or break away over time
Concrete Driveway Ideas
Concrete is a great material for driveways as it is very versatile, and there are so many different things that you can do with it to achieve your dream driveway.
Below is a list of concrete driveway ideas to give you a little bit of inspiration for your own driveway:
Slate Concrete Driveway Design
A slate stamped concrete driveway design is very eye-catching looks great, especially on modern houses. The grey/charcoal slate colour compliments the house, and the slate design really emphasises the space, often making the driveway appear bigger than it actually is.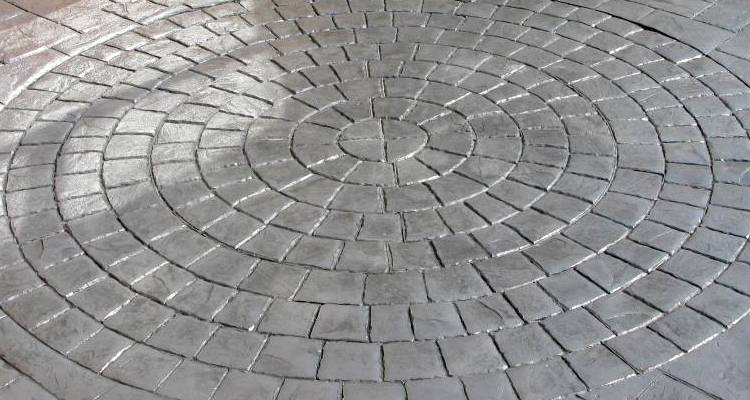 You can add some minimal landscaping and borders to make this design look even more appealing.
Cobbled Concrete Driveway Design
Cobbled driveways are very popular, and you can achieve the cobbled look by stencilling concrete. This design is best suited for smaller driveways as it can make the area look quite busy. It's also a lot of work, so it will cost quite a lot if you choose to install a cobble design on a larger driveway.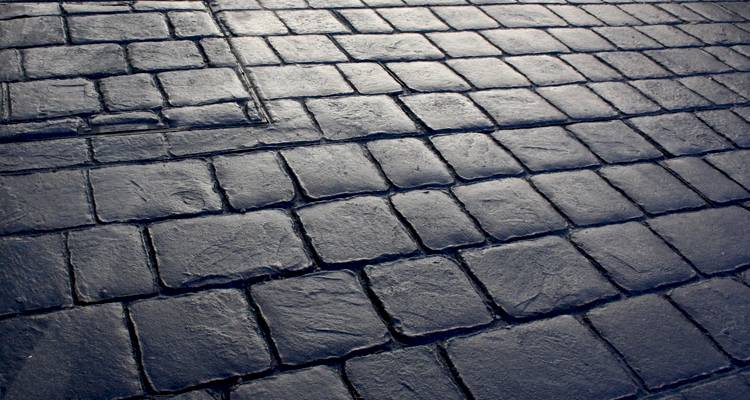 The cobbled look can be difficult to achieve without the right knowledge or equipment, so it's important to hire an experienced professional to carry out the work for you. Cobbled driveways look great in front of period homes and can really compliment the older aesthetic.
European Fan Concrete Driveway Design
The European fan design is another popular concrete driveway design. It offers a unique look that stands out. If you're looking for a driveway that is very eye-catching and offers a unique appearance, then this is probably the one for you.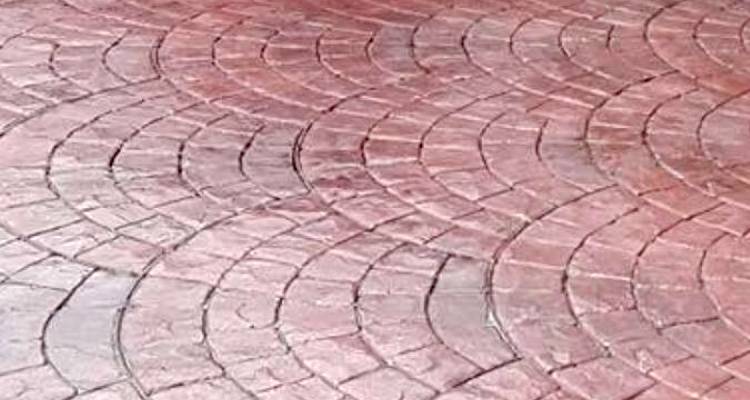 It is suitable for both large and small driveways and can be installed in a range of different colours to suit the appearance of your home.
What Are the Pros and Cons of a Concrete Driveway?
There are several pros and cons to choosing a concrete driveway over another style of driveway. Below is a list of the main advantages and disadvantages of choosing a concrete driveway:
PROS
Affordable Option
A concrete driveway is an affordable option and a good investment. You will most likely only need to have your driveway done once in the entire time that you own your home.
Very Durable
Concrete is an extremely durable surface. A well-installed concrete driveway can last for over fifty years if properly maintained.
Very Strong
If installed correctly, a concrete driveway can withstand a lot of weight. This is perfect if you are planning on parking heavy vehicles on the driveway.
CONS
Less Attractive Than Other Options
Concrete is not the most attractive building material, and there are plenty of other driveway material options that are more attractive. However, you can get coloured concrete or decorative concrete, but these may require more maintenance than plain concrete.
Requires Maintenance
Your concrete driveway will need to be maintained yearly. It's a good idea to seal your driveway annually to ensure it lasts a long time. Oils and other fluids from your vehicles can also easily cause stains on concrete.
Not Great for DIY
Concrete is not a great option if you are looking to build a DIY driveway, especially if it's a large project. Pouring a concrete driveway is quite a difficult task that requires experience and hard labour. With this in mind, it's best to leave concrete driveway installations to the professionals.
How Much Does a Concrete Driveway Cost?
It can be difficult to determine exactly how much your new concrete driveway is going to cost. It depends on many factors, including your location, the size of the area, and the type of concrete driveway that you are planning on installing.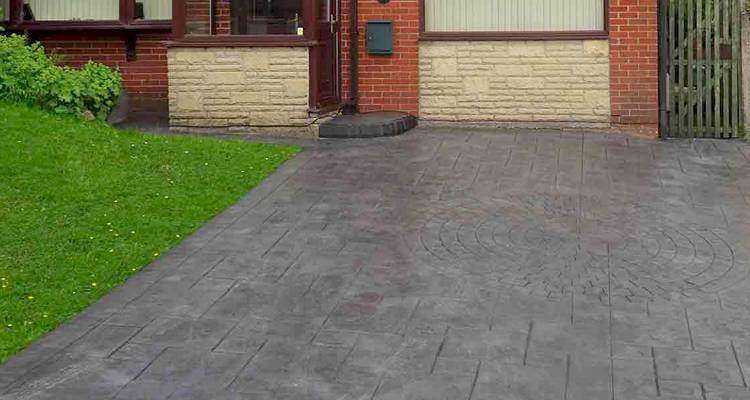 The average cost for a concrete driveway in the UK is around £600-£8000. As you can see, the price can vary by quite a large amount depending on the factors listed above.
There are also some additional costs that you may wish to consider alongside your concrete driveway installation, such as a new driveway gate which costs around £500-£1000 on average depending on the size and type of gate, or a brick wall installation to close off your driveway which costs around £600-£1200 on average depending on the size of the wall.
How to Install a Concrete Driveway
Installing a concrete driveway requires hard labour. This is usually a job that is best left to the professionals. It can be difficult to create the desired concrete driveway look without the necessary skills or experience.
Plus, you need to ensure there is adequate drainage to adhere to the rules around building regulations and planning permission. With this in mind, it is recommended that you contact professionals to install your concrete driveway for you.
Below is a brief outline of the steps that are involved when building a concrete driveway:
Use wooden stakes to lay out the perimeter of the new driveway.
Use sturdy wooden planks to create solid temporary housing for the new driveway.
Dig out the topsoil and level out the sub-base.
If needed, add steel rebars to reinforce the driveway.
Once the above steps are complete, you can then start pouring the concrete into the area.
Use a hoe as you're pouring to keep the concrete evenly distributed and relatively flat.
Once all of the concrete has been poured, flatten the area using straight timber. Remove any excess as you go along and use this to fill in any shallow areas.
Use a grooving tool to cut in some contraction joints.
Use a broom to create a non-slip finish on the surface.
Water cure the driveway for around 7-10 days after the installation.
Remove the temporary housing once you start curing the driveway.
Edge the concrete if necessary.
Wait around 28 days for the driveway to completely cure before driving or parking your vehicle on it.
How Long Does It Take to Install Concrete on a Driveway?
The time it takes to install a concrete driveway will usually depend a lot on how large the new driveway is and the type of concrete driveway installed.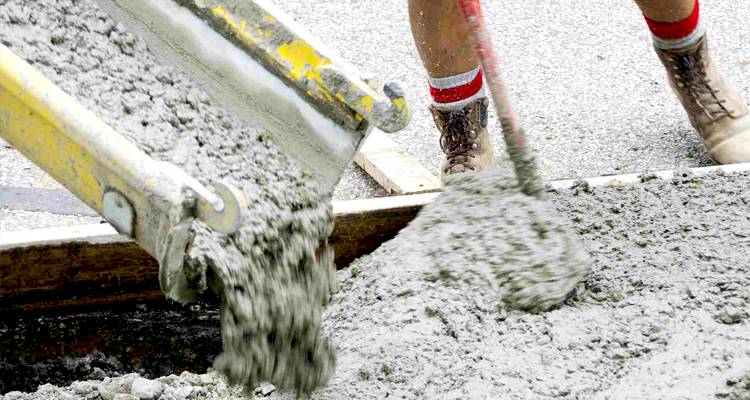 A small, basic concrete driveway that fits one car will usually take as little as two days to complete. A larger driveway with a more extravagant design could take one to two weeks to complete.
When you contact professionals to arrange the installation of your new driveway, they will usually be able to provide you with some more accurate timescales based on the size and design of your particular driveway.
Building Regulations or Planning Permission Approval for a Concrete Driveway
When it comes to a concrete driveway, you won't usually need to worry about planning permission. The rules state that any new or replacement driveway of any size does not need planning permission as long as the surface has adequate drainage.
Your concrete driveway contractors will have the knowledge and skills needed to provide appropriate drainage. Some concrete types are porous and so won't need additional drainage measures in place.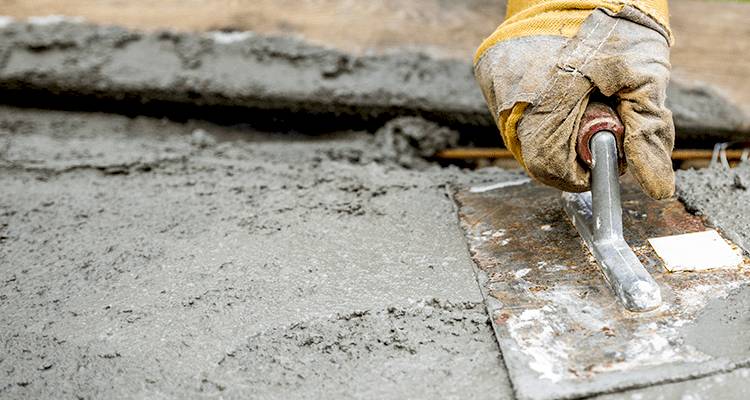 If your property is a listed building or is in a conservation area, then you may need planning permission to make any changes to your home. It is advised that you contact your local authority before commencing with any work.
Building regulations don't generally apply to driveway work. However, you will need to make sure that your new driveway doesn't make any changes to the access to your property.
If you are unsure whether your new driveway or any alterations may need building regulations approval, then you should contact your local authority for advice before any work takes place.
How to Clean and Maintain a Concrete Driveway
Although it won't need much maintenance, there are some things that you can do to keep your concrete driveway in top shape. Below is a list of tips on how to maintain and clean your driveway:
Clean The Driveway
As you start to use your driveway on a daily basis, it will start to collect dirt and debris. This can affect the driveway's appearance, so it's a good idea to keep on top of cleaning it.
The best way to clean your driveway is to start by brushing away all surface dirt and debris. Then, use a power washer to clean up the embedded dirt.
You may notice that moss starts to grow over time which you will need to remove during the cleaning process. This will usually come up easily with the power washer.
However, some more stubborn parts may need to be ripped up by hand. If you notice any oil or grease stains, you should clean these up immediately as they will cause discolouration.
Avoid De-Icing
During the winter months, the weather will start to get cold, and ice may form on the driveway's surface. You will usually have to remove the ice from your driveway so that it remains in a useable condition.
However, you should always avoid using harsh de-icing chemicals as they can cause scaling and spalling. De-icing chemicals can also cause further damage to the driveway if they manage to make their way into any existing small cracks. Instead of using these products, you should use an alternative such as sand to remove the ice.
Re-seal Regularly
When your new driveway is constructed, a sealant will be used. Over time, this sealant will wear off, and your driveway will need to be sealed again to keep it clean and protected. Your driveway installation contractors will be able to give you an idea of how often you will need to re-seal your driveway.
The timeframes are different depending on the type of concrete used and the design of your driveway. They will also be able to recommend the best type of sealant for your particular driveway.
Don't Overload
Concrete is extremely durable and can usually withstand a lot of weight. However, you need to ensure that you don't overload your driveway as it may become damaged. Avoid parking loaded vehicles or heavy machinery on the driveway.
Repair Cracks Quickly
It's common for cracks to appear in a concrete driveway over some time. As time goes on, these cracks can become bigger and cause more damage if not rectified quickly. You should aim to fill cracks in as soon as you notice them to prevent the possibility of further damage.
If left for long enough, cracks can widen to the point where the driveway can no longer be used, so it's extremely important to keep on top of concrete driveway repairs when needed.
Alternatives to a Concrete Driveway
Concrete driveways are extremely popular, however, they're not for everyone. If you are planning on having a new driveway installed and you've decided concrete isn't for you, you may be interested in the available alternatives.
The list below highlights the most common alternatives to a concrete driveway:
Block Paving Driveway
Block paving is a very popular type of driveway for UK homes. With such a huge range of different blocks and colours to choose from, it's easy to find a block paving driveway that will suit the aesthetic of your home.
The paving blocks can be arranged in many different styles, so you can create a unique driveway with an attractive finish.
Resin Driveway
Resin driveways are becoming increasingly popular over the years. This type of driveway offers a very aesthetically pleasing finish that is suitable for almost any home. It is also relatively quick and easy to install, remains durable, and doesn't require much maintenance.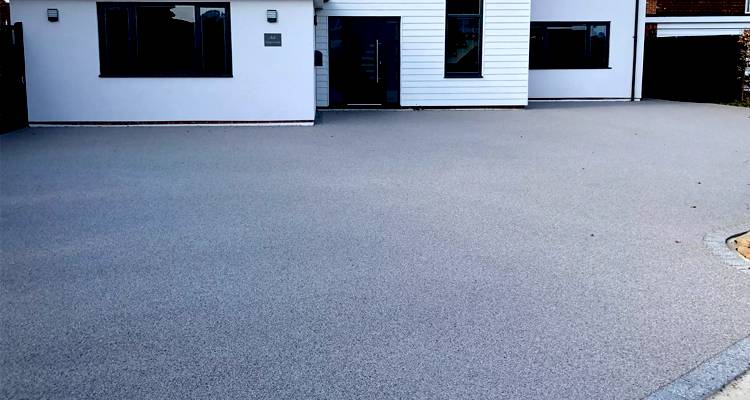 Gravel Driveway
A gravel driveway is a great option for many homes. The materials are very budget-friendly, and the driveway itself is cheap and easy to install. The stones for a gravel driveway come in several different styles, colours, and sizes, making it very easy to find a type of stone that will compliment your home well.
Asphalt Driveway
Asphalt is another popular type of driveway in the UK. It offers an aesthetically pleasing appearance and is also very durable and lasts for a very long time. Although it can be quite expensive to install, it's guaranteed to last many years, making it a great investment.
Questions to Ask When Hiring a Concrete Driveway Installer
You may need to consider several things when finding the right contractor to install a concrete driveway at your home. Below is a list of common questions that you should ask when looking for the right contractor for the job:
Does the contractor have any qualifications that relate directly to installing a concrete driveway?
What equipment will the contractor be using to complete the job? Will they be using the correct type of equipment? Do you need to provide any equipment?
Does the contractor possess any form of insurance for the work? You should look for contractors who have insurance covering property damage, personal injuries, and a work guarantee.
How much experience does the contractor have in concrete driveway installation? Can they provide any testimonials or evidence of previous work? Can they provide photos of previous work?
Does the contractor offer any guarantees with their work? How long does the guarantee last? What issues are covered under the guarantee? Will the contractor fix any issues that arise?
Is the contractor able to produce the concrete driveway design that you desire? You may wish to ask for evidence that they can create the appearance that you're looking for.
How long will the work take to complete?
How many contractors will be working on the job?
Is there anything you need to do to prepare for the installation?
FAQs
Can you fix a crumbling concrete driveway?
It is possible to fix a crumbling concrete driveway, but it is usually a job that is best left to the professionals. However, if the damage isn't too serious, you may be able to take a DIY approach. Below is a list of things you'll need to do if you decide to repair your crumbling driveway yourself:
Brush the concrete surface and remove all of the dirt, debris, and weeds.
Pressure wash the area to remove as much ingrained debris and dirt as possible.
Mask the area around the damage where you don't want the new concrete to touch.
Mix your new concrete to the appropriate consistency.
Spread a layer of bonding agent over the surface and then trowel the concrete over the surface evenly.
Use the edge of the trowel to create a smooth surface.
Add a second coat of concrete before the first layer has dried. This should be a wetter mix than the first layer.
Use a concrete smoothing broom to drag the second layer across the entire surface.
How do you remove oil stains from a concrete driveway?
You can remove oil stains from your driveway using a range of household products. Follow the steps below to effectively remove oil stains from concrete using things you can find around the home:
You need to start by absorbent any excess oil that remains on the surface. Use an absorbent material such as cat litter and sprinkle it over the stain. Leave it to absorb the stain for a while and then scoop it away and dispose of it. Then, rinse the area with water to remove any remaining residue.
Next, you'll need to scrub the stain. Create a paste of baking soda and water and scrub the area. Then, rinse it off with water.
If any staining still remains after you've completed the previous steps, you should apply some dish soap to the area. Squirt some of the soap onto the stain, and then use a heavy-duty brush to scrub it. Repeat this process until the stain fades.
Can I install a concrete driveway myself?
It is possible to install a DIY concrete driveway. However, it requires a lot of heavy labour. Also, depending on the type of concrete driveway you are installing, the installation may require specialist knowledge or equipment. With this in mind, we would always recommend hiring a professional, experienced company to install your concrete driveway for you.
How long do I need to wait before driving on my new concrete driveway?
It is recommended that you wait a minimum of 28 days before driving on your new concrete driveway. This gives the driveway enough time to fully cure, expand, and set.

If you drive on it before it has had time to set properly, then it may not be at its optimum strength, and your vehicle could cause some damage to the concrete.
Can I remove a concrete driveway?
It is possible to remove a concrete driveway. However, this is a very difficult task that requires a lot of heavy labour and specialist equipment. You will need to use heavy-duty tools such as a jackhammer or demolition hammer to break up the concrete slabs. It is recommended that you hire professionals to remove your concrete driveway for you.
Sources
https://www.simplydriveways.com.au/driveways/knowing-different-types-concrete-driveway
https://www.drivewaywise.com/concrete-driveway-ideas
https://www.totalconcrete.co.uk/news/how-to-lay-a-concrete-driveway
https://www.homelogicdriveways.co.uk/fix-crumbling-concrete-driveway
https://www.bhg.com/homekeeping/house-cleaning/surface/how-to-remove-oil-stains-from-driveway

Last updated by MyJobQuote on 20th October 2021.