Laminate Flooring Guide
Are you thinking about installing laminate flooring in your home? Laminate flooring is a great addition to any home. It's suitable in most rooms and comes in many different colours and styles so you can find a flooring to suit your exact taste and style.
In this guide, you will learn all about the different types of laminate flooring, laminate floor costs, the process of fitting laminate flooring, and how to clean and maintain your floors. If you are curious at all about fitting laminate flooring in your home, this article will tell you everything you need to know.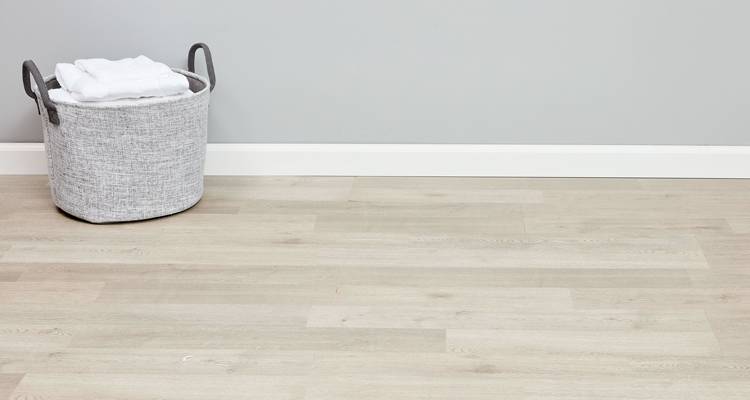 What is Laminate Flooring?
Laminate flooring is a popular type of flooring solution in UK homes. It consists of four layers – balancing paper on the base, a high-density fibreboard centre, decorative paper, and a laminate finish on the top.
Laminate flooring tends to come in boards that are cut to size. These boards usually contain a click system that allows for easy installation.
Types of Laminate Flooring
There are two main types of laminate flooring – plastic laminate and engineered wood laminate. Each type comes in a wide range of styles and colours. Take a look at the information below if you want to learn a little bit more about the two types of laminate flooring:
Plastic Laminate Flooring
Plastic laminate flooring is man-made and features a picture printed onto the surface. This picture is usually designed to look like real wood. There is also a protective layer applied to the surface, which protects the printed image.
Plastic laminate flooring can often look a lot like real wood. However, most people can identify a faux wood floor upon close inspection compared to real wood flooring.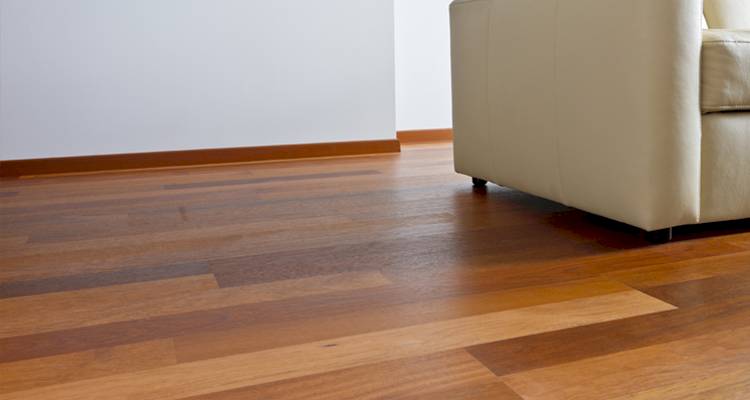 Pros:
✔ Cheap flooring option
✔ Easy to install
Cons:
✖ Can scratch easily
✖ It can look like fake wood
Engineered Wood Laminate Flooring
Engineered wood laminate flooring is usually much more expensive than plastic laminate flooring. However, when properly looked after, engineered wood laminate can last much longer than plastic laminate. This type of laminate flooring is a much more convincing replica of real wood flooring.
To give the appearance of real wood, engineered wood laminate features a thin layer of true hardwood fixed to a substrate of plywood. This gives the appearance of true real wood flooring but comes at a much lower price point than the real thing.
Pros:
✔ Cheaper than hardwood
✔ It looks like real wood
✔ Easy to install
Cons:
✖ Not as durable as real wood
✖ More expensive than plastic laminate
What Are the Pros and Cons of Installing Laminate Flooring?
If you're still trying to figure out if laminate flooring is the right choice for you, take a look at our list of the advantages and disadvantages of this type of flooring below:
PROS
Low Costs
One of the major advantages of laminate flooring is the fact that it is usually very budget-friendly. There are many different types of laminate flooring with a wide range of prices, and some of those prices start very low. With this in mind, you can easily find a style of laminate flooring to suit your budget.
Ease of Installation
Laminate flooring is very easy to install, and many homeowners will fit laminate flooring themselves as a DIY job. Many modern laminate flooring boards come manufactured with grooves so that they simply slip and clip together, making the installation process even quicker and easier.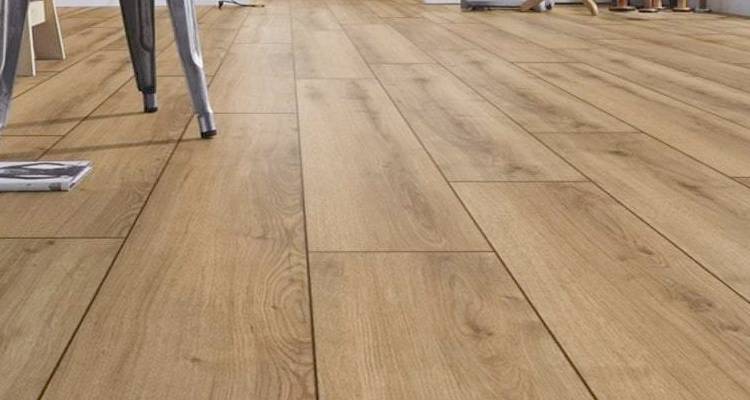 Family-Friendly
Laminate flooring is very durable ad great for families with children. Most laminate flooring styles are stain-resistant and scratch-resistant. It also doesn't accumulate dust like a carpet would, making it hypoallergenic.
Low Maintenance
When it comes to taking care of your laminate flooring, it really isn't that difficult to keep it in good shape. A simple mop once a week is enough to keep your floors looking great. If you spill anything on your floor, you will simply need to wipe it clean to avoid allowing the spillage to set.
CONS
Not Real Wood
Although many laminate flooring styles look a lot like real wood, they are not authentic timber and, therefore, won't increase the value of your home like the real thing would. Many people also prefer the luxury of knowing that their floors are made of real wood rather than laminate flooring boards.
Not Completely Moisture-Proof
Laminate flooring is moisture-resistant, but this doesn't mean that it can withstand moisture completely. Excessive water exposure or a large spillage could cause some damage to your laminate flooring.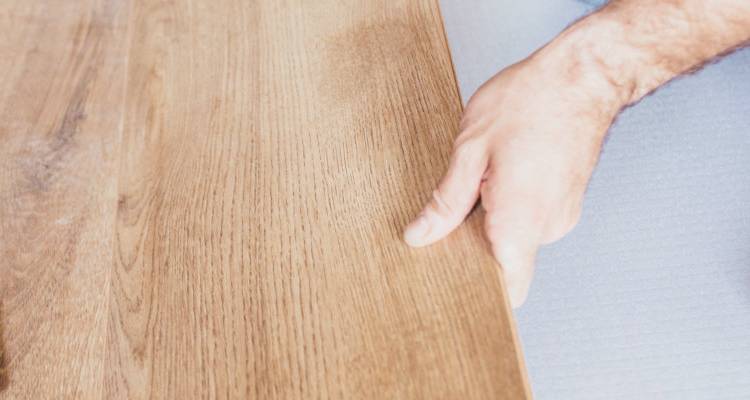 Noise
If laminate flooring isn't installed with the correct laminate floor underlay, it could be very noisy when stepped on. The best way to resolve this is to invest in a good quality underlay to install underneath your laminate flooring boards.
How Much Does Laminate Flooring Cost?
If you're thinking about installing laminate flooring at your home, then you may be curious about the cost of installing laminate flooring. Unfortunately, it can be difficult to determine exactly how much this will cost as it will depend on many different factors.
The factors that can affect your laminate floor installation cost include the size of your space, the type of laminate you are using, the materials used, and your location.
The average cost for a laminate flooring installation in a small room (around 4m x 3m) is £500-£1500. For a medium-sized room (around 20m2) it would be roughly £1000-£2500.
For a better idea of the cost, you might expect to pay for your particular laminate flooring installation, please look at our laminate flooring cost guide here.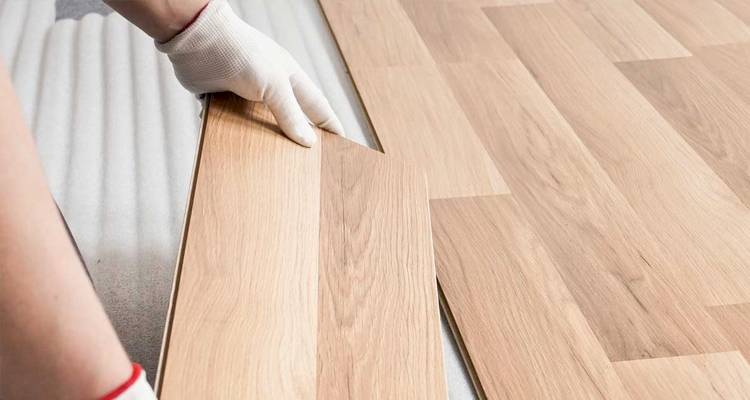 How to Lay a Laminate Floor
Many homeowners will choose to fit their laminate flooring as a DIY job to save money. However, you can also hire professionals to install it for you.
If you are interested in learning more about how to fit laminate flooring, look at our guide below, highlighting the steps involved with this type of flooring installation.
It's important to note that laminate flooring can come in different styles, so it's important to check the manufacturer's instructions before installation, as some of these steps may be a little different.
You should start by planning out your layout. Your final row of boards needs to be at least 60mm wide, so you may need to adjust your first row if needed. You will also need to factor in a 12mm expansion gap on all sides of the room.
Once your laminate flooring layout is planned out, you will need to start by laying an underlay. Your underlay should be laid perpendicular to your laminate flooring boards.
Once your underlay is in place, begin at the left-hand side of the wall where the door is. Lay your first piece of laminate flooring with the tongue edge against the wall. Insert spacer between the wall and the board.
Line up your next board and attach it to the first board by clicking it into position. Keep the gap between the wall and the boards by inserting spacers as you go along.
Continue this step all the way along the wall. You may need to cut your final board so that it fits in the gap. When measuring the cut, make sure you factor in the 12mm expansion gap. You can cut your flooring board using a saw.
If the offcut is at least 300mm long, this can be used to start the next row. Continue laying your flooring boards and be sure to click them into place on the boards that lie next to them. Don't forget to keep using spacers on boards that sit at the wall.
When you get to the last row of laminate flooring, you may need to cut the boards so that they fit in place. Measure and mark the boards accordingly, ensuring that you leave room for a 12mm expansion gap.
Cut the last boards to size if needed using a saw and then fit the last row into place.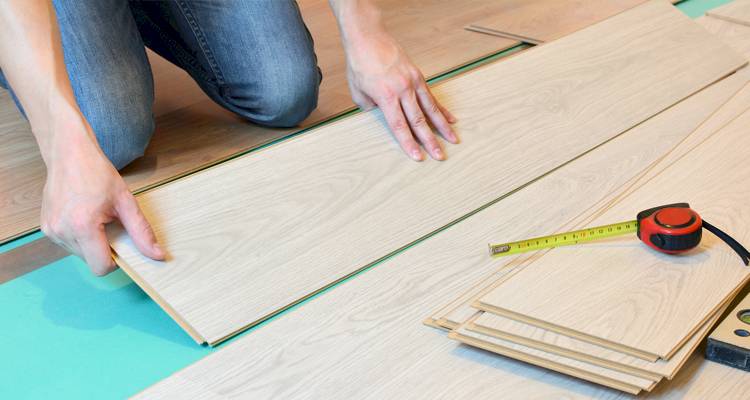 How Long Does It Take to Install Laminate Flooring?
You may be wondering how long it actually takes to install laminate flooring. This can be difficult to determine as it will depend on several factors such as the size of the space, the difficulty of the installation, and whether the job is completed by yourself or a professional.
Most average-sized laminate flooring installations can be completed within 1-2 days. If you are installing laminate flooring in a large space or installing it in more than one room, it could take around 2-5 days to complete.
If you are having your laminate flooring fitted by a professional, then you should be able to contact the contractor in advance for an idea of the timescales that you can expect for your particular installation.
Building Regulations or Planning Permission Approval for Laminate Flooring
When it comes to replacing your flooring with a new laminate flooring, you won't usually need to worry about planning permission. However, if you live in a listed building, you should contact your local planning authority just to be sure.
You also won't need to worry about building regulations when replacing your flooring with laminate flooring.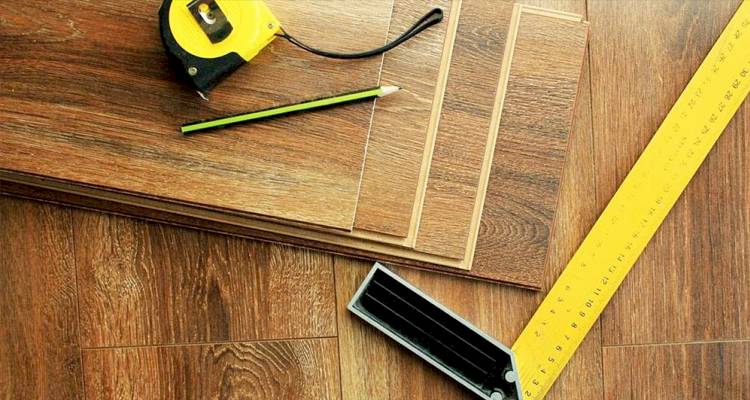 How to Clean and Maintain Laminate Flooring
There are several things that you can do to maintain your laminate flooring and keep it in the best condition you possibly can. Below is a list of things that you can do to clean and maintain your laminate floors:
Prevent Dirt and Damage
One of the best ways to maintain your laminate flooring is to prevent dirt and damage in the first place. Consider placing doormats by any external doors and use felt pads where possible to protect your floor from becoming scratched or damaged by furniture.
You may also want to take that extra step and ask your guests to remove their shoes when they enter your home.
Clean Spillages Immediately
Excess moisture can cause damage to your laminate flooring boards. With this in mind, you should aim to clean up any spillages as soon as possible. Simply use a cloth to wipe away the moisture to ensure it doesn't seep into the flooring.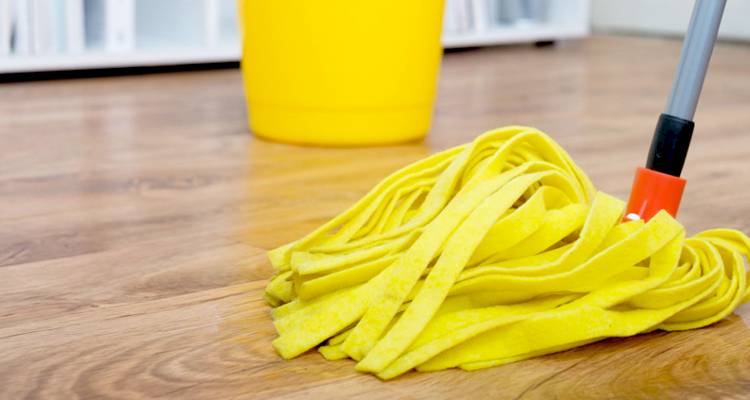 Sweep Your Floors
Laminate flooring can accumulate dust and debris over time, particularly in high-traffic areas of the home. If you leave debris on your flooring, it could lead to some scratches on the surface of the laminate boards. To avoid this, simply sweep your laminate flooring regularly.
Clean Your Floors
The best method of cleaning for laminate flooring is to use a flat-headed spray mop. This will allow you to get a thorough clean without exposing the flooring to too much moisture. Use a mixture of water and floor cleaner for the best results.
Laminate Flooring Repairs
Do you have a problem with your laminate flooring that needs to be repaired? Repairing laminate flooring can be surprisingly easy. Below is a list of the most common types of laminate floor repairs:
Use a Repair Kit
If you notice any minor issues with your laminate flooring, such as scratches or scrapes, don't despair! You may or may not know this, but you can get laminate flooring repair kits from most DIY stores, which can help to deal with these minor imperfections on your laminate flooring boards. These kits are easy to use and will fix up any small imperfections quickly.
Replace Flooring Boards
If the damage to your board is beyond repair with a kit, then your best option would be to replace that particular board.
This can be a hassle as you may need to remove several boards in a row to get to the board you need to remove. However, it's definitely worth doing if the damage to your board is quite noticeable.
Alternatives to Laminate Flooring
If you decide that laminate flooring isn't the right option for you and your home, there are several alternatives that you can think about instead. Below is a list of the different types of flooring that you may want to consider:
Real Wood Flooring
Real wood flooring is an elegant and luxurious style of flooring that tends to be more expensive than most other flooring types. It looks great in most rooms and comes in various woods such as maple, oak, and pine.
One of the main benefits of real wood flooring is that not only is it great to look at, but it can increase the value of your home.
Tile Flooring
Tile flooring is a popular type of flooring in the UK and is used mostly in kitchens and bathrooms. Flooring tiles come in a range of different materials such as ceramic, stone, porcelain, or other materials.
They also come in a huge range of colours and styles and even come with patterns on them. This means that you can create an aesthetically pleasing floor to suit your exact style and needs.
Carpeting
Carpeting is one of the most popular flooring options in the UK. It provides a cosy aesthetic and feels very comfortable and warm. Carpets come in a wide range of styles, textures, and colours, making it very easy to find a carpet to suit your home.
Vinyl Flooring
Vinyl flooring is becoming an increasingly popular flooring choice in modern homes, particularly in kitchen and bathroom areas. It's a great choice of flooring as it is water-resistant, easy to clean and maintain, and very durable.
It also comes in a huge range of different styles and designs. You can find all different colours, patterns and even faux wood or faux tile styles of vinyl.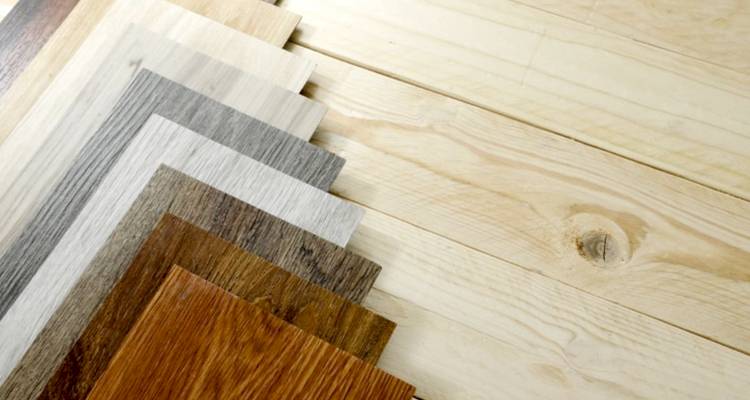 Questions to Ask When Hiring a Laminate Flooring Specialist
You may need to consider several things when finding the right contractor to install your laminate flooring for you. Below is a list of common questions that you should ask when looking for the right contractor for the job:
Does the contractor have any qualifications that relate directly to installing laminate flooring?
What equipment will the contractor be using to complete the job? Will they be using the correct type of equipment? Do you need to provide any equipment?
Does the contractor possess any form of insurance for the work? You should look for contractors who have insurance covering property damage, personal injuries, and a work guarantee.
How much experience does the contractor have in installing laminate flooring? Can they provide any testimonials or evidence of previous work? Can they provide photos of previous work?
Does the contractor offer any guarantees with their work? How long does the guarantee last? What issues are covered under guarantee? Will the contractor fix any issues that arise?
How long will the work take to complete?
How many contractors will be working on the job?
Is there anything you need to do to prepare for the installation?
FAQs
Do you need to level a floor before installing laminate?
Laminate flooring can be more forgiving than many other floor types when it comes to imperfections. However, you should always try to make the subfloor as level as possible when installing laminate flooring.

When the subfloor is level, this helps to ensure that the laminate flooring lasts for a very long time, looks attractive, and it also reduces the risk of visible damage over time.
Can you repair a laminate floor?
Laminate flooring can be repaired. If the damage is minor such as small scratches or scrapes, you can use a laminate flooring repair kit to fix the damage. These repair kits can be picked up at most DIY stores. If the damage is beyond repair with the repair kit, then you will simply need to replace the affected board.
Can I walk on my laminate flooring as soon as it's been installed?
It's recommended that you leave your laminate flooring for at least 24 hours after installation. After 24 hours, you can then move your items of furniture back into the room and walk on the flooring as you please. This allows the flooring time to settle and allows any glue to dry on glued joints (if applicable).
Will heavy furniture damage my laminate flooring?
It's rare for laminate flooring to be affected by heavy furniture. You should always aim to move your furniture with care and handle it correctly. If you are worried about your furniture damaging your laminate floor, you can purchase felt protective strips that can be placed underneath the furniture legs to prevent them from touching the floor directly.
Can I install laminate flooring in my bathroom?
You can install laminate flooring in your bathroom, however, it's important to remember that it is not completely waterproof. You can increase the water protection of your laminate flooring boards by covering the surface with a polyurethane varnish. This is an extremely durable, waterproof resin that will help to protect your laminate flooring from moisture in the bathroom.
Sources
https://www.woodfloorwarehouse.co.uk/advice-inspiration/faqs/a-guide-to-laminate-flooring
https://www.bestlaminate.com/blog/what-are-the-pros-and-cons-of-laminate-flooring
https://www.directwoodflooring.co.uk/dwfblog/maintain-laminate-flooring
https://homeguides.sfgate.com/level-floor-lay-laminate-8717.html

Last updated by MyJobQuote on 22nd September 2021.