How to Fit a Fence
So you're thinking about fitting a new garden fence? This article explains how to fit a fence. We will highlight all of the tools, materials and safety equipment needed to complete this type of job, and we will provide a step-by-step guide on how to erect a fence.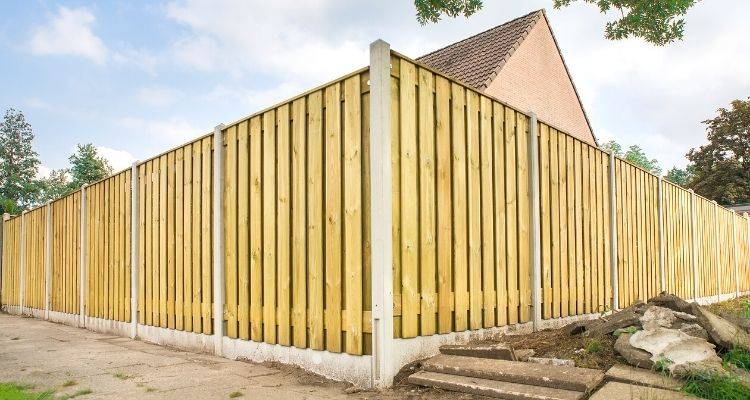 What Tools Do I Need to Fit a Fence?
There are several tools that you will need in order to fit a fence. Below is a list of the tools that you should have before attempting this job:
You will need the following tools:
Builder's liner
Trowel
Spade or post hole borer
Long tape measure
Spirit level
Screwdriver
Bucket
Power drill with twist and wood bits
Hammer
Panel Saw
What Safety Equipment Do I Need to Fit a Fence?
There are a number of recommended safety precautions that you should take when fitting a new garden fence. Below is a list of the safety equipment that you should use for this type of job:
Protective gloves
Face mask
fety goggles
Take care when using tools and be sure to wear safety goggles and a mask when mixing cement.
What Materials Do I Need to Fit a Fence?
There are several materials that you will need to use in this type of job. Below is a list of the materials that you will need to fit your new fence:
Fence posts
Fencing panels
Fence clips
Screws
Nails
Wood to make temporary support
Cement and aggregates or post cement
Water for mixing cement
Sealant
Fence post caps
Wood preservative
You can purchase the above materials from local DIY stores or locate them online.
How to Prepare for Fitting a Fence
To prepare for building your fence, you want to begin by removing any small plants that may get flattened in the process. Transfer these small plants into temporary pots and move them away from the work area. These can then be re-planted in place after the fence has been erected.
The best time to erect a new fence is in autumn or in early spring when plants are at their lowest heights or aren't blooming just yet. You should also discuss your fencing plans with your neighbours as a form of good common courtesy.
Fitting a new fence in your garden is ideally a two-person job, so you should find someone to help you with it before you attempt to take on the job yourself.
You can prepare you fence posts ready for concreting by soaking the base of the fence posts in wood preserver overnight. It is most likely that your fence posts have already been treated, however, doing this extends the life of them even further.
How to Fit a Fence Yourself - Step by Step Guide
Step 1
Layout a straight line of string to mark out where your fence panels are going to go. Then, use tall bamboo canes to mark out where your posts are going to go.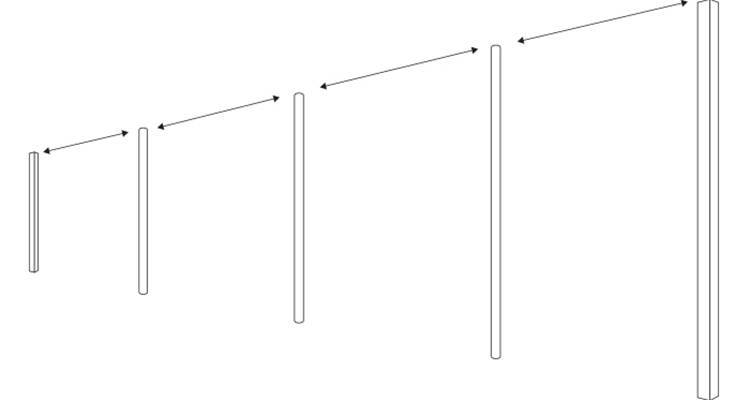 This is so that you can see exactly what needs to go where and so that you have a guide to work around. Make sure that your post markings are measured to the length of your fencing panels so that you can ensure that you dig at the correct location for each post.
Step 2
You want to dig out the ground down to 450mm for each post. This is a standard depth for most fence panels. On softer ground, you may need to dig deeper and use a longer post.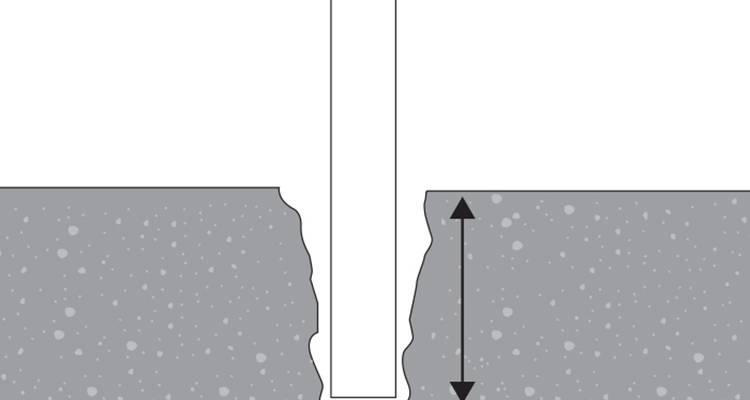 Step 3
Aim to insert your posts at both ends first before doing the middle posts. Dig down to 450mm and insert your posts into the holes. You should then use a piece of string tightly along the tops of the posts as a guide for the rest of the posts to make sure that they are level. You should also check that your posts are completely upright using a spirit level on all sides.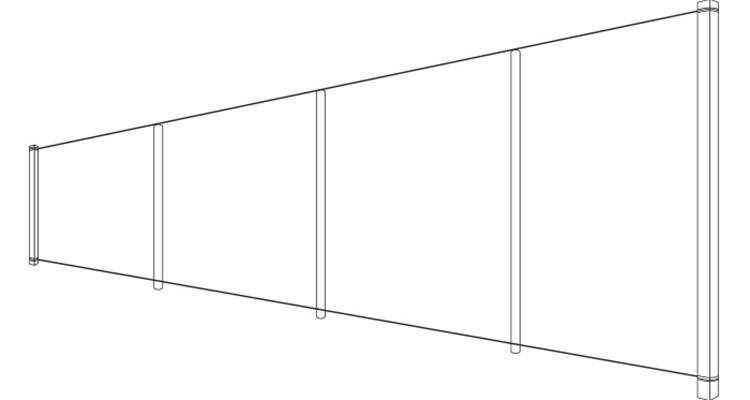 Step 4
Once you're happy that the post is at the right level and completely upright, hammer in some pegs at the bottom to temporarily hold it in place.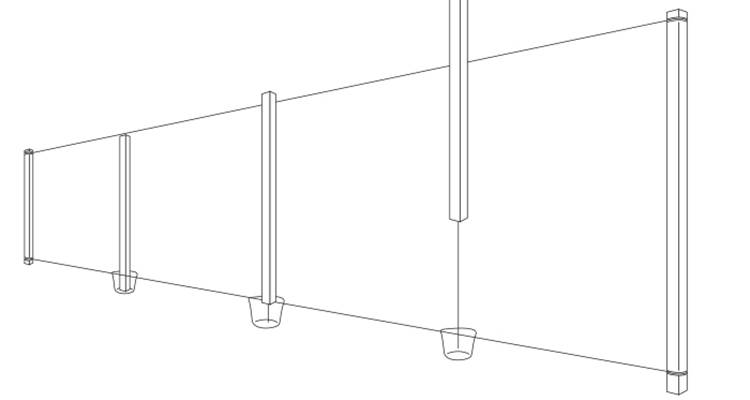 Step 5
Once you have put all of the posts in place, double-check that everything is entirely level. Go along each post and check all sides with a spirit level to ensure it is bolt upright and also check the level at the top to see that each post is equally in line with your string. Also, check that the pegs are in firmly so that your posts won't move during the next step.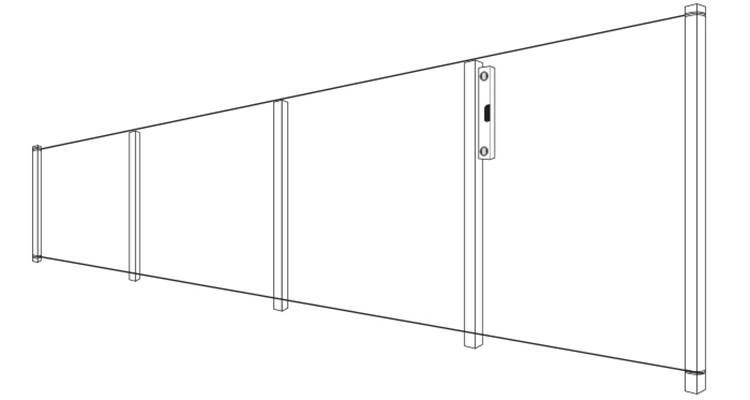 Step 6
Attach fencing clips to your erect posts. You should place one at the top and one at the bottom on both sides where your panels are going to go. It should be 150mm down from where the top of your fencing panel will be and 150mm up from the bottom.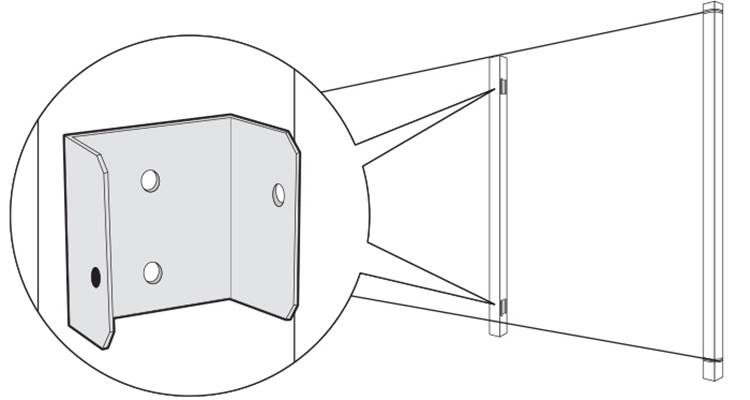 Step 7
Slide your fence panels in using the fencing clips as your guide.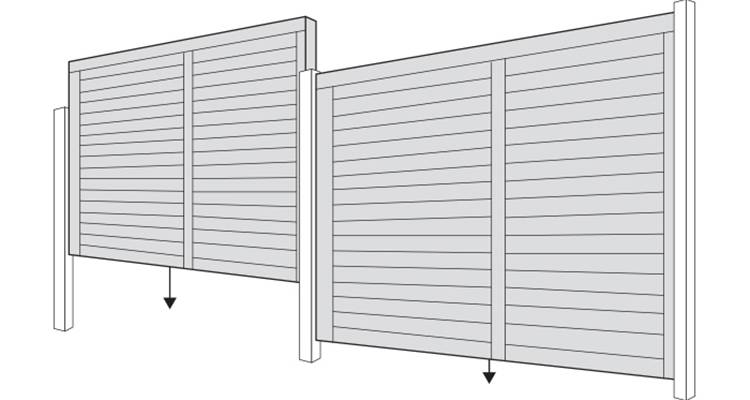 Step 8
Before fixing your fencing panels in place, you want to raise them at least 50mm away from the ground, so they don't rot.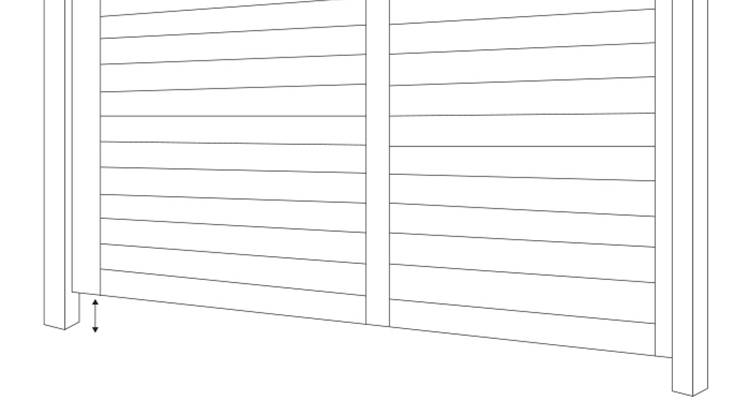 Step 9
You now need to cement your posts in place. We recommend using fast setting cement so that you don't have to stand holding the posts in place for hours on end. This process can cause a lot of dust so ensure you wear eye protection and a face mask for this part of the job. Begin by double-checking that everything is in line and in the right place before you cement the posts.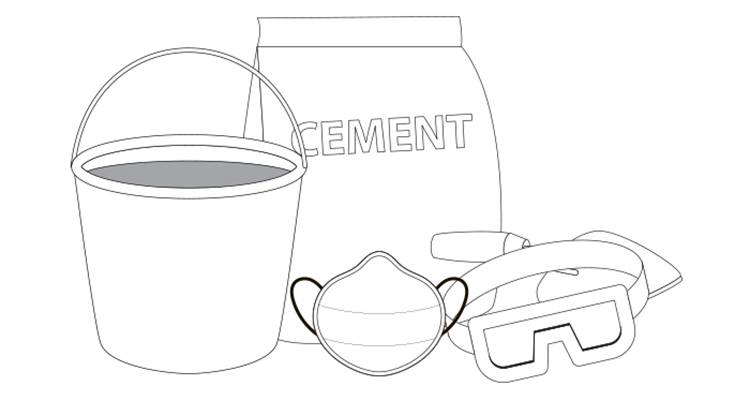 Step 10
Half fill the post hole with water and then add the post mix to the water and mix it around with a spare length of wood. Continue to add the mixture until it reaches the top of the hole. Remember that your fence panels should be raised, so the concrete shouldn't reach the fence panels.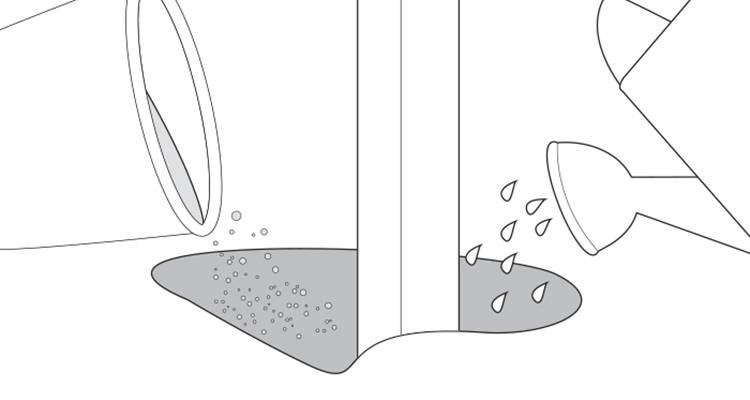 Step 11
Allow the concrete to dry slightly and then trowel some of the mixture upwards towards the post to create a slope. This is so that water runs away from the posts and it won't rot.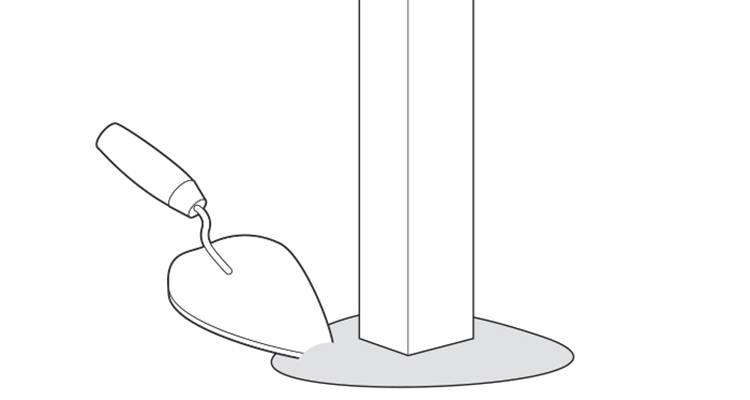 Step 12
Add post caps to the top of the posts if desired. Do this by adding sealant to the underneath of the cap and then place it on top of the post where it can then be screwed into place.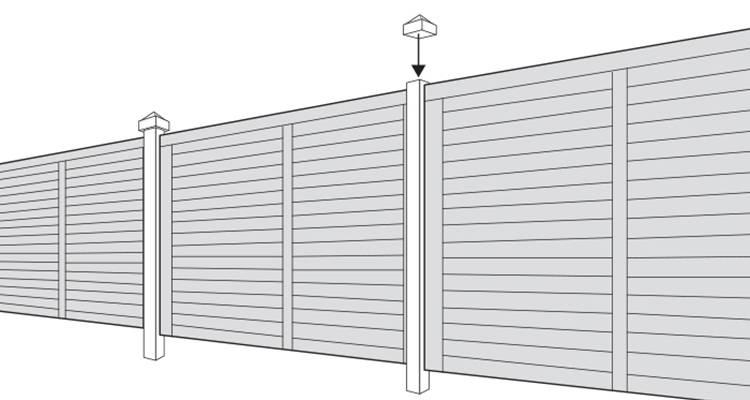 FAQs
How many fences will I need?
The number of fence panels you need will depend on the length of the space you are fencing and the length of your fence panels.

Measure the distance from one end of the space you're fencing to the other end and then also measure your fence panels. You should be able to work out the number of fence panels needed based on these measurements.
What type of fence post is best?
Most fence posts are made from either concrete or wood. They both have their advantages; however, many people prefer wood fence posts due to their versatility. If you do choose wooden fence posts though, you must make sure they are pressure treated before being installed.
How high can a fence be without planning permission?
Planning permission is only usually required if your fence is higher than 2 metres.
What causes swelling and shrinkage?
The cell structure of timber stores water that is gradually released or absorbed depending on the levels of humidity and temperature that it's exposed to.

This changes the size of the timber and the parts closest to the edge will dry more quickly than the inner parts. This natural drying process can sometimes cause splitting or distortions.
Why is there a variation in colour on my fence panels?
Every tree is different, and even after treatment, the wood can appear to look different or may appear to be different shades. Colour differences will become less prominent over time; however, it's not possible to get a consistent colour of fence panels due to their natural differences.
Last updated by MyJobQuote on 30th October 2020.