How to Hang an Internal Door
In this article we demonstrate with images how to hang an internal door in your home. We explain everything that you might want to know regarding the materials, maintenance and answer the most frequently asked questions.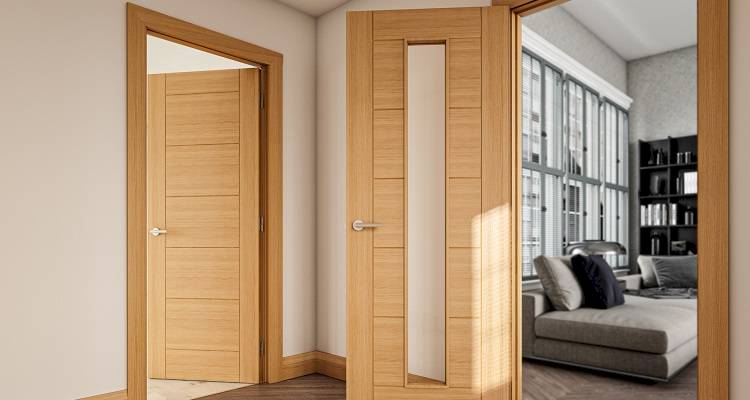 What is Hanging a Door?
Hanging a door involves several processes, which include; fitting a door into a frame, cutting the door down to the exact size, fixing hinges and finally fitting a door into place. Standard door sizes should be available to fit most frames, but some older houses have a varied sized frame, which means some doors will require trimming to allow an exact fit to frame.
Frames aren't always perfectly equal, therefore hanging a door requires exact precision and concentration. It's important this process is done correctly otherwise your door can end up being ill-fitted. Hanging a door requires straight cutting and perfect margins around your edges. It's also in your best interest to have the door sit in the frame as neatly as possible, creating a professional finish.
What Tools Do I Need to Hang a Door?
As we have discussed hanging a door requires precision, so it's vital that you organise yourself and gather all of the tools mentioned below if you want the process to go as smoothly as possible.
Tape Measure
Workbench
Clamps
Plane
Drill
Drill bits
Circular Saw
Wedges
Hammer
Chisel
Fine Cut Hand/Panel Saw
Sandpaper
Sanding Block
Screwdriver
Pencil
The above should all be available to purchase at your local hardware store or online.
We also recommend putting dust sheets down whilst trimming your wood to make it easier to clean the waste.
What Safety Equipment Do I Need to Hang a Door?
Before you hang a door, it's important we advise you on some important safety issues. You will be using a variety of different tools that can cause harm when not used correctly. Whether you are an experienced DIY enthusiast or a beginner, staying safe should be a top priority.
Please ensure you have the following before hanging doors:
You will need to wear safety goggles when drilling and sawing and trimming.
When trimming the edges of your doors, it's important that you wear a dust mask to stop dust from entering your system. Keep the room well ventilated during this process.
If you are handling timber, you'll need to wear protective gloves. It's also important to have these on when trimming wood.
Please remember when you use a chisel, you should point this away from your body as a precaution.
When placing your timber on the workbench, for drilling and sawing, it's vital that you clamp and secure this firmly in place first.
As doors can be heavy, we strongly advise having assistance for lifting and placing timber.
What Materials Do I Need to Hang a Door?
It's important to note that doors can come in a range of materials, finishes and of course styles. You may want to look at the appropriate door frame sizes that are most suitable for your current frame. Do your research and choose a design that suits your design needs.
Hanging a door will require the following materials:
Internal Door
Hinges & Suitable Screws (often provided with hinges)
Handle & lock as required
How to Prepare for Hanging a Door
Before hanging doors, it's crucial that you follow the right preparation steps before lifting a tool.
Once you have chosen the door for your home you will need to allow it to acclimatise to your home's current temperature. To do this, lay it flat on a steady, even surface, and leave it for 3-5 days. Please check your manufacturer's instructions, as times can vary between products.
We also advise you to lay a dust sheet underneath your workbench, so that you can collect any timber waste at the end of the process.
Hanging an Internal Door - Step by Step Guide
In this step by step process, we will cover how to replace your old door, how to trim the timber to size and how to hang the door in the perfect position.
Step 1
Before you begin to hang your door, it's important that you acclimatise your door in your home. To do this, lay it flat on an even surface and leave it for 3-5 days. Due to the nature of wood, it can expand or contract, depending on its environment.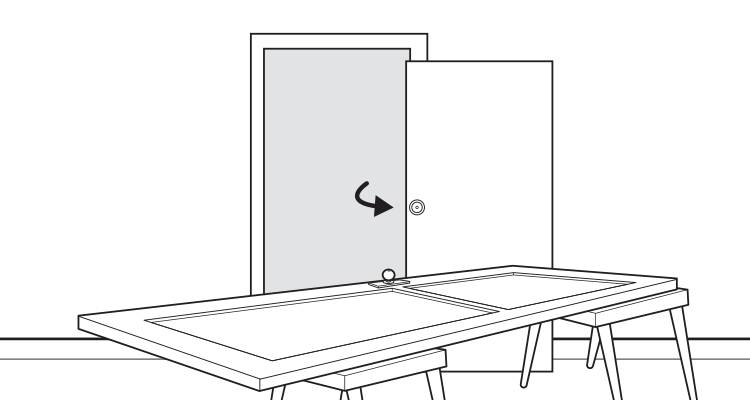 We advise that you check with the instructions of your door manufacturer before proceeding with this project. Before we start, ensure you have removed your old door. You will need someone to assist you with this, as the door can be heavy to manoeuvre.
Step 2
Stand your new door up in the doorway to cross check the measurements and see if it needs trimming, this will allow the door to fit the frame exactly. If it does require trimming, use a pencil to mark the top of the door opening onto the new door. Then, lie your door flat onto a workbench, and secure with clamps.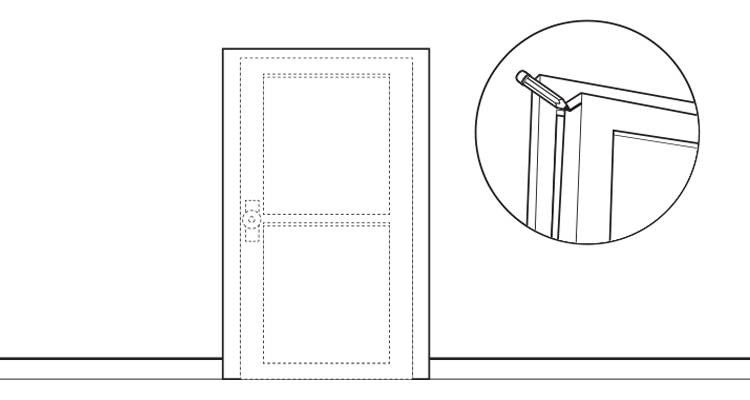 Measure the distance that you need trimming from the height of your door. With that measurement, divide it equally across the bottom and top of the door. You'll then need to add an additional 3mm to both ends, as this will allow for clearance.
We advise that you also take into consideration the thickness of your carpet when doing these calculations. Then measure, using a pencil mark out your cutting lines onto your door.
Step 3
You will now need to cut the excess away. If you are removing a small amount of wood, then we recommend using a plane. On the other hand, you could use a circular/panel saw if you have larger amounts of removal. Then carefully cut in a perfectly straight line.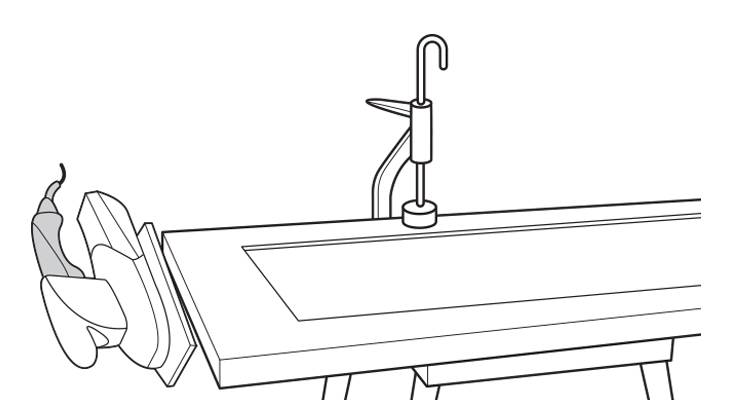 You can now place your door in the frame to see if the sizing is correct. If it doesn't fit the frame, you will need to hold the door, so one side is in position and then mark the overhanging distance onto the door.
Step 4
Repeating the process again, mark the sides of the door and measure your excess. Using that measurement divide it equally between both sides of the door, then add 3 mm onto both sides, allowing for clearance.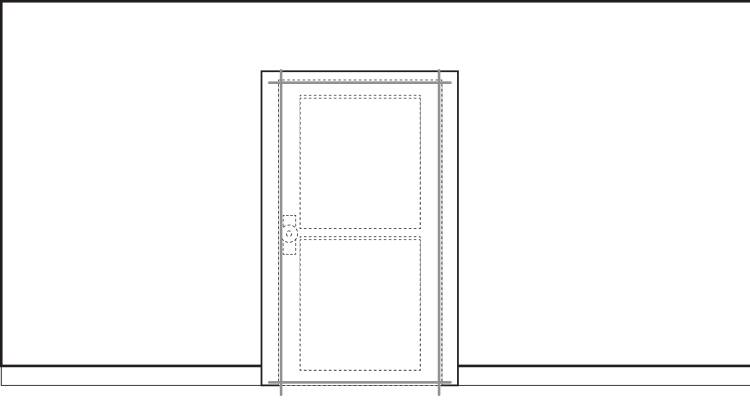 For example, if your excess was 4 mm, you would divide that equally on both sides, which leaves you with 2 mm. Then you would add your clearance (+ 3 mm). This would leave you with a total of 5 mm each side.
You'll then need to draw your cutting guidelines, and remove the excess, using a plane or saw. Don't forget to keep your lines perfectly straight.
Step 5
It's now time to place the door into the frame. You will need someone to help you with this step, as the door weight can be heavy to manage. Place small wedges around the door, which will lift it into place.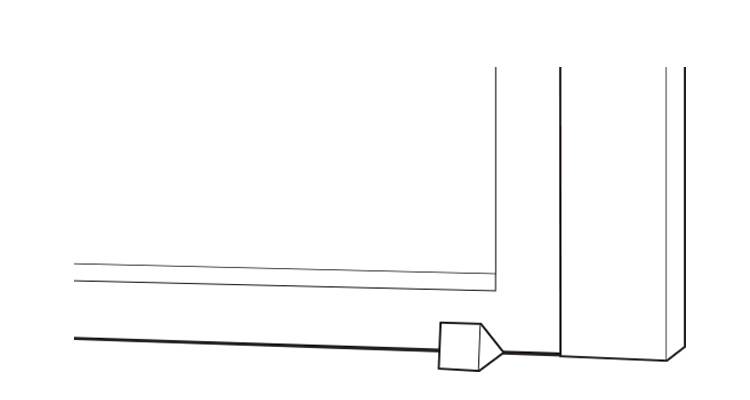 Please ensure that there is a consistent 3mm gap between the door and the frame around all sides.
Step 6
When the door is aligned correctly, you will need to take your pencil to mark out the current door fittings (hinges), in place on your frame. Take the door out of position and lay flat. You'll need to take your new hinges and position them using the markings you have just made.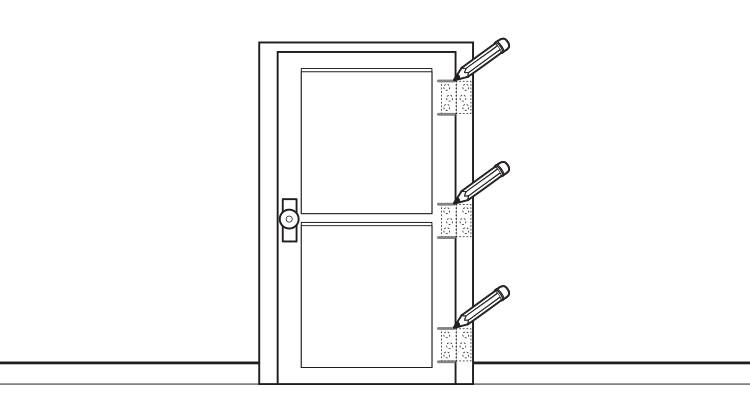 Place each individual hinge, and carefully draw an outline around each one onto the door. You will need to measure the thickness of your hinge plate. Place the hinge onto its side and mark a line of the same thickness onto the edge of the door.
Step 7
Using your outline of your hinge, take a sharp chisel and cut carefully around the edges. Using a 45-degree angle, position the chisel to the door and. Use the pencil mark as your guide and start to make small cuts, every 5mm. Make sure that the depth of these cuts matches the depth of your hinge plate.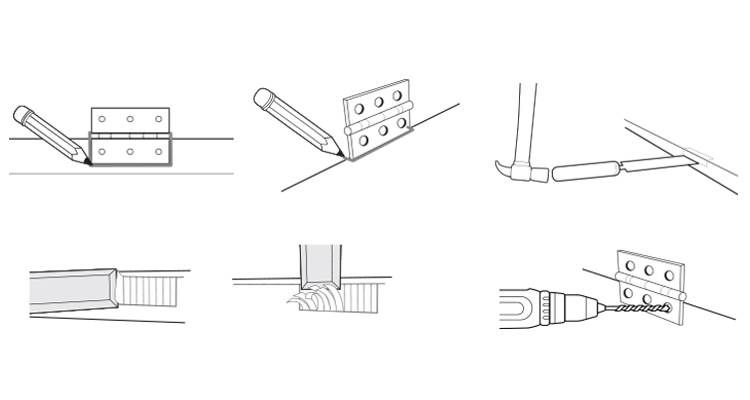 Now, turn the flat side of the chisel downwards towards the door, use a hammer to tap down, and chisel out the marked hinge area you have just been working on. This will leave room for your hinge plate to sit.
Place your hinges back into the correct position on your door. Using the holes, predrill your holes using a drill, this will stop the wood from splitting when you add the screws. Once drilled, take the screws provided and carefully screw the hinge plate into place.
Step 8
Ask someone to help you to move the door into position, as if the door was open to a 90-degree angle. Once correctly positioned, add a screw through the lowest hole of the top hinge plate and secure into position using a drill.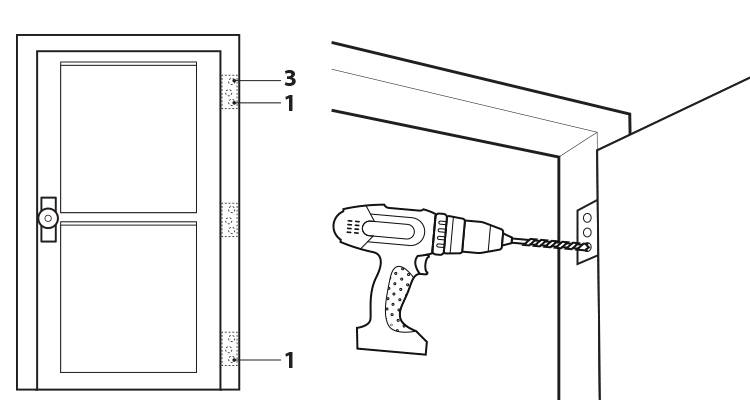 Repeat this process, this time fix the bottom hinge plate in place. Add a screw through the bottom hole of the hinge plate and secure into place. Finally, drill a final screw into the top hole of the upper hinge.
Step 9
Before you add more screws into your frame, you will need to check that the door opens and closes without catching. If you find that your door hanging does catch, you will need to mark the area of the door and make any necessary adjustments.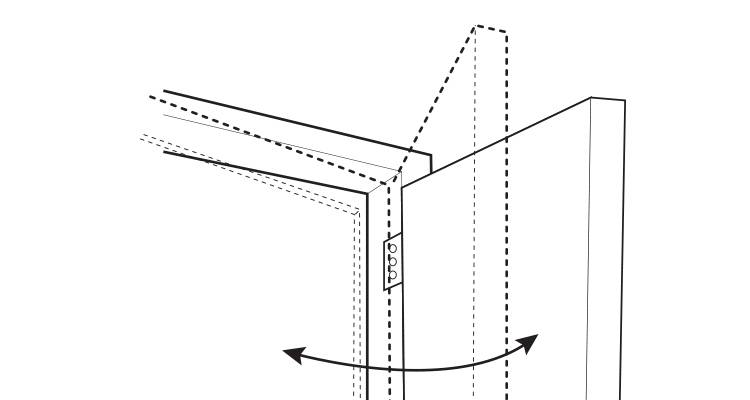 If the adjustment required is minimal, try sanding the door down with sandpaper or use a plane.
Step 10
If your door opens without any issues, you should now proceed with any finishing touches, such as paint work or cut outs for your handles.
Internal Door Cleaning and Maintenance
The doors and hinges in your home will go through a lot of wear and tear. Your door is constantly being used, so it's important you don't neglect your maintenance duties after the door has been fitted.
Doors can accumulate grime and dust, so be sure to clean these regularly. You won't need any fancy cleaning products, just a cloth and warm soapy water. To clean, wipe down the surface and clean any handles. If you have a specially treated type of timber, check with your manufacturer on the appropriate products to use for your specific product.
To avoid any squeaks or door stiffness, you will need to oil the hinges on a regular basis. We recommend doing this every few months. To oil your door, consider using the following products; WD40 (or something similar) or Vaseline.
To clean your door hinges, use a mild detergent. Avoid using strong cleaning solutions as this can cause damage to your hinge. The surface of your hinges are usually coated, so you risk damaging the surface. You don't want to end up with any costly repairs.
How to Remove a Door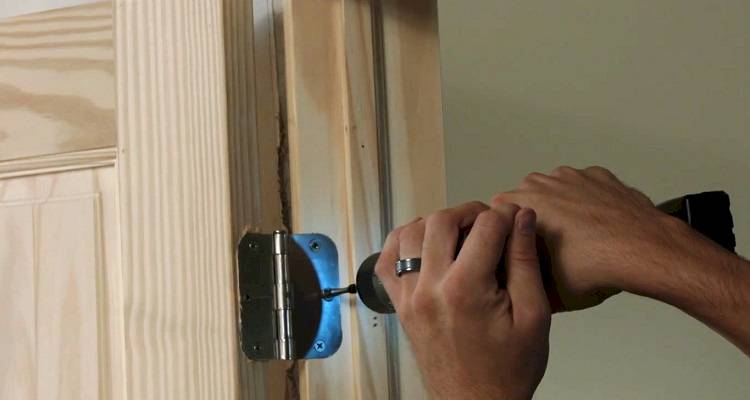 If you want to remove your previous door, follow these simple steps:
Firstly, you will need to close the door in the frame. Take a hammer and nail, then tap the hinge pins loose.
Tap the hinge pin upwards until it is loose enough for you to grab and pull out with your fingers. Then repeat for the other hinges.
Carefully, open the door slightly. Lift and pull the door to the side until the door drops off the hinges.
We advise that you get someone to help you with this process as the doors can be heavy.
FAQs
How Long Does It Take To Hang A Door?
Hanging doors can take anything to 1-3 hours to hang a door. You will need to allow for any adjustments to be made such as measuring and cutting timbre. This process will need to be done with care.
Where Should I Position My Door Hinges?
If you haven't got any old hinges in place on your frame to use as a guide, we suggest that you place one hinge 7-inches from the top of the door frame, and the other 11-inches from the bottom of the door frame. You can then measure the distance between the two hinges and pace your third hinge equally between the two.
How Big Should The Gap Be Around A Door/ How Much Clearance Does A Door Need?
We recommend leaving a 2mm - 3mm clearance around your door. You should be able to fit a pound coin around the edge of your door between your frame.
What Is A Standard Door Size?
It's important to note door frames will differ from home to home, depending on if you live in a period property or a property in which the architect decided to stray away from the standard size frame. The most common door size is 762mm x 1981mm.
Where Should Door Handles Be Placed?
The UK Standard regulations advise door handles must be installed at a height of 900 mm - 1050 mm from the floor.
Last updated by MyJobQuote on 4th May 2020.