Wallpaper Hanging Guide
Are you thinking about hanging wallpaper in your home but not sure where to start?
Well, you've come to the right place! This article will tell you everything you need to know about the different types of wallpaper, how to hang wallpaper yourself, the cost of hanging wallpaper, and the things you should look out for when hiring a professional to do the work for you.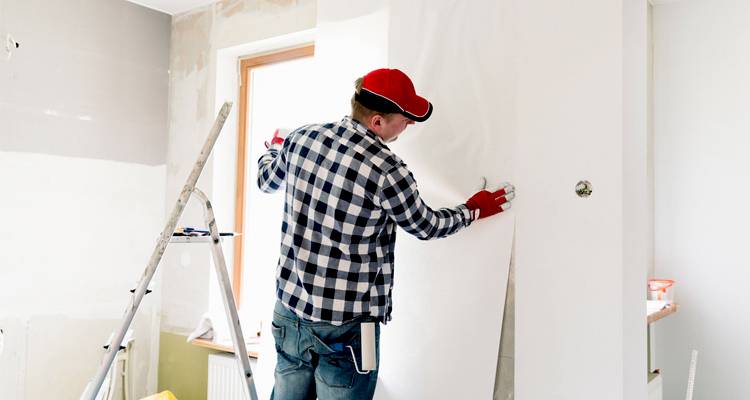 What is Wallpaper Hanging?
Wallpaper hanging describes the act of applying and securing wallpaper to a wall. Many people choose wallpaper over other wall coverings for their unique designs, colours, and textures that you simply can't achieve with other types of wall coverings.
Some wallpaper comes ready to stick to the wall. However, most wallpaper types require paste or some other form of adhesive to stick to the wall.
Wallpapering can sometimes be a tricky job as you have to line each piece up correctly and ensure that there are no bubbles present behind the paper once it's installed. However, once you've completed the job, you're left with a stunning wall that perfectly matches your style and taste.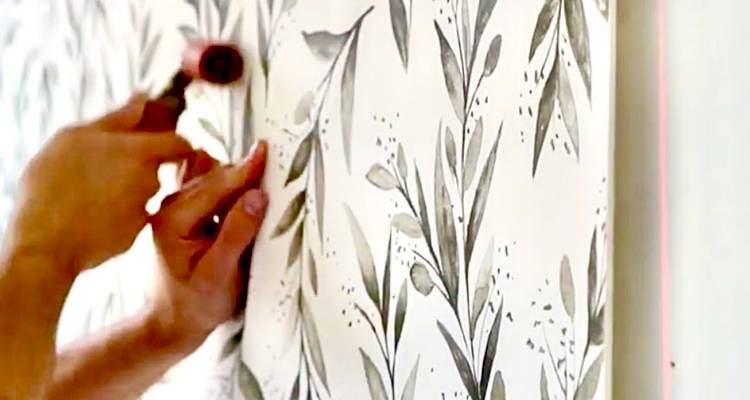 Types of Wallpaper
There are several different types of wallpaper, and each comes with its own set of advantages and disadvantages. Below, we take a look at the pros and cons of the most popular types of wallpaper in the UK:
Printed Wallpaper
Printed wallpaper is a very common type of wallpaper that comes in a huge variety of different styles and colours. Printed paper can feature many unique patterns and designs so you can create a gorgeous aesthetic that perfectly suits your style and taste.
The ink used to create printed wallpaper can be affected by water, so it's not a great option for use in areas near water, such as kitchens or bathrooms.
Printed paper can also be torn easily, so care must be taken with this type of wallpaper. However, hanging patterned wallpaper is quite easy.
PROS
✔ Relatively inexpensive
✔ A popular style of wallpaper
✔ Wide variety of styles and patterns
✔ Wide variety of colours
CONS
✖ Can ruin if it comes in contact with water
✖ Can tear easily
Linear Wallpaper
Linear wallpaper is a modern type of wallpaper made from fibreglass and is very effective at hiding any defects that may exist in the wall. This allows you to minimise the number of repairs that are needed during the installation.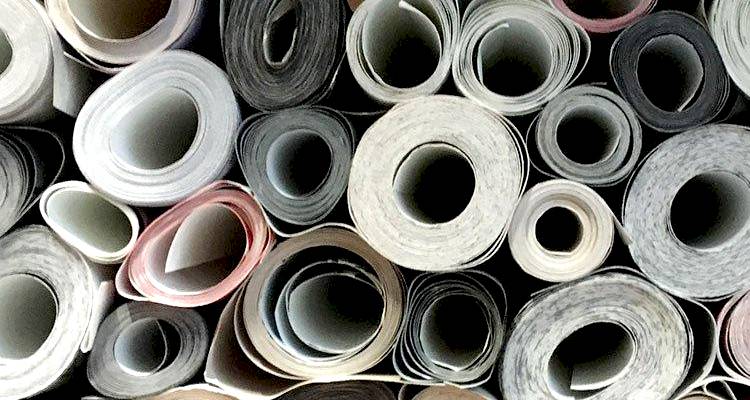 This type of wallpaper works great on its own but can also make a great base layer for more delicate varieties of wallpaper.
PROS
✔ Hides defects
✔ Minimises repairs
✔ Easy to apply
✔ It can be used as a base layer
CONS
✖ Not as beautiful as other wallpaper types
Vinyl Wallpaper
Vinyl wallpaper is usually made up of normal printed wallpaper but features a vinyl top layer. The thicker this top layer of vinyl is, the more durable the wallpaper will be. This type of wallpaper is great for areas such as bathrooms and kitchens as it can withstand moisture.
It can also be cleaned very easily, making it extremely practical. Vinyl wallpaper comes in a huge range of colours and styles to suit all.
PROS
✔ Easy to clean
✔ Durable
✔ Can withstand moisture
✔ Easy to maintain
✔ Wide range of colours
✔ Wide range of styles
CONS
✖ Usually more expensive than other wallpaper types
Foil Wallpaper
Foil wallpaper is very unique and offers a particular aesthetic to the room. However, this type of wallpaper is often reflective, so it can highlight defects in the wall.
The installation process of foil wallpaper is often more difficult than other types as the wall may need to be repaired or treated before the wallpaper is hung to avoid it showing any imperfections.
PROS
✔ Beautiful designs
✔ Unique aesthetic
CONS
✖ Highlights wall defects
✖ Difficult to install
What Are the Pros and Cons of Hanging Wallpaper?
Wallpaper is a popular choice of wall covering in the UK. If you are thinking about redecorating, you may want to consider the advantages and disadvantages of choosing wallpaper for your wall décor. Below is a list of the pros and cons of hanging wallpaper:
PROS
Durability
Wallpaper can usually last for around 10-15 years if well looked after. This is a very long time compared to paint as paint often needs to be touched up every few years. By choosing wallpaper, you can ensure your chosen design lasts a long time.
Cost-Effective
Wallpaper often costs more than paint upfront. However, wallpaper is a much better investment as it is very durable and won't require any retouches like paint would.
Appealing
Wallpaper allows you to add some unique patterns and creative designs to your room that you simply wouldn't be able to achieve with paint alone.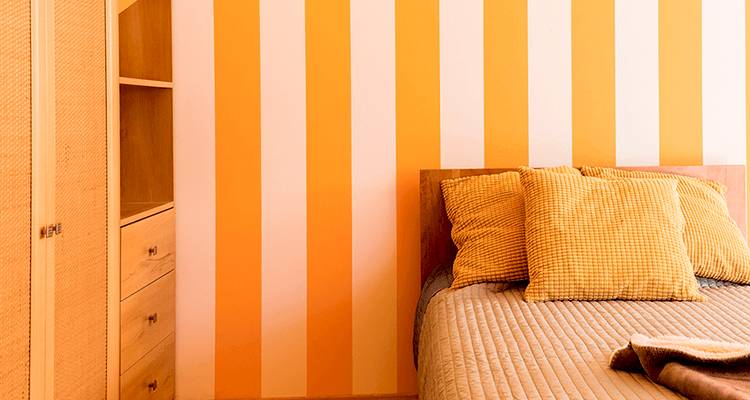 There are so many styles, patterns, and finishes of wallpaper for you to choose from, it's easy for you to find something that suits to vibe you're going for in a particular room.
Improves Damaged Walls
Even if your walls are damaged, you can make them look great with wallpaper. If you have defects in your walls that you'd rather not fix, a good-quality, thick wallpaper can cover those defects up, and you'll hardly even know that they're there. This simply can't be achieved with paint.
Easy to Clean
Wallpapers tend to be very easy to clean. They can be vacuumed, wiped over with a broom, wiped with a cloth, and some designs can even be wiped over with wet wipes.
For homeowners with small children or pets, vinyl wallpaper can provide you with an easy-to-clean solution so that you don't have to keep re-painting your walls.
CONS
Higher Cost
While it's true that wallpaper is more expensive to buy upfront, it can save you money in the long run due to its durability. However, if you're on a low budget and looking for something cheap for right now, wallpaper might not be the right choice for you.
Difficult to Remove
While it's not always that difficult, some wallpapers can be quite hard to remove. It can be an all-day or even multiple-day job to strip an entire room of its wallpaper. With this in mind, you want to be sure that you're going to be happy with the final result before installing your new wallpaper.
Difficult to Install
Sometimes, it can be quite difficult to install wallpaper. You need to match up the patterns at the seams, which can be quite a tricky job. You also need to know which wallpaper adhesive will work best for your particular type of wallpaper. This is why many people choose to hire professionals to hang wallpaper for them.
How Much Does It Cost to Hang Wallpaper?
If you are thinking about having wallpaper installed at your home, then you may be interested in how much wallpaper hanging costs.
The cost of hiring a decorator to hang wallpaper for you will vary quite a lot depending on several factors. Some of these factors include the size of the room, your location within the UK, the type of wallpaper, and the contractor that you choose.
The average cost to have someone remove wallpaper for you is around £350-£550 per room. Some other things that may influence the price of the job include the shape of the room, if there are any awkward spaces, and the condition of the walls.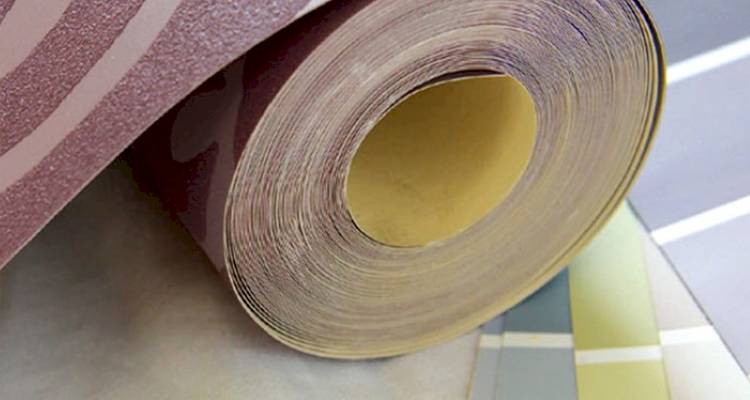 All of these factors can increase the time it takes to complete the job, and so you may end up paying more in labour costs.
When having wallpaper installed, it's also a good time to think about getting your flooring replaced at the same time.
The average cost for laying carpet is around £400 depending on the type of carpet and the size of the room, and the average cost for laying wood flooring is around £1300 depending on the type of wood flooring and the size of the room.
How to Hang Wallpaper
To hang wallpaper, you will need to ensure that your old wallpaper is removed and the wall is fully prepared to install wallpaper.
This involves filling in any cracks and fixing any imperfections in the wall. You will also need to measure up the area and buy enough wallpaper to cover the room. Always by a little more than needed just in case anything goes wrong.
Below is a list of steps you'll need to take to successfully hang your new wallpaper:
Decide on the order that you're going to hang the wallpaper. If you are working with patterns, start at the window and work away from there in both directions.
Draw a vertical line on the wall where you are going to start papering. This will ensure that everything stays straight.
Put your first piece of wallpaper into position, starting at the top of the wall. Ensure that there is enough paste on it for it to stick but not too much. Allow the paper to overhang at the top so that you can trim it later. Use a papering brush to smooth it out and remove any air bubbles.
Trim the paper at the ceiling and the skirting.
Place the second piece of wallpaper next to the first strip and smooth it into place. Make sure that you create a butt-join that is completely seamless and ensure that the pattern matches up on the join.
Continue wallpapering around the rest of the room in the same way.
Take a look at this article for a more in-depth look at how to wallpaper a wall and for some insightful wallpaper hanging tips.
How Long Does It Take to Hang Wallpaper?
If you are planning on wallpapering a room, you may be interested in learning how long the job takes on average. There's nothing worse than starting a job and then realising it's going to take a lot longer than you first anticipated.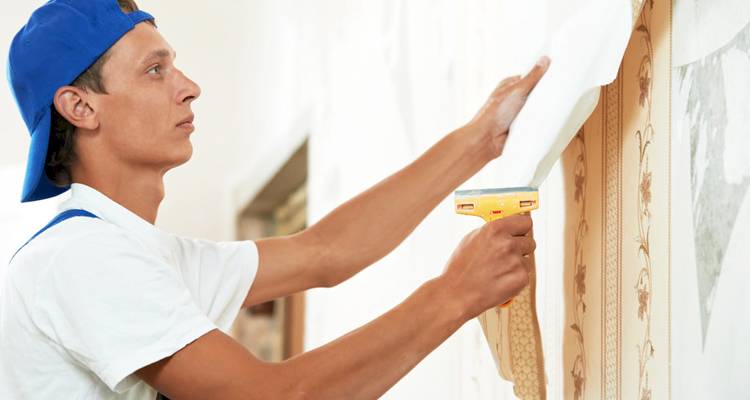 The time it takes to wallpaper a room will depend mostly on the size of the room. As long as your walls are properly prepared, you should wallpaper most rooms in 1-3 days. A small room can sometimes be completed within a day, whereas larger rooms tend to take 2-3 days to complete.
Building Regulations or Planning Permission Approval for Wallpaper Hanging
When you start any work project on your home, it's important to know whether you need to worry about planning permission or building regulations approval.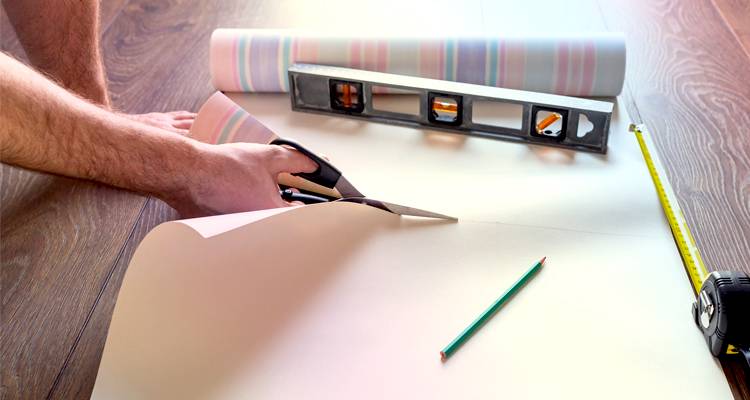 When it comes to wallpapering, you won't need to worry about planning permission or building regulations approval. The only time you'll need to worry about these is if there is any extra work going on at the same time, such as work on your electric system or work on the external parts of your home.
If you are ever unsure, it's always best to check with your local authority before carrying out the work.
Questions to Ask When Hiring a Wallpaper Hanging Specialist
You may need to consider several things when finding the right contractor to fit new wallpaper in your home for you.
Below is a list of common questions that you should ask when looking for the right contractor for the job:
Does the contractor have any qualifications that relate directly to hanging wallpaper?
What equipment will the contractor be using to complete the job? Will they be using the correct type of equipment? Do you need to provide any equipment?
Does the contractor possess any form of insurance for the work? You should look for contractors who have insurance that covers property damage, personal injuries, and a work guarantee.
How much experience does the contractor have in installing wallpaper? Can they provide any testimonials or evidence of previous work? Can they provide photos of previous work?
Does the contractor offer any guarantees with their work? How long does the guarantee last? What issues are covered under the guarantee? Will the contractor fix any issues that arise?
How long will the work take to complete?
How many contractors will be working on the job?
FAQs
How do you strip wallpaper?
The best way to strip wallpaper is to start by scoring it lightly with a Stanley knife. Then, soak the paper in warm water using a sponge. Leave the wallpaper to soak for around five minutes, and then use your stripping knife, pushing it into the scores and stripping the paper away from the wall. Continue these steps across the entire room.
How many rolls of wallpaper do I need?
It can be difficult to figure out how many rolls of wallpaper you might need for a particular job. You will need to start by measuring the walls. Then, use your measurements and enter them into an online calculator.

A simple Google search will bring up countless online calculators for calculating how many rolls of wallpaper you need. If you struggle with this, take your measurements into your local DIY store and ask a member of staff for advice. Your chosen wallpaper contractor may also be able to give you advice on the correct number of rolls you'll need.
What paste should I use for my wallpaper?
All wallpapers are different and will require different types of wallpaper paste. You should follow the manufacturer's instructions when it comes to choosing the right wallpaper paste.
How wide is wallpaper?
The typical width of most wallpapers is 535mm wide. However, some wallpaper manufacturers will create papers in different lengths. With this in mind, you should always check on the branded packaging or on the website for the correct measurements first when you are deciding which wallpaper to buy.
How long will my wallpaper take to dry?
The length of time that wallpaper takes to dry will depend a lot on the type of adhesive that is used to stick the paper to the wall. The average drying time for wallpaper is typically around 24-48 hours. However, some types may take a little bit longer. You can check within the manufacturer's instructions for estimated drying times.
Can I hang wallpaper horizontally?
Yes, hanging wallpaper horizontally is not much different to hanging wallpaper vertically. You will need to use pencil lines to ensure the wallpaper remains straight. You may also need to spirit level to help with this.
Sources
https://www.hkinteriors.com/pros-and-cons-of-wallpaper
https://www.homebase.co.uk/ideas-advice/decorating/wallpaper/how-to-hang-and-remove-wallpaper

Last updated by MyJobQuote on 23rd November 2021.