Underfloor Heating Installation Guide
Have you ever considered installing underfloor heating? It just may be the most cost-effective way to heat your entire house.
To help you decide whether underfloor heating is right for you, this guide will cover everything you need to know.
This article looks at the pros and cons of installing underfloor heating, how to employ a suitable tradesperson to install the system for you, timeframes, design ideas and much more.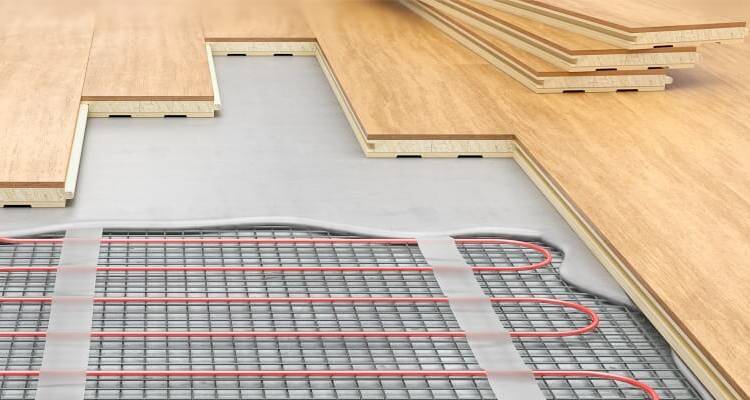 What is Underfloor Heating?
Underfloor heating involves installing pipework in the floor that will turn your whole floor into a massive radiator.
The system warms the room from the ground up, offering less demand on your boiler than a traditional radiator system.
An underfloor heating system has a lower operating temperature (around 40°C) than an equivalent radiator system, normally operating at around 65°C.
Underfloor heating eliminates the need for radiators and works well with renewable technology. It also helps prevent cold spots and draughts in your home.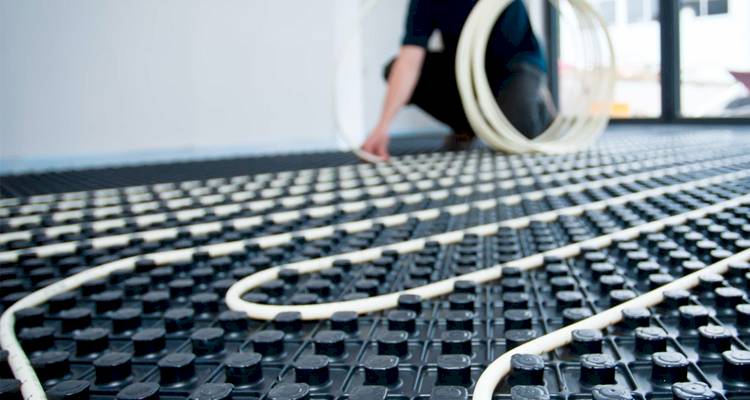 Types of Underfloor Heating
There are two main types of underfloor heating, including:
Dry Underfloor Heating
Electricity is used to heat your floors with heating cables fitted underneath. There are three choices of 'dry' systems:
Loose wire – which is best suited for stone or tile floors, and a great choice for awkward-shaped rooms
Matting – works well with stone or tiled floors and rooms that are large and more regularly shaped.
Foil mat – is designed specifically to work with laminate flooring.
Dry or electric underfloor heating can be cheaper and easier to install in existing buildings than wet underfloor heating. However, the running costs of an electric system can be three times higher than the wet option.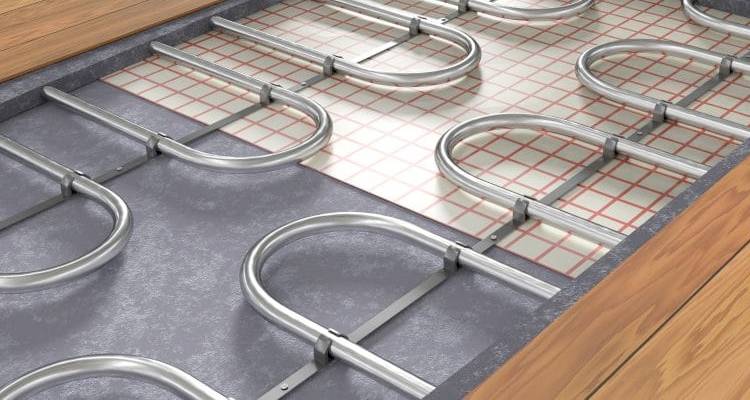 Wet underfloor heating
Wet systems are connected directly to your central heating system via a network of continuous pipes running hot water laid on a subfloor.
Also, any boiler with sufficient capacity can be used to power your newly installed underfloor heating system, so you may not even have the expense of a brand new boiler!
Installing a dry underfloor heating system in a small, single room such as a bathroom or en suite can be a great idea. All too often, it can be difficult and fiddly for even the most amenable contractors to install wet underfloor heating in smaller spaces. Naturally, it will also lead to higher installation costs.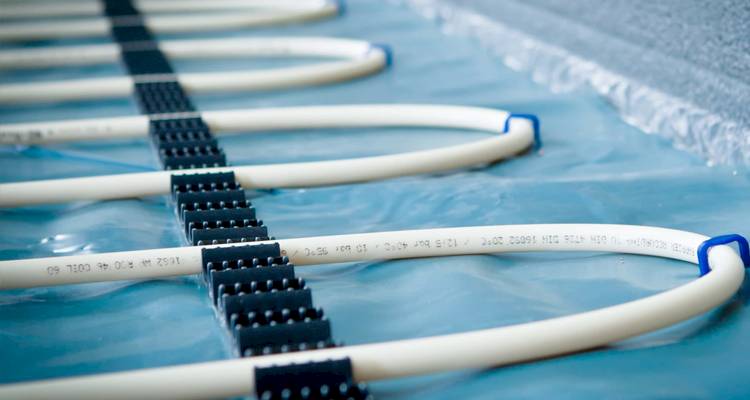 What Are the Pros and Cons of Installing Underfloor Heating?
As with everything, there are pros and cons to installing an underfloor heating system. Here we explore these conflicting issues.
PROS
There are plenty of advantages of installing underfloor heating, such as:
Energy Efficient Heating
The increased energy efficiency of underfloor heating makes the system cheaper to run, as each room can be individually controlled.
Underfloor heating needs to run at a temperature of around 29 degrees Celsius or less. Depending on the floor finish, this system will warm a room using radiant heat, consumes less energy and provide an average saving of 15% on heating bills thanks to the efficient way it warms a home.
More Space
With a UFH system, radiators will not take up space on the walls.
Underfloor heating frees up 10% of wall space that radiators would otherwise take up. This gives you more space to fit furniture or put paintings on the wall without working around bulky radiators.
Works with All Types of Floor Coverings
Underfloor floor heating works well with laminate, wood, tile, stone and carpet.
Underfloor heating systems can also be adapted to work with other types too such as concrete which is found in many modern homes.
Safety and Comfort
If you have younger family members in the house, you will no longer need to worry about children burning themselves on hot radiators. Underfloor heating systems are safely tucked away under the floor and therefore do not pose a problem for children or get dangerously hot to the touch.
They also feel comfortable underfoot, which is perfect for cold mornings in the bathroom, as the tiles will feel much warmer.
Ease of Installation
Underfloor heating systems are perfectly suitable for both new-build projects and retrofitting. The electric systems can be installed in a room in as little as 1 – 2 days, depending on the project. Water systems will generally take longer to install due to the complex laying of pipes involved and the need for skilled plumbers.
Underfloor heating installations should be fitted by a fully qualified installer who has worked with underfloor heating systems before.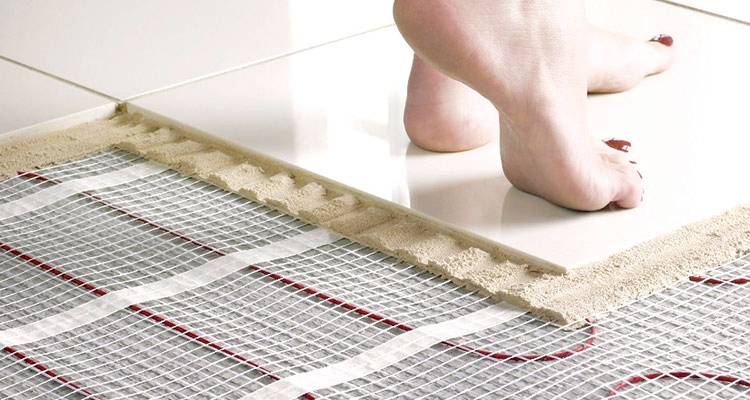 CONS
You should consider the following disadvantages of underfloor heating before going ahead with the installation:
Takes a while to warm up
An underfloor heating system can take a while to warm up, so it is important that you use a timer to make sure your rooms are warm enough when you need them to be.
Not suited to small systems
If your system is too small, you may have a lovely warm floor, but the rest of the room is still chilly. You could need to augment the system with added radiators. A small system will need to be upgraded to a larger installation, which can significantly increase costs.
Installation Cost
Underfloor heating can be fairly expensive, although the installation price will naturally vary, depending on your chosen system, the room's size, and your installer's fee.
Water-based systems have more complex installation requirements and usually take longer to install - sometimes up to a month. Although a wet underfloor heating system will initially cost more, the lower running costs in the longer term can offset the initial price.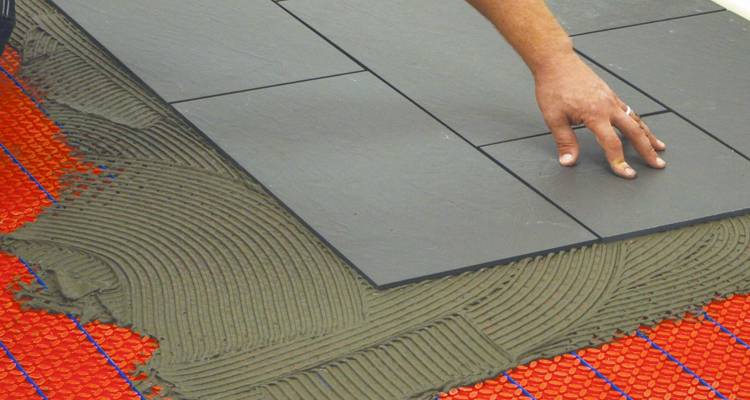 How Much Does It Cost to Install Underfloor Heating?
The cost of installing underfloor heating varies greatly depending on the type of system, as electric underfloor heating is normally priced at £60 per square metre, while a wet system costs up to £100 per square metre.
The size of the room and the type of flooring will also factor into the price, as will ease of access and property location.
You may also want to consider additional costs such as a new boiler, which you may have to consider If your system is small.
If installing underfloor heating before flooring, you will also have to factor in the cost of the new floor, which again will vary depending on the type of floor you choose.
For a more in-depth look at the price of installing underfloor heating, take a look at the official MyJobQuote underfloor heating cost guide.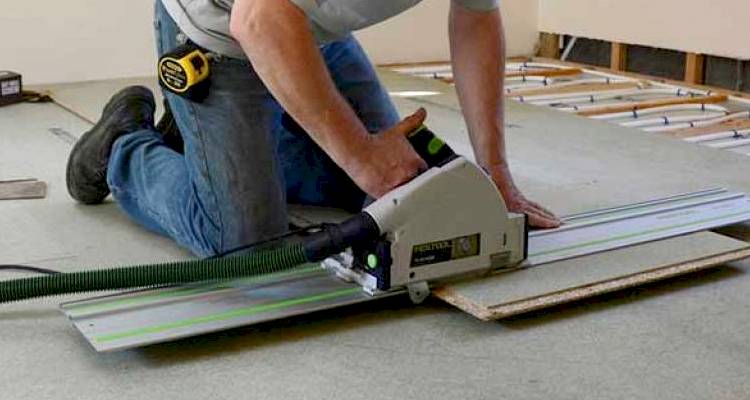 How to Install Underfloor Heating
The process of installing underfloor heating will differ for each type, although both dry and wet systems require the floor to be removed, followed by laying insulation and installing a damp proof membrane.
For a wet system, the heat pipes will be installed in a looping pattern and fixed in place with pipe staples. Once this is complete, a professional will then connect the system and test it out for safety and functionality.
For dry underfloor heating, heating mats will be laid out on top of the insulation and secured with double-sided tape. A floor sensor will then be connected to a thermostat which should be taped down at floor level. At this stage, you will need to call in a qualified electrician to connect the system and certify the job.
If you have a tight budget, a DIY project's average cost could bring the price within your reach. While underfloor heating is not considered a cheap option, the savings can be worth the outlay as a DIY project.
It is possible to install Underfloor heating yourself, providing you have some basic DIY experience. An underfloor heating mat producing electric underfloor heating is a fairly easy undertaking and can be installed by most people in just a few hours.
If you wish to take on this task yourself, check out the following guide on How to install underfloor heating.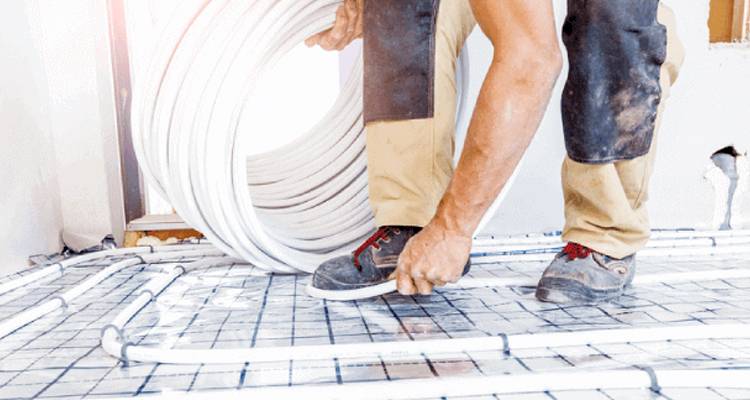 How Long Does It Take to Install Underfloor Heating?
Installing a wet system into a new build house can take between 2-4 days, but larger or more complicated installations will take longer. If the heating is installed in an existing property, preparation will be needed before the pipes can be laid, which can take one to two days longer.
Installation is complicated but can be completed quickly on a new build by experienced fitters. The heating will have been incorporated into the design already. Installing a wet system into an existing property can be problematic.
It may require digging up the floor or raising the floor level to accommodate pipework. Generally, the cost of installing this system in a refurbishment is prohibitive.
To save time, you could always prepare the floor in advance to reduce the time needed for tradespeople on site. This in itself will reduce your reasonable costs.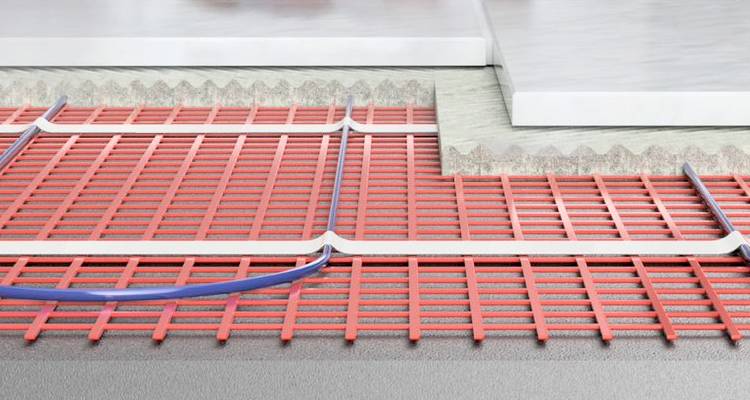 Building Regulations or Planning Permission Approval for Underfloor Heating Installation
If installing an underfloor heating system, you will need the required permissions. Check that the system and components meet building regulations to safeguard the investment you have made and maintain your property's value.
Although, you will need to apply for planning permission in the UK to install a central heating system, you do not need permission to install underfloor heating.
However, if you are building a new house or extending your home, you will require planning permission as normal, even with a conservatory.
The underfloor heating system should heat the property and satisfy regulations if a building is compliant with part L of the building regulations.
A competent and qualified person should sign off on plumbing and electrical work. A corgi registered tradesperson should undertake work on a gas boiler.
If you have done the work yourself and are concerned about the legality of meeting the regulations, do contact building control within your local government.
Once the building control officer has been notified, they will arrange for a full inspection of the work. If everything is correctly done, they will issue a certificate of completion, an assurance that your work is fit and certifiable.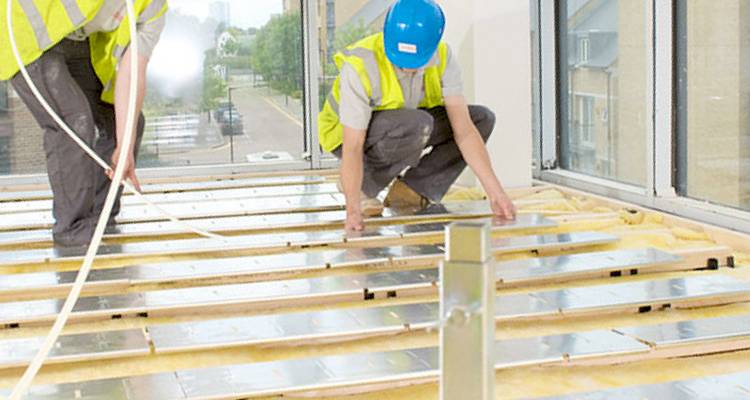 Questions to Ask When Hiring an Underfloor Heating Specialist
If you're considering upgrading your heating system, ensure that you explore all of the below questions, as this will help you choose the right person for the job.
Are you qualified to install underfloor heating?
It is important to determine whether the person you are hiring is qualified to install underfloor heating, more so with an electric system, as this will require a qualified electrician.
To ensure they are qualified, you can ask them for proof of their qualifications or choose a tradesperson listed under the competent persons scheme, authorised by the government. This will offer complete reassurance that the person you hire is highly qualified to install underfloor heating in your home.
How many years of experience do you have installing underfloor heating?
Before hiring someone, you should inquire about their experience, including the number of years they have been installing underfloor heating systems. This will help you understand if they are new to the job or have been doing this type of work for many years and are therefore better suited to the task.
Are you insured to install underfloor heating?
Another important question to ask is whether the person you are planning to hire is insured.
To double-check, you can request access to proof of insurance which will typically include employer's liability insurance which will protect you and them should anything go wrong during the installation.
Will there be much disturbance during the underfloor heating installation?
While most underfloor heating installation jobs are basically disturbance-free, you should ask the tradesperson who disruptive the job will be.
The contractor should advise you on the level of noise you expect to hear and how long the job will take, which will help you determine the disruption level.
Is my boiler compatible with an underfloor heating system?
Before deciding on an underfloor heating installation, you should ask the installer about your boiler and whether it is compatible with an underfloor heating system.
Most boilers work with underfloor heating, however, they may advise you about additional changes. For example, if you have a combi boiler, they may need to make adjustments to ensure your radiators and underfloor heating work together successfully. In contrast, smaller systems may need to be upgraded, which can come at an extra cost.
Will my floor type work better with a dry or wet underfloor heating system?
If you are having underfloor heating retrofitted and do not plan to change your floor, then it is important that you ask the tradesperson about floor compatibility.
By asking this question, the installer will then be able to advise which underfloor heating system is best for your flooring, or they may even inform you that none of them will work.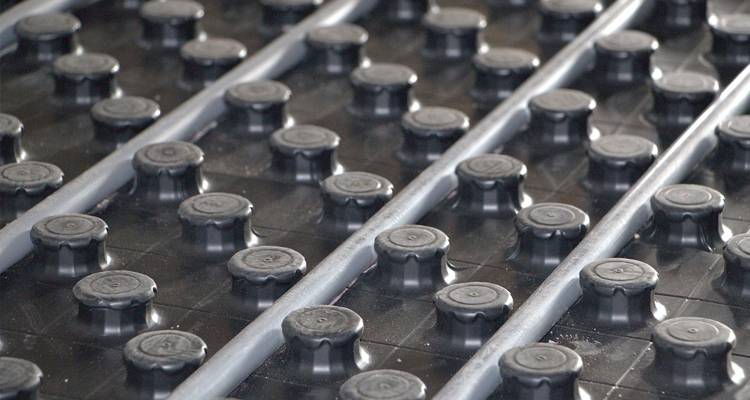 FAQs
Can you install underfloor heating on the concrete floor?
Yes, it is perfectly feasible for your underfloor heating system to be fitted in both concrete and timber suspended floors with great success.
How does underfloor heating work?
The way underfloor heating works will depend on the system you opt for, however, both are controlled by smart thermostats, which maintain a consistent temperature.

Wet underfloor heating works by producing a low temperature of warm water, which is fed through a pipework system.

A dry system involves the installation of wires which are placed on top of the insulation. These are normally connected to the main electricity supply and feature sensors that regulate the temperature in your home.
What is the warm-up time, and how hot will the floor get?
With underfloor heating, you will expect the floor to reach temperatures ranging from 25 to 31 °C in two to three hours.

The warm-up time for underfloor heating will depend on your floor covering's thermal conductivity. For example, stone and tiles are excellent conductors. They can carry quickly heat up to and beyond 29°C.
How do you use an underfloor heating thermostat?
Underfloor heating thermostats are fairly easy to use, as they basically consist of an on and off heating switch, which is typically installed on a wall.

A smart heated floor thermostat will adjust the heating based on the room temperature, however, you can also set the desired temperature. This will avoid overheating and wasted energy, which, in turn, will reduce your energy bills.
How much does underfloor heating cost to run?
The running costs of underfloor heating will vary depending on usage and system type. However, on average, you will spend around 2.1 pence per square metre when the heating is turned on for an hour with a 150watt system.

It's worth considering that an electric underfloor heating system can cost three to four times more than a water-based system with a gas boiler. This is because electric typically costs more than a natural gas supply.
Sources
https://www.warmup.co.uk/underfloor-heating/electric/cables/dcm-pro-system
https://help.oberlo.com/en/articles/952308-customizing-products
https://www.homebuilding.co.uk/advice/retrofit-underfloor-heating
https://www.floorsave.co.uk/media/floorsave/guides/how-to-install-underfloor-heating.pdf
https://www.floorsave.co.uk/expert-advice/how-to-install-underfloor-heating
https://www.underfloorheatingsystems.co.uk/underfloor-heating-design/floor-construction/#:~:text=Underfloor%20heating%20can%20be%20fitted,'%20solution)%20please%20contact%20us.
https://www.johnguest.com/speedfit/underfloor-heating/underfloor-heating-explained/what-is-ufh/#:~:text=Underfloor%20heating%20works%20by%20distributing,the%20property%20or%20individual%20zones.
https://wpjheating.co.uk/underfloor-heating-system/
https://www.ovoenergy.com/guides/energy-guides/pros--cons-of-underfloor-heating.html
https://www.myjobquote.co.uk/costs/underfloor-heating
https://www.warmup.co.uk/underfloor-heating/installation
How much does underfloor heating cost to run? - Advice Centre (heatingpoint.com)

Last updated by MyJobQuote on 22nd September 2021.