Chimney Breast Removal Guide
If you have a chimney breast in a room in your home, you may have spent some time staring at it and wondering whether you really need it or not. Many homes have disconnected the source to the fireplace, leaving it entirely defunct and without purpose.
Some fireplaces are still connected and working, unbeknownst to the homeowner, who probably doesn't need it due to the modern superiority of central heating.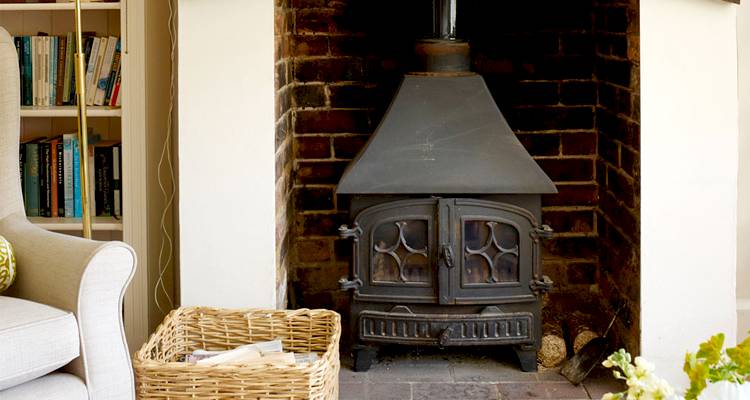 An unused fireplace, which may now be home to ageing charcoal and the odd vase of flowers, is probably better off removed, so you can make full use of the space in your home and install a more beneficial or modern décor in your living rooms.
Now, removing a chimney breast is no mean feat, and you should give it serious thought before committing, as it's pretty permanent removal.
In this guide, we're going to explore everything you need to know about chimney breast removal, how much the job costs, how long it's likely to take, the different things you can do with the space left behind, the legalities surrounding the project and just about anything else that's associated with chimney breast removal.
What is Chimney Breast Removal?
The chimney breast is the protruding area of your interior wall that houses your fireplace or space where a fireplace once sat, which leads to the chimney above your home. Now, not all homes have these, and they are more commonly seen in older properties with the classic brick chimney on the roof.
Once, this was a key element of these homes, providing the only heat when the temperatures dropped, and the flue inside the chimney breast took all the smoke and harmful gas out of our homes and dispersed through the chimney.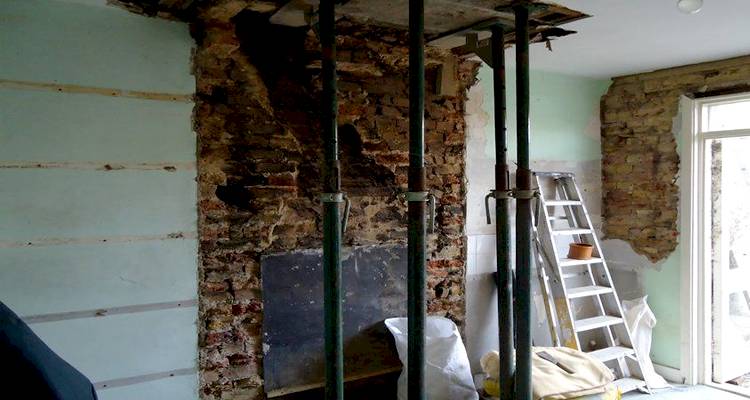 However, due to central heating and the cost to run them, fireplaces are scarcely used in homes anymore, making the chimney breast pretty pointless. Some people still look upon brick chimneys and traditional chimney breasts with nostalgia and charm, while others see them as a gross waste of space.
If you find yourself leaning towards the latter, you may want to consider having a professional contractor remove this from your home.
Types of Chimney Breast Removal
Removing the Chimney Stack
The chimney stack is the small brick structure that your chimney sits atop. Some people are fairly content with the chimney breast within their home but would prefer that the chimney and stack were removed. Providing that the fireplace has been disconnected, this can be done pretty easily.
The most common reason for this is when a homeowner is looking to have a new roof installed and want to have the chimney removed at the same time. You're likely to pay around £1,000 for this project, and it will more than likely be completed the same day.
Removing a First Floor Chimney Breast
In some homes, there may have been fireplaces in rooms other than the living room, most commonly bedrooms, to keep those rooms warm at night.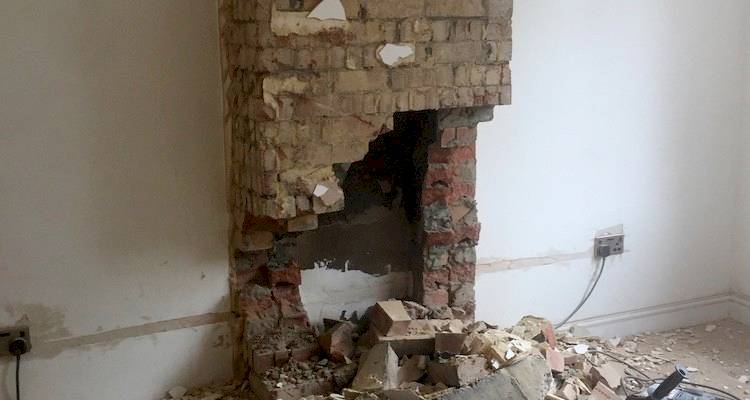 Now, some people will opt to have these removed from the bedroom while still leaving the chimney breast as it is in the room below. This is a common job, and it's not much different to a full chimney breast removal.
Removing a Full Chimney Breast
A full chimney breast removal is the most common type of removal, as usually, the main purpose is to garner as much space within your home as possible.
We'll delve deeper into the specifics of this job throughout this guide, but essentially the breast from both floors will be removed, along with the chimney stack and chimney to free up space in any affected rooms.
What Are the Pros and Cons of Removing a Chimney Breast?
PROS
Extra Space
The main reason that many homeowners pay for a job like this is for the extra space that you gain from the removal. At a glance, it may not seem like a major waste of space, but the difference is clear as soon as the work is complete, allowing you a whole host of new options for your living rooms.
Modern Décor
For those that don't see the space as a massive issue, they still would prefer that an old fireplace wasn't the centre of attention in their living rooms.
There are a lot of homeowners that are looking to bring their homes into the modern era with new styles, colours and furnishings.
Smart home devices like voice-activated LED lights and heating controls that operate themselves are becoming the most sought-after additions to the home. In contrast, rustic features like fireplaces and chimney breasts are finding themselves on the wrong side of history.
Better Heat Retention
While the main motivations for the project may be merely aesthetic, you'll also save a lot of money on energy bills. The chimney breast is essentially a long tunnel leading from your home to outside, meaning that the cold can invade and the heat escape through it.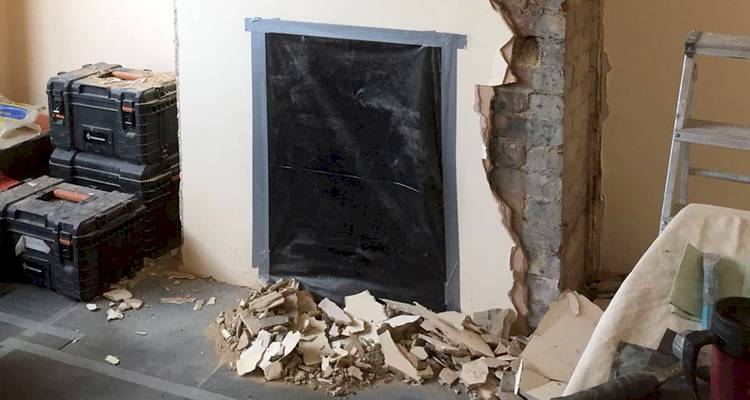 You may have heard the gust of cold wind or the patter of rain echo through your chimney breast, which should tell you all you need to know about how easily heat can escape through it.
CONS
Big Renovation
There is no escaping that this is a significant project to oversee and that there may be some disturbance while the work is carried out. It's also a massive change to your home, so you'll need to make sure that it's definitely the right option for you and your home before you commit to the work.
Cost
When you compare it with other renovations, the cost may not seem huge, averaging at around £2,500, which is quite a lot of money to have something removed. That's not to say that it isn't a worthwhile job, you just need to make sure that you have the budget available.
How Much Does It Cost to Remove a Chimney Breast?
The average cost of removing a chimney breast is £2,500. Now, this does fluctuate based on a few different factors. Firstly, the size of the job always affects the overall price, and a 2-bedroom terraced home will always attract lower prices than that of a 5-bedroom detached home, just based on the size alone.
Secondly, the job's complexity will impact the overall price, and if there needs to be specialist access or extra steps taken to complete the job, this will be reflected in the quote and cost. Another huge factor for the pricing is the location of your home.
Big cities like London and Manchester have a denser population and a higher cost of living, attracting naturally higher rates for contractors and tradespeople. However, small villages and towns have a lower cost of living and population density, meaning the competition between tradesmen forces labour costs down.
To get a more specific overview of the pricing involved in removing a chimney breast, check out our dedicated article on it here.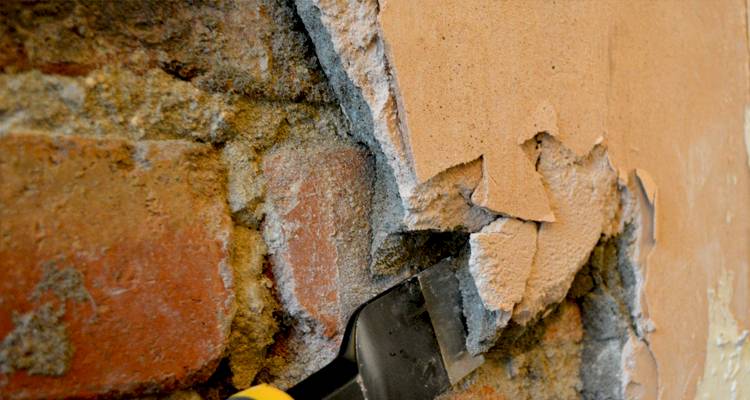 There are some other jobs related to chimney breast removal that may be more beneficial to you. Chimney liner replacement is one job you may need to do if you still have a working fireplace and don't intend to remove it or the chimney breast. The lining is a protective layer that shields the furnishings and areas around the fireplace from overheating becoming damaged.
This is a tedious and tricky job, so it's best to leave it to the professionals. You can expect to pay around £800 for a lining installation or replacement, and for more information on the project, check out our pricing guide here.
Once the work has been completed on your chimney breast removal, you may want to consider having the room replastered and resurfaced professionally to ensure that it reverts to looking its best.
Now, there are a lot of misconceptions that it takes a long time and costs a lot of money to have a full room replastered, but this isn't the case.
In fact, an experienced plasterer can complete an entire room in around a day and a half for a fee in the region of £550. You may think that this is an unnecessary expense, but you're newly extended rooms are going to need to be completely redecorated, and freshly plastered walls will make this task incredibly easy, whether you're opting for fresh paint or a new wallpaper for your living room.
This price will obviously depend on your home's location, the contractor's availability, and the overall size of the room you need to be resurfaced. Still, it is money well spent, especially after such a huge renovation on your home.
How to Remove a Chimney Breast
Removing a chimney breast is a tough task that requires experienced, confident and skilled contractors. The job creates a lot of mess and is often routed around very important and dangerous wires, pipes and gas lines that are not only essential to the home but become very unsafe when dealt with incorrectly.
We're going to take you through the process of removing a chimney breast, but this isn't to be used as a guide to attempt the work yourself, but merely as an overview of what you can expect your contractors to do.
First of all, you will need to check with your local authority to find out whether planning permission is required to carry out the chimney breast removal to adhere to the legalities of the work.
You will also need to hire a structural engineer to review the work, as this may impact the structural integrity of your home, so permanent supports may need to be installed as the chimney breast is removed.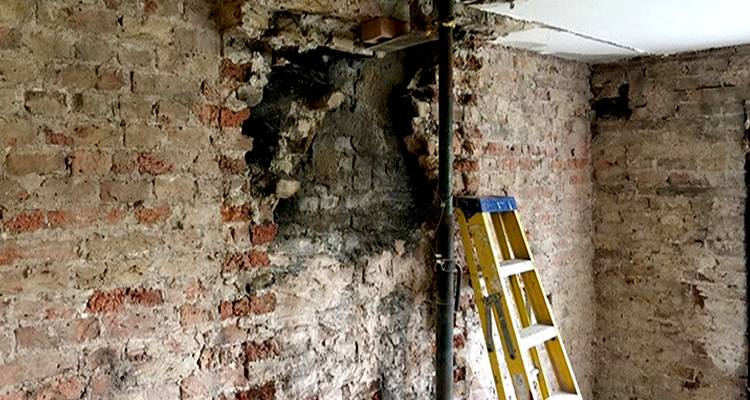 With these points in mind, it is essential that you hire a builder with years of experience in this exact line of work. Another important aspect of the job is to adhere to the Party Wall Act of 1996, and as a lot of chimney breasts are on the inside wall shared with an adjoining home, this can make the job even more complex.
In simple terms, the chimney stack will be removed first, before the chimney breast is broken down throughout the home, with debris removed and supports put in place to replace the breast, before plastering and resurfacing work can begin to complete the job.
This is an extensive job that requires the collaborative effort of multiple trades, so it's advisable to get in touch with an experienced contractor who will hopefully take the reins for you.
How Long Does It Take to Remove a Chimney?
While removing a chimney stack is normally completed in just 5-6 hours, the removal of a chimney stack and a full chimney breast is much longer. You can expect the work to take around four days, provided that the contractors are working in tandem and are available when you need them to be.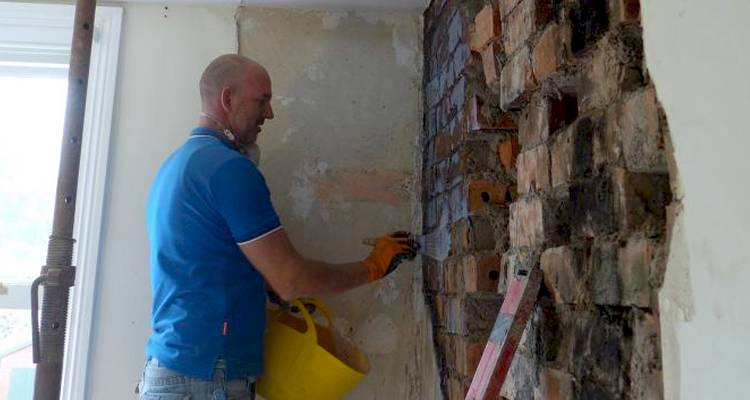 Building Regulations or Planning Permission Approval for Chimney Removal
While there will be regulations and restrictions that you must always adhere to when removing your chimney breast and stack, it is unlikely that you will need planning permission for the removal unless your home is a listed building or in a local conservation area.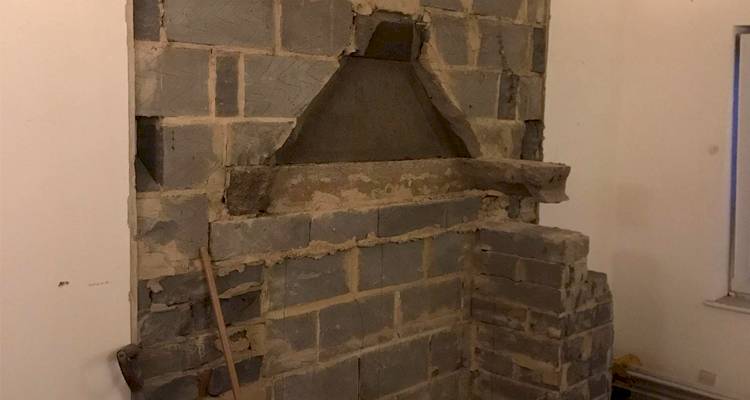 Of course, if you share a wall with an adjoining home on the chimney breast side, you will also need to adhere to the Party Wall Act of 1996. For more specific advice on adhering to all of these regulations, get in touch with your local building and construction council or authority, who will guide you through the steps you must take before work can begin.
Questions to Ask When Hiring a Chimney Removal Specialist
How much will the overall work cost?
How long is the project likely to take with each tradesperson?
Do you think planning permission will be required?
Can you see any potential problems from your quote and walk around?
Have you completed any similar projects to this one before now?
Are there any homes in the local area that you have completed work on that we could see as an example?
Are you accredited with any trade association?
Do you have liability insurance?
Will you help us align all the different firms and tradespeople we need to complete the job?
FAQs
What do you do after a chimney removal?
After the chimney breast removal, the contractors will ensure that the structural integrity of your home is sound, installing further support if necessary to ensure the work is completed in full. This is an incredibly crucial aspect of the overall project, and you'll want a very experienced professional to review this before signing off on the work.
How do you patch a roof after chimney removal?
The missing membrane, tiles and materials will be filled in to cover the area that the chimney and stack once were to ensure that it is almost undetectable that a chimney was once there.
Can I remove a chimney breast and stack myself?
The removal of a chimney stack and breast is an incredibly highly complex job that requires the attention of multiple trained professionals. The chimney stack is key in your home's structural integrity, so it shouldn't be worked on by anyone that isn't completely assured in their knowledge of this type of work.

The chimney stack itself requires working at height, which is a very task in itself, so this is another job that is best left to professionals, especially when you consider that the project requires removing bricks from the roof, which creates a potentially fatal risk of heavy items falling onto pedestrians.
What is liability insurance?
Liability insurance is insurance that contractors pay in order to protect them against personal prosecution in court following any disputes with prices, work completed, damages and accidents. It actually protects the customer too, as they can make claims against the contractor's insurance company should there be any disputes.
Can you remove the chimney breast but leave the chimney stack?
Yes. The chimney stack will still need securing and probably filling in, but it is perfectly safe to stay on the roof as long as it isn't damaged.
Sources
https://www.homebuilding.co.uk/advice/how-to-remove-a-chimney-breast
https://www.direct-fireplaces.com/resources/should-you-remove-your-chimney-breast/

Last updated by MyJobQuote on 23rd November 2021.