Artificial Grass Installation Guide
Are you interested in installing artificial grass at your property and looking for some more information about it? This artificial grass guide will go over everything you need to know about artificial grass installation, including the different types of artificial grass, the pros and cons, how to lay artificial grass, and the costs involved.
What is Artificial Grass?
This section will take a look at what artificial grass actually is and why it's so popular.
So what exactly is artificial grass? It's a synthetic alternative to real grass that grows naturally. It can also sometimes be referred to as natural turf, artificial turf, or fake grass.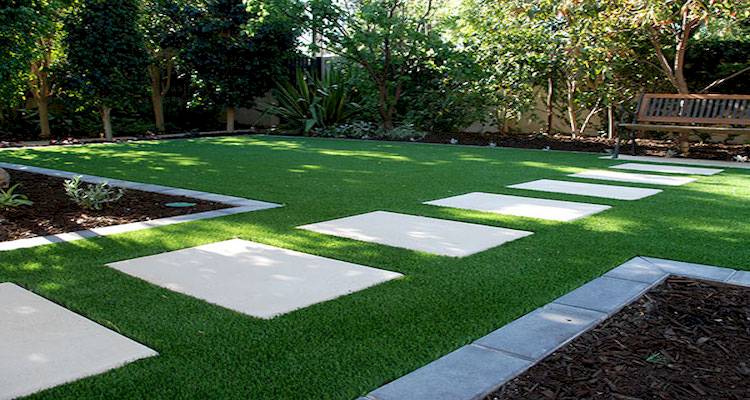 Artificial grass looks extremely similar to natural grass but is often much more convenient than regular grass.
With artificial grass, you don't have to worry about keeping on top of mowing it. Plus, it can be installed anywhere, including completely shaded areas and areas with no rain. It can even be installed indoors if you wish.
Types of Artificial Grass
There are three different types of artificial grass. While all artificial grass is quite similar, the difference between these three types lies in the type of plastic that is used to manufacture them.
Below is a list of the different types of artificial grass and a little bit of information about each type:
Polyethylene Artificial Grass
Polyethylene is the most common type of plastic fibre and is a great all-rounder material for artificial grass. The fibre is quite soft and looks very similar to regular grass.
However, it's not as strong as Nylon artificial grass, so it may be a better option for low traffic areas.
Pros:
✔ Looks great
✔ Common material
✔ Easy to lay
✔ Easy to maintain
Cons:
✖ Not as strong as other artificial grass types
Polypropylene Artificial Grass
Polypropylene grass is very similar to polyethylene. However, it is stronger than the latter but still not quite as strong as Nylon. With this in mind, this type of artificial great is great for general use and can withstand the average footfall.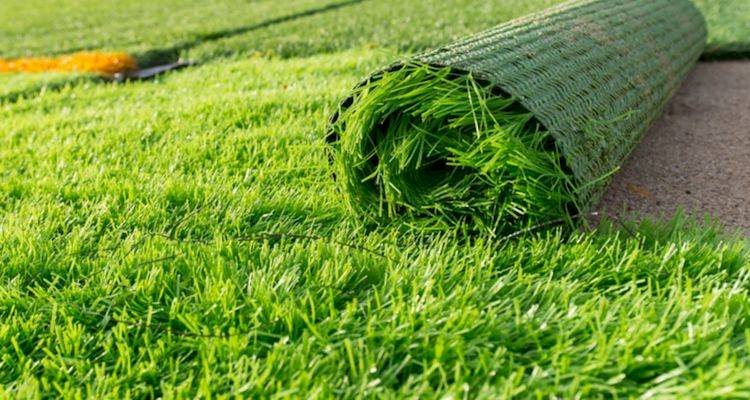 However, if you're placing it in a very high-traffic area, you may want to think about choosing Nylon grass instead.
Pros:
✔ Good for general use
✔ Looks great
✔ Easy to lay
✔ Easy to maintain
✔ Stronger than Polyethylene
Cons:
✖ Not as strong as Nylon
Nylon Artificial Grass
Nylon grass is the strongest type of artificial grass. It's extremely durable and perfect for high-traffic areas. However, it does come with a higher price tag to reflect this increase in durability.
So if you're on a tight budget or looking for cheap artificial grass, this may not be the best option for you. If you have pets or children, Nylon grass would be a good option because it can withstand heavy use.
Pros:
✔ Very durable
✔ Good for high-traffic areas
✔ Good for pets and children
✔ Easy to lay
✔ Easy to maintain
✔ Looks great
Cons:
✖ Expensive option
✖ Fibres can be harsh to touch
Artificial Grass Ideas
Artificial grass can really improve your garden and looks great. There are many amazing things that you can do with artificial grass to completely transform the aesthetic of your garden.
Take a look at some of the ideas below on what you can do with artificial grass in your garden:
Flowerbed Features
A great addition to your artificial garden is flower beds. As nice as it is to have a complete lawn, it may also look a little bit boring to just have grass and nothing else in your garden.
You may wish to use flowerbeds as a border for your lawn, or you could even incorporate flowerbeds to separate certain areas of the lawn.
Adding flowers to the garden has a lot of benefits, including attracting insects and animals, adding scents and colours, and it also adds authenticity to the garden.
Adding Pathways
You can create a magical journey through your garden using pathways or stepping stones within your artificial lawn. This is also great for the lawn as it minimises the footfall on the artificial grass, allowing it to last much longer.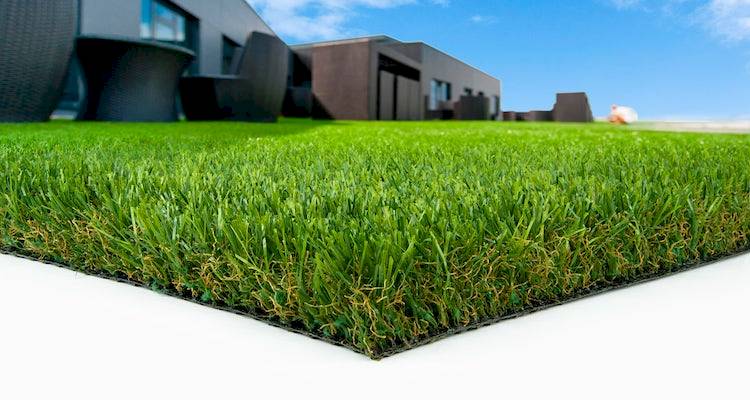 Not only that, but pathways will also add some character to the garden, giving it a unique aesthetic.
Children's Play Area
If you have children, you can install a section of artificial grass in your garden as a children's play area.
It's sometimes very easy for regular grass to become ruined or ripped by children running around. The incorporation of artificial grass will prevent the possibility of your lawn looking untidy.
Raised Levels
A great way to improve your garden's aesthetic appeal and make it look unique is to add some raised levels.
You can install steps and different levels with artificial grass along with other features to create an exciting and magical area that you, your family, and your guests can enjoy.
What Are the Pros and Cons of Artificial Grass?
In this section, we will examine the various pros and cons of installing artificial grass in your garden.
PROS
Aesthetically pleasing – Artificial grass looks great all year round and in every type of weather. It stays looking tidy, neat and green.
Very little maintenance – Artificial grass requires hardly any maintenance at all, so it's a very convenient option.
More time to enjoy your garden – With less time spent maintaining your lawn, you have more time available to actually sit and enjoy your garden.
Don't need to mow – Lawnmowers are bad for the environment and can even potentially be quite dangerous. You won't need to use a lawnmower at all with artificial grass.
Doesn't need to be watered – Your artificial lawn won't need to be watered. This is good for the environment as it cuts down your water usage. This can even help to reduce your water bills.
Pet-friendly – Artificial grass is non-toxic and can't be spoiled by being dug up or urinated on.
Wide range of styles – Artificial grass comes in a wide range of colours and styles, so you can find the perfect type of lawn for your garden.
Very versatile – Since artificial grass tends to be very durable, it can be used for many different things, including a children's play area, entertainment area, decking décor, gym, golf course – the possibilities are endless.
Great for kids – Artificial grass is soft, bouncy, and free from any chemicals or pesticides, making it very safe for children to play on.
Allergy-free – This is a great bonus if you or someone in your family suffers from hay fever. Artificial grass stays pollen-free all through the year.
No mud – Regular grass can often become muddy and may result in muddy footprints through the home. You don't need to worry about this with artificial grass.
Doesn't need sunlight – Artificial grass will look great and stay looking great even in the most shaded areas as, unlike real grass, it doesn't need any sun to stay healthy.
Pest-free – Due to the materials that it's made from, artificial grass does not attract pests.
Highly durable – Artificial grass can withstand a lot of wear and tear.
CONS
Manufacturing can be bad for the environment – The manufacturing process of some types of artificial grass can be bad for the environment. This will depend on the type of machinery that is use and the method of production.
Can be pricey – Installing artificial grass at your home can be quite expensive.
Longer to install than natural grass – It takes longer to install artificial grass than natural grass because of the method used to fit it.
May not last as long as normal grass – While artificial grass is known to last for around 20 years, natural grass that is well-maintained can last for much longer.
Reduces biodiversity in the garden – Natural grass will often attract insects and animals to your garden, whereas artificial grass may deter them.
How Much Does an Artificial Grass Installation Cost?
You may be wondering how much it costs to install artificial grass at your home. The average cost you can expect to pay will depend on several factors, including your location, the size of the area, and the type of grass that is being installed.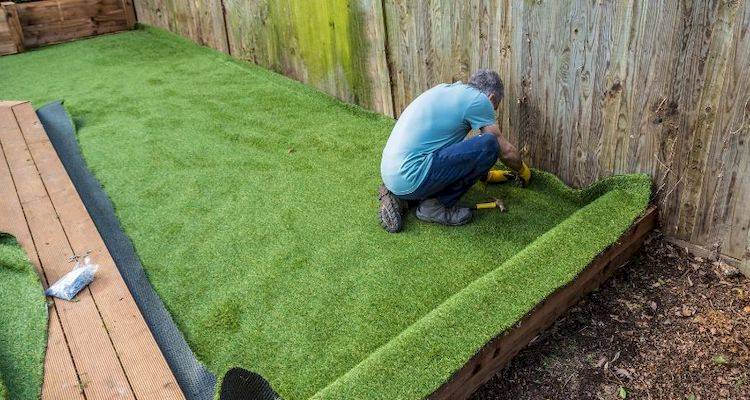 For an average-sized garden in the UK (around 70m2), you can expect to pay around £800-£3500 to have artificial grass laid. This includes the cost of all of the materials needed and the labour.
How to Install Artificial Grass
Installing artificial grass is not too difficult for an avid DIY enthusiast. Below is a simple guide on how to install artificial turf:
You will need to begin by digging the edges of the area to 100mm.
Next, dig the rest of the area down to 75mm. Leave the centre slightly higher for a more natural look and for better drainage.
Knock stakes around the edges to support the edging boards and then level off the edging boards at the correct height. Screws these boards into place and secure them.
Once the edging is complete, rake the rest of the area and spray pesticide and weed killer.
Cover the area with a weed control membrane or artificial grass underlay and cut it to size. Be sure to overlap any separate pieces of membrane.
Then, fill the area with sharp sand and rake it out so that it's even. Smooth the sand surface area out with a plank.
Use a wacker plate to compact the sand.
Next, you can begin laying out your artificial grass. Trim is where needed for a good fit.
If you need to join sections together, roll tape along the join and cut it to length. Double-sided self-adhesive tape usually works best for this with an external artificial grass adhesive. Place heavy blocks on the seam until it's fully dried.
How Long Does It Take to Install Artificial grass?
A major concern when it comes to installing artificial grass is the timescales involved with fitting it. Often, the length of time it takes to install your artificial lawn will affect the overall cost of the job. The longer the job takes, the more you can usually expect to pay for the labour of fitting it.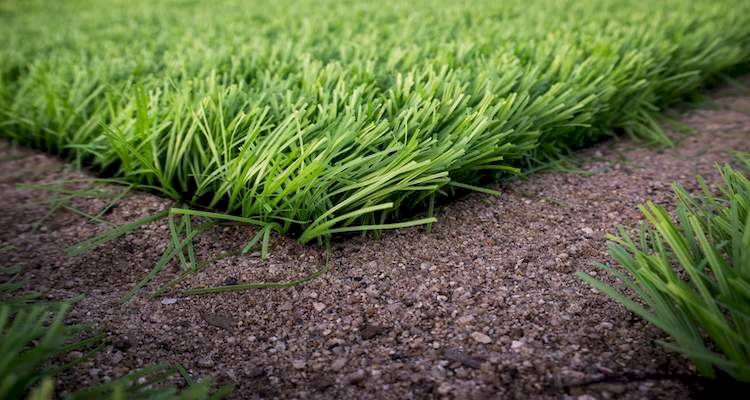 Several factors can affect the time it takes to lay artificial grass, including the size of the area, the current condition of the area, and whether any complications arise during the installation process.
A small garden of around 40m2 will usually take around 1-2 days to complete on average. A medium-sized garden of around 70m2 will take around 2-3 days, and a large garden of around 150m2 will take around 4-5 days to complete.
Building Regulations or Planning Permission Approval for Artificial Grass
When it comes to installing artificial grass at your property, you won't need to worry about gaining planning permission or following building regulations.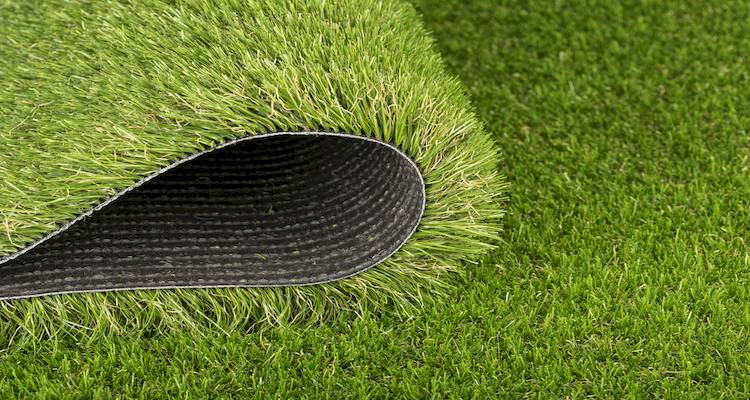 However, if you live in a conservation area, you may need to obtain planning permission to install artificial grass. If you are unsure at all, it's always best to check with your local council first to see if this may apply to you.
In most cases, though, you won't need to worry about planning permission or building regulations for artificial grass.
Alternatives to Artificial Grass
There are several alternatives to artificial grass. Some people prefer not to have grass at all in their garden and would prefer a paved space.
Other's prefer the beauty of natural grass. Let's take a look at the other options that are available.
Garden Decking
Garden decking is becoming increasingly popular in the UK. It requires very little maintenance and offers a lovely aesthetically pleasing area that's great for entertaining guests or placing furniture for relaxing.
Adding decking to your garden is a great way to increase the value of your home, as it's something that home buyers tend to look in favour of.
Natural Grass
If artificial grass isn't right for you, then you could opt for natural grass. Natural grass offers the same great look as artificial grass, however, it does come with some extra work. If you're interested in gardening and enjoys maintaining the garden, this may not be a problem for you.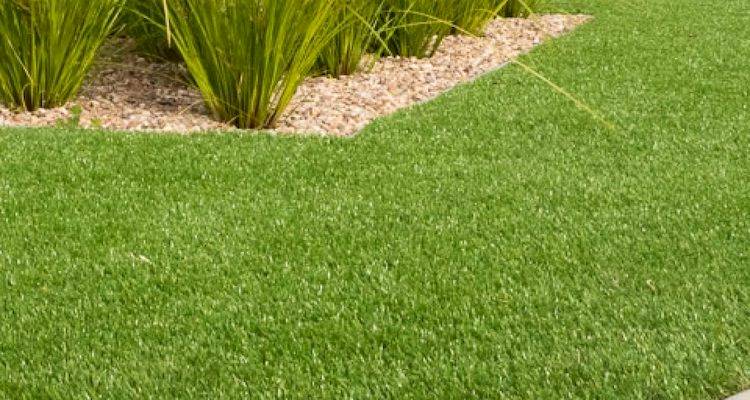 Natural grass requires regular watering and mowing and often requires weed killers and pesticides to keep it in the best possible condition.
Paving or Concrete
Some people prefer not to have a lawn at all in their garden and prefer to go for a concrete garden or paving stones. These options are great for those who prefer to avoid the hassle of maintaining their garden.
Concrete and paved gardens don't require much maintenance and offer a stable, level ground for placing garden furniture or barbecues.
Questions to Ask When Hiring an Artificial Grass
You may need to consider several things when finding the right contractor to install your artificial grass for you.
Below is a list of common questions that you should ask when looking for the right contractor for the job:
Does the contractor have any qualifications that relate directly to installing artificial grass?
What equipment will the contractor be using to complete the job? Will they be using the correct type of equipment? Do you need to provide any equipment?
Does the contractor possess any form of insurance for the work? You should look for contractors who have insurance that covers property damage, personal injuries, and a work guarantee.
How much experience does the contractor have in laying artificial grass? Can they provide any testimonials or evidence of previous work? Can they provide photos of previous work?
Does the contractor offer any guarantees with their work? How long does the guarantee last? What issues are covered under the guarantee? Will the contractor fix any issues that arise?
FAQs
Which artificial grass is the best?
The best artificial grass for you will depend on your personal preferences and the lawned area's intended use. If the area is a high-traffic area or if it is intended as a children's play area, then the best option may be Nylon artificial grass as this is the strongest and most durable type.

This is also considered the best artificial grass for dogs as it's the most durable. If you're more concerned about cost, you may wish to opt for Polyethylene artificial grass, which is the most cost-effective option. It's worth researching the different types of artificial grass and discussing your supplier's options before you decide if you're unsure.
Can you lay artificial grass on concrete?
Yes, artificial grass is versatile enough to be laid on basically any surface.
Can I install artificial grass myself?
Yes, you can! Laying artificial grass is quite a simple job. If you're an avid DIY enthusiast, there's no reason why you wouldn't be able to install artificial grass yourself.
Does artificial grass need any maintenance?
The only thing you will need to worry about with your artificial grass is brushing leaves and debris off it and removing any pet mess.

You don't need to worry about mowing or watering like natural grass. For this reason, many people choose to remove and replace their current natural lawn with an artificial lawn instead.
How long does artificial grass last?
On average, artificial grass tends to last for around 20 years, depending on the volume of traffic on the area that it's installed.
Sources
https://www.artificialgrass-direct.com/faqs
https://neograss.co.uk/the-ultimate-guide-to-choosing-artificial-grass-for-your-garden-lawn
https://www.trulawn.co.uk/news/key-elements-garden-re-design-can-incorporate-artificial-grass
https://www.clsscotland.com/legislation-laying-artificial-grass-conservation-areas

Last updated by MyJobQuote on 22nd September 2021.