We Surveyed Our Traders to Find out the Weirdest Things That Have Happened to Them On Site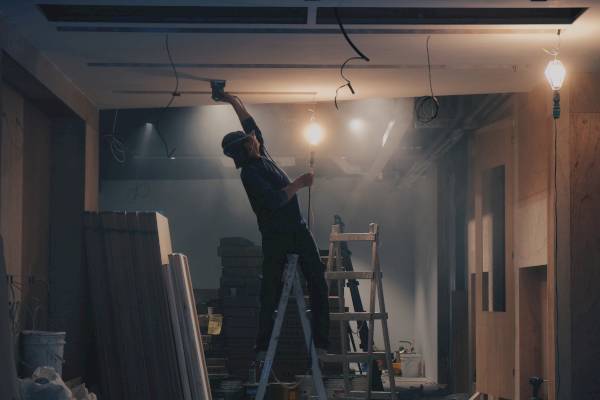 We conducted a survey to find out about the weird and wonderful things that have happened on site with our registered traders. They spend all day in people's homes, so it is no surprise they have some bizarre stories up their sleeves. From rogue snakes to being given eggs as a tip (yes, really!), if you think you have had a strange day, wait until you see what our traders have to say!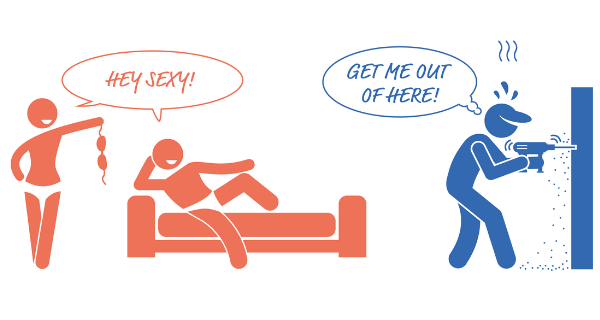 Feeling Sexy?
It sounds like such a cliché, but the number of tradesmen that have been propositioned makes their day seem more 'Full Monty' than full English.
5% of our labourers were either requested to work nude or were surrounded by more tools than those they came with. One builder even experienced the clients, "walking around with no clothes on." One electrician was worried about sparks flying in the wrong place as they remember, "I was asked to take my shirt off and dance for money."
If that wasn't enough, 4% of traders surveyed have also accidentally walked in on their clients having sex!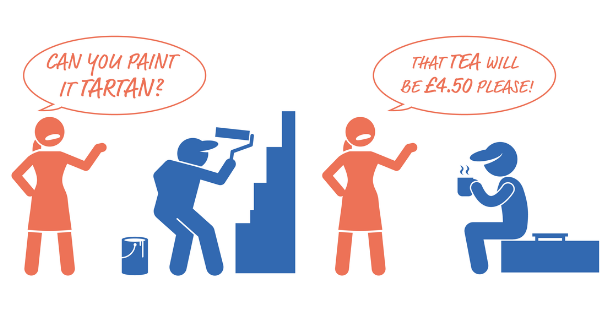 Did That Just Happen?
Whilst some people may complain about footprints on the carpet left by traders, some the workers have also had reason to grumble.
"After finishing a loft conversion, I gave the client our invoice for payment, only to be handed one ourselves for tea, coffee, and sandwiches we'd consumed over the last 4 weeks by the client", according to one joiner.
It will come as no surprise that contractors have been asked some very funny, yet serious, questions. One floorer was asked if they had any tartan paint in stock whilst another was requested to install a toilet into an open plan bedroom.
As well as this, nearly a quarter (23%) of the traders have been called out to do simple tasks such as simply hanging pictures, turning on taps, or put the heating on!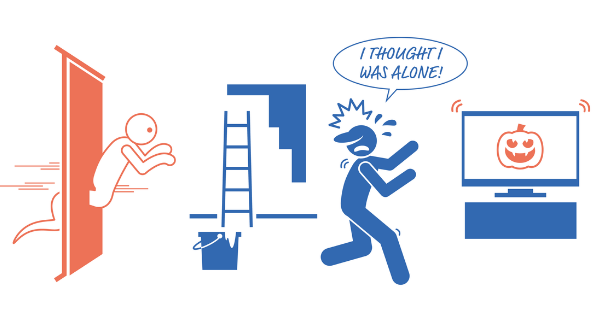 Spooky Happenings
Of course, tales from tradesmen wouldn't be complete without a spooky story to tell. It isn't unusual for our contractors to hear strange things happening from other rooms when on the job, 12% of those questioned said they'd experienced "paranormal activity" on the job. Some occurrences have even left workers unexpectedly arguing with clients over what's going on.
One trader spoke about how he heard footsteps coming from empty rooms and one of the oddest ghost stories was about potential poltergeists. The plumber, "I saw a plate fly across a room when working at a customer's home, and I was the only person in the house at the time."
But one story to really give you shivers is from a painter and decorator who speaks of their shock when working on a 17th Century home, "The television turned itself on and then the cold tap started running on its own."
So, whether you need a plumber, carpenter, or an exorcist, the next time you have a worker over, perhaps you should consider if your behaviour is as normal as you think it is.
Last updated by MyJobQuote on 6th April 2021.