External Front Doors – Wooden vs UPVC
There is a wide range of exterior doors available today with a wide choice of styles, quality and materials. Probably the two most popular materials, are timber and UPVC. Timber doors are particularly popular with those looking to be environmentally friendly, wooden doors do not just look good but make good use of our natural resources. They also can make a very sturdy door that is durable and handsome. On the other hand, UPVC doors generally involve much less maintenance so are easier to live with.
UPVC doors can be supplied for DIY fitting or bought from local companies who will be happy to install them for you. UPVC doors tend to be considerably cheaper than wooden doors. Though you can buy cheaper timber products, this is not recommended for an exterior door.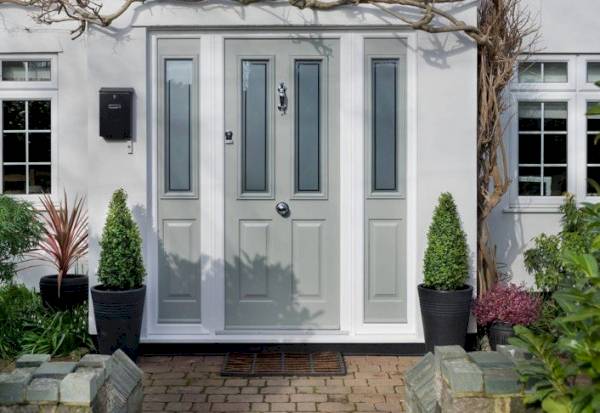 The advantage of wooden doors is that when they are treated correctly, they can last for many decades and will remain beautiful. In addition, wood can easily be repainted in different colours if you wish and the door furniture can also be changed easily. The disadvantages of wooden doors are that they are vulnerable to damage from the weather, therefore, need to be treated and well maintained over the years to prevent twisting, warping and rot.
On the other hand, UPVC doors are very low maintenance and require no painting or staining, they are also almost as well insulated as wooden doors but much more stable and they often offer more security with multipoint locking being the norm. The main disadvantages of UPVC doors are the appearance, they tend to look really narrow due to the thickness of the frame plus you are generally stuck with the one colour and you cannot simply paint the door nor can you easily change the door furniture.
Composite doors are a popular choice as they offer the best of both worlds, being a combination of wood and UPVC. Composite exterior doors are strong, sturdy, weather-proof and virtually maintenance-free. Unlike the wooden doors, they are not prone to warping or rotting. Yet they are available in a wide arrange of styles and designs to suit any home. Composite doors are also highly thermally efficient so can help to reduce energy bills. However, composite doors tend to be much more expensive than their UPVC counterparts, thanks to their complex construction and use of costly materials. The main disadvantage of composite doors is that although they can mimic the appearance of timber, they cannot match the natural texture.
Compared to wood and composite doors, UPVC is generally cheaper and much easier to live with over the long term. They may not be quite as robust as an expensive hardwood door, but the multipoint locking systems are very secure. UPVC doors are not quite as elegant as traditional timber exterior doors, but they are currently the most popular material used for replacement exterior doors in the UK, largely due to their efficiency and value for money. However, if you live in a listed property, then a traditional timber door may be the only option.
Last updated by MyJobQuote on 3rd April 2018.