Top 10 Bathroom Upgrade Ideas
Below are some of the most notable upgrades you can make to your bathroom and the factors you should think about for each. Whether you are looking for a complete renovation of your bathroom or just looking to replace one feature, these are some of the key factors to be considered before making a purchase, to ensure you make the best choice for you and your bathroom.
Get up to 3 Free Quotes from Local Bathroom Fitters by clicking the "Post a Job" button!
Baths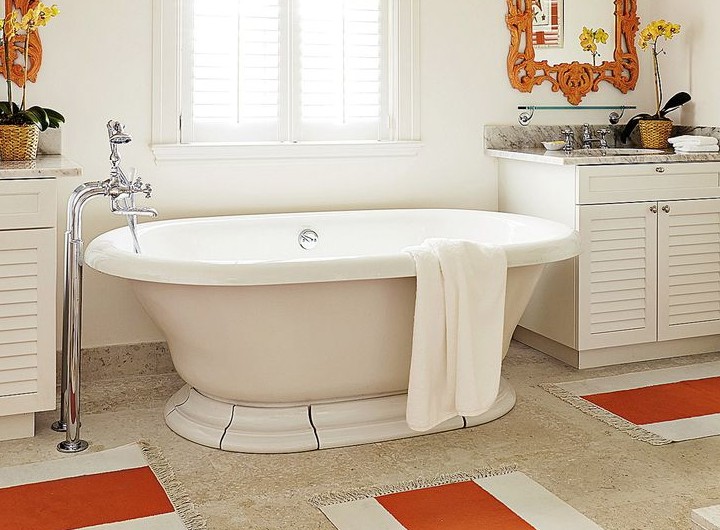 The bath – one of the central features and the namesake of the bathroom itself. To get yourself the right bath will involve you considering the types of bath available, the materials, the style and aesthetics and the eventual cost.
Common types of bath available:
Single-Ended – a bath where the waste and overflow are fitted to one end of the bath exclusively, with a slope from one end to the other.
Double-Ended – a bath where the waste and overflow are fitted centrally in the middle of the bath's length and often are available in larger sizes than single-ended baths.
Shower Baths – popular in many homes to provide a home the flexibility of having the choice of using it as a bath or shower with their own respective benefits. Additionally they can be considered a space saving option rather than having both features fitted independently.
Modern Freestanding – an increasingly popular option and a very modern style, but requires more space, so typically only suits larger bathrooms
Traditional Roll Top (Freestanding) – a classic style for a bath, with raised feet or supported by dais or cradles. Often they are best matched with a traditionally styled bathroom, but can also work well in more modern or funky bathroom designs.
Whirlpool – a bath which features whirlpool jets for a massaging effect for a more relaxing and invigorating bathing experience.
Common materials for baths these days include; acrylic, steel, stone and cast iron. Each will vary in terms of their affordability, durability and styles available.
Choosing a suitable aesthetic will be dependant on your personal preferences and the style of the rest of your bathroom. It would be worthwhile looking into any suitable matching fittings for any baths you like – which can often be cheaper to buy a set of bathroom fittings this way.
Your budget will be an important factor when choosing a bath – so consider the price differences between the types of bath and the materials to determine what options will suit your bathroom best.
Showers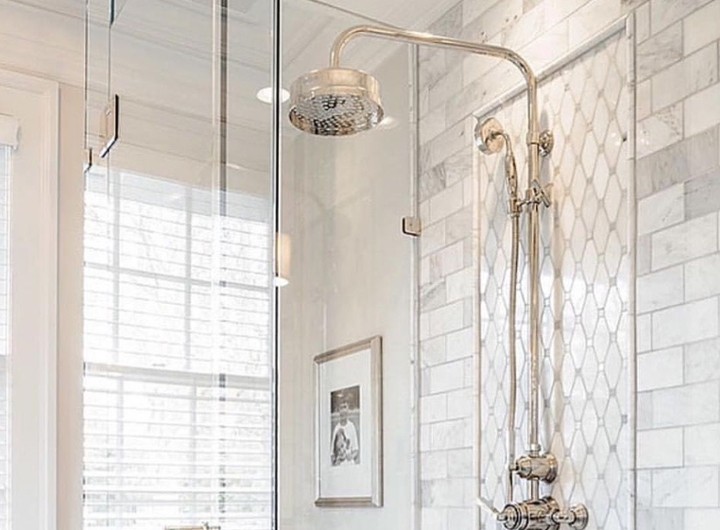 While baths may be the namesake of the bathroom, they aren't necessarily wanted in every bathroom – in many homes nowadays, showers are the preferred option.
When looking for a new shower, there are some key areas to consider:
Aesthetics – there are numerous styles available to choose from nowadays, it would be recommended to follow what styles you like best, but to keep an eye on how it could contrast against any other current or planned bathroom features.
Size – for any significant bathroom change, you should be considering the space being used up. Any potential new shower should be measured precisely ahead to ensure that there will be no issues of overlapping or unsightly gaps. With parts such as shower trays or enclosures, be sure to make note of any measurements to judge against your bathroom's size and the would-be shower location
Height – consider the heights of any shower users and that there is sufficient headroom and that a shower head is suitably manoeuvrable, if required.
Location – primarily, consider that the location of the shower should have access to the water pipes. The position of the shower should ideally not be at the detriment of access to other bathroom features.
Cost – with any bathroom renovation, a shower can easily be one of the most expensive elements, so it would be best to weight up the priorities for the shower to be installed to determine the most suitable within any budget available for the bathroom.
Notably, while more expensive showers will typically be higher quality and cheaper showers of lower quality, there is no golden rule for what is best for your bathroom – knowing your own priorities for the shower would be the best way to judge the shower's cost.
Toilets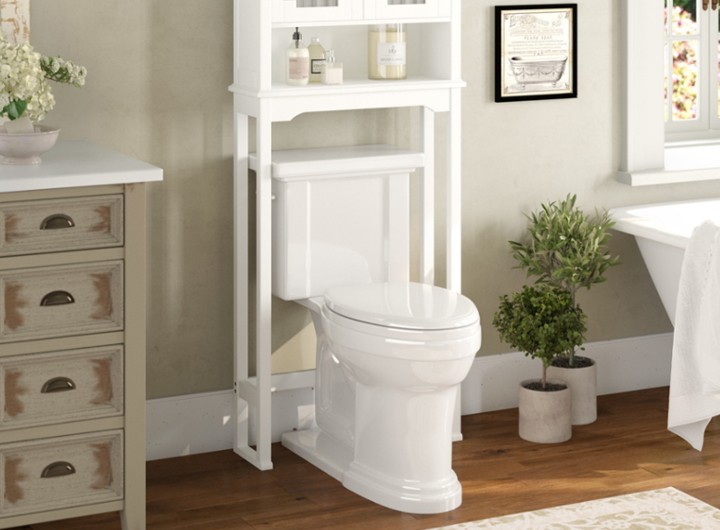 A crucial part of any bathroom and one that we all want looking in peak condition.
Typically a toilet would be replaced when a there is a fault with the existing toilet or as part of a bathroom renovation. In either case, it is always worthwhile making sure that the toilet will be matching the rest of the bathroom's style. Nobody wants a glaring mismatch of styles between their toilet and their sink, bath, etc.
There typically aren't many factors to consider with most toilets beyond their functional capacity and their style is coordinated with the rest of the bathroom – ensure that these requirements are being met and you will likely have a new toilet that fits the bill for you.
Medicine Cabinets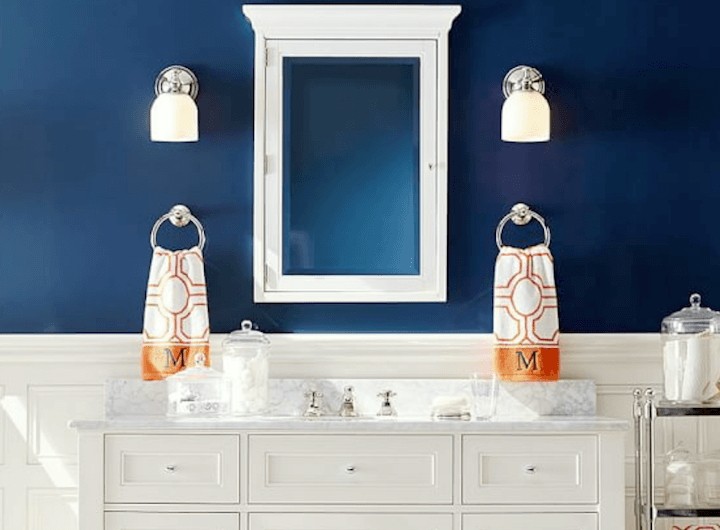 Medicine cabinets are a great way to claim some additional useful space within your bathroom, providing a centralised location to store your medicines and other medical supplies neatly and out of the way. Often they are integrated as part of a mirror – so will still be featured above your sink and provide a secondary function to your mirror.
This is a simple upgrade to make, with no major change to the rest of you bathroom required. The only requirement is that you find a suitable medicine cabinet with a mirror that suits your bathroom that you want. As there are numerous styles available, so you would be almost guaranteed to find one that could match your bathroom.
Mirrors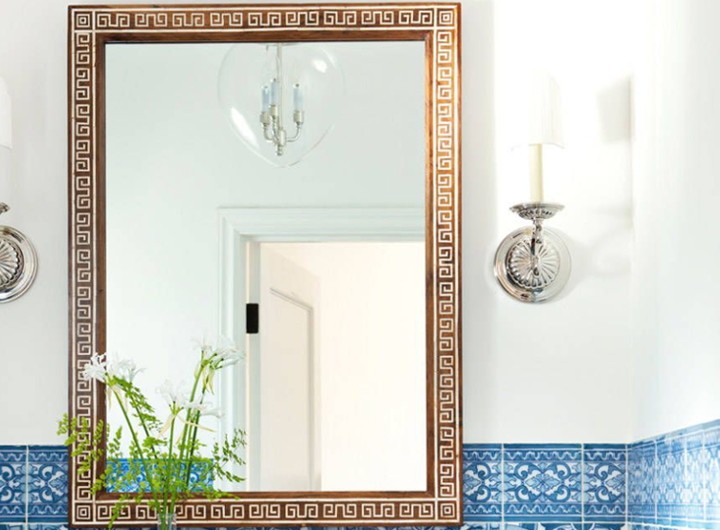 While a new medicine cabinet and mirror combo may fit the bill for many who are looking for additional space with a function in their bathroom, not everyone is seeking this additional space.
For anyone who is more interested in the styling of their bathroom ahead of reclaiming the additional space, perhaps a new mirror would be a better option.
Often a mirror is a focal point within a bathroom as it is situated above a sink and used on a daily basis. With so many styles available nowadays, again, this would be just a case of finding the one that best suits your bathroom and preferences.
Sinks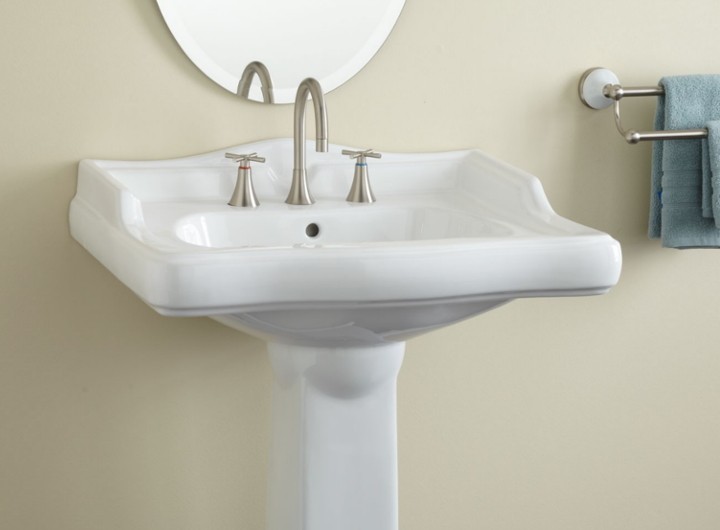 When look at new bathroom sinks, you should consider a number of choices available, including the sink size, design, colours, practicalities and the types of sink.
Initially you should consider the types of sink, their practicalities for your bathroom and their sizes to rule out any impractical or unfeasible options.
Below are some popular examples sinks types to look out for:
Pedestal – a traditional design which conceals the plumbing behind the covering stand
Wall-Mounted – fitted to the wall itself with some plumbing exposed, generally a choice of minimalism or space saving. Additionally, corner wall-mounted sinks are common for smaller bathrooms.
Drop-In – made to be fitted into an cut-out area of an existing surface, typically raised above the surface by an inch or two.
Tabletop – a basin secured upon a flat surface, rather than fitted into the surface.
Undermount – similar to the idea of a Drop-In basin, but the basin is fitted beneath the flat surface's cut-out area – providing the sink a flush look.
Once decided on a suitable sink type and size, only aesthetics need to be considered.
Ideally, finding a style or colour which will match the rest of your bathroom (whether current or planned styling). Many sinks are part of a set of other matching bathroom features available – so be aware of sinks that are part of bathroom suites.
Lighting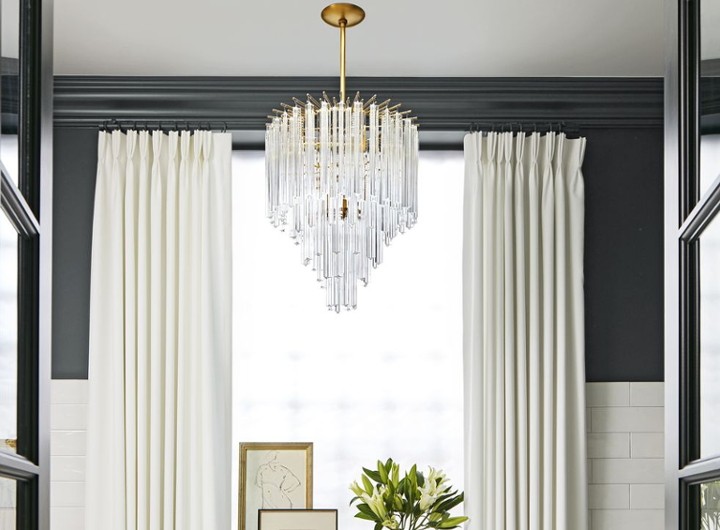 There are many options for lighting available for a bathroom, beyond having the straightforward ceiling light
Basic Lighting – the primary lighting for the room, generally fixed in the ceiling and the default to light the room up. This may not be as atmospheric or provide lighting to some specific areas however.
Task Lighting – ideal for the sink/mirror area, where most will appreciate the benefit of extra lighting for their self-grooming. Common choices are sconces on either side of the mirror. Similarly, task lighting is common for showers which could benefit from additional lighting.
Ambient – for providing additional light where the room has insufficient natural light entering the room
Accent Lighting – small recessed lighting to provide additional light to specific areas, can be used for highlighting decorations or any chosen areas.
Depending on your bathroom and the desired styles, you may want to consider some of the additional lighting options for practical or decorative purposes.
Shower Curtains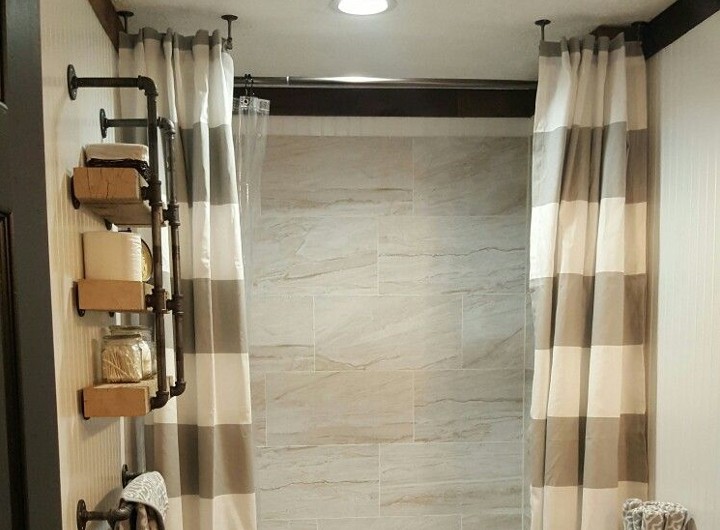 When choosing a shower curtain, consider the materials and styles available before purchasing.
Materials:
Vinyl is a fairly cheap material which is low maintenance and water-resistant.
Cotton is an ideal material for many as it can absorb water and is visually appealing in most bathrooms, however it is often a more expensive material and require washing every month or so.
Microfibers are water-resistant and strong, while softer than the likes of vinyl, but can be much heavier and still require washing on occasion.
Environmentally conscious materials such as hemp may also be suitable for use and involve fewer artificial elements and chemicals to produce the curtain.
Styles:
While you may want to find a curtain with a similar colour scheme, or even pattern, to match other bathroom features. A shower curtain can be a good way to add some additional colour to a clinically white bathroom, but it would still be recommended to coordinate any colourful shower curtains with other colourful elements of the bathroom.
Flooring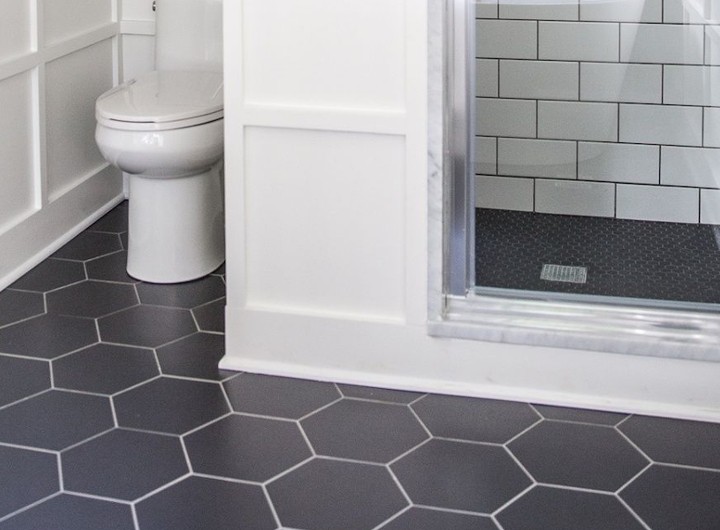 Flooring in bathrooms has a range of options available, each with their own factors to be considered. The best option for you will be dependant on bathroom use, bathroom size, aesthetic choices, budget and personal preferences.
Natural Stone – strong, durable and water-resistant, but can be cold and slippery. Generally, it is the most expensive flooring option available.
Laminate – a common material which can be easily installed and cleaned easily, however, it may not offer the best water-resistance, which could damage the laminate base, so good quality installation would be necessary
Vinyl – very water resistant and available in large sheets, which can be cheap to install – however good installation is important to ensure no gaps.
Porcelain/Ceramic Tile – strong and water-resistant, while easily cleaned and maintained, but can be slippery and a cold material too. Additionally, many styles are available so would likely find numerous suitable choices.
Note: materials such as carpeting and hardwood flooring, are NOT suited for bathrooms and easily damaged by the water/dampness over time, so would likely cause your further issues over time.
Tiling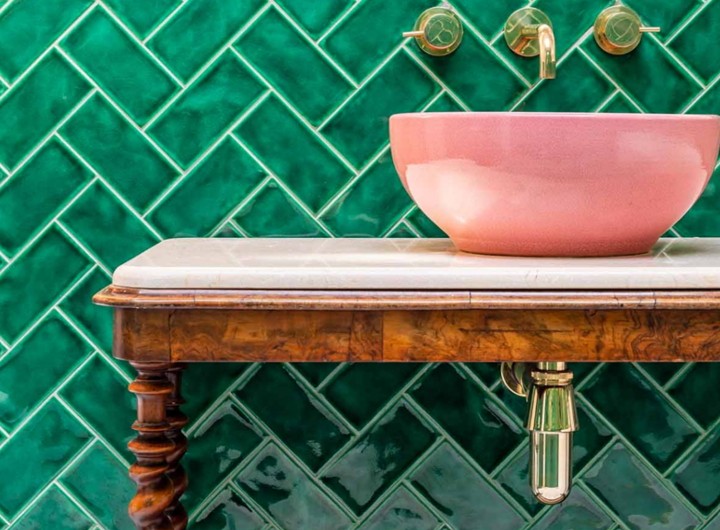 Tiling can be an excellent choice for bathrooms, whether as a choice of style or for practicalities of having waterproofed layers within a bathroom.
Often tiling is used for flooring or as part of a fitted shower area, but tiles are also quite popular as fitted wall-covering, instead of typical wallpaper or paint like in other rooms of the house.
While many of us will begin with a number of tiles we like the look of, before purchasing, we should consider additional factors too.
Cost – some tiles will cost more per tile, which would increase the overall tiling project cost. Although the costs may be worthwhile where tiles may be of a greater quality than cheaper alternatives. However, this is not a reason to spend beyond a reasonable budget for nominal or minor benefits.
Materials – common materials nowadays include; natural stone, glass, ceramic/porcelain, among others. While each will have their own strengths and weaknesses, you should consider these in the context of your own bathroom. For example, while natural stone may be an expensive option, be very durable and look effective, ceramic tiles may better suit the rest of your bathroom while being a much more affordable option overall.
Size – tile size can vary, so to calculate the overall cost, you should take note not simply of the cost per tile, but for the size of the individual tiles. For example, some larger tiles could seem expensive per tile, but may be a cheaper option than smaller tiles, as the larger tiles cover a greater area per tile and be an overall lower cost for the surface area.
Last updated by MyJobQuote on 18th February 2019.