Causes Of Damp And Mould On Internal Walls
There are many different causes of damp and mould in your home, as well as a number of different ways to treat the problem. Considering the weather in the Uk with large amounts of rainfall that the average home has to deal with every year, it's no wonder that some homes will suffer from damp and mould problems. The causes damp walls and mould on walls can include broken or breached damp proof courses, cracked or missing roof tiles, guttering problems, cracks in mortar and joints, problems with lead flashing, compromised or ineffective drains, and a number of other factors.
When you combine on eor more of these problems with poor ventilation, then internal walls will struggle to fully dry out, even if the original source of water ingress has been repaired, leading to mould problems. Damp and condensation can cause black mould on your internal walls and window frames. If you experience black mould the first thing to do is identify the source of the moisture.
Lack of Maintenance can cause Damp and eventually Mould
Small cracks in your wall can let in water, making your wall damp which will lead to mould growth over time. if you notice damp in a wall, you need to identify the source of moisture before resealing or decorating the wall, as you may solve the damp problem on the internal wall, but the damp will still be present and can spread to other areas and cause much bigger and more expensive issues. You can find some level of moisture in pretty much every building material, with evaporation controlling the majority of the moisture content.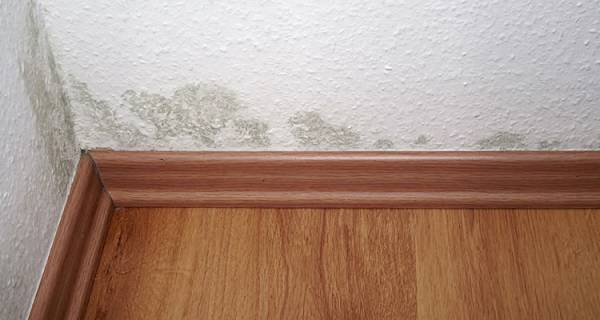 If a building is sealed then the moisture cannot evaporate and it will eventually manifest itself into any number of damp and mould problems in your walls. In addition to causing structural damage to your property, mould and damp can also cause health problems for the occupants. Black mould can be harmful to your health, being linked to a number of health issues including breathing problems such as asthma, infections, and allergic reactions. Some moulds can even give off toxic spores that pose an even greater health risk.
Possible Causes of Wall Damp, Black Mould and how to Fix them
The most common cause of rising damp is if the damp proof course not present, bridged or broken. The first symptoms are usually damp and mould appearing on your walls just above your skirting boards up to 1.2m in height (rarely above 1.2m as gravity takes over and the damp cannot continue upward). If you are seeing evidence of rising damp, the first thing to check is that you have a damp proof course and that it's not faulty or bridged.
The damp proof course provides your home with a waterproof layer that prevents water and moisture from travelling up or through your wall. All new properties have them, though some older properties may not. They are usually constructed from slate, felt, lead (older properties) or plastic. A correctly installed damp proof course should be a minimum of 6 inches above ground level.
Damp Proof Course
if the Damp Proof Course is faulty or missing, this may be the cause of the damp and mould on your walls. If you do not have a damp proof course, then it is obviously a good idea to install one. if the damp proof course is broken, then there are fixes which can be carried out by specialists. But often the only real solution here is to inject a new one using damp proof cream type products. You can in some cases repair the damaged area but results are not guaranteed.
Other problems leading to Damp and Mould
If the external protective "skin" of the property is damaged, for example cracked or broken mortar joints, these gaps provide moisture and cold air with a direct route onto the inside cavity wall, which can eventually penetrate through the inner cavity wall and on to the internal walls causing damp problems and then mould. Hygroscopic salts are another cause, thee are moisture attracting white salts that are normally found around the chimney due to the minerals contained within coal and wood, but they can occur anywhere as the minerals are present in most building materials.
They often appear as white stains on the face of some brickwork and are more evident during periods of bad weather or high humidity. Any moisture present is attracted and absorbed by the salts, thus creating damp and black mould. Broken Roof Tiles and cracked lead flashing is another really common source of water ingress and therefore damp and mould. Roof tiles and flashing form part of the protective skin of your home, once this skin is compromised water and moisture can access the inner areas and filter down through ceilings, run along joists and also run down into the walls. In a similar fashion, blocked guttering can lead to damp as the guttering is designed to channel excess rainwater away from your property, reducing the chances of moisture penetrating the outer cavity wall and seeping into inner walls.
Poor Drainage leading to Sitting Water
Even if your property is structurally sound with measures in place to prevent moisture penetrating it's protective skin and channelling excess water and moisture away from your property. You can still experience damp and mould problems if water is not draining away from your home correctly if drains become blocked or ineffective.
All drainage points inside and outside your house need to be checked including overflows, sinks, toilet wastes, downpipe drains, shower or bath drainage and drainage pipes. Look for weeping in joints, blockages, blocked grates, overflowing, splits, cracks and condensation. Internal drainage points are often easy to fix on a DIY basis, but damaged external drainage is a little trickier and will probably require the services of drainage professionals.
Drainage Professionals
There are many jobs that DIY enthusiasts can tackle when it comes to damp problems, however damp and mould are such serious issues to both health and the structural integrity of your home, that it is worth at least getting some advice from a professional. In addition many jobs are far too specialised to be done competently on a DIY basis – injecting a new damp proof course, digging up external drains, replastering walls etc.
Check MyJobQuote to find a reputable tradesman in your area, reading their reviews first to ensure you don't hire a rogue tradesman or cowboy that will simply add to your problems. Remember that amp problems get worse and more expensive to fix as time goes on, so contact a professional as soon as you can. Use the free tools on the site to connect with local specialists and get quotes from up to 5 tradesman/companies in your local area.
Last updated by MyJobQuote on 13th July 2014.