How to Fix: Your Sink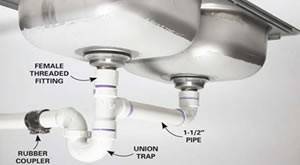 It is frustrating when you have a sink that is leaking, especially since you have to keep on drying off the area that it is leaking on to. Most people get so stressed out with the leak that they call plumbers who charge them heftily for something that can easily be done.
Below are tips on how to fix a leak under your sink:
Identify the leak
Find out where the leak is located- to do this you should clear everything that is under the sink and try to find the leak by feeling or looking beneath the sink, along the drain pipes as well as the strainer assembly.
Fix the leak
Leak from the drainage pipes- for drainage pipe leak one should stop it by tightening the slip nuts. The slip nuts should be turned clockwise with channel type pliers. It should appear like a collar where two pipes meet. Once this is done, pass water from the tap and see if the leak has been closed.
Leak from sink drain opening- for this replace the washer and strainer gasket. The tail piece that is found on the ends of the pipe that is directly below the drain should be located. These slip nuts should be unscrewed with a plies that is channel type and the tail piece removed.
How to fix the sink
Unscrew he locknuts that are found below the sink and have evenly spaced bumps. To unscrew use the spud wrench. If the locknut sticks, use a hummer to loosen it.
Once it has open remove the rubber gasket and friction ring rubbers that are found between the sink and the locknut.
The strainer should be pulled out of the drain hole and kept in the sink. In case it sticks use a putty knife and stick it under the edge of the strainer.
Old putty that is found in the indentation at the opening of the drain and below the strainer flange that is found inside the channel.
After fixing the sink
Around the lip opening place plumber putty that is fresh.
Return the strainer back in the opening of the drain and squeeze the edge into the putty.
Replace the gasket around the strainer that is found under the sink
Replace the fictional ring
The lock nut should be tightened into place
From the tailpiece remove the washer from the top
Install the washer replacement
The position of the tailpiece should be removed and tighten the slip nuts on every end.
Taking care of your sink can be a very easy task if you learn some of these simple steps and tricks. Simple leaks can be fixed in a very short time.
Last updated by MyJobQuote on 29th October 2013.