Garden DIY Projects On A Budget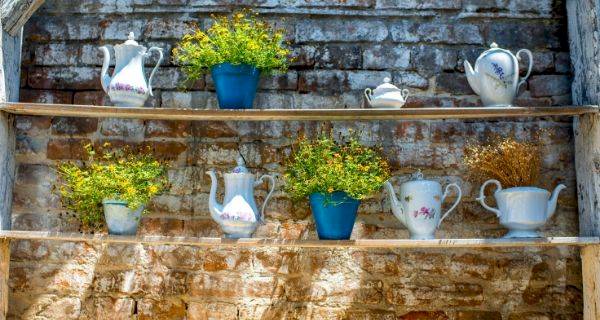 Spring is here and it's time to head outside and tackle garden DIY projects in your garden so it's ready for summer. If you have seen our post on how to prepare your garden for spring, your next garden task will be to make it a nice relaxing, somewhere to spend a lazy sunny day or two.
A place you can enjoy some relaxing music, sip on a cold drink and soak up the vitamin D from the sun. More importantly take time to appreciate all your hard work.
Budget DIY Projects You Can Do
There are plenty of budget DIY jobs that you can do in the garden and it's important to take time and enjoy doing them. If you're not able to or gardening just isn't something you enjoy you can someone else to do the hard work for you.
Post your job and let local gardeners contact you to give you up to three free quotes for your gardening job.
Clean Your Patio or Decking Area
Over the autumn and winter the level of grime that can build up can be quite a surprise, so get outside and clear off the area you want to clean. Removing all furniture, plant pots or pets that might be relaxing in the area before you start.
Grab your trusty jet wash and clean your area down. It's best to work away from the house, so you are not spraying all the dirt towards the house and create another cleaning task for you.
When jet washing your decking area be careful not to damage the wood. High-pressure washers can lead to it splintering on wooden decking areas and make them more susceptible to longer term damage and rotting.
To help with cleaning the decking area you can use a cleaning detergent to help remove the mould. Alternatively, some jet washers come with a patio head that helps reduce the spray and pressure being applied.
If you have a wooden decking area, let the wood dry for a few days before staining the decking to help prolong its life.
Stain Your Fence Panels
Late spring is a great time to stain your fence, as the weather is warmer and the garden will not be as full of plants, so you will be able to reach the fence easier. It's the best time to tackle this DIY project.
If your fence is looking grey, it is best to clean it down using a jet wash or fence cleaner similar to what you would use on a wooden decking area we mention above. (there are plenty of these available in your local garden centre or online).
Staining your fence will give your garden a clean and well-kept feel as well as help prolong the life of your fence, which means you'll get to spend more time enjoying and relaxing in your garden.
Clean Your Windows
Over the wet months of the year, it is easy to think the windows are washing themselves. In reality, they are receiving a build-up of sand and grime that will need removing.
If you don't have a head for heights, you can request a quote from a local window cleaner. Ask them to come and do the job for you.
You could also choose to get a telescopic pole and use this to clean your windows, as this will save you from climbing up a ladder and be a safer option.
Cut the Grass Regular
One of the simplest DIY projects you can do is a regular cutting of your lawn. It's suggested that you cut the grass twice a week to help keep it looking in better condition, especially in warmer weather. Regular watering and feeding will also help maintain a healthier lawn this summer. See our spring care guide for your lawn for more information on what to do.
You could hire a gardener to come and look after your garden, so your only task is to sit and unwind in the sun.
Plant Up Your Garden or Balcony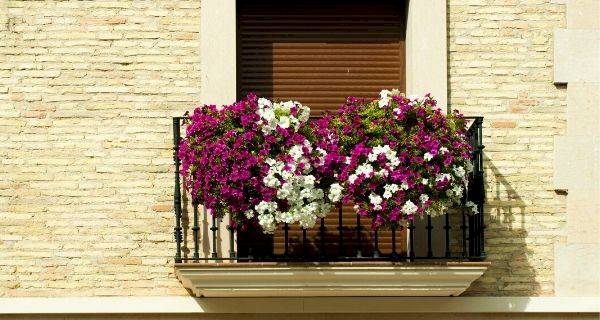 Taking time now to plant up your garden can help attract wildlife to your garden in the summer months, and having colourful flours will help feel more relax, and the sense of accomplishment is a very rewarding garden DIY project.
If you have a small space and not sure what to do, you can look at planting in pots to add some colour to your balcony. Maybe speak with others in your block and come up with a colour scheme. Just remember to keep them well watered in dryer months.
You could dedicate a section of your garden to growing vegetables or fruit, there's nothing better than freshly picked vegetables from the garden. Read our post on easy to grow vegetables in small spaces and don't forget to add in some herbs, to add some extra freshness to your cooking.
Involve Your Children With Gardening Tasks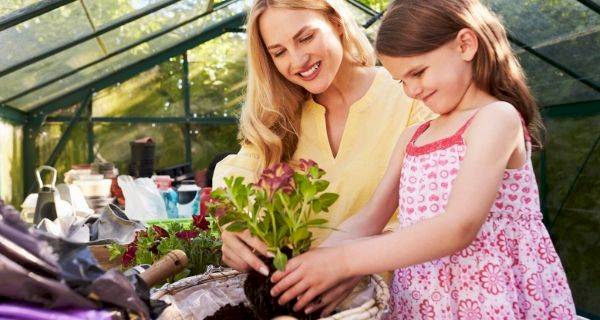 If you have young ones in your life, be sure to involve them in looking after the garden. Tasks like simple planting and watering can be an enjoyable and fun task, but probably best to leave the mowing and heavier tasks to the adults in the house.
Designating part of your garden to be a children's garden will help them learn more about what grows in the garden. Start with planting easy to grow flowers and plants like sunflowers or strawberries, these are common and a little more exciting, as the sunflowers grow large and the strawberries can be eaten. When the strawberries are ripe, you could also bake a cake with them too, or just enjoy strawberries and cream at a garden picnic.
For tiny hand, you can buy them their own little gardening tool kit for when they help out in the garden like this one that will give them hours of use in the garden. Children's garden tools
Another idea that children enjoy is creating a bug garden and then seeing what bugs the area will attract.
Turn Your Shed into a Garden Bar
For the longer summer nights, why not convert your garden shed into a garden bar area. Cutting out a large hatch area in the side of the shed as a serving hatch or just add shelving to the outside will give you a great place to entertain family and feel like you are on holiday.
If you are not on a budget, we saw this idea on Facebook of this cool shed bar.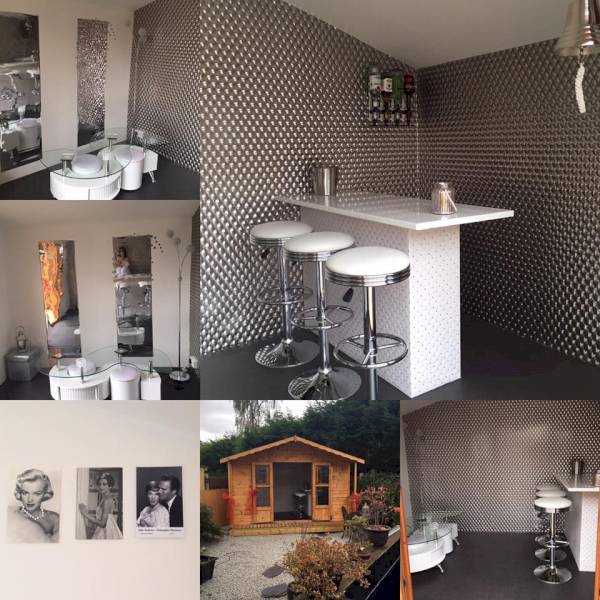 Source: DIY on a Budget Official via Facebook.
Build a BBQ Area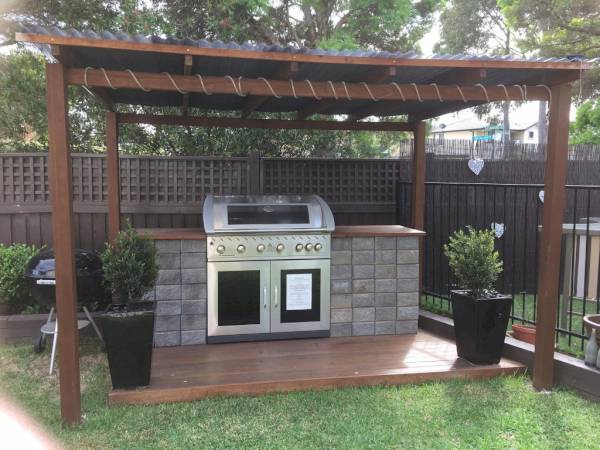 Have you been into your shed to check on your BBQ yet? You might notice that the BBQ is looking a little bit broken from how you left it, so best to check on it before you decide to use it.
You could build yourself a more permanent brick-built BBQ area and maybe repurpose parts of your old BBQ into a better brick-built BBQ that you can enjoy all year round. Have you ever had a BBQ in the winter?
Post a Job to Get Free Quotes from local builders.
Find Fun Ways to Grow Plants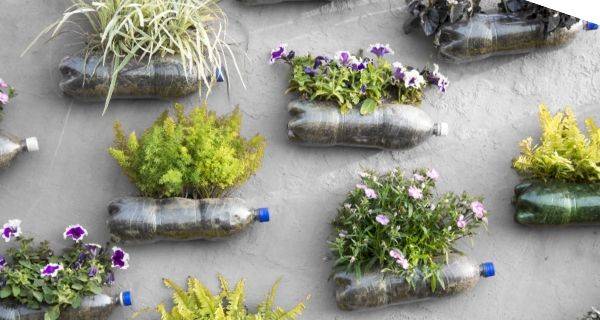 If you don't have to have a garden to grow plants, you can use pots, but also you could try using old bottles and cartons to grow plants in. These can be simply attached to a balcony or a wall to add a splash of extra colour to your space to enjoy.
Let us know what you use and tag us on twitter or Instagram to be featured, we'd love to see what creative ideas you come up with.
Add Artificial Grass – Make life Easy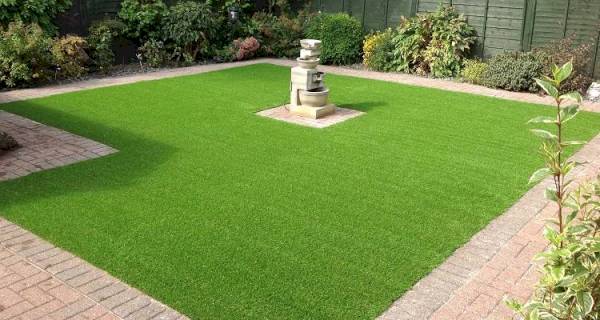 Do you have a small space or don't want to bother with cutting the grass, you could add some artificial grass to your garden or even your balcony. You'll never have to mow the lawn again and some of the fake grass you can get is very realistic. If you have a small space or balcony it can be much nicer underfoot and feel like you are in a much larger space.
Paint Your Wheelie Bin
Decorating your wheelie bin is a task you can involve children in, but we'd recommend giving it a good clean before you let them loose on decorating it for you. Painting flowers or thank you messages is a kind gesture to paint on this normally grey plastic box.
Last updated by MyJobQuote on 27th April 2020.