Real Grass vs Fake Grass – Which Is Best?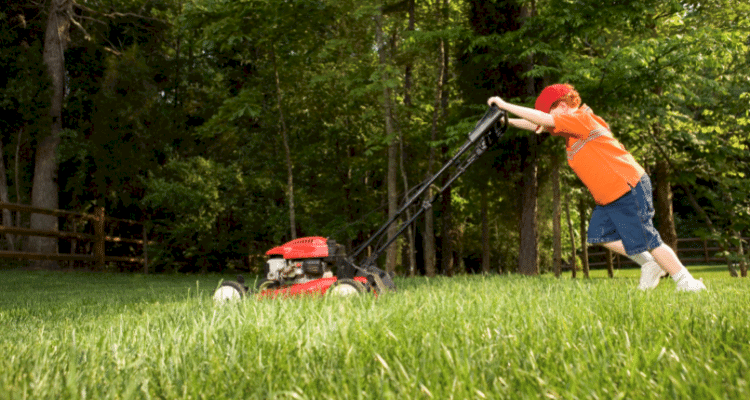 Having a grass area in a garden is nice; it gives you a place to lay on, have a picnic, for the kids to play on and enjoy. A grassed area is just part of a garden that we come to expect and enjoy. But what about fake grass?
If you don't have the time or energy to look after your lawn, you might be tempted to look at having fake or artificial grass installed.
But is fake or artificial grass any good, and is it worth the investment. We've gone through and checked all the pros and cons we can find to help you decide if fake grass or natural grass is best for you and your garden.
Types of Real Grass
It might be surprising to hear, but there isn't just one type of lawn grass. According to Lawn UK, there are about 100 Species that we use in the UK, with over 11,400 around the world.
The most common type of lawn grass in the UK is Dwarf Ryegrass. This is because it is a type of grass that grows fast and is very good at recovering after long periods of dry weather or long wet winters.
Benefits of Real Grass  
Apart from providing a more enjoyable surface to sit, lay or picnic on. A natural grass lawn offers benefits such as cleaning the air we breathe; roots help prevent soil from eroding or washing away, and they can also help improve the quality of the ground underneath.
Another benefit is that grass is cooler to the touch than other surfaces typically found in a garden. If you've ever walked on a wooden decking or concrete patio area in the summer, you will know what we mean. These other garden surfaces can become unbearably hot.
Care for a Real Grass or Lawn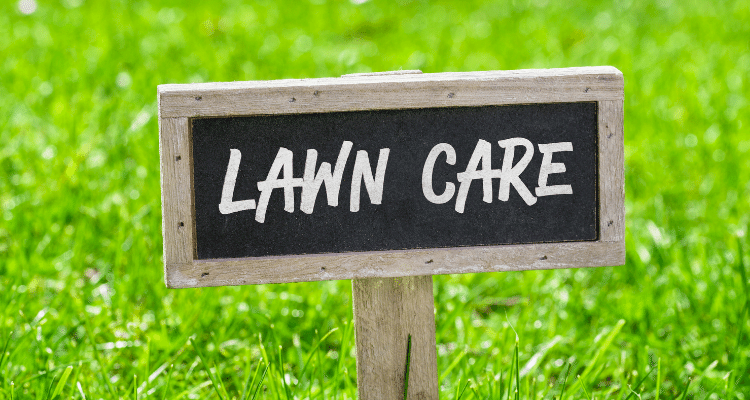 Taking care of a lawn might seem like an easy task. Regular cutting, watering and feeding. It can't be that hard, can it? That all depends on having children and pets that run around on the grass.
If you spend a minimal amount of time on your lawn and you have the time to cut the grass 2-3 times a week in peak growing season (Limiting this to once a week during extended periods of hot weather), then a real lawn is probably better for you.
Don't forget the time taken to hunt down growing weeds and also feed your lawn regularly with the required amount; yes, the grass is probably easier to care for than almost all other plants in the garden.
If this is something you want to learn more about, check out these posts:
Look and Feel of Real Grass
We think a well-cared-for lawn looks better than fake grass. The smell of a freshly cut lawn helps freshen up the air and provides a pleasing sight when looking out over a well-kept garden.
On a warm summer day, nothing beats the cooling of a real lawn underfoot. According to the Lawn Institute on a sunny day a lawn can be 10-14 degrees F cooler than concrete.
They go on to say that real grass is cooler because of the soil's evaporation effect and that each blade of grass acts as a mini cooler.
Types of Artificial or Fake Grass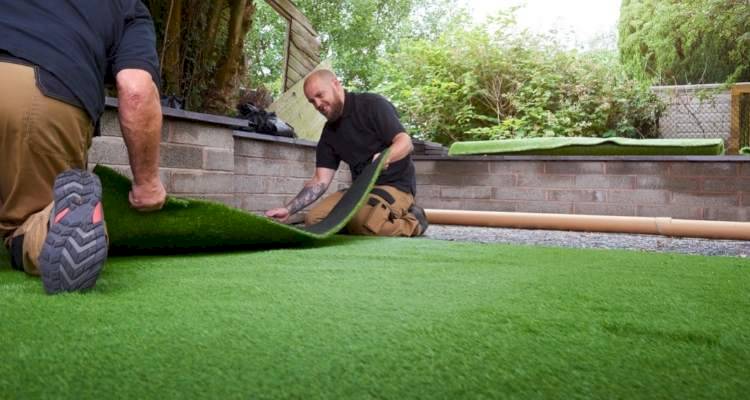 Like real grass, there isn't just one type of artificial grass. Each supplier of artificial grass will be able to suggest the best one for you and your needs.
You'll need to decide if the grass needs to be hard-wearing, if you have pets, want a family play area or if you want it to look good all year round, with minimal effort.
Once you have decided on the main use your grass will need, you'll need to choose the colour, height and what the grass is made from.
Caring for Artificial or Fake Grass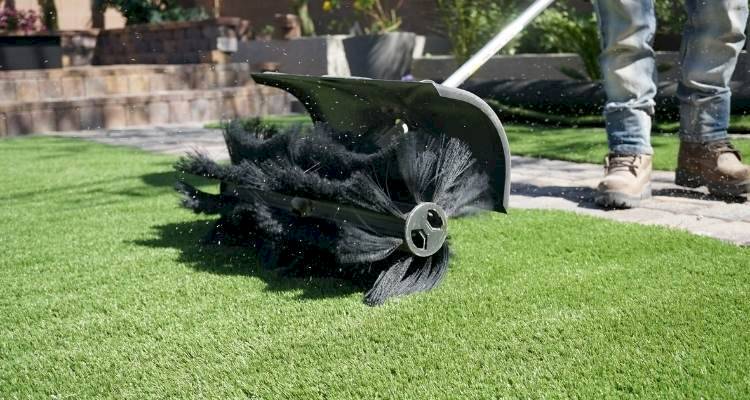 One of the main benefits of installing a fake lawn is that you don't have to cut the grass. So you'll not have to wait for the perfect day to cut it when it's dry enough and hasn't rained for long enough that the grass will cut. But what do you need to do to look after artificial grass?
Keep Your Lawn clear
If you have leaves that land or get blown into your garden, you'll still need to regularly go around and brush the lawn to keep it clear.
If you don't keep the lawn clear, the leaves can encourage small weeds to grow on top of the artificial lawn. This can lead to damage to your artificial lawn and will then need repairing or replacing.
Weed Killer Treatment
If you thought putting down fake grass was a simple case of lay it and forget it, then think again. Small seeds can still be dropped or blown into your garden and grow in the pile of grass. To help prevent this, it's advised to apply weed killer twice a year on top of your regular cleaning.   
Chemical Cleaning
Yes, you need to clean the grass. This is because there is no growth on an artificial lawn, so you'll need to regularly use a spray to clean off any urine where your pets go to the toilet, as rainwater will not do this effectively enough to prevent the long-term damage pets can cause.
Pets going to the toilet in the garden are one of the main causes of damage to real grass and maybe why you get patchy grass.
Avoid BBQ's on Artificial Lawns
This might not be one you have thought about, but if you usually wheel out your BBQ onto the lawn and set it up to cook in the garden, STOP!
You'll not be able to BBQ on artificial grass, as it can lead to melting and unsightly damage to the area if you drop anything or the coals are too close to the ground.
Artificial grass should be fireproof, but this doesn't mean it will not melt and leave unsightly marks on the ground. Take extra care if you have a BBQ on your new artificial lawn.
Look and Feel of Fake Grass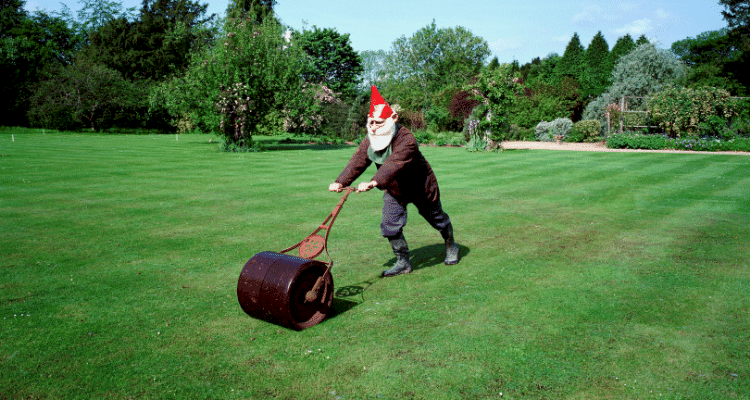 There's no doubt your grass will look green if you have artificial grass. Which shade of green will depend on the type of grass you have.
Also, remember that the sun can fade items outside over time, so this is something to be aware of when you choose yours.
There are also varying qualities of fake grass that you can lay. Walking past traditional butchers or greengrocers, you will often find a display with artificial grass underneath. This isn't the type that you will want to install in your garden.
Feel of the grass underfoot is important if you want to walk on it. Normally, artificial grass is not as hot underfoot as concrete but will not be as cool as real grass.
Is Fake Grass Better Than Real Grass?
Deciding if the fake or artificial grass is right for you is a personal choice, but from our research, it doesn't seem like it will be as much of a time-saver you might first think. Artificial grass will not require mowing, but it also requires some care to keep it looking good.
So the main benefit of fake grass is that you don't have to mow the lawn, and it will look green all year round. Fake grass can be hard-wearing but easy to damage if care isn't taken.
Meanwhile, real grass is better for the environment, cooler underfoot, and you can roll out your BBQ without any real worry.
If your grass requires some TLC, hire a gardener or lawn specialist to bring it back to life and help you plan a regular care schedule.
Last updated by MyJobQuote on 15th June 2022.