Online Marketing for a Tradesperson – Establish an Online Presence
Whether you're planning a major online marketing project, or simply establishing a basic web presence, there's a lot to think about when it comes to digital marketing for tradesmen. Nowadays, people are increasingly looking online to find a local tradespeople, then searching for reviews to find out if they are trustworthy. This means that the web can be an incredibly useful tool for tradespeople, but you have to know how to use it properly!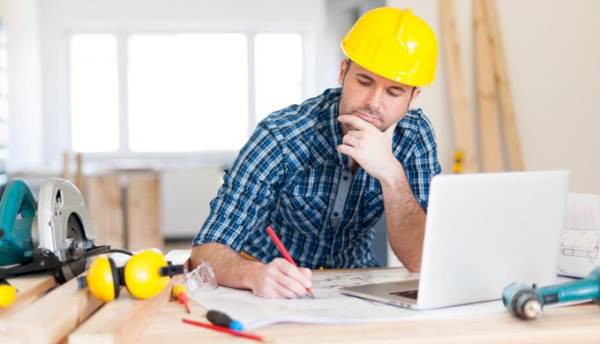 Where to Start
Social media would be the first place to start when building an online presence as it is quick to set up and more importantly free. Facebook and Instagram are a great way to showcase your previous work which potential new customers can look at. It also allows you to communicate with your audience on any updates, competitions or special offers you may have. Invite family and friends to "Like" your Facebook page to build up an initial following. With Instagram, you can also follow family, friends and other pages similar to yours using hashtags. With people seeing your work on social media they are more likely to refer you to their family and friends. Paid advertising on social media is another option, but it can be difficult to target potential customer in your area for your trade. You may want to run an advertising campaign on social media with a special offer and a reasonable budget so you can determine the return on investment.
Get a Website
It's actually pretty straightforward nowadays to set up a professional looking website, even if you don't have any experience. Sites such as Wix, WordPress and Blogger offer easy to use platforms that are designed specifically for those with no web design experience. Just make sure you include all the basic information such as where you're based and which areas you cover, contact details including an email address, a mobile number and land-line telephone number, displayed prominently on all pages of your site, a list of all the services you offer, plus some background about yourself, your qualifications and experience, number of years you've been in the trade, membership of any trade organisations plus feedback from some of your previous customers in the form of customer testimonials. You can even add before and after pictures and descriptions of previous projects you've already completed. It's also a good idea to mention on your site that you have a public liability insurance policy in place for peace of mind.
How Do I Get Customers to My Website?
However, building the website is the easy part, now you have to get people to visit your website! There two main ways to increase your website visibility online: organic search and paid placement. Organic search simply means showing up in the search results served up by Google when someone searches for typical keywords related to your services. This only happens if the search engine believes that your website is going to be particularly relevant to the term being searched for. The higher your website appears in the search results, the more likely people are to find it. But getting your website high in the search results will involve some search engine optimisation (SEO), which is neither quick nor easy. You can read up about SEO online and make some basic changes to your site to help with rankings, but for great results, you will likely need professional help.
Paid placement is really just a type of online advertising, where you effectively pay to get your website address in front of prospective clients. There are many varieties including Google AdWords where you pay a fee every time someone clicks through to your site, or directory listings where you can pay an annual fee to be listed. This type of paid search tactic can be very profitable, but you really need to know what you are doing, if you get things wrong, you could easily burn through your advertising budget with little if anything to show for it. Again, if going the paid route, some assistance from professionals is highly recommended, even though, in the short term at least, this will likely be very expensive. You should also be wary of unsolicited email which you receive with opportunities for online advertising, they may look attractive, but usually, there is no guarantee of return on investment at all!
Online Services for Tradespeople
A great alternative to building your own website and getting that site ranked in the search engines is to pay for job leads from a website that is already attracting visitors. MyJobQuote.co.uk and other trade sites are good for the industry as they do really well in the search rankings, so having your business registered with them is an easier and more cost-effective method for increasing your visibility online. MyJobQuote.co.uk simply charges tradesmen per lead received, so offers much better value for money than most other marketing methods, where you could pay considerable amounts of money with no guarantee of receiving any enquiries at all! Websites like MyJobQuote.co.uk are effectively a modern version of word of mouth recommendations, as they give you the chance to build up positive reviews which can create an awesome online reputation which in turn will help you to win much more work! MyJobQuote.co.uk offers your first lead free for new tradesmen once you're account has been verified and there are no monthly or hidden fees, no contracts and no long-term commitments. Once you have signed up you simply create your own profile page and then start getting job leads from customers near you! As soon as leads become available you can get notified by text message or email allowing you to get in contact with interested customers promptly. To give customers extra peace of mind, the team at MyJobQuote.co.uk verify all phone numbers, email addresses and other details, including documents to prove public liability insurance cover and any special qualifications required to operate in certain categories like for gas and electrical work.
Sign up to MyJobQuote.co.uk
Sign up to MyJobQuote.co.uk and gain access to over 10,000 jobs a month!
Last updated by MyJobQuote on 5th January 2018.