The UK Cities with the Most Houses in Need of Renovation
It's no secret that Brits love a renovation project, whether it be renovating their own homes or looking for a property to put their stamp on. If you're looking for a renovation project or your own, MyJobQuote sought to find out which city has the most incomplete properties.
To do this, we scoured thousands of Zoopla house listings, from 20 main cities around the UK, and analysed house listings to find the number of houses 'needing renovation' compared to the total number of houses for sale. In turn we were able to reveal which city property investors and aspiring DIY-ers should consider moving to.
Which City Has The Most Houses in Need of Renovation?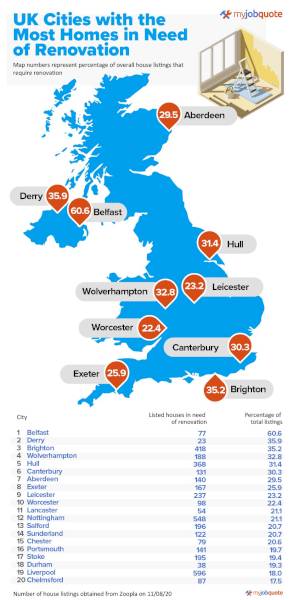 If you're looking for a house renovation project, we can reveal that Northern Ireland is the perfect location to find a property, with two Northern Irish cities featuring in the top two spots! Our analysis found that over half of (60%) of the houses listed in the capital, Belfast, require work, followed by Derry with just over a third (35%) of those for sale in need of restoration.
The popular seaside town of Brighton has the third highest number of homes in need of renovation. According to our analysis, 418 homes out of 1,188 are in need of work, equating to 35% of all listings in the city.
In fourth and fifth spot are the northern cities of Wolverhampton and Hull, with around a third of properties listed in the city requiring some kind of renovation work. Wolverhampton, which has 574 houses for sale, had 188 properties in need of some TLC – equating to 32% of listings. Similarly, Hull has 1,173 listings on Zoopla, with 368 properties requiring work (31%).
To round off the top 10 are the cities of Canterbury, Aberdeen, Exeter, Leicester and Worcester, each with a similar percentage of homes in need of a renovation project. Each city has 29%, 29%, 25%, 23% and 22% requiring work, respectively – around a quarter of house listings found per city on Zoopla.
Our research can reveal that some cities have fewer fixer-uppers than others – ideal if you're looking to move into a property that requires little DIY work – perfect for first-time buyers or first-time renovators. Our analysis can reveal that Chelmsford is the best place to move to where, out of 498 house listings, only 87 (17.5%) need work.
The same goes for the city of Liverpool which comes in 19th place, where only 596 out of 3,270 houses for sale are listed as a renovation project – this equates to 18% of house listings in the city. Other cities with the most ready-to-move-into homes include Durham (19%), Stoke (19%), Portsmouth (19%), and Chester (20%).
The Top 20 UK Cities with the Most Houses in Need of Renovation: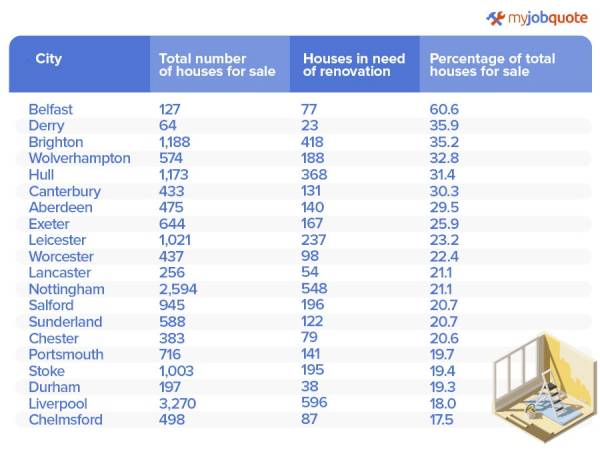 If you enjoy watching home renovation programmes or are looking for some home DIY inspiration, recently we calculated how long it would take to binge-watch our favourite home improvement programmes, including Homes Under the Hammer or Grand Designs to name a few.
Methodology
Using Zoopla's house search tool, the following keywords were inserted per city and collated to obtain a total number of houses for sale that 'need renovation': renovation project, needs renovating, needs work, requires work, work to be done, requires renovation, work ongoing, restoration project, work project.
Data was obtained and is accurate as of 11/08/20.
Please note that London has been excluded from this study to avoid anomalous results.
Last updated by MyJobQuote on 13th August 2020.