Bathroom Upgrade Ideas For All Budgets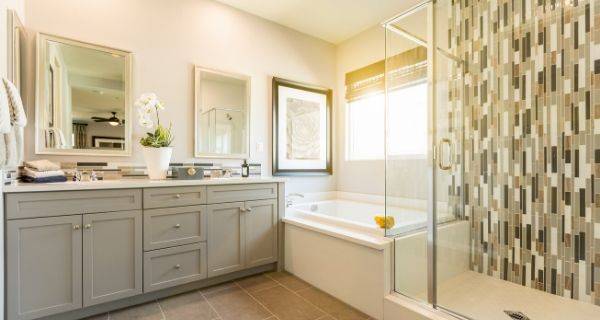 Bathrooms are often a place you dash in to in a morning, quick shower to freshen up before you head off to work for the day. But what if you were to spend time upgrading your bathroom? Treat yourself and create a tranquil space to relax, somewhere you can relax and unwind at the end of a long day working.
Take it one step further and create yourself a home spa space that will help you relax and slowdown from the stresses of the day. Spoil yourself by installing a luxury steam shower or a bath that feels big enough to stretch out and unwind in.
Budget Bathroom Upgrades
Upgrading your bathroom is something you can do on a budget. Here are some of the smaller upgrades that you can make to help your bathroom become a place of relaxation.
Fresh Paint
When was the last time that you gave your bathroom a fresh coat of paint? You can easily do this yourself, but do make sure you use a bathroom paint, as this will help protect the walls from damp that is created due to bathrooms being a typically wet space.
Clean Grouting and Sealant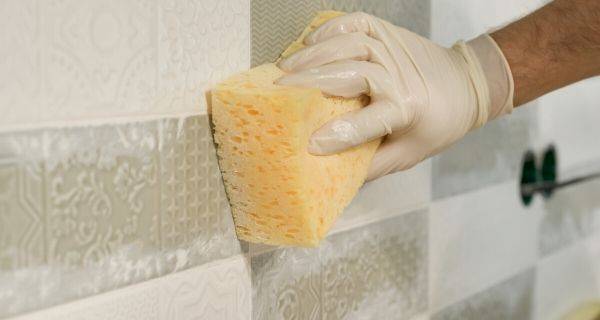 Our bathrooms are inherently a damp area and left unventilated is a place mould can grow easily. Grouting in the tiles and grouting that helps protect in many ways are a typical space for this to happen.
It's often tempting to knock all the tiles off and start again, but if you're on a budget and your tiles are not the problem, there is no real need to replace them, you can scrape out the old mouldy grout and replace with fresh grouting. Making sure you remove any signs of mould and that it's deep enough to hold in the new grout.
*Tip – Help avoid build-up of mould by regularly venting and allowing areas to dry. Also avoid storing bottles in corners around your bath or bottom of the shower.
New Vinyl Flooring
Often the smallest room in the house, replacing your bathroom flooring with new vinyl flooring can be done for around £200 (depending on the size and your location).
Adding fresh vinyl flooring can add a cushion of softness that is warmer underfoot, but please no carpet in the bathroom. While carpet is warmer underfoot, carpet is hard to keep clean and creates a nice home for mould to grow.
Bathroom Storage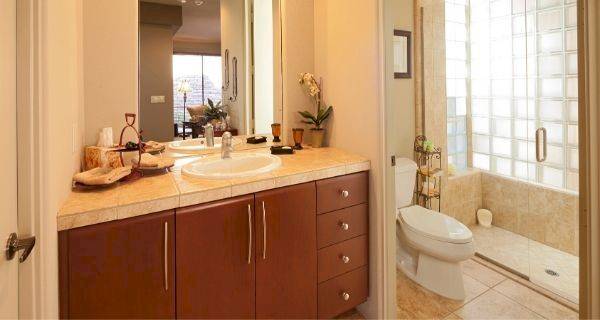 Create the perfect clutter free bathroom by having a place to keep all your grooming products. It's best not to keep them at the bottom of the shower or around the bath, as this will encourage mould. Keep these surfaces clear and clean and this will help add to a sense of calm and relaxation.
Add a cabinet to the wall or even hire a carpenter to build you some purpose-built storage under your sink or around your toilet area. It's best to avoid a corner storage area inside your shower, as this will limit the space you have and also encourage areas to stay damp for longer and build up mould.
New Taps and Shower Head
Are your taps looking dated, dripping or hard to turn on and off? It's probably time you took the plunge and upgraded them. It might be just a washer that needs replacing but treat yourself and add a touch of style by upgrading your taps.
Replacing or upgrading your taps can seem like an easy job, but for the £100 it will cost to hire a plumber to do the job for you, it will save you time and hassle, by just asking the professionals do the work for you.
Budget Bathroom Upgrade costs
| | |
| --- | --- |
| Painting a Bathroom | £200 |
| Re-Grouting Tiles | £250 |
| Vinyl Flooring | £200 |
| Custom Storage | £150 |
| New Taps | £100 |
<br/><br/>
Next Level Bathroom Upgrades
Your time is important to you and so is the ability to relax and unwind, maybe you want a spa day, but just don't have the time or one near you. Why not invest a little more in to your bathroom and include these next level bathroom upgrades?
Tiling Update
Bland white tiles don't really say spa day, do they? It's time to upgrade your tiles, but what should you install to create your more of a spa feeling in your bathroom. We suggest natural stone style tiles are just what helps create that home spa feeling.
Installing new tiling is an art and unless you have the right cutting tools or skills, you should leave this one to the pro's. Local tradespeople will be used to working with your chosen material and will be able to give you that professional finish that you want from your bathroom upgrade.
Power Shower Vs Steam Shower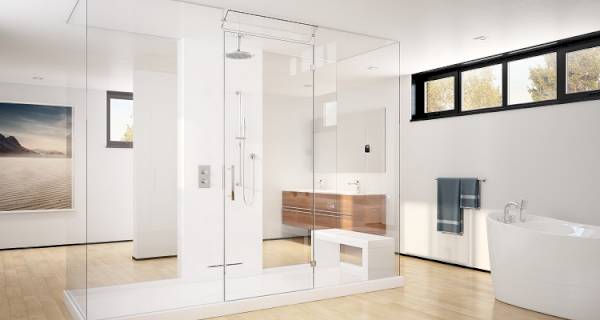 Do you jump in the shower in a morning and feel disappointed with the power of the water that you are getting? You could install a power shower for around £500 or you could treat yourself and upgrade to a steam shower.
Installing a steam shower will really feel like you have a home spa and not just a regular bathroom shower. You'll be excited to get up in a morning to get in the shower, the only problem is that you might not want to get out.
Install a New Bath
In many homes the bath is seen as a wasted space and can often be pulled out in favour of a larger shower area, but wait… before you pull your bath out and not replacing it. Did you know having a bath can help you relax and sooth your aching muscles.
If your bath is too small to stretch out, contact a local tradesperson and see if you can install a larger bath in your space. You might have to change things around a little, but it might be worth it.
Imagine lighting some candles, soothing music and maybe even a glass of wine to unwind after a hard day in the office or after a workout.
Bathroom TV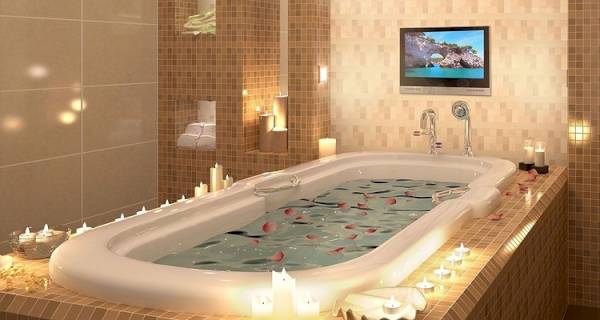 Do you feel that you never get a moment to yourself to watch something on TV that you want to watch? Install a TV in your bathroom and enjoy relaxing while having a bath and catching up on your favourite TV show.
Light some candles to set the mood and enjoy a few moments to enjoy your show in peace.
Extractor Fans
This one is a practical upgrade option, but it's an important one. If you're going to be spending a little more time in the bath or installing a steam shower, you'll want to make sure you are extracting enough moisture to help prevent the build-up of mould.
It might be just a case of replacing your old fan with one that is more efficient, but contact a professional to ask them to check what you need and will work best for your bathroom.
| | |
| --- | --- |
| Cost to tile a bathroom | £750 |
| New shower | £500 |
| Install a new bath | £850 |
| Adding a TV | £1450 |
| Extractor fan installation | £300 |
Luxury Bathroom Upgrades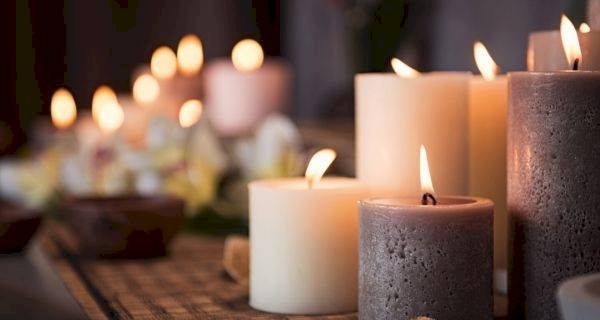 You've read the budget friendly and next level upgrades, but what you really deserve is luxury and a real home spa. It's time to throw your budget out and really take your bathroom to the next level. It's no longer a bathroom, what you're creating is a luxury home spa that adds a touch of extra class that you deserve.
You'll want to include some of the features we mention above, but to add that something extra that give you a true home spa, you'll want to consider the following.
Think about what luxury is for you. What materials you want to use and how you use them. Natural stone or marble is attractive and calming on the eye and will help create the feeling you want.
Create a Wet Room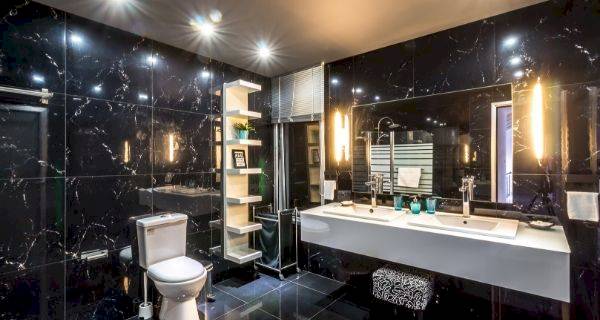 Changing your bathroom into a wet room is highly desirable and if you are looking for the luxury option a wet room should be on your list. Changing your bathroom into a wet room is best done by professionals and checking with a local specialist first is always advisable.
A specialist will be able to let you know what is needed and give you all the high-end luxury options that you want to include.
Adding a wet room also adds value to your home, as it's often a feature that potential buyers will be attracted to, so will normally pay for itself if you're selling in the future.
Under Floor Heating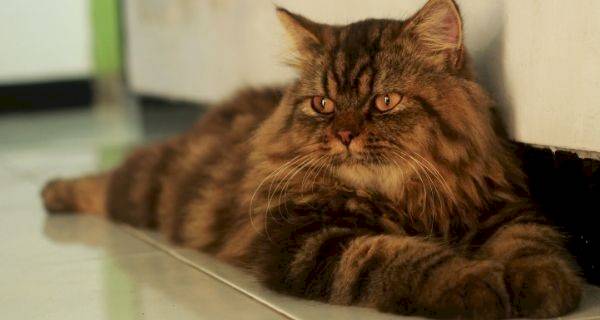 Stepping out of your bath or shower on to a cold tiled floor isn't really creating that luxury feeling, so when you're creating the perfect home spa, you'll need to include underfloor heating so you're never cold underfoot again.
There are many other benefits to underfloor heating that include minimalist look to your room, even heating of your room and cheaper to run than traditional heating systems.
Mood Lighting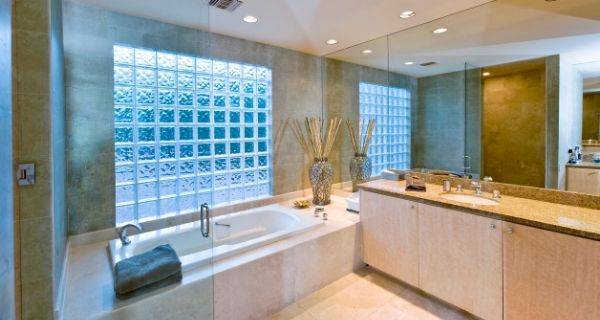 Having a single bright light that comes on isn't really going to set the mood for your spa day feeling. Carefully placed lighting around the room will help create a more relaxed feeling you want from your home spa.
Choosing the right colour and style of lighting will be import here, as the smallest of changes can give you a big change in how the lights make your room feel.
Jacuzzi Style Bath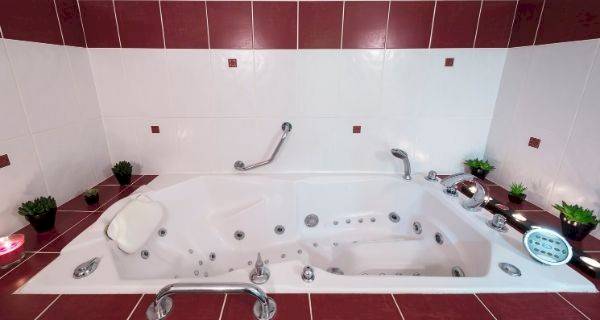 It's always tempting to remove a bath from your room, but instead, have you thought about adding a jacuzzi style bath too options? While a traditional bath will help your muscles relax, adding that extra luxury will come from adding a jacuzzi bathtub to really help you relax and unwind.
Let the bubbles relax and massage your aching muscles away, helping you forget all the stresses of the day and also means you'll get a better night's sleep so you're ready for the next day ahead.
Waterfall taps
Waterfalls are natures shower, so adding a waterfall tap in your shower area can give you escapism and the feeling you get from standing under a natural waterfall. Feeling like you are at one with nature really helps your mind relax and like you're really out enjoying nature.
*Bonus Tip
Give your home spa the extra touches to finish it off. Include plants, natural stone tiling and enough storage to keep everything kept neatly for the perfect Zen moment. Most of all enjoy and relax.
Remember, it's your space to create the perfect home spa feeling you deserve and have worked hard for.
Last updated by MyJobQuote on 15th June 2020.