Best Knee Pads
Some occupations are so physically demanding that they provide a significant risk of bodily harm. If you work on your knees for long periods, for example, you may be causing damage to them.
It's preferable if you're aware that knee surgery can cost thousands of pounds, such as corrective surgery. Fortunately, all of this may be avoided by simply purchasing knee pads.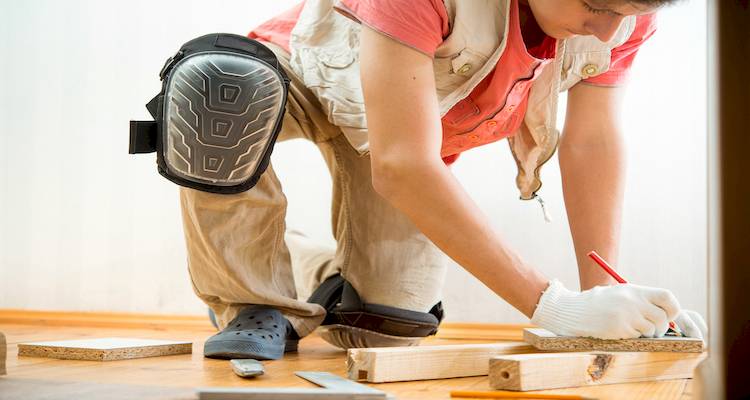 You already know to put on a hard hat, a hi-vis vest, steel toe caps, and safety glasses, but what about Knee Pads? Knee pads are an important piece of personal protective equipment that many people overlook.
We'll explain why knee pads are important in the trade, the many types of knee pads, and the best knee pads available. So, if you want to buy some knee pads to give yourself extra protection, then this article will show you the direction you need to go in for this.
How Do Knee Pads Work?
If you are unsure how knee pads will make a difference, then this section of the article will discuss how knee pads work and when you wear them what you prevent happening to your knees. So, to learn more information about knee pads, this section is for you.
Knee protectors should be regarded as a must-have on the job site. For less than £30, you can acquire some high-quality work knee pads that can protect you from damage and make working more comfortable.
Knee pads are known to lessen the knee's impact while protecting the knee caps, lower the risk of injury, and make working more comfortable.
Knee pads cushion the impact on the knees, protecting the knee caps and making kneeling more pleasant. They should be worn at all times when doing occupations that need you to be on your knees for long periods, such as carpet laying, roofing, tiling, and so on.
They've been shown to help avoid knee arthritis. When the "protective cartilage that cushions the ends of your bones breaks down over time," arthritis develops. According to statistics, wear and tear are responsible for up to 60% of all knee ailments.
Wearing knee pads when the task calls for them is a major contributing factor, which means many of these accidents could have been avoided if the proper PPE had been worn.
Types of Knee Pads
The central aim of a knee pad is to protect and stabilise your knee cap, but the elements that help you achieve that goal vary depending on the task. Knee pads come with various caps, including flexible, rigid, and soft, to accommodate a variety of projects and safety concerns.
Manufacturers now offer a wide range of knee pads for diverse activities, such as sports and extreme sports, dancing and acrobatics, working and military use. Furthermore, all these knee pads are being tailored to meet increasingly specific needs.
For example, today's knee pads must be protective and comfortable, flexible, lightweight, sleek, breathable, easy to use and clean, trendy, qualitative, and economical. Here, we'll go through the many sorts of knee pads and which ones are ideal for you.
Padding Caps
Padding caps (soft caps) on knee pads provide malleable protection made of foam materials. A cushioning cap offers comfort and movement for jobs on smooth or relatively soft surfaces, such as in the garden or on carpeting. Because of their minimal weight and comfort, soft cap knee pads are frequently chosen for around-the-house projects.
Padding caps have the broadest point of knee-to-surface contact. Therefore they're not good for projects that require a lot of movement on the ground, particularly side to side. However, they're a good alternative for limiting weariness caused by long periods of constant kneeling.
Shell Caps
Knee pads with shell caps feature outside surface shells that provide reliable protection and stability, usually constructed of plastic or carbon fibre. Knee pads with shell covers are commonly used by those working on hard, tough surfaces, such as roofs or construction sites, to protect their knees from lacerations and punctures.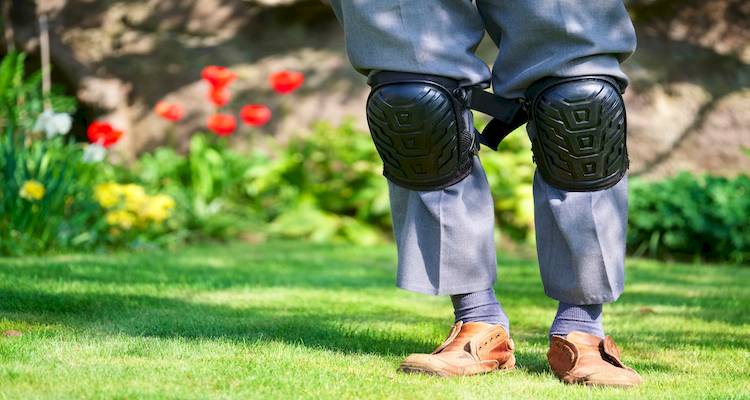 Shell caps are suitable for jobs requiring mobility since they allow you to move and slide around freely. They are ideal for most surfaces, except hardwood floors, which shell caps can scratch. They have varying degrees of thick cushioning for added support and comfort. Elastic sleeves or loop straps are frequently used to keep them in place.
Hex Caps
Honeycomb designs on hex pad knee pads provide a more secure fit while allowing for optimum mobility and comfort. Many people opt to wear hex pads when they play sports like volleyball, basketball, and weightlifting because they are made of foam materials that provide shock absorption.
These knee pads can also be used as compression devices in rehabilitation therapy. Hex pads are sweat-wicking, breathable, and easy to clean. They are, however, designed especially for athletes, and thus they aren't ideal for undertakings that need prolonged kneeling.
Adjustable Caps
Many of them contain elastic or adjustable straps, allowing them to fit practically any knee and provide stability, comfort, and constant protection. The ends of these straps are generally Velcro or click fasteners, and some of them may have wide Velcro closures on the sides that can be wrapped around the knee to seal them.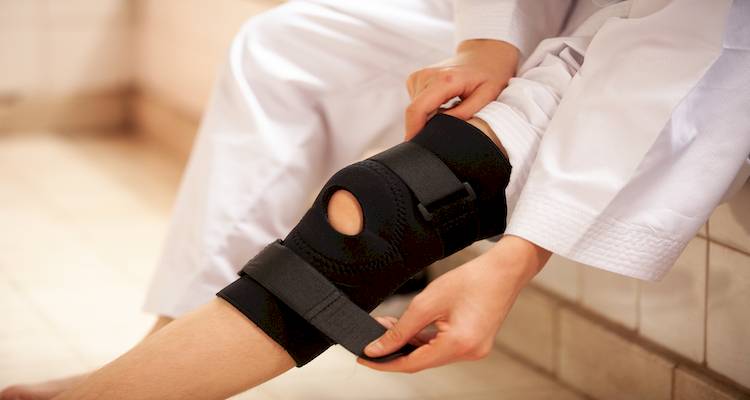 Best Knee Pads
For any job, a solid set of knee protectors is a must. Knee pads are made comprised of thick gel and foam cushioning inserts that cushion the knees and a hard outer cap that gives support while shielding the knees from debris on the job site. The pads are held in place over the knees by large hook-and-loop straps.
If you're a professional tiler, roofer, carpenter, or another tradesperson, you probably already have a good set of knee pads. Consider this list when it's time to replace them.
Everyone else owes it to their knees to maintain them padded, supported, comfortable, and safe, even if they only do a little gardening or the occasional DIY project around the house.
Best Knee Pads for Tiling
NoCry Professional Knee Pads for Work
If you are looking for the best knee pads for work, these may be just for you. Due to the obvious design of their straps, the NoCry Professional Knee Pads stay in place in front of your knees while allowing you to enjoy complete bipedal action. The X-shaped straps cross behind your knee, holding the pad in place and working with the joint's flexion.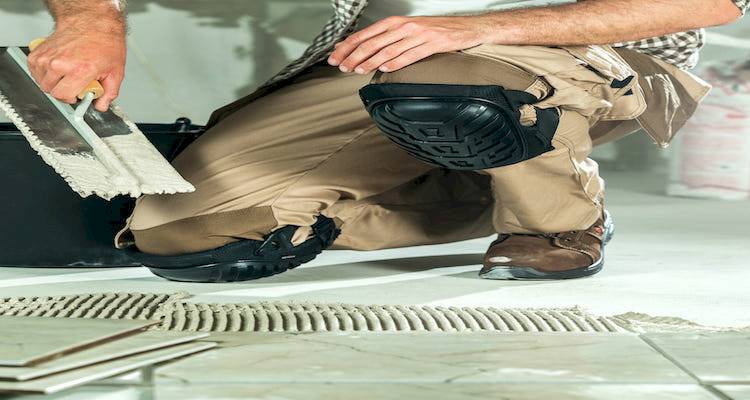 Instead of Velcro, the adjustable elastic bands are secured to the sides of the pads with clips that latch onto pegs, so there's less possibility of them falling loose while you're working.
This connection involves a little more work at first as you figure out the optimal fit, but it ensures they're always snug but comfortable without having to reposition a Velcro strap every time.
The robust poly plastic cover on the front of the pads protects you from all types of hard surfaces and prevents harm from shattered glass, nails, and other typical job hazards. The fact that these capable, dependable knee pads cost less than twenty-five dollars may be the true selling point here.
Pros
✔ Secure strap
✔ Affordable
Cons
✖ Reviews mention issues with durability
Recoil Knee Pads
Like any good work knee pad, the Recoil knee pads have a tough shield on the front. The shield is supported by six heavy-duty springs, unlike conventional knee pads. As a result, shock absorption improves comfort and minimises the risk of damage each time your knees make contact with the ground, as well as a more natural, pleasant kneeling motion.
The flat shield stays in position on the ground while the remainder of the knee pad shifts with you as you make the minute motions that come with work, such as using a hammer, turning a screw, or using a paintbrush.
As a result, you'll be more comfortable in the short term since you won't have to move your body as much about the area where you're working, and in the long run, because your knees will be protected from impact trauma like never before.
Pros
✔ Long term protection
✔ Comfortable
✔ Durable
Cons
✖ Expensive
Klein Tools 55629 Knee Pads
Give your knees a break with a pair of Klein Tools Tradesman Pro Knee Pads, which are designed to be used for several hours per day, many days per week, crawling around on concrete, wooden beams, brick, and other unpleasant surfaces.
These pads have large, sturdy, impact-resistant moulded outer shells with a textured feel that avoids slippage, which you'll appreciate up on a roof and will find useful when working on tile. A sturdy single with a wide band and quick-release buckle keep the pads in place while allowing them to be swiftly put on and taken off as needed.
However, as durable as the exterior layers of these knee pads are, it's the interior padding that you'll love the most. A layer of polyurethane foam sits over an impact-absorbing layer of gel, and a soft yet robust layer of neoprene lays on your knees, providing comfort (and injury prevention).
Pros
✔ Three layers of padding
✔ Rugged outer shell
Cons
✖ Expensive
Best Knee Pads for Flooring
DEWALT DG5204 Professional Kneepads
There's a lot to like about the DeWalt DG5204. To begin with, these professional kneepads feature multilayer gel technology to deliver great comfort. This means that you can work for long periods without experiencing any negative consequences on your knees.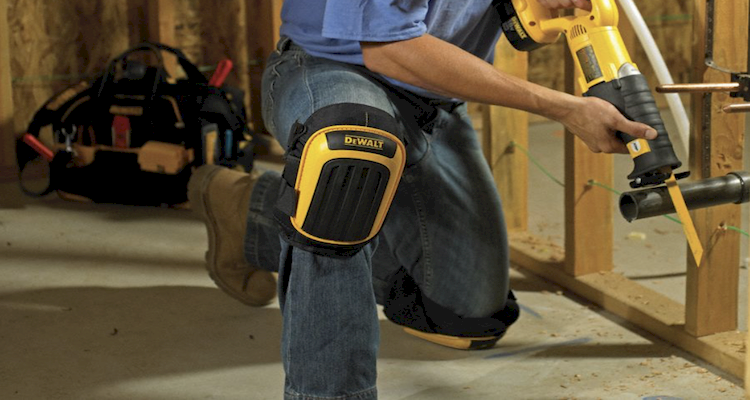 The adjustable straps are also a plus because they ensure a secure fit, and this not only improves your comfort but also keeps your knees from slipping out when you're working hard. Furthermore, the DG5204 knee pads feature a non-skid outer layer to keep you from slipping on slick flooring.
The DeWalt DG5204 knee pads are incredibly durable because of their heavy-duty ballistic poly material design. As a result, you can use them regularly without worrying about wear and tear.
The sole disadvantage of this product is that it may be too hefty for some users. Nonetheless, the DeWalt DG53024 Pro knee pads are highly recommended if you're seeking high-quality, comfortable knee pads for heavy-duty use.
Pros
✔ Durable
✔ Straps for a good fit
✔ Non-skid outer layer
Cons
✖ Heavy
Tough built TB-KP-G3 GelFit Stabilization Knee Pads
The ergonomic design of the Toughbuilt stabilising kneepads, which includes a FoamFit concept, elasticised straps, and pleasant knee pads, achieves their goal. The FoamFit allows you to move freely in all directions while keeping your kneepads on the floor.
The elasticised straps offer a secure fit around your calves and thighs, while the padded caps keep your knees comfy. This results in a very secure but also very comfortable fit.
Thanks to the industrial-grade materials utilised in manufacturing these pads, durability is not an issue. The straps are constructed of 1680D abrasion-resistant fabric, while the caps are made of shatter-resistant polycarbonate.
While knee pads aren't designed to be fashionable, it's difficult to dispute that they look great. However, the thigh strap may be too short for persons with longer legs.
Pros
✔ Comfortable
✔ Durable
✔ Heavy-duty
Cons
✖ Some reviews say they feel small
KP Industries Knee Pro
Because of the rigid plastic surface that covers the entire knee, these kneepads by K-P Industries are some of the best in terms of knee protection. This exterior has a hinged design that gives you a lot of flexibility when working. You'll also receive speed clips, which will allow you to secure the kneepads in a flash.
These knee pads are great for people who operate on sharp or uneven surfaces, which kneepads with soft exteriors may struggle with. The shell is surprisingly thin despite its hardness, making it feel light. It also has non-marking grip strips to help you keep your grip while avoiding damage to the surface.
Pros
✔ Can work on hard surfaces
✔ Affordable
✔ Comfortable padding
Cons
✖ The strap quality
Best Gardening Knee Pads
Spear and Jackson Kew 5 Layer
This kneeler from garden tools company Spear and Jackson was the best on the test since it was thick and well-cushioned. It received perfect scores on all the tests and provided complete protection on various surfaces.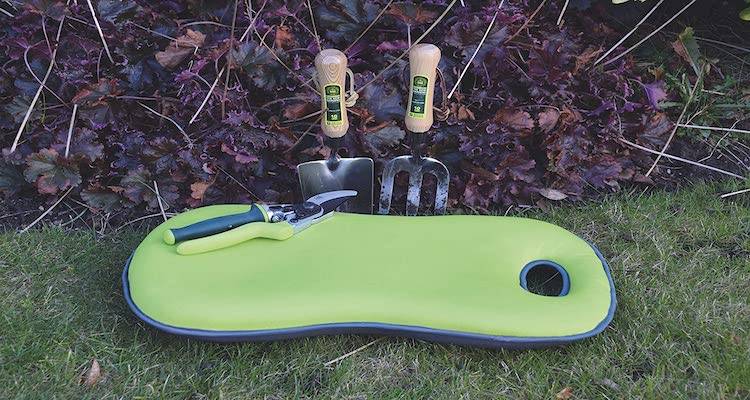 It's also a good size, and it's water-resistant. Even after working for lengthy periods, the customers' knees remain comfortable, reviews say. This is a fantastic piece of gardening equipment.
Pros
✔ Affordable
✔ Comfortable
Cons
✖ No removable cover for washing
Spear & Jackson Kneepad 382KEW
These are the knee pad variant of the prior options from Spear and Jackson. These, too, provided excellent protection on gravel, grass, and concrete and are waterproof. According to reports, they're easy to put on and pleasant to wear while kneeling and walking around. Longer periods of comfort were also maintained.
Pros
✔ Affordable
✔ Waterproof
✔ Durable
Cons
✖ No removable cover
Burgon & Ball KPADMOSS
These are the knee pad version of Burgon and Ball's garden kneeler, which comes in ten different colours. These pads provide a lot of padding and protection, and they're also very pleasant to use. The water-resistant neoprene cover dries quickly as well. According to reviews, the straps behind the knees dig in somewhat when you sit back on your feet.
Pros
✔ Affordable
✔ Waterproof
Cons
✖ Straps behind the knees dig in
Best Work Trousers with Knee Pads
Scruffs TS19853D TradeLong Trousers
They're an excellent option if you don't like shorts and want to wear them in the hot summer weather. They are as breathable as comparable trousers due to their general qualities. They do, however, include a mesh zip on the inside that opens vents. This also adds a new element of breathability to the mix.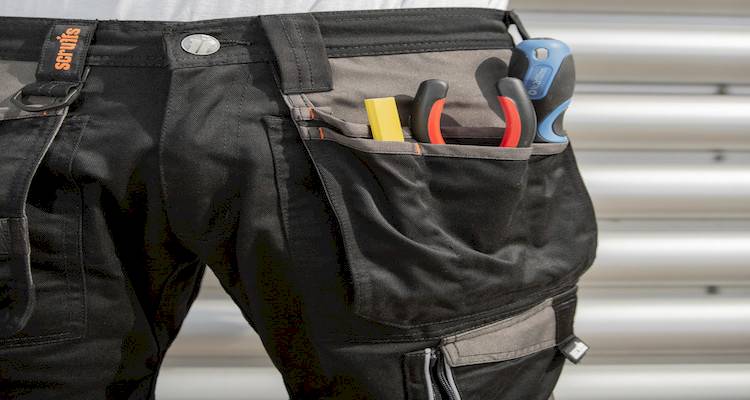 You've got all the storage space you'll ever need with these trousers. There's something for everyone, from a hammer loop on the waist to cargo pockets on the legs. As expected, the knee pad insert space is lined with Cordura, so you won't be wearing those out very soon. Ideal for on-the-ground work.
Pros
✔ Breathable trousers
✔ Affordable
Cons
✖ Reviews found the legs are slightly loose
Apache Men's Trousers
They're thick and substantial. More importantly, they are breathable, partly due to their small weight of only 1kg. Unless it's the height of summer, when shorts are required, you'll be fine.
They are water-resistant, so light rain is never a concern (but not waterproof). Compared to renowned competitors, the Apache Holster offers a lot of bang for the money, weighing in at just under £30.
Pros
✔ Affordable
✔ Breathable
Cons
✖ Not waterproof
Snickers Ruffwork Work Trousers
This is the greatest pair of lightweight work pants available. The Snickers Ruffwork weighs only 750g, while most work trousers weigh between 950g and 1.2kg. Now, it makes no difference how much you weigh. It makes no difference if you're carrying an extra 200g or so on top of whatever you're moving on site.
What matters is that the extra 200g weight savings translate to increased ventilation, which makes them even more comfortable. The lightweight structure and a mesh air vent on the back of the knee contribute to the breathability. They're made of Cordura, making them one of the most durable work trousers available.
However, just because you're working in a small location doesn't imply they're not adaptable. Thanks to their Advanced digital KneeGuard Pro, you won't feel weak when you get in the van on your way home.
Pros
✔ Lightweight
✔ Durable
Cons
✖ Expensive
Best Knee Pads for Construction
Troxell SuperSoft Leatherhead Kneepads
If you've tried knee pads with thick foam and cumbersome layers of plastic and neoprene and found them to be too restrictive, you might prefer a simpler design like these leather knee pads from Troxell USA.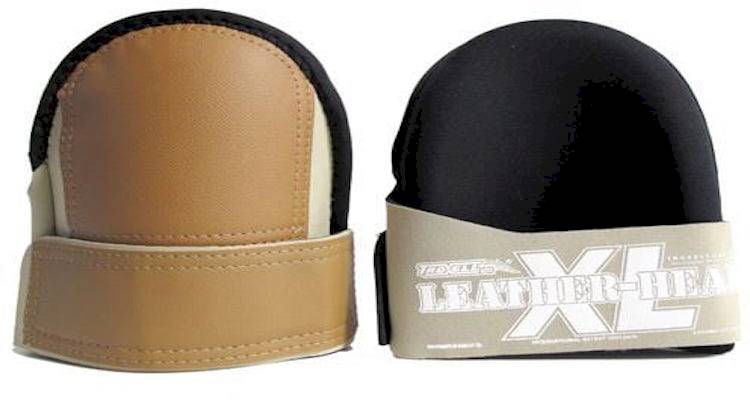 These pads are still comfortable because of their soft inner foam and cotton lining, but they're easier to move in because they're smaller, and the leather on the exterior that provides all the protection also gives you a bit more flexibility.
Because these knee pads are a little smaller than many of the other styles you've seen, they don't offer as much coverage. They'll also naturally endure exceptionally harsh terrain less well than some other tougher materials.
Pros
✔ Flexible
✔ Comfortable
Cons
✖ They are known to be small
✖ Expensive
Thunderbolt Knee Pads
The overall concept of Thunderbolt's future pads is "non-slip," even though they provide a slew of other advantages. Not only are the flexible straps that keep the pads on your legs from sliding down below your knees non-slip, but the rubberised fronting on the protective plastic shell where your knees meet the ground is also non-slip, ensuring that your necessities don't slide around while you're kneeling.
These budget knee pads also have a double-layered inner gel, common in knee pads costing twice as much. Be aware that when this type is strapped on, the thick strap piece just above the pad sits above your knee, meaning your knee bends with it; this is something that persons with weak knees may find even more demanding on their joints, even if the contact point of the pad gives impact alleviation.
Pros
✔ Affordable
✔ Double layered inner gel
Cons
✖ The strap above the pad sits above the knee, so your knee bends with it. Someone with weak knees might struggle
Sellstorm KneePro Knee Pad
If you're still searching for a lightweight, full-coverage knee pad that's not quite as bulky and more "general use" as some of the other options, Sellstrom has another foam hinged design for you to explore.
These pads are similar to the tan-coloured hinged foam ones you've seen before, but with a thicker bolstering impact point on the front and larger, slightly more durable clasps at the strap end.
If you need full coverage and can't afford the small area, it might show when your knee bends, such as when working on gravel, the hinge that's created for your convenience could be your curse.
Pros
✔ Light-weight
✔ Less bulky than other models
✔ Durable
Cons
✖ It can sometimes be awkward with the knee
Best Knee Pads for Plumbing
Blackrock EVA Foam Knee Pads
When kneeling, these are the most comfortable, long-lasting, and snug-fitting. The ergonomic fit is more comfortable than a typical gel or foam pad right out of the box. However, it returns to its original shape much faster, and that shape lasts far longer. The knee insert size will need to vary depending on the size of your work trousers.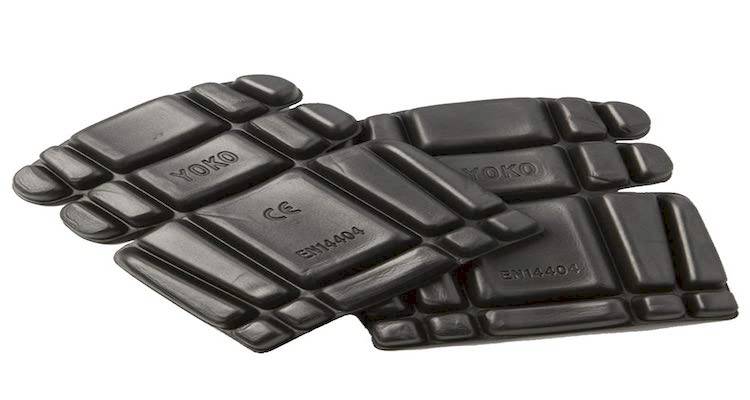 Pros
✔ Durable
✔ Comfortable
Cons
✖ Not good for people with weak knees
KP Industries Knee Pro Ultra Flew III
Those who purchased the Knee Pro product while looking for knee pads for construction workers, flooring installers, mechanics, gardeners, and other types of workers continue to give positive feedback.
One of the most popular features is the hard plastic external shell, which is both tough and durable. They are capable of totally protecting you from all types of hazards and working situations.
These Pro ultra flex III knee pads are a well-known set of hinged knee pads for work, allowing for easy motion, either kneeling or walking. The non-marking grip strip adheres to nearly all surfaces. The knee pads are made of high-quality, durable materials that set them apart from the competition.
Pros
✔ Breathable
✔ Comfortable
✔ Non-slip
Cons
✖ Reviews mention that they have flimsy plastic connectors
REXBETI Knee Pads
REXBETI's Knee Pad for Work isn't going to let you down either. It is a premium-grade knee pad with a robust and solid structure that ensures long-term durability. It's incredible how tough its shell is, as this is crucial in boosting the knee pads' capacity to provide enough protection.
The high-density cushioning employed in these goods plays an important role on the inside. Its purpose is to improve the safety product's protection while keeping the knee pad as practical and comfortable to wear as possible. The redesigned design of these knee pads seeks to provide all-day comfort.
These knee pads have strong and thick flexible straps built into them. They're meant to be elastic, letting them stretch to fit people of various sizes. This might provide some assurance that it will fit properly and pleasantly.
The hook & loop tapes on the knee pads are meant to wrap the knee pads firmly and securely around the knee, preventing them from slipping down too quickly. These items are simple to put on and provide comfort.
Pros
✔ Heavy-duty
✔ Strong yet adaptable elastic straps
Cons
✖ Bad stitching quality
Best Lightweight Knee Pads
Fiskars 9418 Ultra Light Kee Pads
We understand that not everyone wants to splurge on knee pads. These knee pads are economical and a wonderful solution for many projects, especially if they are only conducting short or light duties.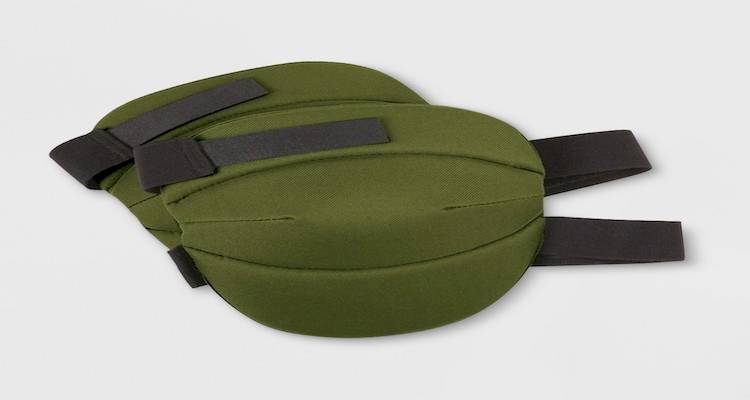 They have a straightforward design with a large foam pad to provide comfort and protection to the user. This pad is also moisture resistant, making it suitable for jobs that require you to work in the dirt, such as gardening.
They simply have one strap that may be readily adjusted to accommodate any leg size. Furthermore, because of their simplicity, they are quite easy to wear over any type of apparel.
These pads aren't designed for use in high-stress situations, and they have a short lifespan when exposed to building sites or other severe environments. But, at such a low price, that's to be anticipated.
Pros
✔ Affordable
✔ Light-weight
✔ Moisture resistant
Cons
✖ Not durable
NoCry Flooring and Roofing Knee Pads
If you need pads that won't scratch or harm delicate surfaces, you're in luck. These pads have a soft outside lining that is ideal for use on the floor, and it's worth noting that its external lining has a non-slip leather area to keep you from sliding about on flat surfaces. The leather is supplemented by 600D polyester fabric, making them robust despite their delicate appearance.
Thanks to the substantial, high-density foam padding, they also provide plenty of protection. Other than flooring, these pads can be used for various purposes. We particularly like the ergonomic shape, which makes putting these pads on before any project a breeze.
These pads are difficult to pass up for flooring projects, but they won't hold up in tough situations. They will quickly wear through the cloth on the exterior if used for roofing or on concrete.
Pros
✔ Provide protection
✔ Non-slip material
✔ Durable
Cons
✖ It won't hold for tough situations
Redbacks KNPDRDLW20 Pocket Kneepads
The fact that they're washable is the first thing you'll notice. Knee pad inserts for construction are notoriously difficult to remove. And, with cheap knee pads, you have to take them off before washing them. Otherwise, they'll self-destruct in the machine.
Work trousers are 100% washable, so simply toss them in the washing machine as usual. You begin to feel the floor after 30 minutes or more of kneeling, and as the pads degrade, that 30 minute period shrinks to only a few minutes.
Pros
✔ Affordable
✔ Washable
Cons
✖ Can begin to feel the floor after a while.
Conclusion
Overall, the most comfortable knee pad on the market today can even help you avoid becoming one of the many people who suffer from knee injuries at work. Note that if you sustain such an injury, you will almost certainly need to take a two-week hiatus to heal and recover.
You should look for the best construction knee pads to protect your knees if you work in construction. Choose a different pair for a certain reason, such as protecting yourself from professional sports, cleaning, gardening, and so on.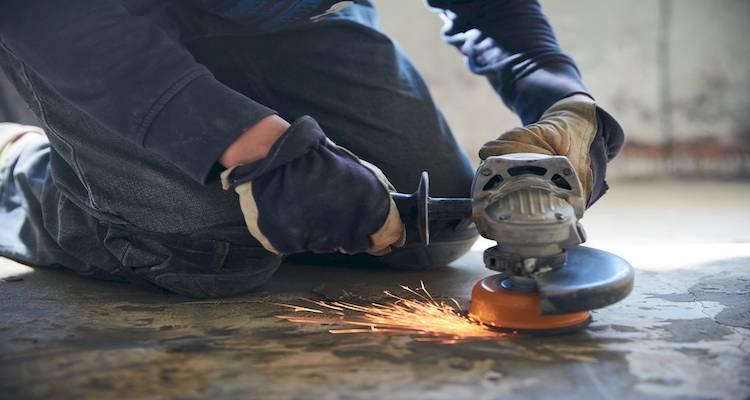 Even though the human knee has some natural protection in the form of the knee cap, it does not provide nearly enough protection when you fall on your knees or accidentally smash one or both against a hard surface, as learned in this article.
You can't anticipate complete protection every time you have to labour for significant periods on your knees. Knee pads are designed to provide improved protection for the knee and surrounding area against injury.
The outer shell may have extra characteristics depending on the type of surface and the profession, such as improved traction or anti-slip rubber (for roofers), water and/or chemical resistance (for custodians), and non-marking (for custodians) (for tile installers, floor finishers).
You may work more efficiently and for longer periods without feeling the need to stand up to extend your leg by decreasing the discomfort that comes with working on your knees on a hard surface. This enables you to complete your activities considerably more quickly and with more attention to detail.
Therefore, we hope this article has taught you everything you need to know about your job and the type of knee pads you should buy for the circumstances of your job.
Sources
https://www.toolstop.co.uk/blog/knowledge-base/the-importance-of-wearing-knee-pads https://www.businessinsider.com/best-knee-pads?r=US&IR=T#the-best-for-heavy-duty-work-3 https://housegrail.com/best-knee-pads-for-flooring-work/ https://www.goodhousekeeping.com/uk/product-reviews/house-garden/g33322450/best-garden-kneelers/ https://heatingforce.co.uk/blog/best-work-trousers-knee-pads/ https://www.diys.com/construction-knee-pads/
Last updated by MyJobQuote on 30th March 2022.