How to Paint Kitchen Cupboard Doors
In this article, we explain how to paint kitchen cupboard doors. We explain everything that you might want to know regarding paint, tools and other materials along with answering frequently asked questions.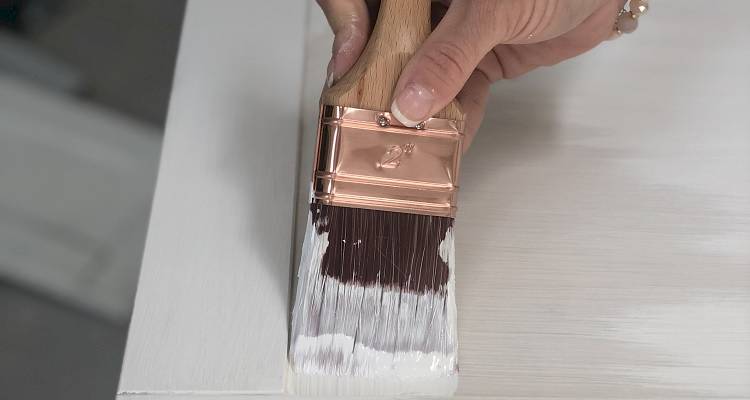 What Tools Do I Need to Paint Kitchen Cupboard Doors?
Before you start reaching for the kitchen cupboard paint, you will need to first ensure you have all the correct tools to allow you to complete the job to a high standard and leave you with a professional finish.
Please ensure you have the following tools:
Screwdriver
Screws
Planks
Trestle legs
Drill
Paint Brush
Paint Stirrer
Microfiber paint roller
The above tools can be easily sourced and purchased at a DIY shop or online.
What Safety Equipment Do I Need to Paint Kitchen Cupboard Doors?
As with any project, you need to ensure that you are safe with any tools and materials that could be potentially harmful to you.
You will be handling potentially heavy cupboards, so we strongly advise that you ask a friend or member of your household to help you should you need it.
When building your painting surface, you will need to move planks of wood, or scaffolding board. Please ensure you wear gloves when handling and get help from a friend when carrying and manoeuvring these heavy planks around your home.
You will also be sanding down the surfaces of your cupboard door. Of course, sanding creates a lot of dust. Please ensure you wear a face mask whilst sanding.
To recap, please ensure you have the following:
Dust mask
Gloves
Someone to help with any heavy lifting
What Materials Do I Need to Paint Kitchen Cupboard Doors?
Now that you have the tools, it's equally as important to source the correct materials.
You will need the following:
Cloth
Sandpaper
Sugar Soap
Dust Cloth
Sponge
Pencil
Spare Screws
Cabinet Paint or kitchen cupboard paint of your choice
How to Prepare for Painting Kitchen Cupboard Doors
Before painting any object, it's important that you fully prepare the area and the surface for paint.
Firstly, begin by removing any knobs or handles from the cupboard door. This makes it much easier to paint, rather than trying to paint around an obstacle. You will then have a much even and professional finish.
Following that, you should now remove the doors from the cupboard. Again, this will allow for a much better finish. Some people do prefer to paint the cupboard doors. Whilst they are still attached to the rest of the cupboard. If you prefer this method, then you will need to prepare the area underneath the doors with newspaper or protective sheets.
Once you have removed your cupboards, you should now begin to sand down the surface. It is crucial that you choose appropriate sandpaper, we advise you to use grit sandpaper around 220, as this is fairly fine. This will ensure you have a smooth surface and any imperfections or marks can be buffed out easily. Whilst using the sandpaper we suggest that you don't use fast, vigorous movements. Instead, work slowly and methodically.
When you have finished sanding down the surface, you will need to wipe down the surface with a wet cloth to ensure removal of any dust particles.
You should now look at removing any grease from your surface, as overtime grease can build up on your kitchen surfaces. To remove the grease, you can use a lint cloth or consider using sugar soap to clean the surface of your cupboard. You need to remove the grease to allow your paint to stick to the surface of your cupboard.
You may also want to consider applying a wood primer before you begin painting the kitchen cupboards. Using primer stops the wood grain from showing through. For kitchen cupboards, you would usually need a shellac-based primer. Always read the manufacturer's guidance before using products. To apply the primer, use a paintbrush, and leave to dry according to the manufacturer's instructions.
After you have applied the first coat of paint has been applied and has dried, lightly sand the surface of the door before continuing to apply the topcoat of paint.
How to Paint Kitchen Cupboard Doors Yourself
Please follow the following step-by-step guide to teach you how to paint kitchen cupboards to a professional standard.
Step 1
The first stage is to remove the current handles from your kitchen doors. You can either choose to use a drill or a screwdriver to remove the screws currently holding the handles in place.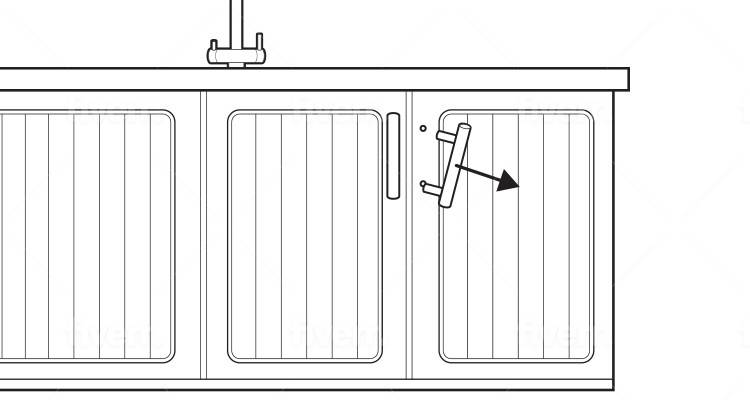 Step 2
It's now time to number each door individually. Open each cupboard door and ensure you write the same number in the cupboard which corresponds to its cupboard door. We would advise you to go around in a linear and methodical order when numbering your cupboards.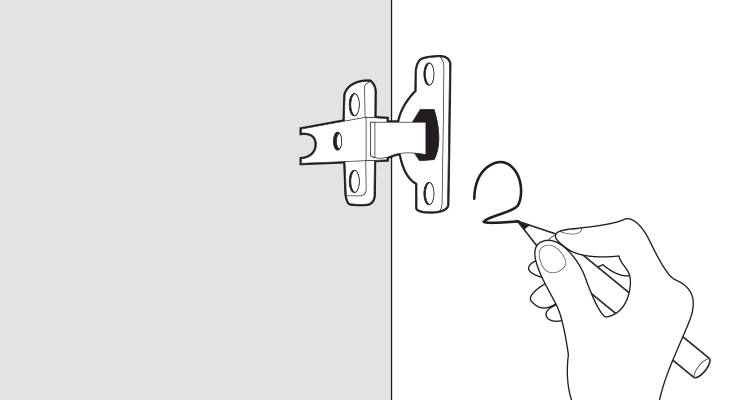 The reason we ask you to do this is to make it simple and easy to find and fix your cupboard back on after they have been removed and paint has been applied to the kitchen cupboards.
Step 3
Once numbered, you can now start to remove the doors completely. Open the door and, using your screwdriver, remove the screws that hold the hinge together. There is no need to remove the hinge from the cupboard.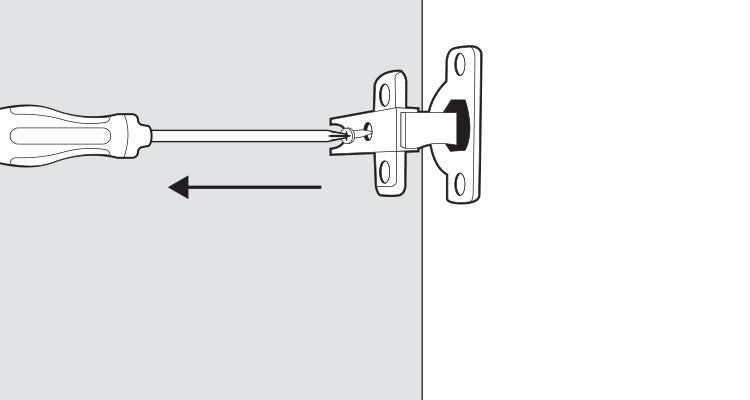 You will need to keep all the screws, so don't forget to keep these safe. You will need to use these later when you reattach the doors. Continue this process until all the doors have been removed. Ensure you get someone to help you remove and lift doors if they are too heavy.
Step 4
It's now time to create a steady surface for you to paint your kitchen cupboards. Take the trestle legs and place your two planks of wood or scaffold board to run steadily between the trestle legs.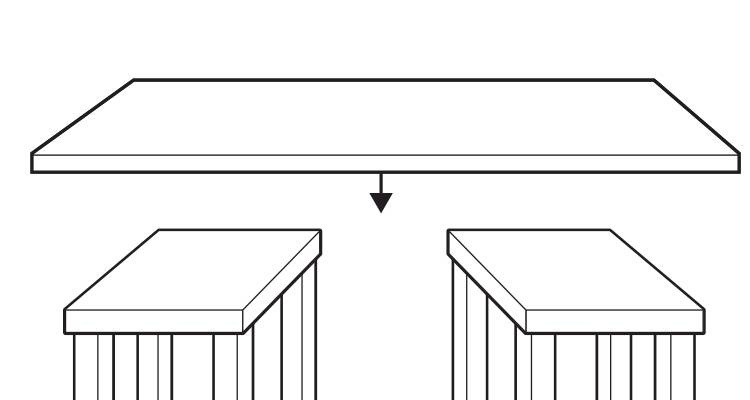 You may want to place 4 large screws and nail them into the wood to add extra support for the doors for painting.
Step 5
Taking one of the doors, place this onto your surface. Using a damp sponge, wipe down your surface to ensure you remove and dust and grease. Once dried, lightly sand the door surface using fine grit sandpaper. To remove any excess dust, use a lint-free cloth and wipe thoroughly over the surface.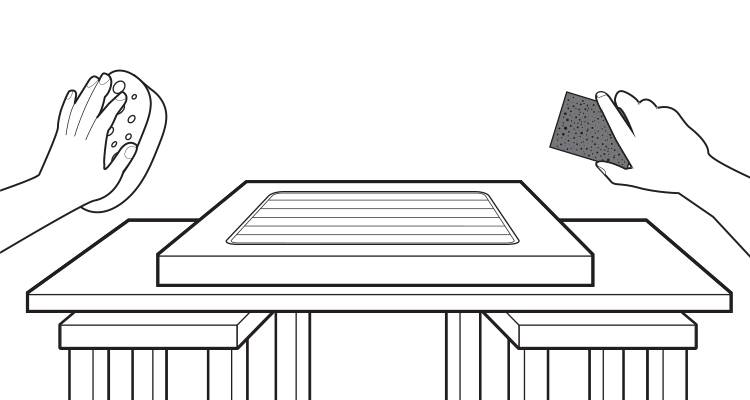 Step 6
Now it's time for the fun part! Taking your chosen paint, open and stir thoroughly with a paint stirrer. Using a small paintbrush, target the fiddly areas of the door first. Paint over and in-between and ridges and grooves within the door.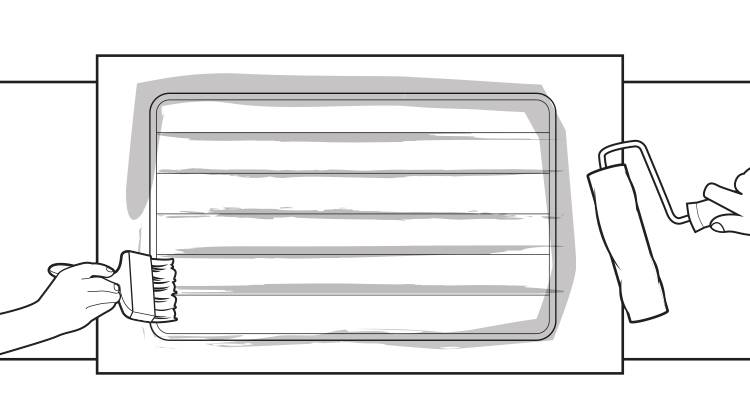 Then take your roller, coat with paint in your paint tray first, to ensure you get an even coverage of paint. Use the roller and apply and even pressure on the door. Continue with this technique until the door is covered evenly with paint.
Step 7
You will then need to leave the doors to dry for 12 hours, then repeat the painting process again with a second coat of paint. Then leave to dry further. Please check the manufacturer's instructions on advice for drying times.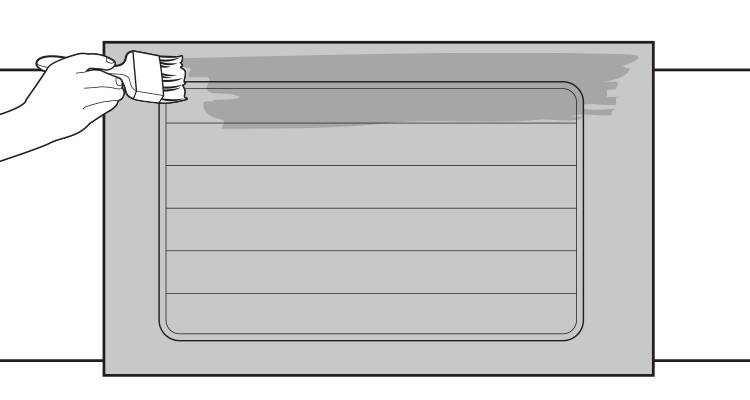 Step 8
Once dry, you can now attach the newly painted doors back to your cupboard. Don't forget to check that the correct number on the cupboard responds to the number in the cupboard.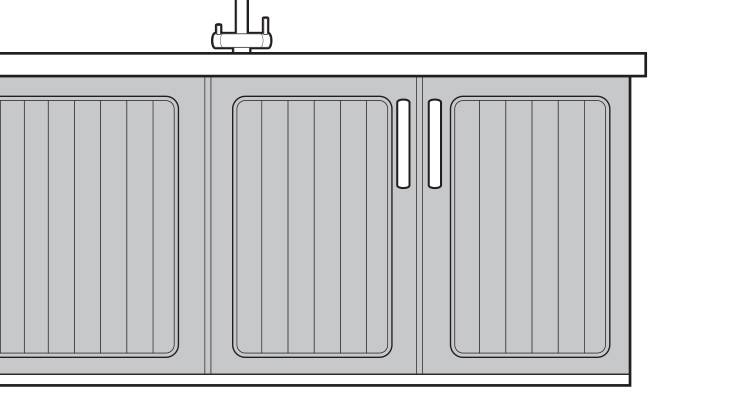 Paint for Kitchen Cupboards
It's a question often asked; Can I paint kitchen cupboards? Absolutely! If you are looking to change the decor of your kitchen without breaking the bank then choosing to paint your kitchen cupboards can really change the feel of a room.
With any DIY project, you want to ensure you are using the best paint for kitchen cupboards to allow you to get the best finish and look that you want.
When choosing paint, you should avoid matte and eggshell paint on kitchen cabinets. Instead, you should consider satin and gloss as they last much longer and are easy to wipe clean. They are classed as hard-wearing paints which is what you need for a kitchen.
Not only is it important to choose the correct type of paint, but also the correct colour for your kitchen. Bear in mind that your kitchen cupboards are a key focal point within the room, so choose a colour you are confident with. Don't forget; you can always consider buying tester samples and trying them out on your kitchen cupboard first.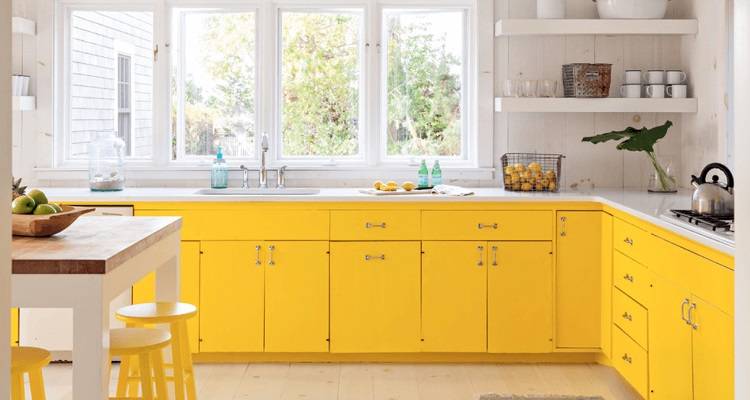 If you are new to painting, choosing the correct paint can be overwhelming because there are many different variations of type and colour.
You may want to consider looking at the following before choosing a paint:
Oil-based paint
This type of paint gives you a lovely smooth and even finish. Another pro to this paint is that it's more durable than a latex type of paint. However, be aware that this type of paint takes considerably longer to dry than water-based paint products. If you are going to opt for this paint, ensure you keep the room ventilated, opening windows and doors due to the strong odour produced.
Water-based paint/latex-based paints
Choosing this type of paint is great if you are looking for something durable and fast drying. Ideal if you are on a short time limit complete your project. This paint Is also easy to apply, and unlike oil-based paint doesn't come with a strong odour.
When it comes to cleaning the surface after it has been painted, using a cloth and soapy solution makes it easy to clean. If you are using this type of paint, this requires more prep work as you will need to use a primer before applying paint.
FAQs
What Is The Best Paint To Use On Kitchen Cupboards?
We would suggest using a gloss or semi-gloss paint. Due to the painted shiny appearance, it's far more durable and helps reflect light. It's also easy to keep clean and wipe down, which is ideal for the environment of a kitchen.
What Type Of Paintbrush Should You Use When Painting Kitchen Cupboards?
If your cupboard doors are flat, then we suggest using a paint roller for the application. Choose a roller with a 1/4 nap, as this will give you the best finish and even application. If your cabinet doors have indents, panels or grooves, then you will need to use a synthetic paintbrush and angle this in these areas. If the paint you choose is water-based, then it can cause natural paintbrush bristles to swell, so choosing synthetic will solve this problem.
Is Oil-Based Paint Ok To Use On Kitchen Cupboards?
Yes, you can still use oil paint on your kitchen cabinets. However, there have been recent developments which suggest that the level of VOC present in oil paint can be harmful to the environment. These levels have been found to also emit into your food. Studies also suggest that this type of paint can cause throat, eye and nose irritation, as well as fatigue and dizziness.
Can You Paint Over Laminate Cabinets?
Yes, this is possible, but you will need to do your research. As laminate is a composite material with a plastic finish. Ensure that you sand the surface before you paint. You will need to ensure you choose a paint and primer that is specific to laminate surfaces.
How Many Coats Of Paint Do I Need For Kitchen Cabinets?
You will need two coats minimum if you are painting your kitchen cupboards. This allows even coverage of paint. Please follow the manufacturer's instructions on what they suggest for your specific brand of paint.
Last updated by MyJobQuote on 7th October 2020.