How to Move a Waste Pipe
If you want to learn how to move a waste pipe, have a look at our easy-to-follow guide, which includes a list of tools and safety equipment you'll need as well as step-by-step images on how to complete the job. Check it out below!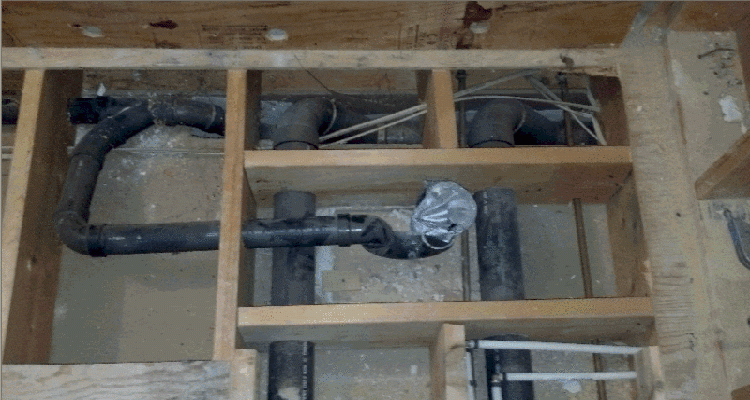 What Tools Do I Need to Move a Waste Pipe?
Below is a list of the tools that you will need to move a waste pipe:
Multi-purpose saw
Rubble sack
What Safety Equipment Do I Need to Move a Waste Pipe?
Below is a list of the safety equipment that you will need for a waste pipe relocation:
Safety glasses or goggles
What Materials Do I Need to Move a Waste Pipe?
Below is a list of the materials that you will need when relocating a waste pipe:
Waste pipe
Uni-fit compression fitting
Solvent weld
Piece of wood
How to Prepare for Waste Pipe Relocation
To prepare for moving a waste pipe to a new location, you must always start by shutting the water off to the home. You should also already have a good idea of your new layout and know where your waste pipe needs to be moved before you start the job.
How to Move a Waste Pipe Yourself
Step 1
You must begin by determining exactly where your waste pipe needs to be moved to. Once you're sure of the position, make a mark on the wall so that you can refer back and so that you know exactly where it's going.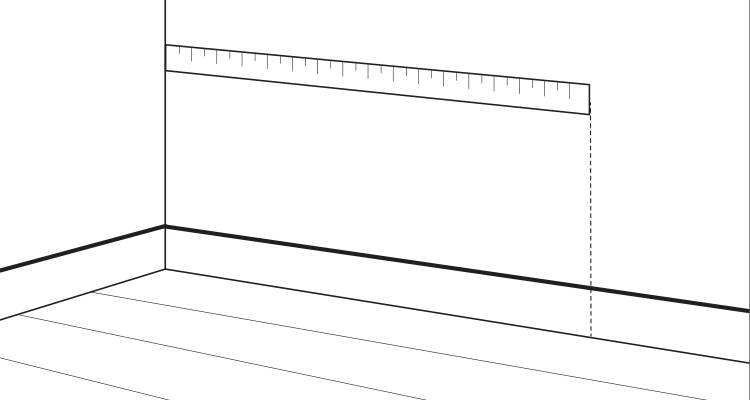 Step 2
Lift up the floorboards to expose the waste pipe underneath the flooring. Place a rubble sack underneath the pipe where you're about to cut it so that you can catch any water that remains inside the pipe.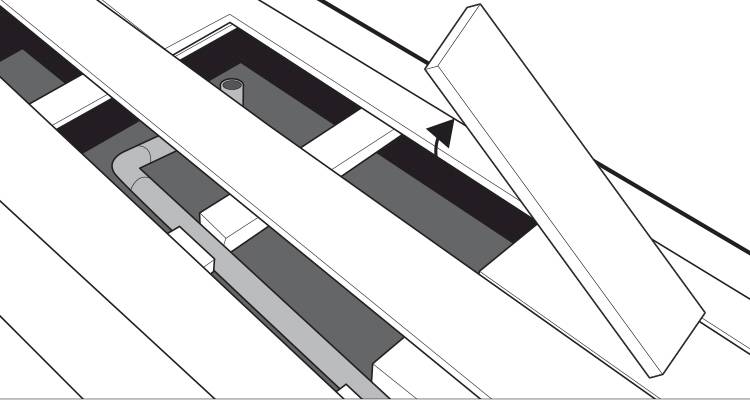 Step 3
Cut the pipe down the size using a multi-purpose saw. Don't forget to put on your safety glasses when using power tools. Remove the piece of pipe that you have cut off.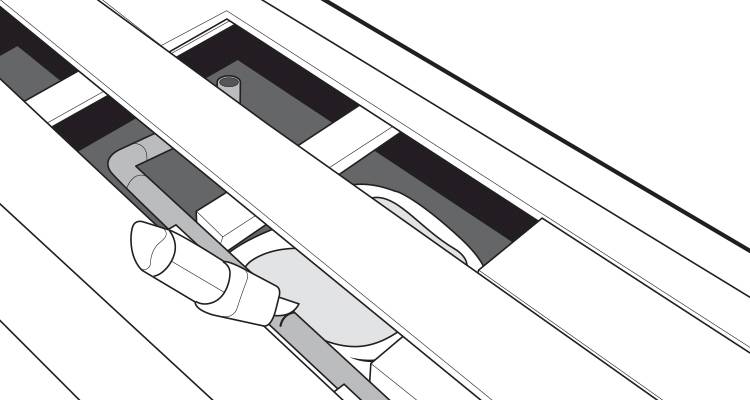 Step 4
You will also need to cut out a bit of the flooring where the pipe will feed through near the wall. Work out where this needs to be based on where your new waste pipe is going and then mark it out on the floor.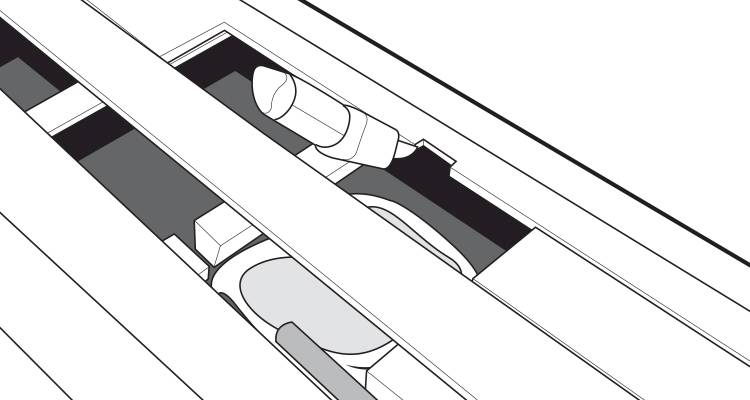 Step 5
Cut out this section of the floor so that your waste pipe can sit comfortably in it. Once your pipe can feed through that gap in the floor, connect your existing waste pipe using a push-fit fitting and feed it under the floorboard to a uni-fit compression fitting which goes up into a piece of solvent weld.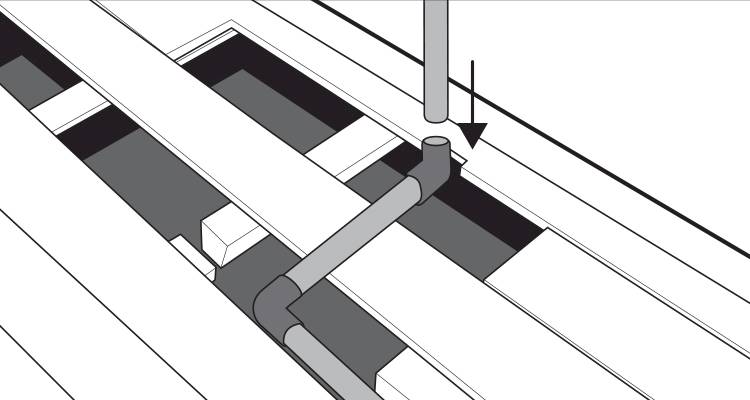 Step 6
If necessary, place a block of wood underneath the pipe so that it remains supported at all times.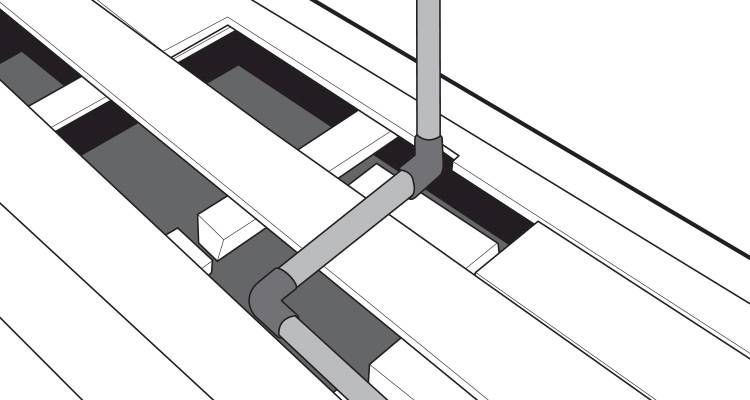 Step 7
Clip the vertical pipe to the wall so that it remains stable. Make sure that you've got plenty of height on the vertical pipe so that when you come to fit your unit, you can just cut it down to the correct height, put a fitting on, and then connect the waste directly to it.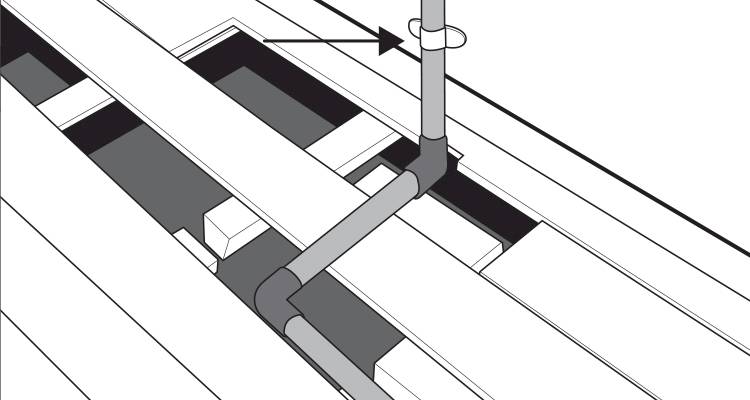 FAQs
How do you connect a washing machine waste pipe to a sink?
The best way to connect a washing machine waste pipe to the sink is via a washing machine trap. This will usually be connected to the existing water trap underneath the sink. This allows the wastewater from the washing machine to flow to the outside drain via the same pipe as the sink wastewater.
What is the best way to unblock a toilet waste pipe?
The best way to unblock a toilet waste pipe is with a plunger. Seal the plunger around where the water usually drains in the bottom of the bowl. This will create a vacuum. Push and pull gently on the plunger. Increase the pressure gradually until the water starts to recede. Add more water if needed and continue the process until the blockage is removed.
What size of waste pipe is recommended for a sink?
For a hand basin, it is recommended that you connect a 32mm waste pipe. For larger sinks, you may need a 40mm waste pipe.
What is the standard size for a toilet waste pipe?
A standard toilet waste pipe is 100mm in diameter.
Can you bend a waste pipe?
If your waste pipe doesn't bend in the correct position for your system, you can heat up the waste pipe and create a bend in it manually at the right point. To do this, heat some water on the stove and then dip the pipe in the water until it becomes soft enough to bend.
Sources
http://www.youtube.com/watch?v=bDfQdcl_1-g
https://www.bcprofiles.co.uk/waste-pipe-faqs

Last updated by MyJobQuote on 20th April 2021.