Kitchen Upgrade Ideas For All Budgets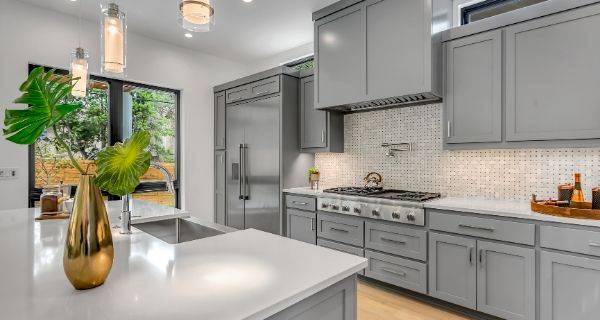 Have you been looking at getting a new kitchen, but don't quite have the budget for the kitchen you have seen? Or maybe your kitchen looking and feeling a little tired and in need of a refresh. Here are some budget busting DIY kitchen upgrades you can do to brighten up your kitchen.
Declutter Your Kitchen
One of the reasons for wanting a new kitchen is that the current one is too cluttered and doesn't quite give the space you want or need. This can sometimes be because over time the kitchen countertop and cupboards have become cluttered with items that are not needed.
Take a step back and spend a few hours going through each cupboard and item in the kitchen and asking if it is really needed or if it can be stored better. Maybe the addition of some clever cupboard storage will help, but what will help is removing out of date or items that are no longer used or needed.
This is a free or low costs kitchen upgrade and, in most cases, will just require a little bit of elbow grease. If you don't want to do the job yourself, you can hire someone to come and clean your kitchen for you. Including a deep clean of the oven.
Read out post on how to declutter your kitchen for more details
Paint Old Cupboards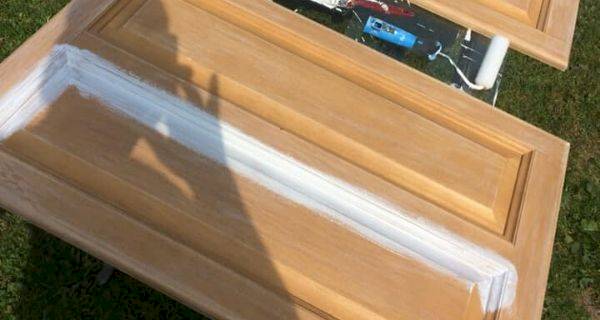 You can get some surprising results from simply painting your kitchen cupboard doors. Painting your kitchen cupboard can bring new life to an old and dated kitchen that needs brightening up.
We have seen some amazing transformations where just the kitchen cupboard doors have been painted. To do this:
– Take off doors (marking which ones go where)
– Remove handles and hinges
– Clean the doors with a degreasing cleaner
– Lightly sand the doors
– Prime with a base coat
– Paint the doors with your chosen colour
– Apply a second coat of paint
– When dry re-attach the doors and fit handles
– You may want to consider new handles or knobs
Read our detailed guide on painting your kitchen cupboards and see some of the amazing before and after images.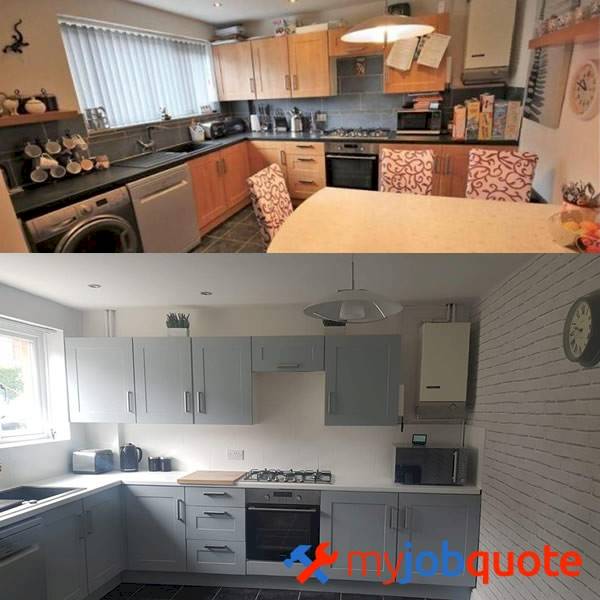 Replace the Kitchen Worktops
Another upgrade you can do in the kitchen that doesn't require pulling everything out and starting again is to replace just the countertop. This isn't a DIY project and will cost you around £500 to replace the countertop.
It's the ideal complement to having painted the kitchen cupboards if you are happy with your result. Contact a local tradesperson today for a quote on upgrading your kitchen.
Expand Kitchen Lighting Options
Adding new lighting options to your kitchen is the ideal way to make your kitchen feel cosy in the evening. Adding or upgrading your lighting can save energy and create a new warmer feel to areas of your kitchen.
Ideas to think about could involve:
– Replacing old fluorescent strip or spotlights with modern and warm lights
– Add under counter lighting to give yourself more visibility
– Change the bulbs to colour changing LED's like the Philips hue smart lighting system
– Add a standing lamp for mood lighting in the corner
Contact a local electrician to see how they can help you create a warm and cosy kitchen that you'll want to spend time in.
Add Colour & Style with Accessories
If you have a neutral colour kitchen, you can add style to your kitchen with some unusual, but useful accessories.
– Visit your local reclamation yard and upcycle old Items
– Create new and quirky looking doors
– Replace the handles or knobs on your doors
– Use old tins or containers to store items on the workspace
– Having an old set of kitchen scales can give that country style feel
– Add an old butcher's block to protect your surfaces and add style
Key points to remember are to find items that compliment your chosen colours and don't overdo one colour.
Tiling & Splash Backs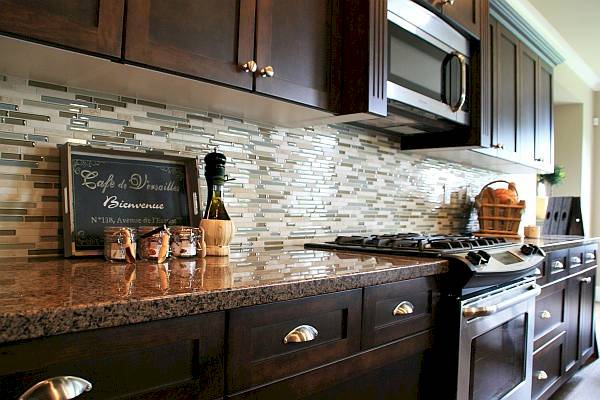 Changing up the tiles in your kitchen can add a new lease of life and help your kitchen feel like new. Knock off the old tiles and replace them with something that is more to your taste. Tiling can be tricky and require some detailed cutting, so we always recommend hiring a local tradesperson to do the tiling for you in a fraction of the time it will take you.
If you don't have the budget for new tiling? A budget DIY option could be to paint existing tiles. Tile paint can be used on porcelain, ceramic and glass tiles.
To start, clean and remove any grease with a lint cloth. Secondly, repair and clean grout before painting. Lastly, apply the paint evenly and get into all the grout joints. This is a DIY project that can be done over a long weekend and bring new life to your kitchen.
New Kitchen Flooring
Flooring is often the last area of a room that is thought about when upgrading, but is one that can add freshness to a room. Overtime things get dropped and spilt on the kitchen floor. It's the floor that receives the most amount of damage in a home and is why it's normally tiled, due to hard wearing and ease of cleaning.
Upgrade your kitchen flooring by adding an easy clean cushion flooring or lino flooring. With so many designs available, you can be sure to get the look and feel just right for your kitchen and less than retiling the floor will cost you.
Painting the Walls
Don't forget the wall when it comes to upgrading your kitchen on a budget. With all the cooking every day, the kitchen walls can become discoloured and greasy over even a couple of years. Adding a new coat of fresh paint to the walls is a quick win and will help freshen up your kitchen.
Before you grab the paintbrush, wipe down your walls with a degreasing cleaner, as this will help the application of any new paint.
Last updated by MyJobQuote on 3rd September 2020.