The DIY Tasks Brits Put Off the Most
Britain is a nation of DIY enthusiasts, with homeowners spending a staggering £22 billion each year in an effort to do up their homes. Despite this, many DIY tasks are put on the back burner, in part due to the busy schedules of Brits.
Interested to find out which jobs we put off the most, MyJobQuote.co.uk surveyed 2,590 Brits in order to identify the tasks we most frequently put on hold, and how long, on average, we leave these jobs before completing them – either by hiring a professional or doing the work ourselves.
What DIY tasks do Brits put off the most?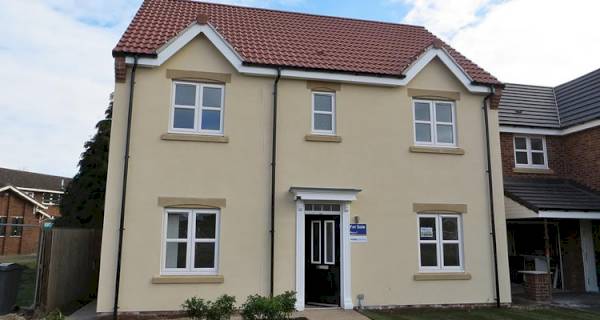 Painting Walls – 78%
Coming out on top as the most put-off DIY task is painting walls, with over 3 in 4 Brits (78%) having delayed this task in the past. In fact, we found that homeowners leave this task for an average of 3 years before they get around to doing it, on average!
Fixing a Broken Doorbell – 69%
Following behind in second place is fixing a broken doorbell (69%). When knocking is free, it's no surprise that a broken doorbell isn't high on Brits' DIY priority list, with the average Brit leaving 1 and a half years before repairing it.
Fixing a Leaking Tap – 67%
The third most common DIY task that Brits put off is fixing a leaking tap (67%). With a long list of quick fixes available, such as using pipe clamps, epoxy compounds and pipe wraps, it becomes very easy for Brits to live with a leaky tap. In fact, according to our research, Brits don't fix a leaking tap for an average of 2.6 years!
Fixing a Squeaky Door – 65%
Fixing a squeaky door is the fourth most put-off task among Brits, taking 2 years on average to fix. Shockingly, 65% of Brits we surveyed simply ignore the noise instead of spraying a splash of trusty WD40 on the affected area to halt the squeaking in its tracks.
Plastering Over Holes – 55%
Depending on the severity of the hole and its location on your property, plastering can be a pricey job, so it comes as no surprise that 1 in 2 Brits (55%) avoid this job for a whole year. For example, if it's a large hole, you may need to get a whole wall re-plastered, rather than adding filler into small holes as a quick fix.
Fixing a Fence Panel – 46%
Fixing a fence panel topped the list of DIY tasks that Brits leave for the longest, with people waiting an average of 3.2 years before replacing them. Thanks to the Great British weather, we don't often get the time to sit in our gardens, so it's no wonder many Brits choose to push replacing fence panels to the bottom of their lists.
You may also like: The Top 10 Most Common Home Faults
Fitting a New Door – 35%
According to our research, over a third of Brits have put off fitting a new door at home, with Brits taking an average of 7 months before they hire a professional, or attempt to follow a step-by-step guide to replacing a new internal door.
Fixing a Broken Step – 23%
1 in 4 Brits have delayed fixing a broken step in their home, typically leaving it for three months, on average, before forking out for a replacement or fixing it. But beware, if you have young or elderly people in your family, it can be a safety hazard and shouldn't be left for too long.
Tiling – 20%
Known for being one of the most expensive DIY tasks, it's no wonder that tiling is a task that 2 in 10 Brits like to avoid on their to-do list. With prices reaching up to over £3,000, it's no surprise that people can go up to half a year before starting the process.
Carpentry – 18%
Carpentry involves a lot of skilled, physical labour, so it's unsurprising that 20% of Brits put this DIY task towards the bottom of their to-do list. Our research found that, on average, it can take 4 months before Brits get around to building furniture or putting up shelves, or hiring a professional to do it instead.
Fixing a Gas Leak – 15%
Fixing a gas leak comes in eleventh spot, with 15% of Brits dangerously putting this job off for a whole month! If you notice a gas leak in your home, you should get the problem rectified as soon as you possibly can using a gas-safe heating engineer. If let unresolved, it can lead to irregular breathing, headaches and, in extreme cases unconsciousness.
Removing Asbestos – 9%
Removing asbestos is a job put off by 1 in 10 Brits because it's expensive to fix. Once finding out they have asbestos, Brits leave the job for an average of 3 months before getting in a professional to deal with it – a real cause for concern when it's reported that asbestos kills around 5,000 workers each year!
Why do Brits put off DIY jobs?
Although Brits tend to put off DIY jobs, we often have plausible reasons for doing so, such as not having the funds or the know-how. We found that the following reasons are the most common among Brits for delaying DIY jobs: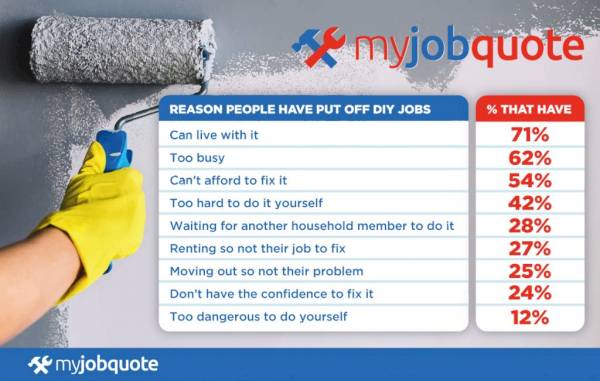 3 in 4 Brits turning a blind eye to some DIY jobs on their to-do list because they simply aren't a priority. Tasks such as painting walls and fixing broken fence panels are more of an eye-sore than an issue, suggesting why Brits put these tasks off for more than 3 years, on average.
6 in 10 Brits also claim they are "too busy" to complete DIY jobs around the home, as once they've done a day's work, completed chores and tended to children, they are simply too exhausted to get stuck in.
Our research found that over half of Brits put off DIY jobs because they simply can't afford it. Depending on what the DIY job at hand is, it can end up costing a fortune, so it's unsurprising some people want to avoid the task altogether rather than being slapped with an eye-watering bill at the end.
It's no wonder many Brits rely on their parents, partners or friends to help with DIY jobs around the home, when 3 in 10 Brits (28%) delay starting DIY jobs because they are clueless or simply don't have the necessary skills.
Even with millions of YouTube videos being readily available to help and guide us, a quarter of Brits (24%) don't have the confidence to do some DIY jobs. Taking on such tasks by ourselves can potentially lead to making matters worse, further financial loss and in worse case scenarios, putting ourselves danger.
If you are ever unsure on what to do when attempting a DIY job, be sure to ask a tradesman for help – particularly when tasks are hazardous – but be careful not to hire a rogue trader!
Related: Things to Remember when Hiring a Tradesman
Last updated by MyJobQuote on 26th August 2020.