London's Most Beautiful Bars According to Reviews
Brits are eagerly counting down the days until Monday 17th May, where they can be sat inside a beautiful bar with a cocktail in hand.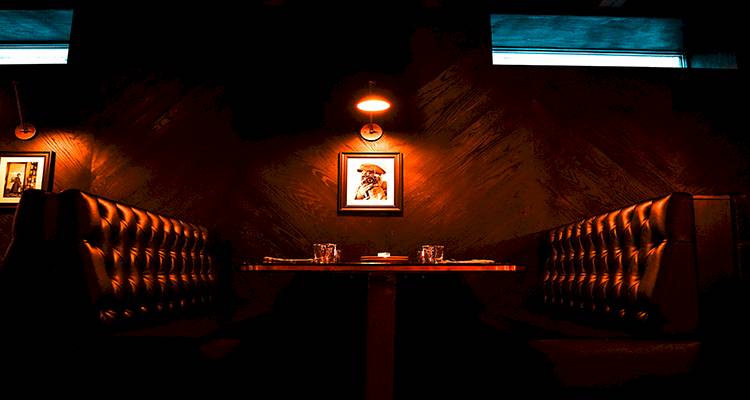 While we have been cooped up inside, MyJobQuote have analysed reviews of the best bars in London on Tripadvisor, to see which are the most rated and the most aesthetically pleasing by using words such as 'beautiful', 'stunning' and 'decorative'.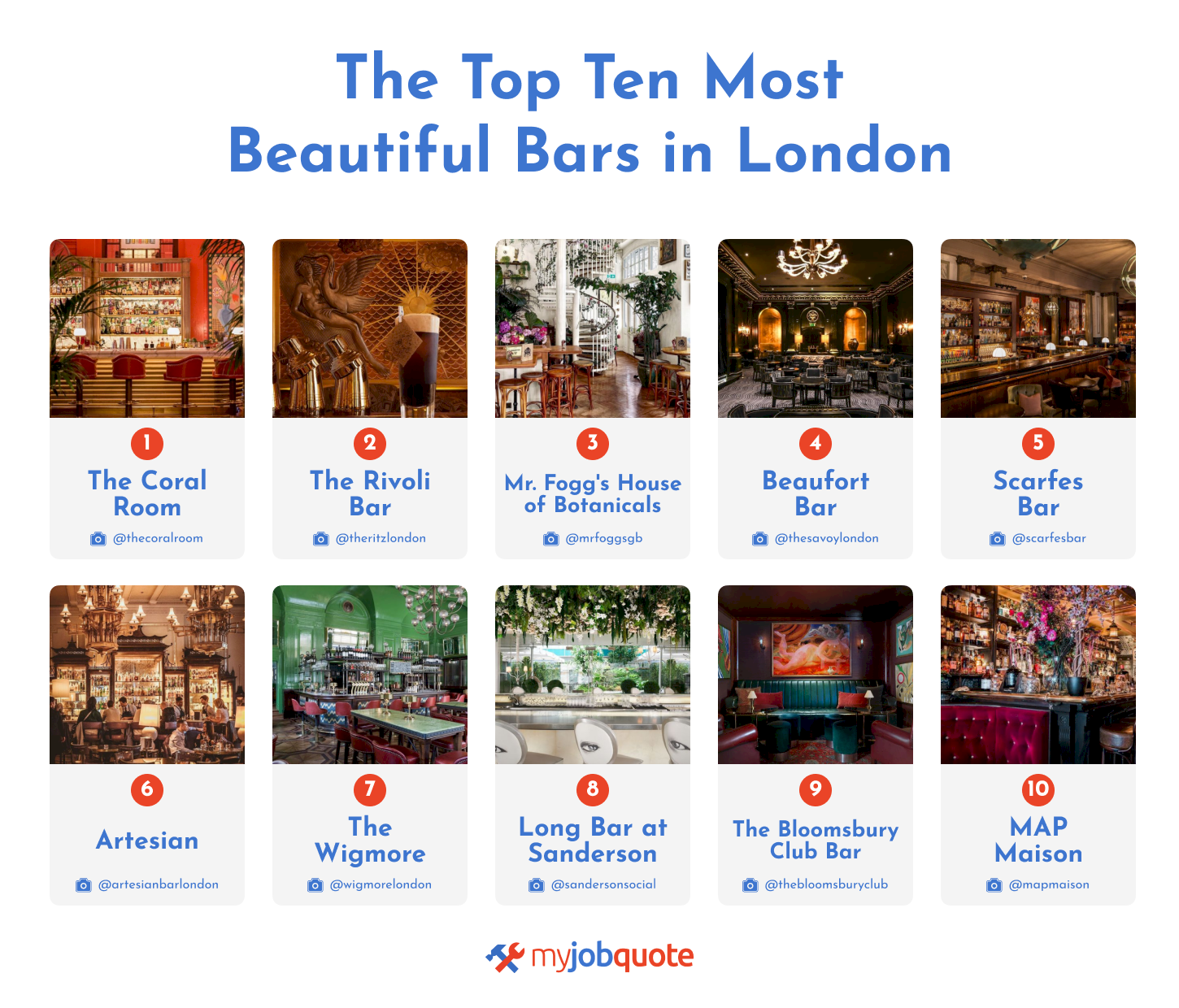 Top 5 Most Beautiful Bars
Below are the top 5 most beautiful bars from the list:
The Coral Room – 56 Beauty Reviews, 26%
The Coral Room tops the list as the most beautiful bar in London, which is easy to see by its bright walls and elegant chandeliers. The bar scored 56 beauty reviews and has the highest percentage overall. Londoners can visit The Coral Room for cocktails or to spend an afternoon drinking tea.
The Rivoli Bar – 154 Beauty Reviews, 21%
In second place, The Rivoli Bar has 154 beauty reviews and scored 20.56%. The Art Deco bar is surrounded by rich woods and renaissance paintings. This cocktail bar can be found inside The Ritz.
Mr Fogg's House of Botanicals – 40 Beauty Reviews, 20%
Mr. Fogg's House of Botanicals is third on the list with Brits preferring to be surrounded by nature while they enjoy their botanical inspired cocktails. This light, open lounge is filled with floral collections from around the world. This bar scored 40 total beauty views and 20.41%.
Beaufort Bar – 87 Beauty Reviews, 20%
Beaufort Bar is the fourth most beautiful bar in London, with 87 beauty reviews and 19.91%. Located at the Savoy Hotel, Beaufort Bar is a step into the 1920s. This theatrical, mysterious, elegant bar is the perfect romantic setting for a first date or to unwind from a hard day's work.
Scarfes Bar – 87 Beauty Reviews, 16%
Scarfes bar comes up next in the list as the prettiest London bar, scoring 87 beauty points and 15.96%. It is filled with plush dark green velvet chairs, matching chandeliers and luxurious dark oak tables. Located near Covent Garden, live jazz is played every day of the week to accompany tasty cocktails.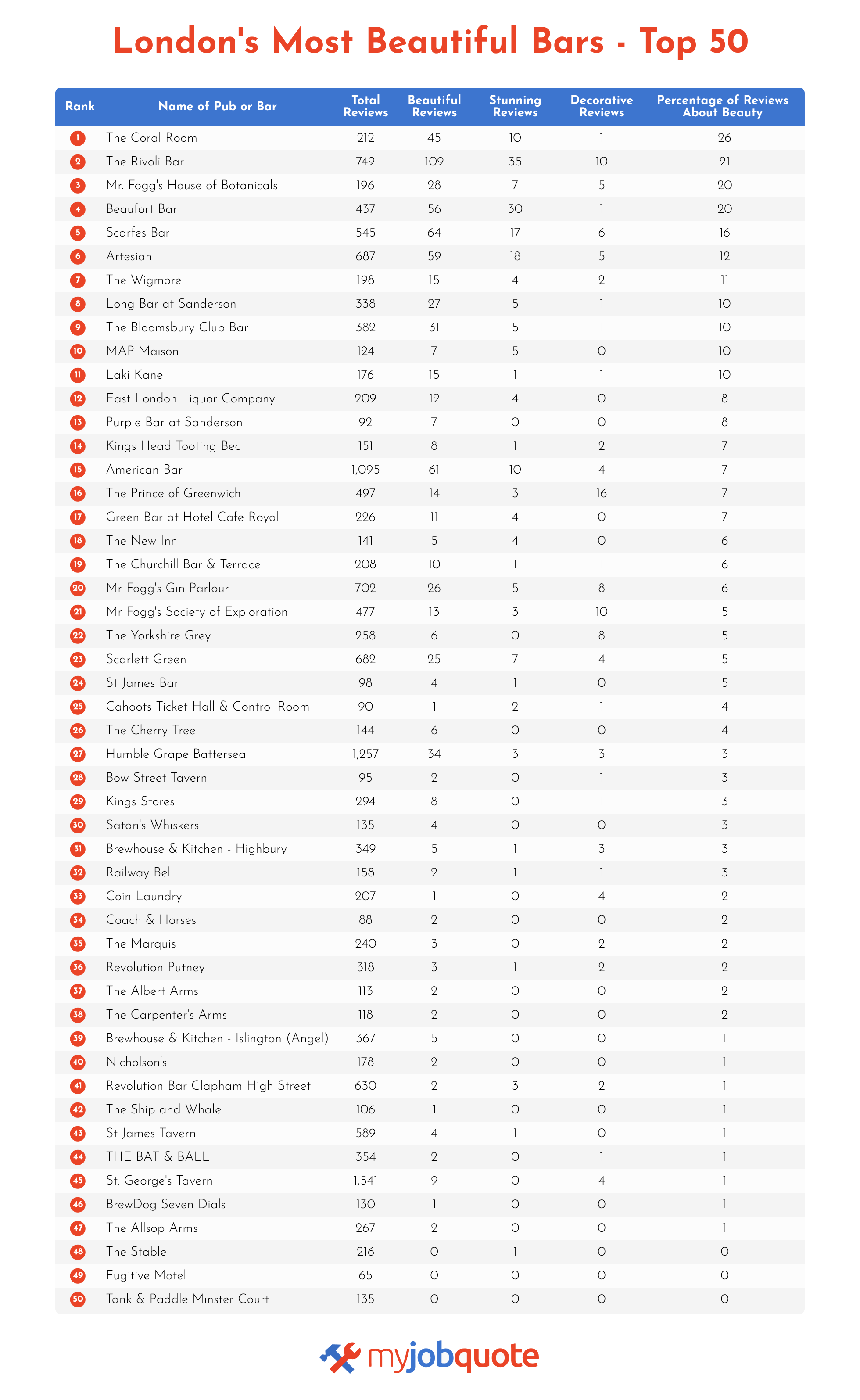 Overall, the results have revealed that Brits prefer to be surrounded in sophisticated Prohibition, Great Gatsby style cocktail lounges. London folk prefer the elegance of Art Deco bars and like to be indulged in a fantasy which is far away from their everyday life.
If you want to make your own beautiful bar, you can request a job from skilled tradesmen here.
Methodology:
Using Tripadvisor's list of the highest rated bars in London, we looked at the reviews and searched for the words 'beautiful', 'stunning' and 'decorative', taking a total of the number of reviews featuring these words. We then added up a total of all three words to give us the total beauty review. To find out the top 10 we divided the total beauty review by the total review then times by 100 to find out the highest percentage among the bars.
Last updated by MyJobQuote on 14th May 2021.